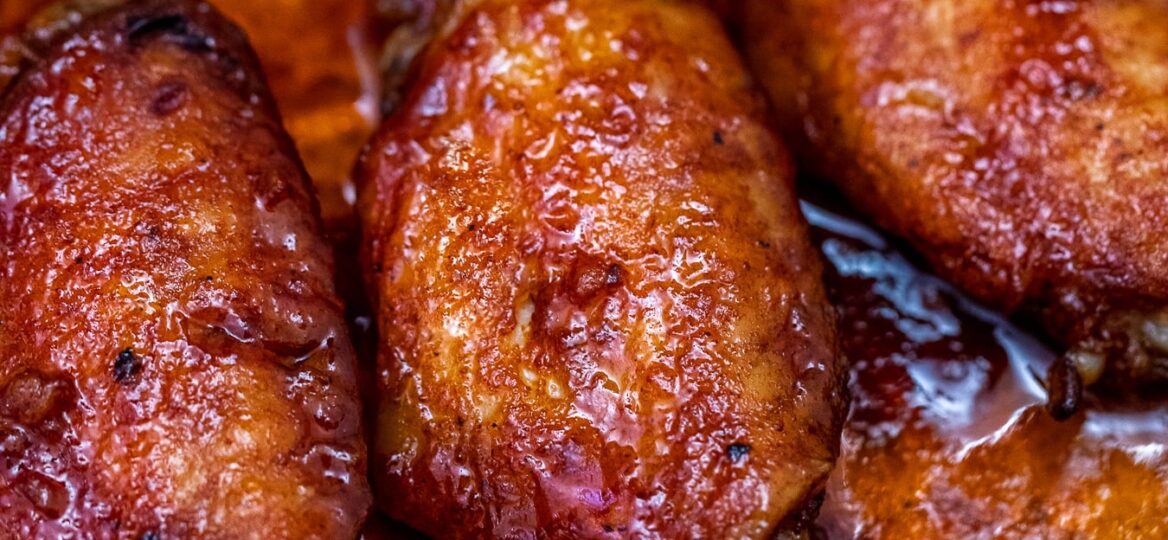 Honey Garlic Chicken Wings [Video]
Honey Garlic Chicken Wings are oven-baked until crispy, and coated in a sweet and sticky honey garlic sauce! Better than take-out, try this dish for a finger-licking good meal! It makes the best addition to an appetizer spread and it's the perfect game day finger food.
This will quickly become your favorite chicken wing recipe as it is easy to make and the results are absolutely mouthwatering! They are flavorful, fun to eat, and a tried and true crowd-pleaser. Usually, everyone goes for a second helping. Check more of our appetizer recipes and if you want to transform this recipe into a main dish, make our One Pan Honey Garlic Chicken and Rice.
These crispy baked chicken wings require no frying, unlike other recipes. The meat pieces are seasoned and baked to crispy perfection, then, tossed in a sweet and savory sauce that is full of flavor. The garlic and ginger combo makes these outstanding!
What comes out are tender pieces that are juicy on the inside and caramelized crispy skin on the outside. They make for the best finger food, and the sticky fingers are totally worth it.
Unlike breasts, this part of the chicken is easier to cook as it dries out much slower. Also, though the breasts have fewer calories, the delicious wings have more flavor, thanks to the fat content.
Ingredients needed:
Chicken wings
Extra virgin olive oil
For the Dry Rub:
Salt
Ground black pepper
Smoked paprika
Garlic powder
Sticky Honey Garlic Sauce:
Soy sauce: Use coconut aminos or tamari for gluten-free.
Mirin: You can find it in all Asian grocery stores, it's a handy ingredient to have in the pantry.
Honey: Replace it with maple syrup if needed.
Water
Sesame oil: It adds a beautiful Asian flavor.
Minced garlic: Use fresh garlic for more flavor.
Minced ginger: Use fresh ginger for more flavor.
Red pepper flakes
Cornstarch
How to make Honey Garlic Chicken Wings:
Prep the oven: First, preheat the oven to 425 degrees Fahrenheit. A high temperature is needed to crisp up the chicken. Cover a rimmed baking sheet with foil and lightly grease with oil.
Season: Next, get the wings and pat them dry with paper towels, add them to a large bowl. After that, season with the dry rub mixture, make sure to toss well to coat. Arrange them in a single layer on the prepared baking sheet and brush them with olive oil.
Bake: Bake them for about 35 minutes, turning them at the 20th-minute mark to cook evenly on both sides.
Sauce: In the meantime, place a small saucepan over medium heat and add all the sauce ingredients. Stir to combine and simmer for a few minutes until thickened.
Toss: Once the wings are crispy, using kitchen tongs toss each piece in the sauce until fully coated. Make sure to do this step in small batches.
Bake again: Put them in the oven again for 10 minutes, turning at the 5th-minute mark to cook evenly on both sides.
Serve: Allow the dish to cool, tossing from time to time to coat each piece with the wing sauce that starts to thicken as it cools. Then, serve with your favorite wing dip.
Recipe Variations:
Deep-fry: As an alternative, deep fry the meat, and after that toss it with the sauce. This way you will have very crispy chicken wings.
Air-fry: Arrange the seasoned pieces in the air fryer basket in a single layer, air fry for 10 minutes, or until crispy at 400 degrees, turning halfway. After that, toss them in the sauce.
Grilled: Another option is to grill the wings and after that toss them in the sauce, learn here how to make the best grilled chicken wings.
Pressure Cook: As an alternative, if you do not have enough time to thaw your wings, cook wings in the Instant Pot, and after that toss in the sauce and broil.
Spicier: Make these spicier by adding some extra red pepper flakes or sriracha sauce.
Dry-rub: As an option, change the dry rub for a different flavor, use for example Cajun seasoning or Ranch seasoning. Also, add a tablespoon or two of brown sugar to the dry rub, it will add a deep caramelized flavor.
The sauce: Coat the crispy wings in a different sauce, try General Tso, BBQ, or Szechuan.
How to serve:
First and foremost make sure you serve these warm not hot, let the rest for 10 minutes, and after that serve.
As an alternative serve them with leftover sauce if you have any.
Also, choose your favorite dipping sauce, we recommend Honey Mustard, Buffalo Sauce, Blue Cheese Dressing, or Ranch Dip.
Another great idea is to add some crunchy veggies on the side, like celery and carrot sticks.
Another option is to sprinkle some toasted sesame seeds on top.
Frequently Asked Questions
How long to bake Chicken Wings?
This recipe prescribes that the oven be set at 425 degrees Fahrenheit and baking will take roughly around 25 to 30 minutes. The skin will crisp up in this setting.
But if you want to bake with a sauce, then, you can lower the temperature to 350- or 375-degrees Fahrenheit. In these settings, the baking will be longer at around 50 minutes. Keep in mind that the meat is safe to consume when it reaches an internal temperature of 165 degrees F.
How do you thicken honey garlic sauce?
First, you have to use a binder, in this case, we use cornstarch. If the sauce turns out runny, make a slurry by combining 1 tablespoon of cornstarch with 3 tablespoons of water and mix until the cornstarch has been dissolved.
After that, place the sauce over medium heat and add the slurry, bring to a simmer, lower the heat, and simmer, stirring from time to time for about 5 minutes, ot until thickened.
Also, keep in mind that the mixture will thicken more as it cools.

How to store leftovers:
Refrigerate: First, let the crispy baked chicken wings cool. After that, place the leftovers in an airtight container and refrigerate for 3 to 4 days.
Freeze: Again, make sure the meat has cooled first. After that add them to freezer bags and freeze for up to 3 to 4 months.
Thaw: Transfer the frozen pieces from the freezer to the fridge and thaw overnight.
Reheat: When reheating, simply bake them again using the original recipe settings. The only requirement is that the thickest part of the meat must reach 165 degrees Fahrenheit for it to be safe for consumption.
More easy appetizers:
Recipe Tips:
Remember that the internal temperature in the thickest part of the meat must reach 165 degrees Fahrenheit for it to be safe for consumption.
If you want the skin to crisp up when you make this dish, make sure to dry the pieces. Aside from patting them dry and salting them, refrigerate the meat overnight in the fridge to further allow any moisture to dissipate.
Make sure to add enough salt and pepper to the rub mixture, as it makes the first flavorful layer.
Honey Garlic Chicken Wings
Ingredients
30

chicken wings

2

tablespoons

olive oil
Rub:
1

teaspoon

salt

1/4

teaspoon

black pepper

1

teaspoon

smoked paprika

1

teaspoon

garlic powder
Honey Garlic Sauce:
1/4

cup

soy sauce

2

tablespoons

Mirin

1/2

cup

honey

3/4

cup

water

1

tablespoon

sesame oil

4

cloves

garlic

minced

1

tablespoon

minced ginger

1/4

teaspoon

red pepper flakes

optional

1

tablespoon

cornstarch
Instructions
Wings:
Preheat oven to 425 degrees F.

Pat dry wings with paper towels until completely dry.

Combine all the rub ingredients in a large bowl, add the wings and toss to combine. Brush with olive oil.

Line a baking sheet with foil and then place parchment paper on top, arrange chicken wings in one layer, if needed use two baking sheets. Bake for 35 minutes turning at 20 minutes on the other side.
Honey Garlic Sauce:
In the meantime, combine sauce ingredients in a small pan over medium heat. Bring to a boil, reduce heat and simmer for about 10 minutes or until slightly thickened, and sauce coats the back of a spoon.
Combine Wings with the Sauce:
Take wings from the oven, toss with sauce and return to the oven for another 10 minutes, turning after 5 minutes on the other side.

Allow cooling for 10 minutes. As the sauce cools, it thickens. Stir the wings every few minutes to coat in the sauce as it thickens.
Serve:
Serve the wings with your favorite dipping sauce and garnished with sesame seeds.
Deliciousness to your inbox
Enjoy weekly hand picked recipes and recommendations