Air Fryer Blooming Onion tastes just like the famous restaurant-style appetizer, but NOT deep-fried! The tender onion petals are covered with crunchy breading seasoned with ranch, spices, plus chili for a bit of a kick. Then, it's air-fried until hot and crispy. Easy and delicious!
For more homemade versions of restaurant favorites, don't miss our copycats of Cheesecake Factory Honey Truffle Chicken, PF Chang's Crispy Honey Shrimp, and Panera Bread Broccoli Cheddar Soup!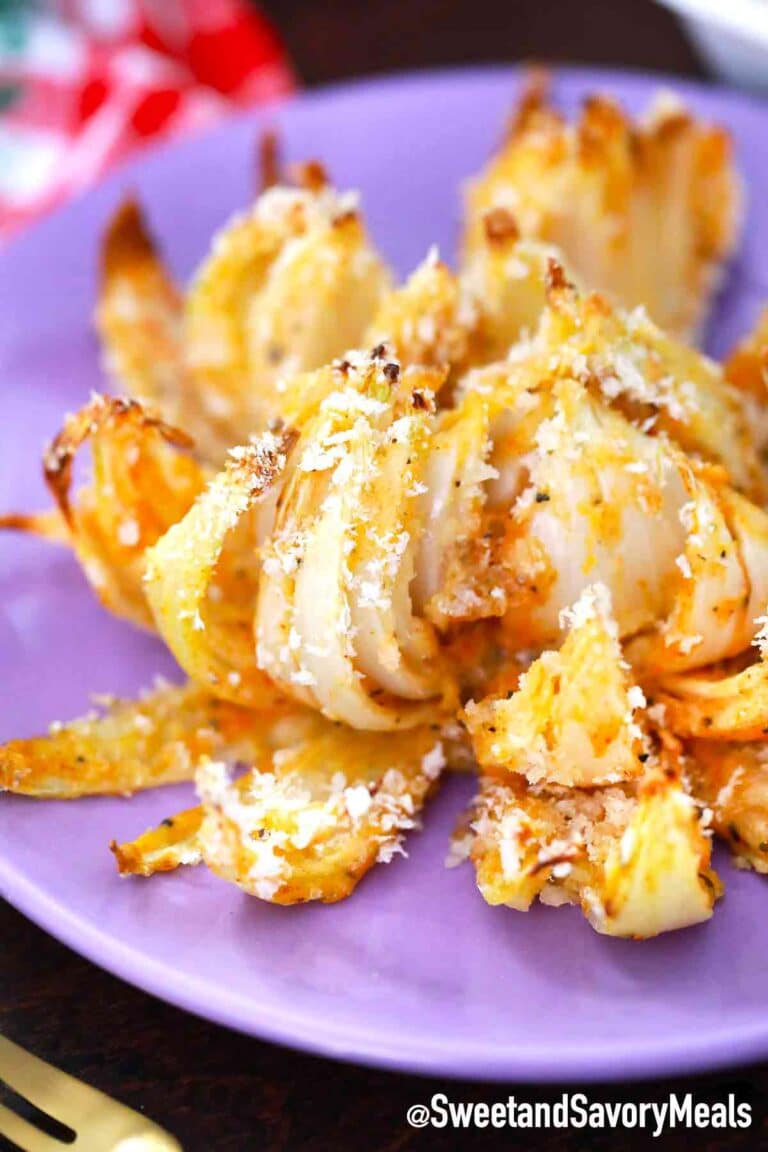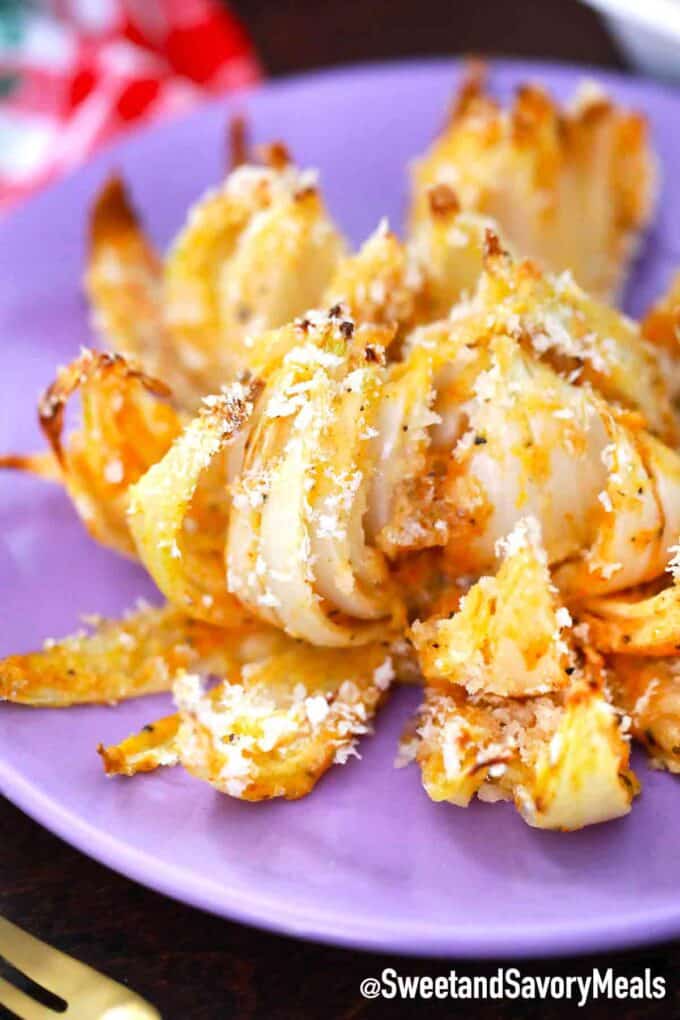 Air Fryer Blooming Onion Recipe
Air Fryer Blooming Onion is one heck of an appetizer! It looks amazing— an entire onion sliced into petals to get that "blooming" effect, covered with the crunchiest golden crust. No wonder it's such an iconic dish!
It may seem difficult to make, but this recipe actually simplifies it. Once you've sliced the onion, it's just a matter of breading it then air-frying. No pot of hot oil to deal with or splatters to clean up after cooking! Because of this, you can leave it while you're preparing the rest of your meal.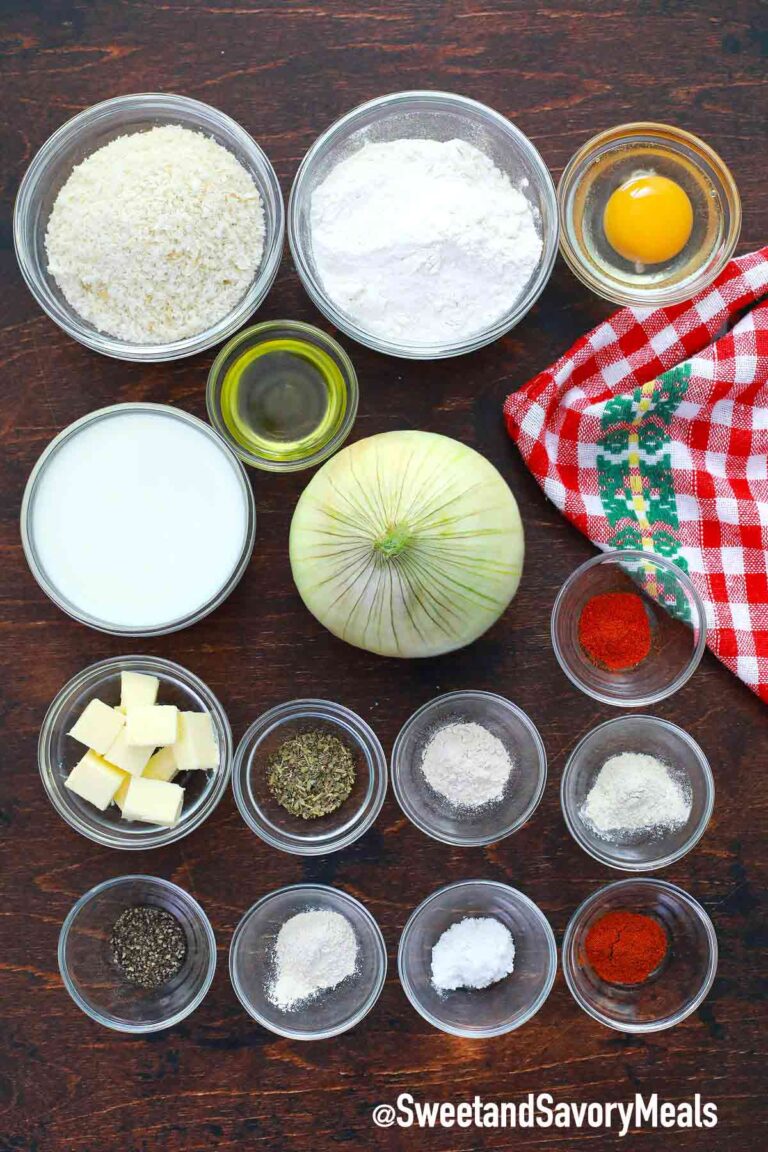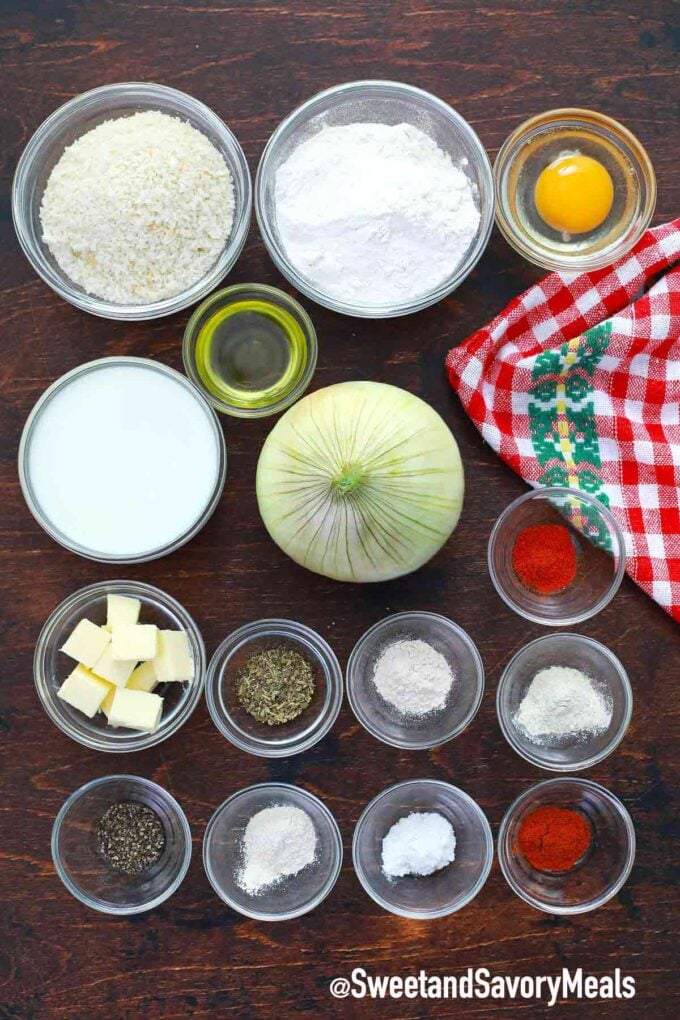 Ingredients needed:
Onion: A large one, sliced into eight separate wedges with the root intact.
Seasoned flour: To regular flour, add Italian seasoning, some ranch seasoning, spices, chili powder, plus salt and pepper.
Buttermilk-egg wash: Combine buttermilk (here's how to make it at home), with a fresh egg and a bit of melted butter.
Panko: This is the final layer, and what makes the dish extra crunchy!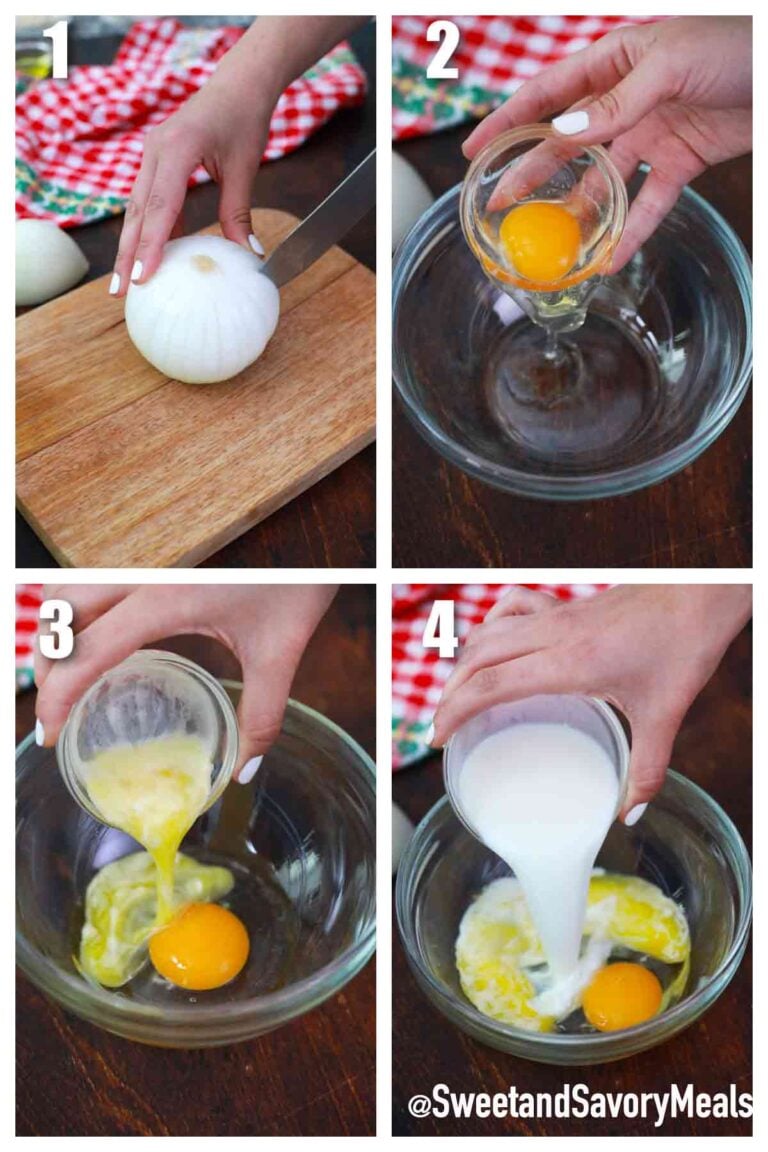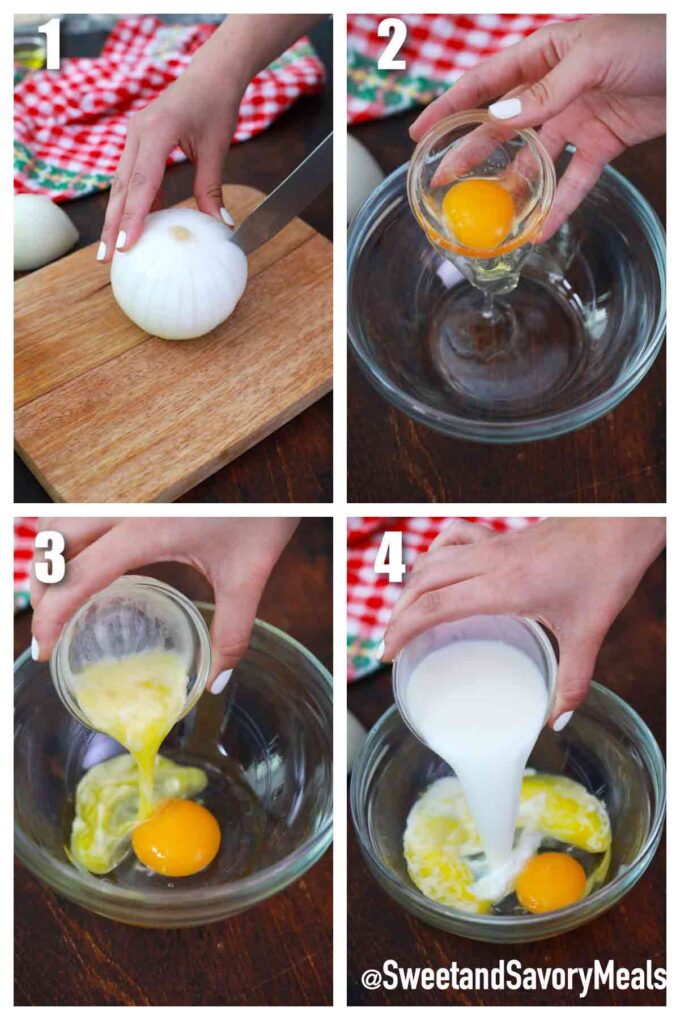 How to make homemade Crispy Air Fryer Blooming Onion
Coat with breading. First, sprinkle the bulb with the seasoned flour. If there's any remaining flour, dump it over the bulb so it reaches between the layers. Leave for a while to set, then get rid of excess by turning the bulb over and shaking gently. Place the bulb in a bowl, then pour the buttermilk-egg wash all over it. Finally, cover with panko.

Cook. Spray all over with oil. Air-fry at 300F for about 20 mins. until golden and crispy.
Serve. Enjoy hot with your dip of choice!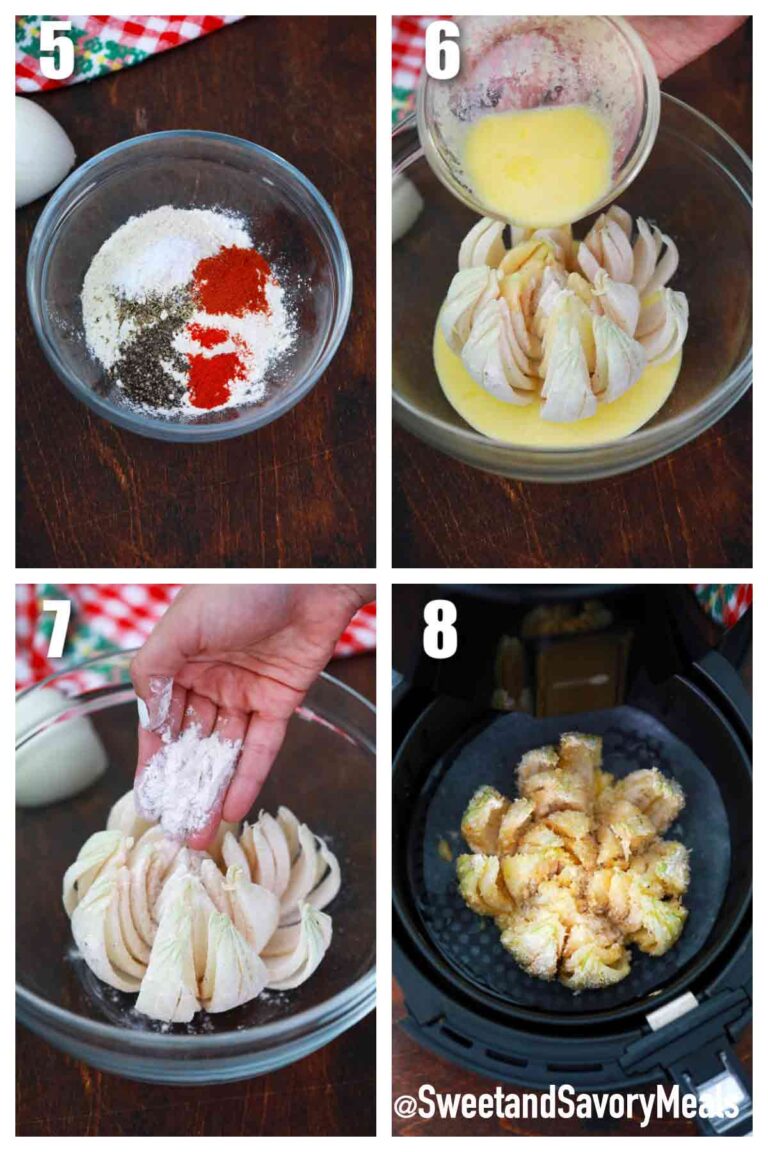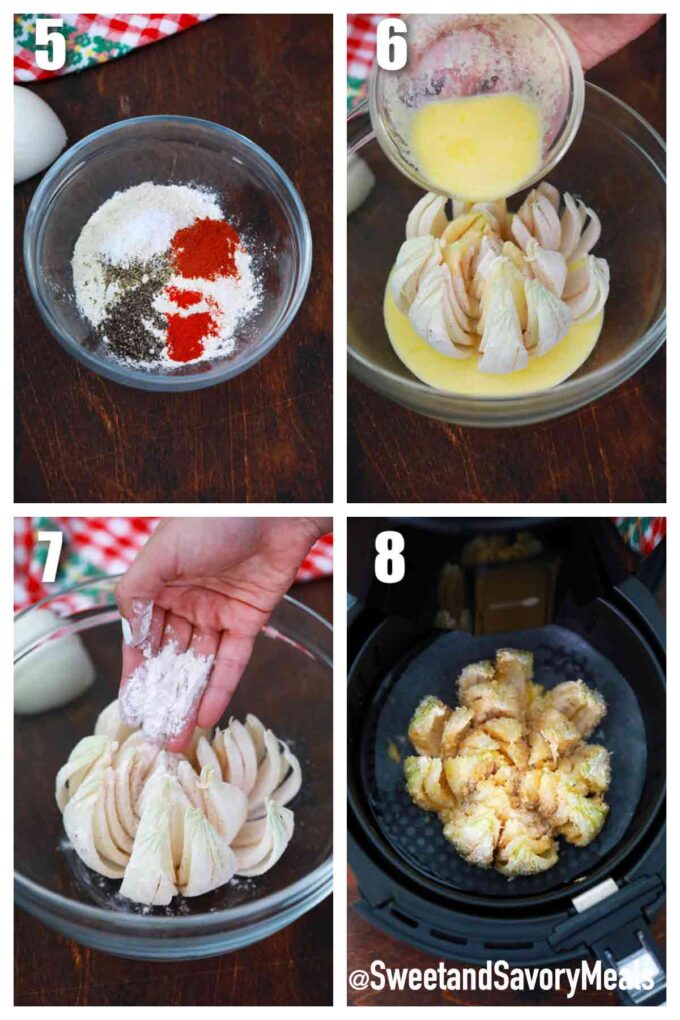 Recipe variations and substitutions:
Deep-fried: Fry in 350F oil until crunchy.
Baked: You can bake this at 350F for about 20-30 mins., or until golden and crispy.
Southern: Add Cajun powder to the mix plus smoked paprika and oregano.
Double Onion: Use French onion powder mix as the seasoning!
Mexican: For a Tex-Mex taste, add some taco seasoning, cumin, and cayenne.
Cheesy: Add grated parmesan to the seasoned flour.
Herbed: For a more intense herb flavor, mix in some dried basil, thyme, and oregano.
Lemon: Add lemon zest for a zesty twist.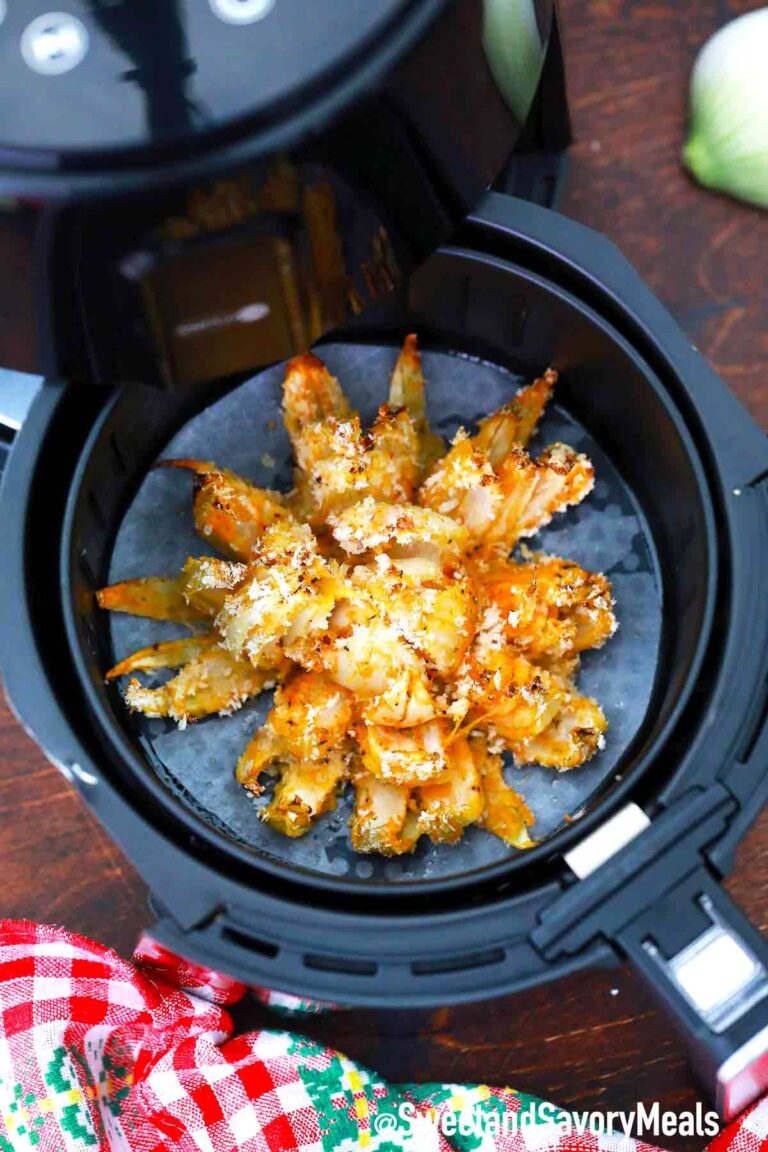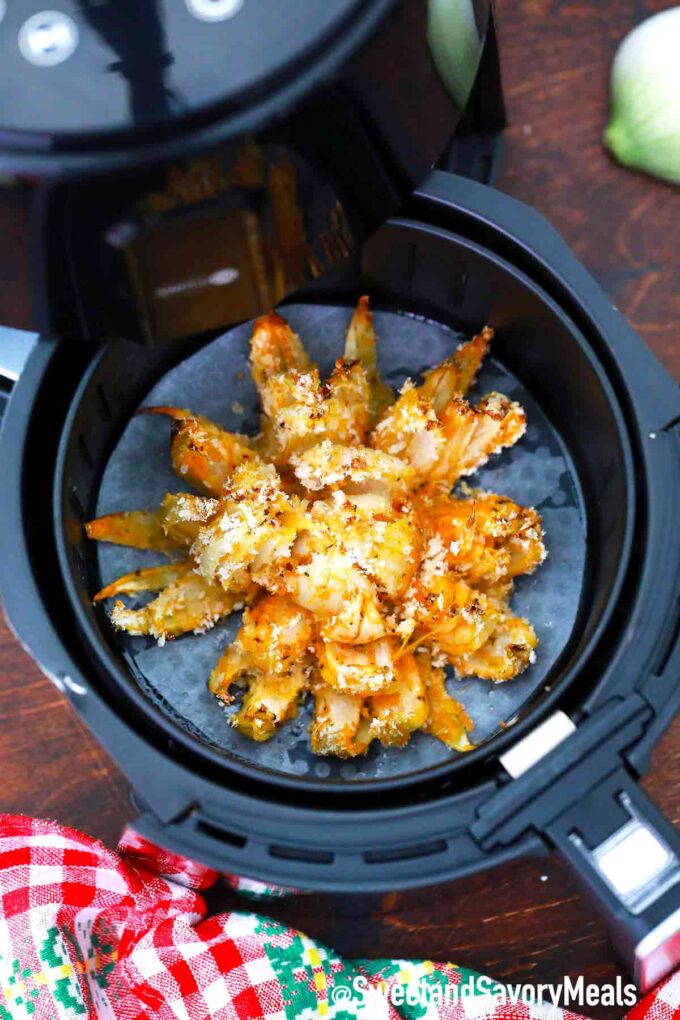 Frequently Asked Questions
How to slice a blooming onion?
The key is to leave the root intact so it holds the petals together, so be careful while slicing. First, cut off about half an inch from the top then peel the entire bulb. Then, stabilize it by placing the cut side down onto your board.
After that, make four cuts around the onion, evenly spaced and going straight down to the board. They should meet in the middle so the petals "bloom." Again, remember not to slice off the root. After that, cut one more down the middle of each wedge so you have eight cuts.
Very gently, separate the wedges to open them up, and set aside for 5 mins. so the petals soften up and relax. Now you're ready to cook!
Dipping suggestions:
To complete the blooming onion experience, don't forget the dip! You can't go wrong with these:
It's also delicious with some lemon aioli (use the aioli recipe we covered here), or mix mayo and ketchup together.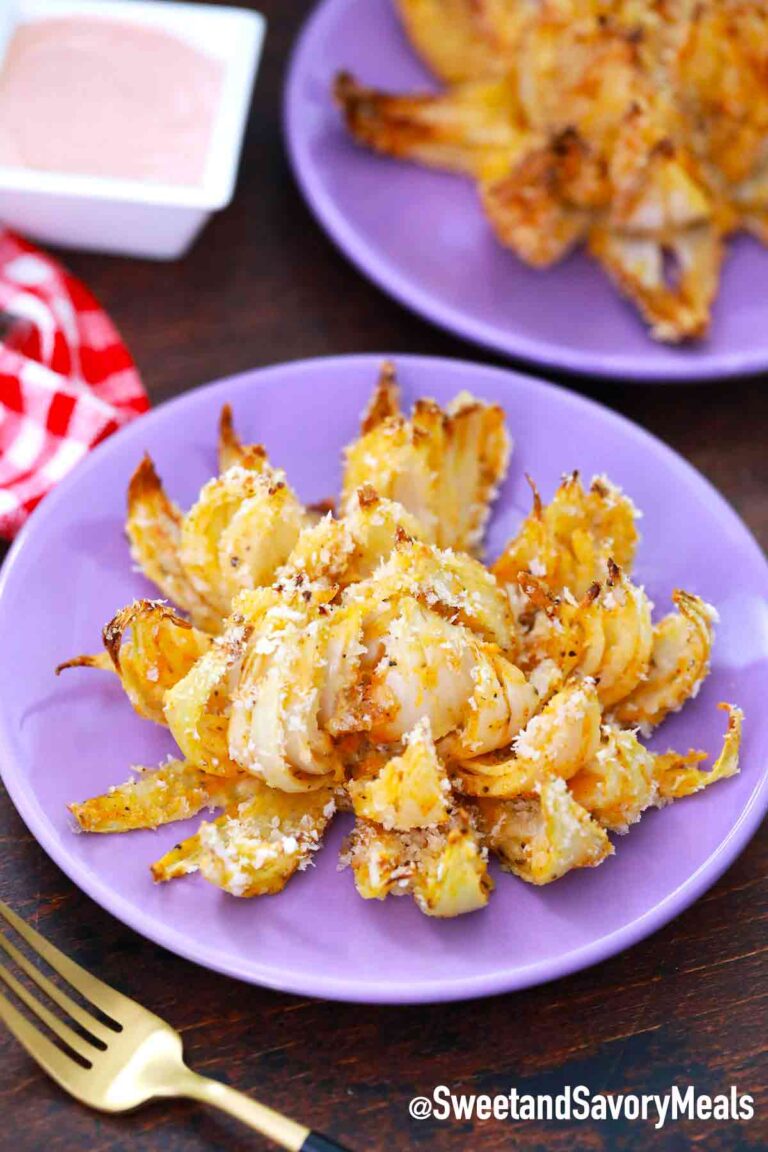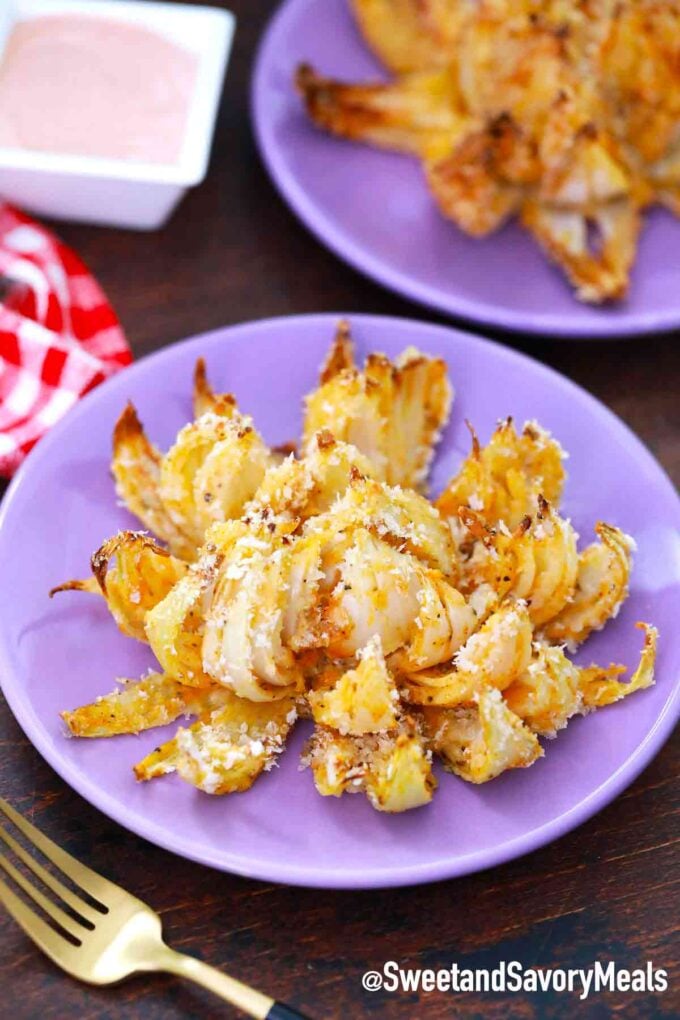 What to serve with blooming onion?
It's the perfect addition to an appetizer buffet alongside other classics like Fried Cheese Sticks, Salsa with your favorite chips, Air Fryer Salmon Cakes, and Chipotle Chicken Nachos. We also love serving it as a hearty side dish to entrees like BBQ Pork Chops and copycat KFC Chicken.
More appetizers to try:
Can you make air fryer blooming onion in advance?
Sure, go ahead and proceed with breading it. You can do this overnight, or a few hours ahead of when you plan to cook it. Doing so will help the sections relax some more and fully bloom, and also allows them to absorb more flavor.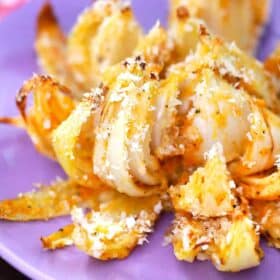 Air Fryer Blooming Onion
Air Fryer Blooming Onion tastes just like the famous restaurant-style appetizer, but NOT deep-fried! Air-fried until hot and crispy!
Save
Share
Print
Pin
Rate
Servings:
2
blooming onions
Ingredients
2

large sweet onions

1/2

cup

all-purpose flour

1

teaspoon

garlic powder

1

teaspoon

onion powder

1

teaspoon

smoked paprika

1

teaspoon

Italian seasoning

1

tablespoon

Ranch powder

1/2

teaspoon

salt

1/4

teaspoon

chili powder

1/4

teaspoon

black pepper

1/2

cup

milk

1

large egg

2

tablespoons

butter

(melted)

Salt and pepper

1/2

cup

Panko bread crumbs

Oil

(for spraying)

Dipping Sauce

(for serving)
Instructions
Slice the onion:
Cut off 1/2 inch from the top of the onion, and peel the outer skin.

Place the onion cut-side down onto a cutting board and starting about 1/2 inch from the root, make a downward cut all the way through to the board through the middle of the onion. All your cuts should meet in the middle. But do not cut through the root or too close to the root.

Make 4 evenly spaced cuts, after that 1 additional cut in between each section, this way you will have 8 evenly spaced cuts.

Turn the onion over and let it sit for 10 minutes to allow the petals to relax. Use your fingers to gently separate the petals.
Bread the onion:
In a large bowl whisk the flour and spices.

In a small deep bowl, whisk the egg, butter, and milk.

Place the onion in a large shallow dish bowl, cut-side up. Make sure the petals are separated.

Sprinkle the flour mixture over the onion making sure to get it in between the layers. Use a fork to get it in between the onion petals.

Repeat with the other onion.

Sprinkle the remaining flour mixture on top of the onions. Set them aside for a few minutes.

Shake the excess flour into a bowl.

Add the onions to a large bowl and pour the egg mixture on top to coat evenly. Try getting the egg mixture in between the petals. Let the onion sit in this mixture for a few minutes. Tilt the onions and let the excess egg mixture drip off.

Sprinkle the reserved flour mixture and panko bread crumbs on top of the onions.

Place the onions into the refrigerator to set (for about 10 minutes) while you preheat the air fryer.
Air fry:
Preheat the air fryer to 300 degrees F.

Spray onions generously with cooking oil. Place on a piece of foil and air fry for 20 minutes or until crispy and golden brown.

Open and spray at once or twice with more cooking oil during the cooking process.

Remove gently and serve with your favorite dipping sauce.
Notes
Do not take off the root, or the entire bulb will fall apart.
You'll need to be very generous when spraying with oil, so you can get that crunchy, deep-fried effect.
Push the sections open to make them open up but be careful so you don't tear off the sections.

If there are still any dry spots of flour, dab or brush it with more buttermilk-egg wash.
Nutrition
Calories:
413
kcal
|
Carbohydrates:
54
g
|
Protein:
11
g
|
Fat:
18
g
|
Saturated Fat:
5
g
|
Trans Fat:
1
g
|
Cholesterol:
88
mg
|
Sodium:
1456
mg
|
Potassium:
453
mg
|
Fiber:
6
g
|
Sugar:
9
g
|
Vitamin A:
1367
IU
|
Vitamin C:
8
mg
|
Calcium:
203
mg
|
Iron:
4
mg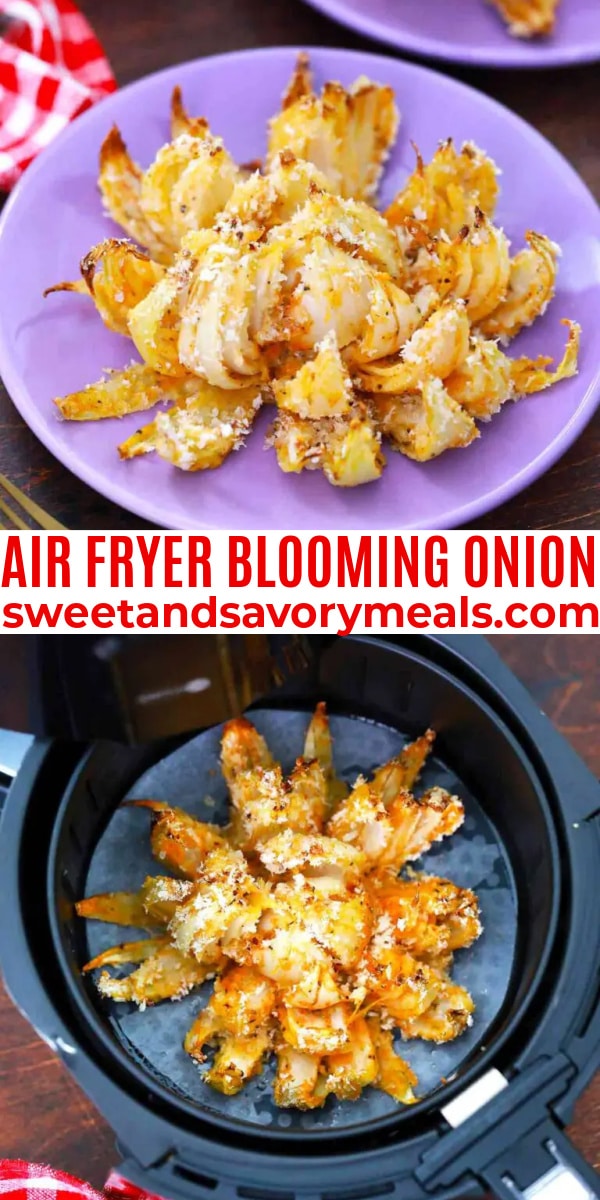 More recipes you might love