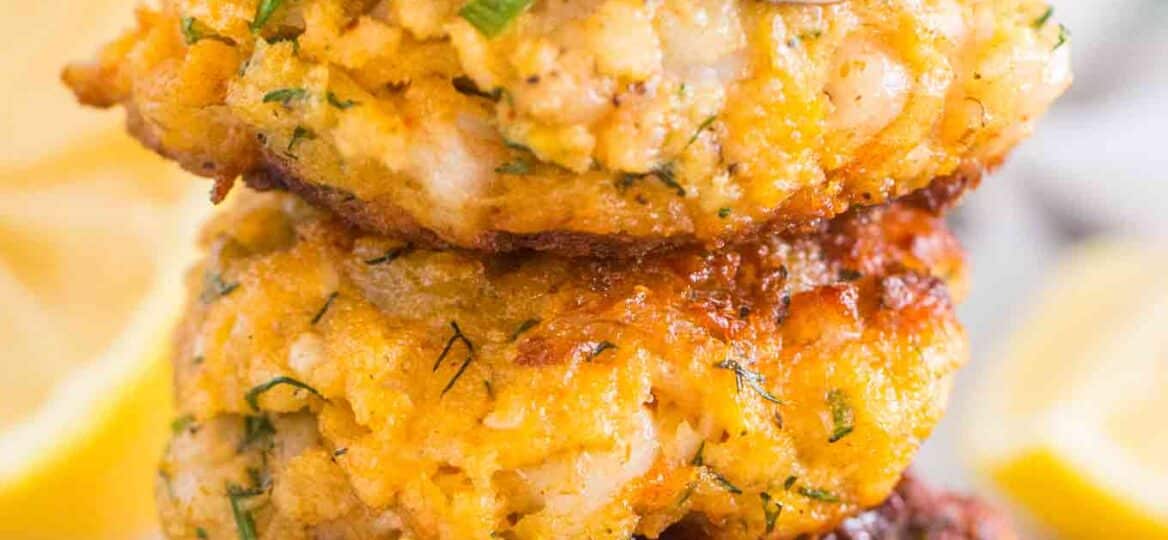 Shrimp Cakes – 30 Minutes Only! [VIDEO]
Shrimp Cakes are juicy and flavorful, spiked with fresh dill, lemon, and smoked paprika, and served with the most amazing mayo-based dipping sauce. The cakes are the perfect finger food that the whole family will love!
When it comes to shrimp, our family is a huge fan of them. We eat a lot of shrimp dishes, and Shrimp Cakes is easily one of the top dishes we enjoy the most. If you are a huge shrimp fan like us, check out the Spicy Garlic Shrimp.
This recipe is so tasty especially when you dip in some crusty, warm bread in it. Similarly, we recently made these Bacon Wrapped Shrimp and they were a huge success.
Best Shrimp Cakes
Shrimp Cakes are very similar to crab cakes, but also a lot cheaper to make. Similarly, we like them more because they tend to be juicier and more versatile than traditional crab cakes. You can mix them with your favorite ingredients, or veggies, so the mix and match possibilities are endless.
If you are a cheese lover, you can add some cheese into the mix.
Also, if you enjoy a spicier kick, just add some jalapeño. Whichever mix you prefer, they are guaranteed to be a huge hit. They always come out juicy, tender and very flavorful!
These Shrimp Cakes have long been one of our favorite dinner dishes to make for a few reasons. First, they are very easy and timely to make, and also a cheaper alternative compared to what you pay at a restaurant.
The shrimp are cut and mixed with all the fresh ingredients, like fresh lemon juice, fresh dill, and green onion, and then combined together into cakes. Served with a dill mayo-based dipping sauce or salad, they are guaranteed to make your family and guests happy!
HOW TO PEEL AND DEVEIN SHRIMP?
To peel raw shrimp, start underneath, where their legs are attached.
Use a paring knife to devein by making a shallow slit down the middle of the back to expose the black strip intestine.
Gently remove the black strip of the intestines and wipe it off on a paper towel.
In order to remove the shrimp tail, just squeeze the shrimp out from the tail segment, discard the tail.
HOW LONG DO YOU COOK SHRIMP CAKES IN THE OVEN?
For this recipe, we cooked them on the skillet, for a crispier texture. Alternatively, you can bake them in a 400F preheated oven, for about 15 to 20 minutes or until they are crisp around the edges and shrimp turn pink.
Can I use a food processor to chop the shrimp meat?
We prefer to cut the shrimp by a knife in proportional sizes because we like to feel the larger shrimp bites in the cakes.
However, using the food processor will finely chop raw shrimp meat uniformly. It will work great as well, but make sure not to over-process your shrimp – you want small chunks, but you don't want to grind it into a paste.
How to make Aioli Sauce?
This recipe pairs well with Aioli Sauce, which a mayo-based sauce with some lemon hint to it. It is super easy to make, and refreshing, and just makes it for a perfect dipping sauce.
To make it, you will need the following ingredients:
1/2 cup of mayonnaise. You can use any type you like.
1/2 cup sour cream
juice of a half lemon
1 garlic clove minced – optional
chopped green onions and dill
Optional – some salt and pepper for seasoning.
Once you have all the ingredients ready, simply add them all into a bowl, and stir till well combined. It is super simple to make, and well worth it!
What kind of wine pairs well with Shrimp Cakes?
White wine usually pairs well when cooking shrimp or any other seafood dish. Sauvignon Blanc or Chardonnay would be ideal wines to use for shrimp. This is your go-to category.
If possible, choose a wine that has a moderate alcohol content, preferably between 10 and 13 percent, and generous acidity.
Recipe Tips and Tricks
Use quality shrimp. Preferable wild-caught shrimp whenever possible.
Similarly, avoid farm-raised shrimp, because they might be raised with antibiotics and could lead to health problems.
Wash the shrimp really well and dry them with a paper towel before cutting.
Also, use fresh lemon juice as it will give a fresher and nicer flavor to the dish.
If you like garlic, add some freshly minced to the mixed.
Use an ice cream scoop to make the ball portion of them.