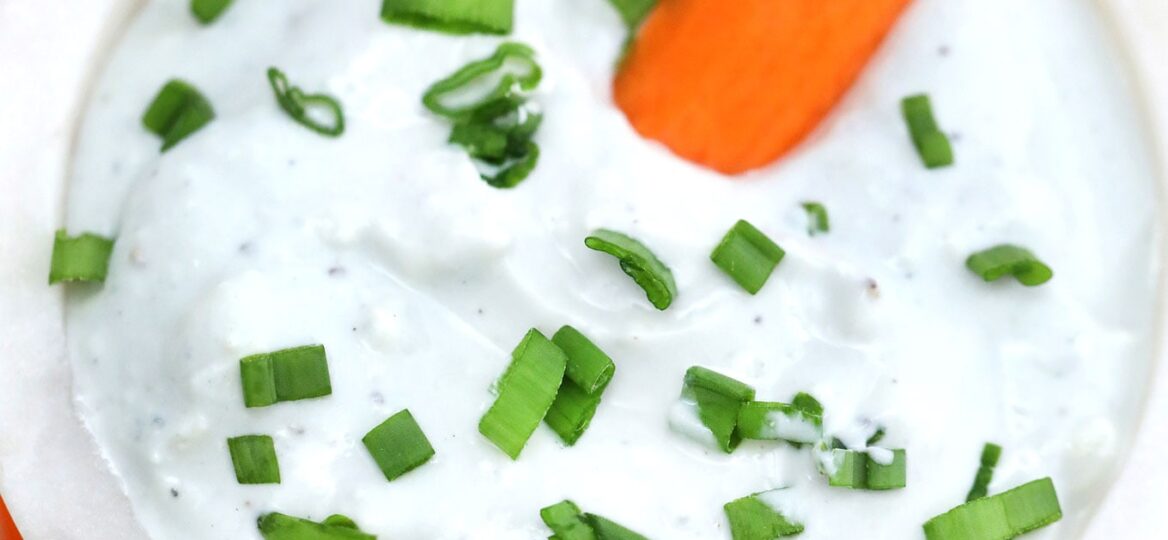 Blue Cheese Dressing [Video]
Blue Cheese Dressing is rich, creamy, and tangy! It is the perfect accompaniment to your favorite salad! It also makes a great and easy dip!
Buying a jar of dressing is no longer necessary if you have this recipe. Just make your homemade version whenever you need it. And have your Baked Buffalo Wings, Italian Chopped Salad, and Potato Salad ready for this!
Blue Cheese Dressing Recipe
This Blue Cheese Dressing recipe is easy to make with a few pantry staples to enhance your favorite dip! The rest of the ingredients are on the tangy side and the sugar balances all that acidity. The garlic and onion powder make it more savory, too.
Blue cheese has a sharp sophisticated taste that completely evens out the rest of the ingredients. Its saltiness melds well with the tanginess and this combination results in a rich overall flavor.
It is highly favored now, and it has been for the past hundreds of years. It is said that Roquefort, a popular variant made from sheep milk, was discovered in a milk cheese sandwich that was left in a cave.
Months later, mold grew in it, giving it blue veins. This is because the temperature condition in the cave was conducive to the growth of those molds. Today, temperature control is still needed in its production.
You can buy it at the grocery, and I am sure you can find one near you. And that is the only thing that you may have to buy as the other ingredients might already be in your pantry. Include this recipe in your cooking repertoire and you will never go back to the store-bought version!
What is Blue Cheese Dressing:
It has the salty blue cheese as the main ingredient that is balanced by tangy ingredients like buttermilk, Greek yogurt, and white vinegar. The mayonnaise adds to its creaminess.
It is called as such because there are blue veins in it. The Penicillium mold in it is responsible for that. It is generally safe for the public to consume it, especially that the production renders the mold neutral.
How to make Blue Cheese Dressing:
For a quick step by step tutorial, please watch the recipe video attached above. The general steps are as follows:
Mash: In a bowl, mix the buttermilk and the cheese then, mash everything together with a fork.
Combine: Add in the rest of the ingredients and mix with the fork.
Refrigerate: Transfer the mixture into an airtight container and refrigerate for 4 hours.
Serve: After 4 hours, take it out of the fridge, stir, then, serve.
What goes with it?
This dressing is versatile, and you can use it not just for salads, but as a dip, too. Its flavor goes well with almost any kind of food buffalo-style, may it be chicken or pizza or whatever.
Here are some ideas:
How long does homemade Blue Cheese Dressing last?
It can last in the fridge for two weeks, just keep it tightly sealed. With this, you can make it in advance and have it on hand whenever you need it.
Recipe Tips:
Instead of garlic powder, you may want to crush fresh ones for a more intense natural flavor.
Add a dash of hot sauce or Worcestershire sauce to boost flavor.
You may opt to leave out the sugar if you want a more acidic taste.
Buy the blue cheese as a big chunk and crumble them yourself. It will be a lot tastier than using the pre-crumbled ones.
No buttermilk? No problem! Just see this post on how to make your buttermilk substitute!