Air Fryer Steak Bites Recipe
Last updated on December 30th, 2022 at 02:57 pm
Air Fryer Steak Bites are tasty little pieces of perfectly cooked sirloin steak flavored with garlic, Worcestershire sauce, and smoked paprika with a dash of red pepper flakes for a kick. These are perfect for a game-day snack or as a hearty meal paired with mushrooms or other vegetables. Cook time is only a few minutes so you can have dinner on the table in less than 15 minutes.
If you like garlic butter, you are going to love our tasty little Garlic Butter Steak Bites made from sirloin and seasoned with garlic butter sauce, brown sugar, and rosemary sprigs. For pork lovers, these Air Fryer Pork Belly Bites will delight everyone. They are crunchy on the outside and perfectly tender inside.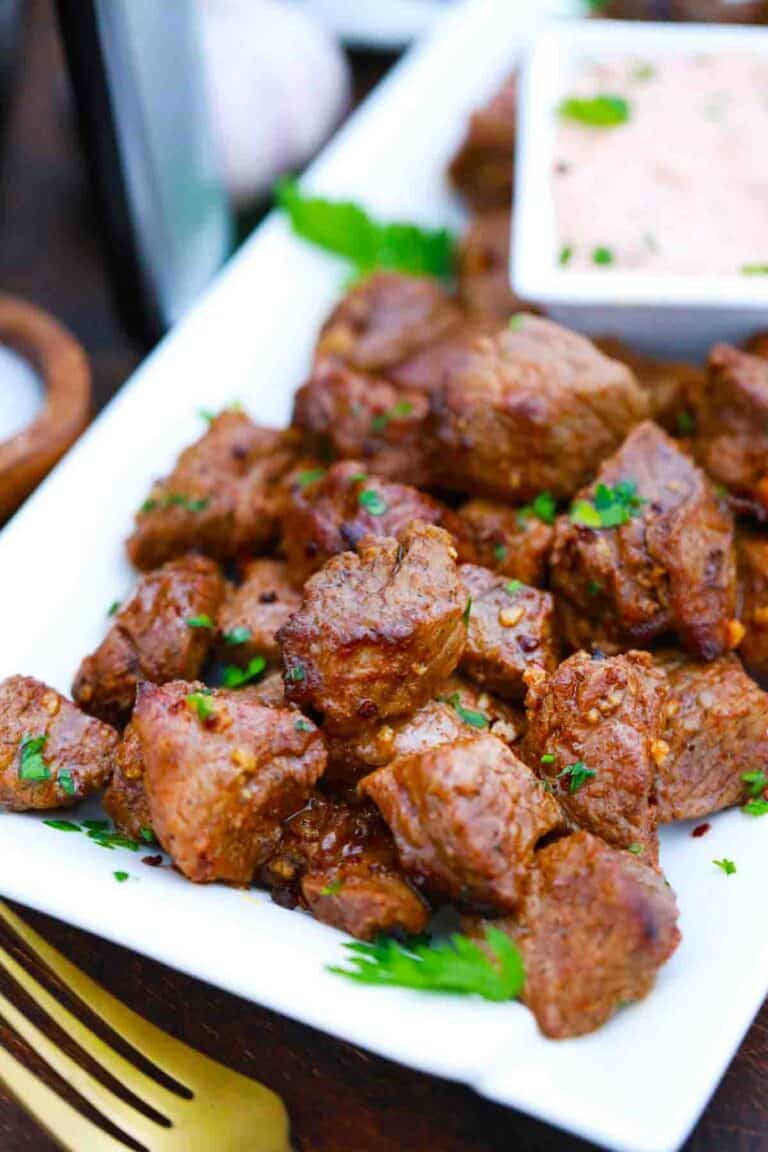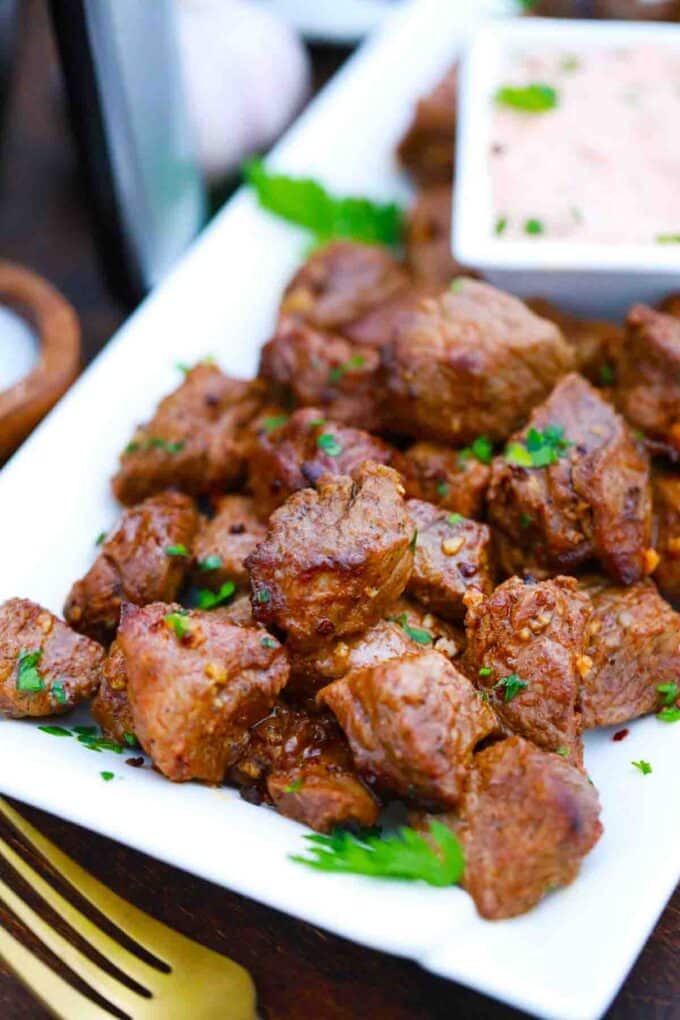 According to evidence found in caves by archaeologists, humans have been eating beef since before 10,000 BC. Back then, the beef served at their meals was from aurochs, which were wild oxen that were ancestors of our domestic cattle.
Researchers found cave paintings and drawings on cave walls of hunting for aurochs along with ancient bovine bones to prove that they hunted for food, not for fun. We domesticated cattle as early as 8,000 BC for milk and meat and today it is one of the most widely consumed meats in the world.
If you and your family enjoy steak, this recipe is perfect. Air-fried steak bites leave you with incredibly juicy steak that melts in your mouth. Just an FYI, air fryers are a healthier way to make anything instead of deep frying because you use little to no oil. Air frying cooks with hot air so you do not need all that grease on your food.
If you are looking for more air fryer recipes, we have them! These air fryer pasta chips with parmesan cheese and Italian seasoning would make a great side dish. Or you could pair your steak bites with these crispy air fryer potatoes seasoned with smoked paprika, garlic, and onion.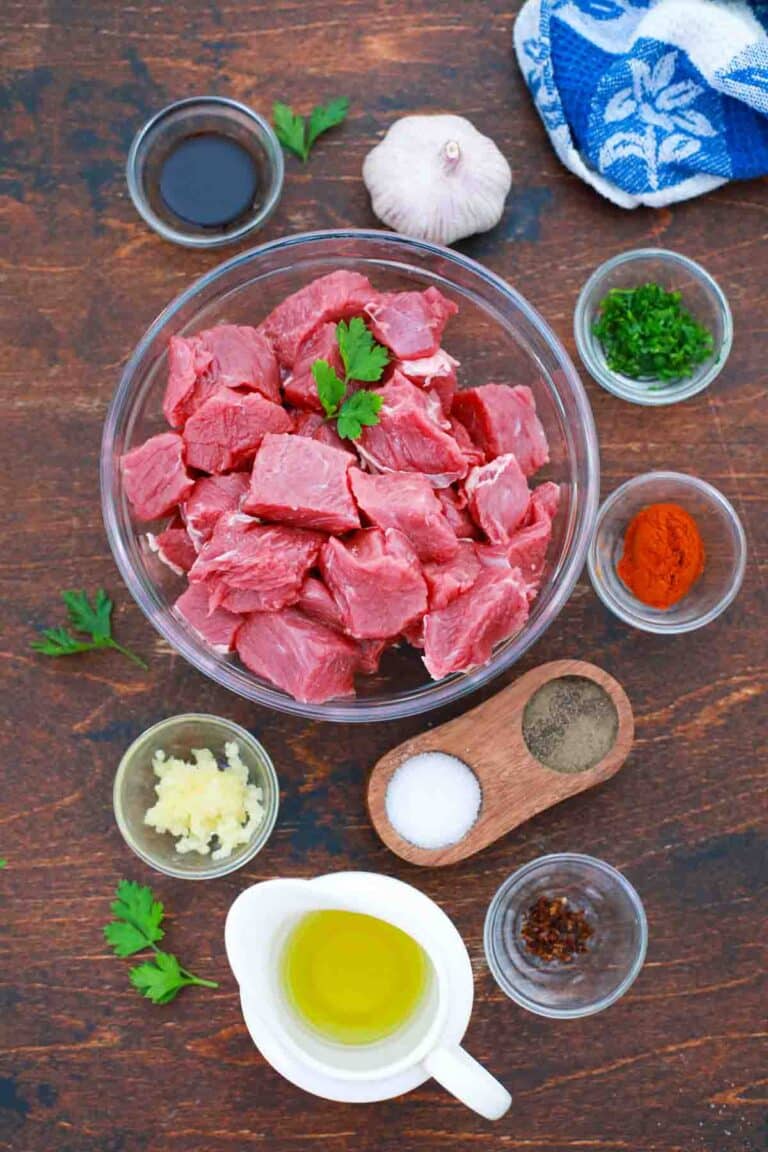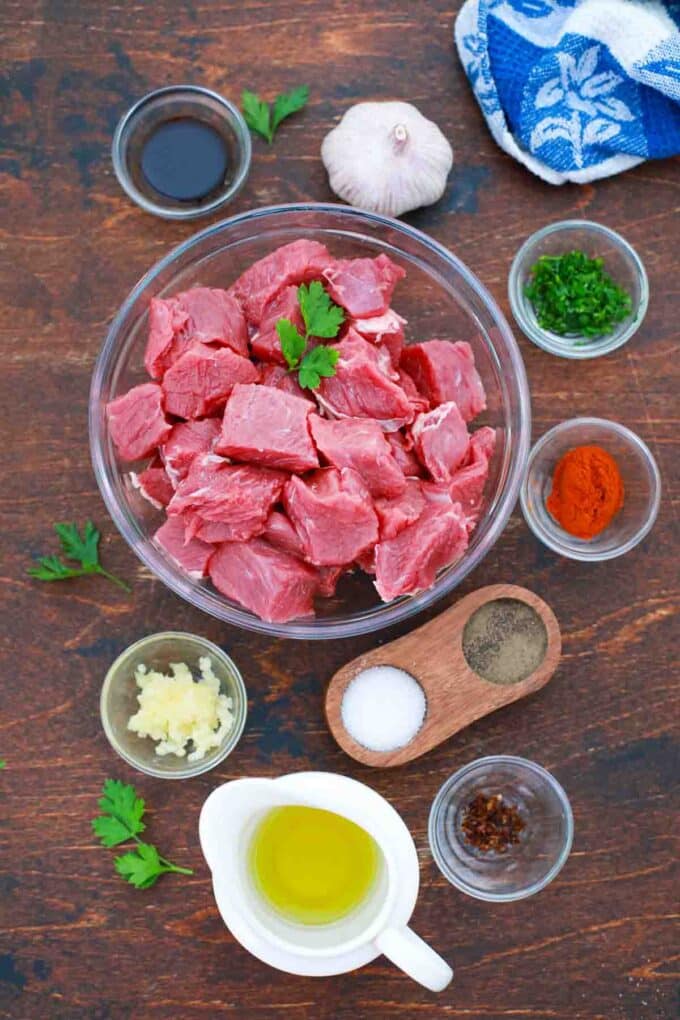 Ingredients needed:
For the exact measurements and directions to make these air fryer steak bites, scroll down to our handy recipe card at the bottom of this page. In the meantime, gather these ingredients to get started.
Top sirloin steak: Cut into bite-sized pieces.
Minced garlic
Olive oil
Worcestershire sauce
Kosher salt
Black pepper
Smoked paprika
Red pepper flakes: For garnish.
Freshly chopped parsley
How to make air fryer steak bites from scratch?
Preheat the air fryer: First, set your fryer at 400 degrees F to let it heat up.
Add steak pieces: After, put all the cubed steak pieces in a large bowl and season with smoked paprika, garlic, salt, and pepper.

Toss and rest: Then, toss in the sauce and olive oil and let it rest for 15 minutes to soak up the flavors.
Place steak bites: Next, place the beef bites in the air fryer basket, making sure they are not overcrowded so the steak bites cook evenly.
Air fry steak cubes: Lastly, cook beef cubes for four minutes at 400 degrees F. Shake the basket and cook for another four minutes. The internal temperature should be 130 degrees F for medium using an instant-read thermometer. Cook for three minutes longer if you want your bites to be well-done.
Serve steak: Finally, move the steak bites to a plate and garnish with parsley and red pepper flakes. Serve immediately.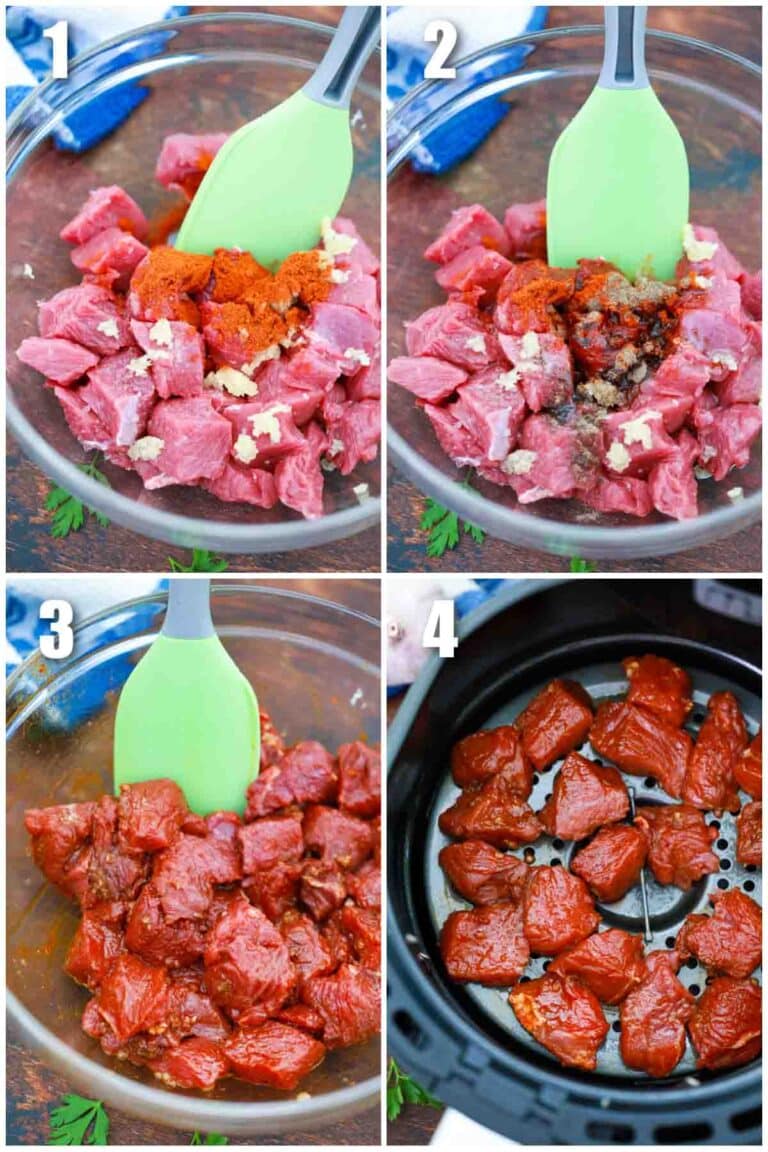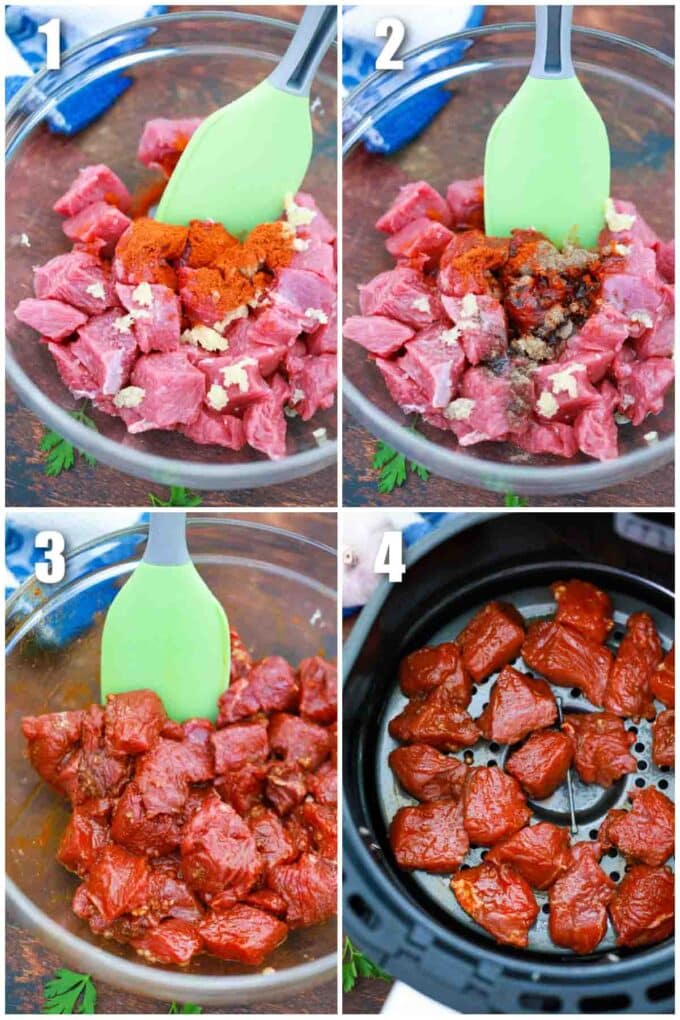 How to make stovetop steak bites from scratch?
Start the sizzle: To begin, pour oil into a large skillet and heat it at high heat on the stovetop.
Season the steak bites: Meanwhile, using a medium-sized bowl add the steak bites and toss with the seasonings, oil, and Worcestershire sauce.
Add the steak: When the oil is sizzling, add the steak pieces to the pan and cook for at least two minutes before you stir it so you get a good sear. This allows the beef to be extra juicy.
Keep cooking: Then, cook steak bites like stir fry for another two minutes, occasionally stirring, until they reach your desired doneness. The bites should be 130 degrees F for medium rare and 160 degrees F for well-done.
Serve: Last, serve with red pepper flakes and parsley.
Recipe variations:
Other meat: Feel free to use chicken, pork, or turkey cubes instead of beef.
Chili powder: Add 1/2 teaspoon of chili powder to your seasonings for a more robust flavor.
Fresh herbs: In addition, you can add your other favorite fresh herbs such as thyme, tarragon, sage, oregano, or rosemary.
Another oil: Alternatively, use your favorite cooking oil like vegetable, canola, or avocado oil.
Buttery bites: Melt butter in the microwave and use it instead of the oil for a rich buttery flavor.
Sweet meat: For sweet-flavored meat, add 1/4 cup of brown sugar.
Spice it up: To make an even spicier batch of beef bites, add some cayenne pepper to your seasonings.
Buffalo bites: Turn these into beef buffalo bites by soaking them in buffalo sauce before you cook them. Try our easy buffalo sauce recipe.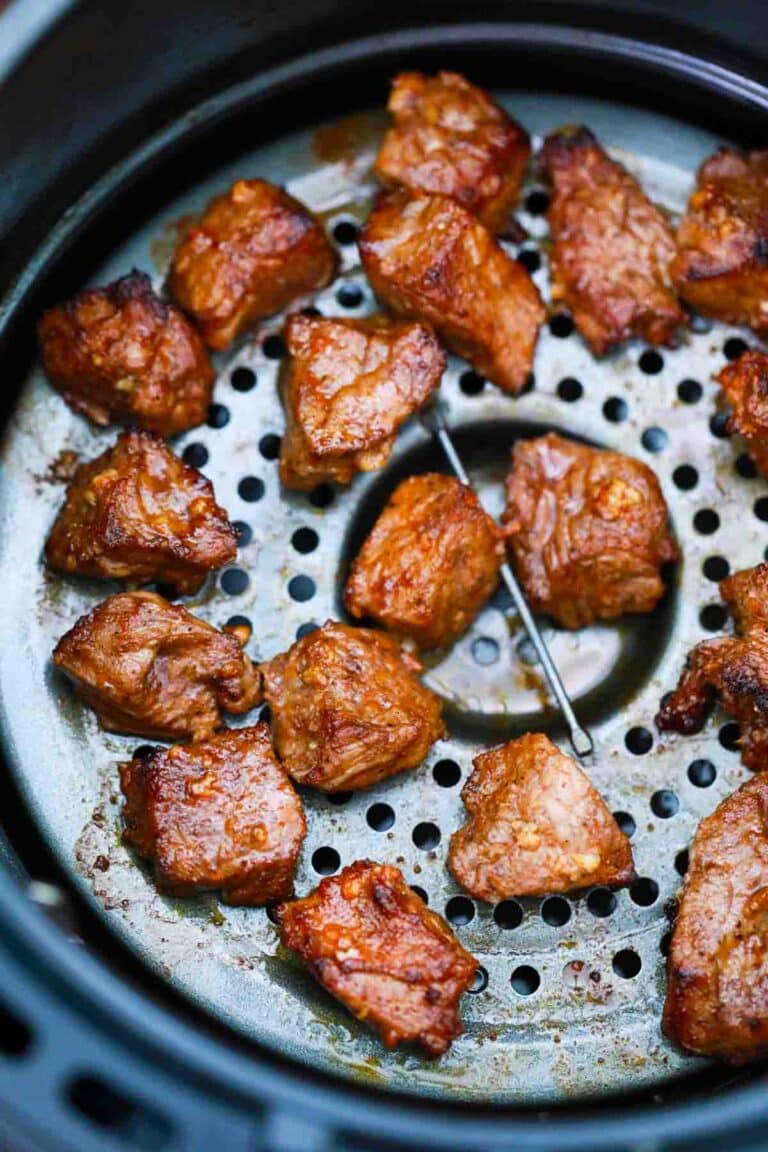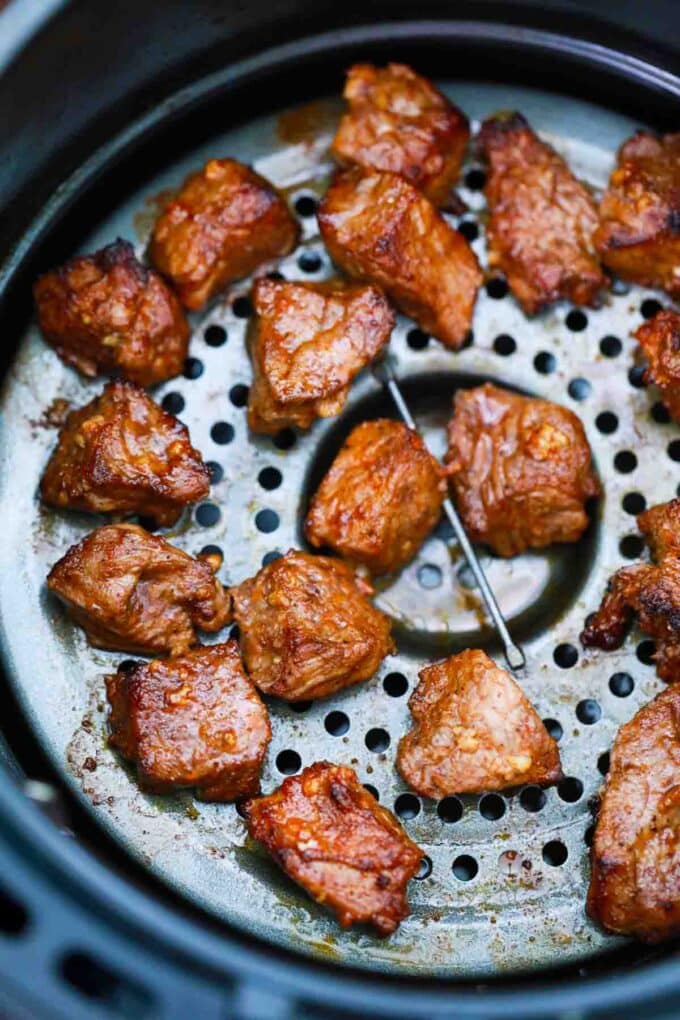 How to serve:
This is a fast and easy way to prepare dinner in a hurry for the best steak you have ever had. Or you can serve these air fryer steak bites as an appetizer or snack. They are a great low-carb snack anytime. Here are some awesome serving ideas to get you started.
Serve with a delicious garlic butter sauce made with melted butter and minced garlic or garlic powder.
One of my favorite ways to serve these bite-size pieces of beef is with a side of mashed potatoes. Try our recipe for chunky mashed potatoes made with heavy whipping cream and green scallions.
Add a bit of lime or lemon juice just before serving for a delightfully tangy twist.
Use leftover steak bites for other recipes like beef stew, casserole, soup, or salads.
You could also use these as a hearty meal mixed with broccoli, potatoes, carrots, cauliflower, or whatever veggies your family likes.
Try this dish on top of a bed of rice or noodles. Our instant pot butter rice is a wonderful recipe for this. It is so creamy, made with a whole stick of real butter.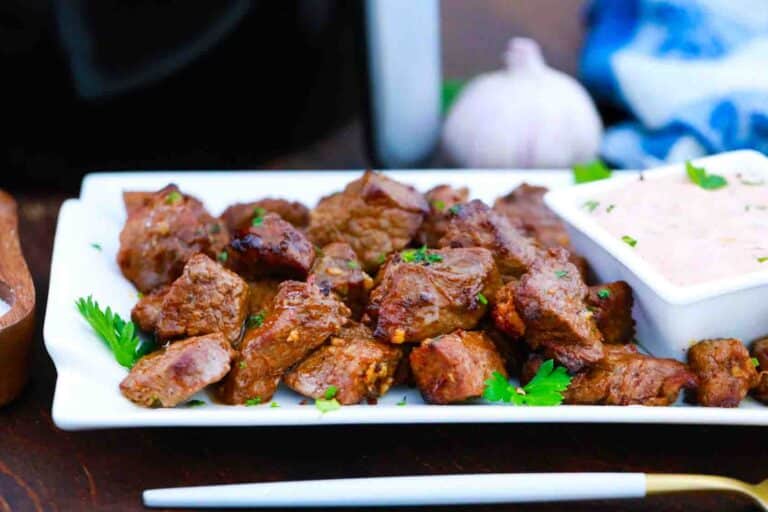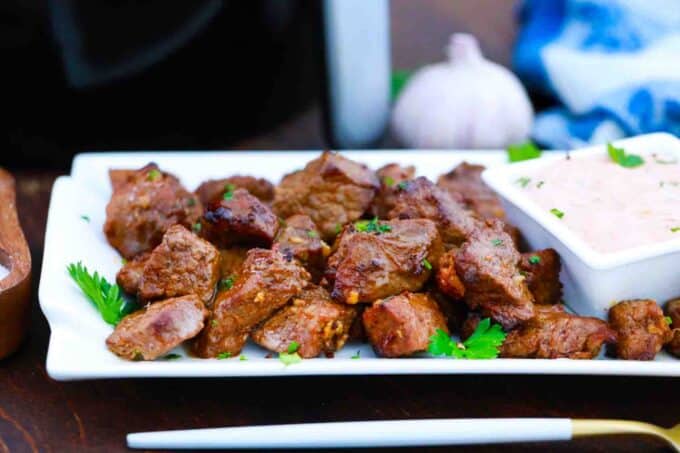 Frequently asked questions
What kind of steak is best for this recipe?
Although this recipe calls for sirloin steak, you could also use strip steak, skirt steak, or another cut of beef. The better the beef, the juicier it will be. If you use filet mignon, expect mouth-watering results. But any cut of beef will work including round steak, chuck eye, rump roast, and blade steaks.
Can I use frozen steak for these bites?
You can certainly use frozen steak bites like stew meat instead of fresh meat. However, you will not be able to sear it properly that way. Also, the seasonings and sauce cannot penetrate frozen meat so you may want to let them thaw a little bit before using them. You can give it a little sear on a very hot skillet but be careful it does not burn.
Why are my air fryer steak bites tough?
You could have overcooked them. These little pieces of meat can easily overcook so make sure you check them after a few minutes to see how they are doing. Do not be afraid to take them out of the air fryer basket earlier than this recipe calls for.
Some air fryers cook faster than others. Try marinating your beef in vinegar, wine, or even lemon juice.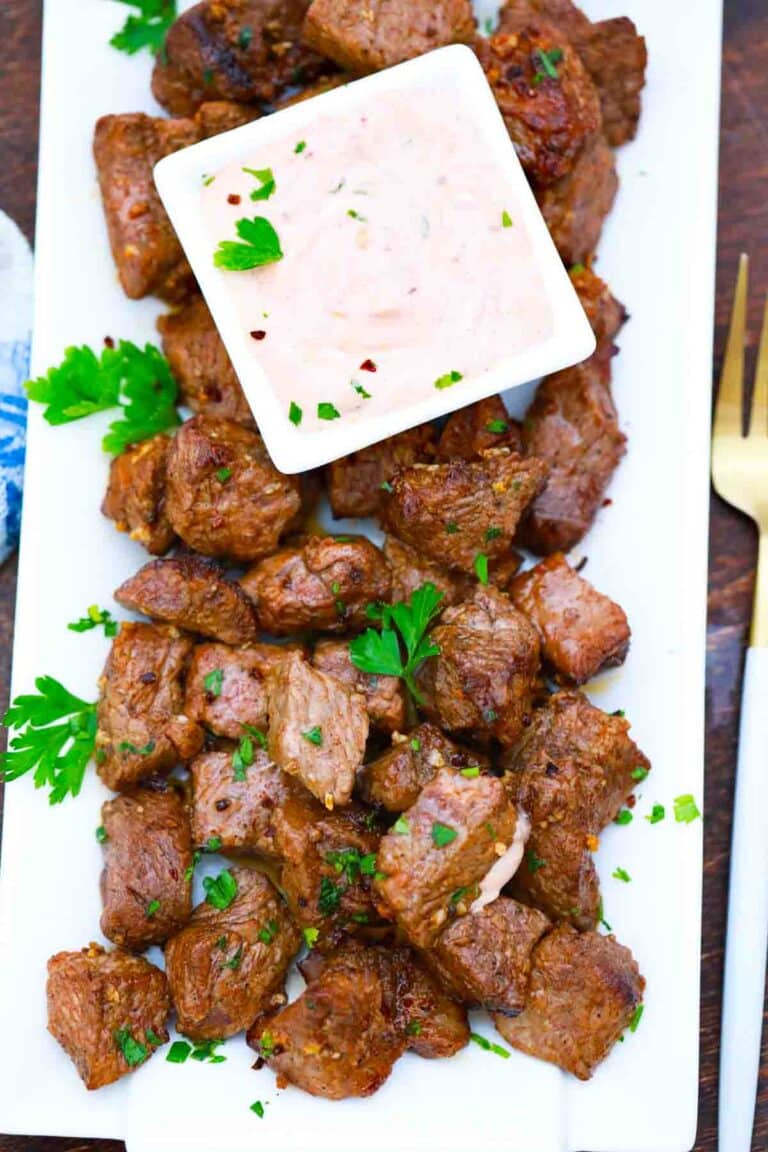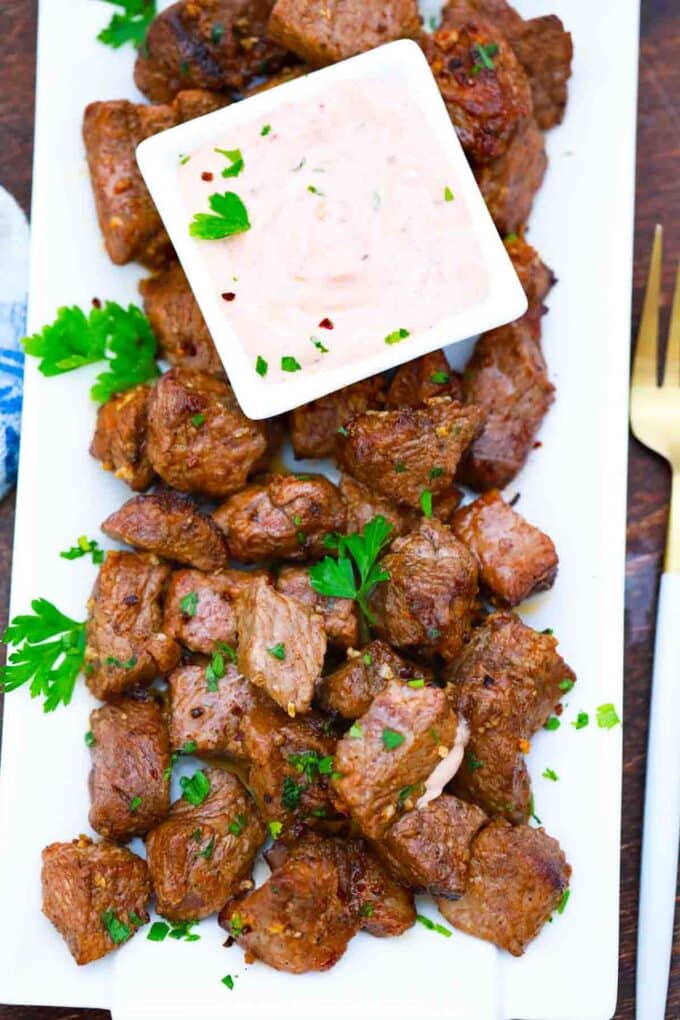 What are the nutrition facts in this recipe?
This recipe is packed with vitamins and minerals. For every serving, you will get 398 calories, 149 milligrams of cholesterol, and 22 grams of fat including 6 grams of saturated fat, 3 grams of polyunsaturated fat, 12 grams of monounsaturated fat, and 1 gram of trans fat.
But you also get 4 milligrams of iron, 55 grams of protein, 68 milligrams of calcium, 3 milligrams of vitamin C, and 301 units of vitamin A.
How to store leftovers:
Store: You can store your leftovers in an airtight container or gallon-size freezer bag. Refrigerate for up to three days.
Freeze: Additionally, to keep these steak bites longer, you can freeze them for up to 90 days.
Thaw: For the best flavor and texture, remember to put the beef cubes in the fridge to thaw overnight before serving.
Reheat: To reheat, cook in the air fryer for two to three minutes at 400 degrees F or 90 seconds in the microwave.
More air fryer recipes:
Cooking tips:
Try to chop all the pieces roughly the same size so the steak bites cook evenly. Make sure they are bite-size pieces.
Also, fresh garlic always tastes better than garlic powder, but you can switch if you have to.
Cooking time may vary depending on the size of the beef chunks and the type of air fryer you are using.
If you want your steak to cook faster, cut them into smaller pieces.
Make sure you do not overcook your steak bites or they will get tough and dry. As soon as they are done, get them to a platter to stop them from cooking.
In addition, for the best air fryer steak bites, use the best cut of meat.
Do not shake the beef bites until they have cooked for four minutes.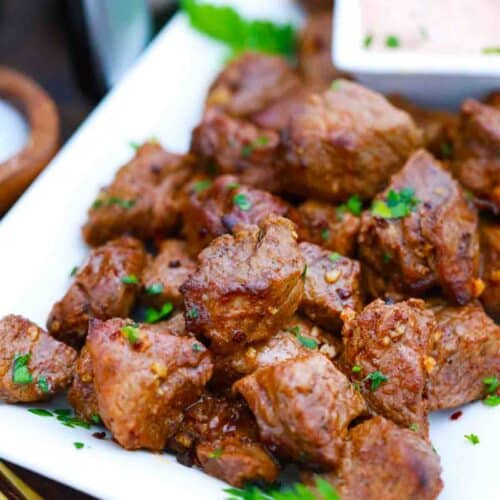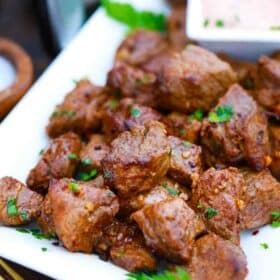 Air Fryer Steak Bites
Air Fryer Steak Bites are tasty little pieces of perfectly cooked sirloin steak flavored with garlic, Worcestershire sauce, and smoked paprika.
Save
Share
Print
Pin
Rate
Ingredients
1 1/2

pound

top sirloin steak

(cut up into about 1-inch cubes)

1/2

teaspoon

salt

4

cloves

garlic

(minced)

1/4

teaspoon

fresh ground black pepper

2

tablespoons

olive oil

1

tablespoon

Worcestershire sauce

1/2

teaspoon

smoked paprika

1/4

teaspoon

red pepper flakes

(for garnish, optional)

Chopped fresh parsley

(for garnish)
Instructions
Place cubed steak into a large mixing bowl. Season with salt, garlic, paprika, and pepper.

Next, add the olive oil and Worcestershire sauce, and toss to combine. Let marinate for 15 minutes.

Preheat the air fryer to 400 degrees F.

Arrange the steak cubes in an even single layer inside the air fryer basket. DO NOT overcrowd. If needed, cook in batches.

Cook for 4 minutes, shake and cook for 4 more minutes until the steak's internal temperature reaches 130 F for medium-rare or 145 F for medium. Use an Instant Read Meat Thermometer to check for doneness.

Cook 3-4 minutes longer for a well-done steak.

Transfer the steak to a serving plate. Garnish with red pepper flakes and parsley. Serve.
Nutrition
Calories:
583
kcal
|
Carbohydrates:
2
g
|
Protein:
76
g
|
Fat:
28
g
|
Saturated Fat:
7
g
|
Polyunsaturated Fat:
2
g
|
Monounsaturated Fat:
17
g
|
Cholesterol:
201
mg
|
Sodium:
887
mg
|
Potassium:
1302
mg
|
Fiber:
0.3
g
|
Sugar:
1
g
|
Vitamin A:
328
IU
|
Vitamin C:
1
mg
|
Calcium:
88
mg
|
Iron:
6
mg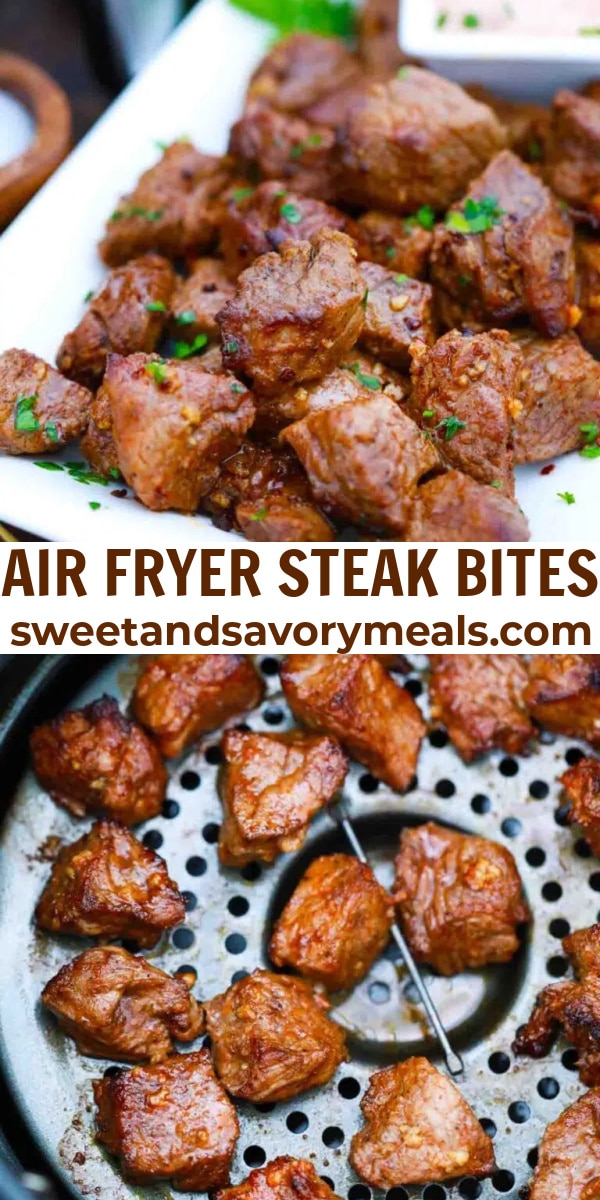 More recipes you might love