Best Air Fryer Meatballs [Video]
Air Fryer Meatballs are made with ground beef, ground sausage, seasonings, fresh herbs, and parmesan cheese after that air fried to crispy perfection. They make the perfect dinner with marinara sauce and pasta or delicious finger food.
The air fryer is so versatile, if you don't have you are missing out, so make sure to grab one asap and try our delicious recipes. You can make perfect Churros, Air Fried Oreos, and the juiciest, most fabulous Pork Chops.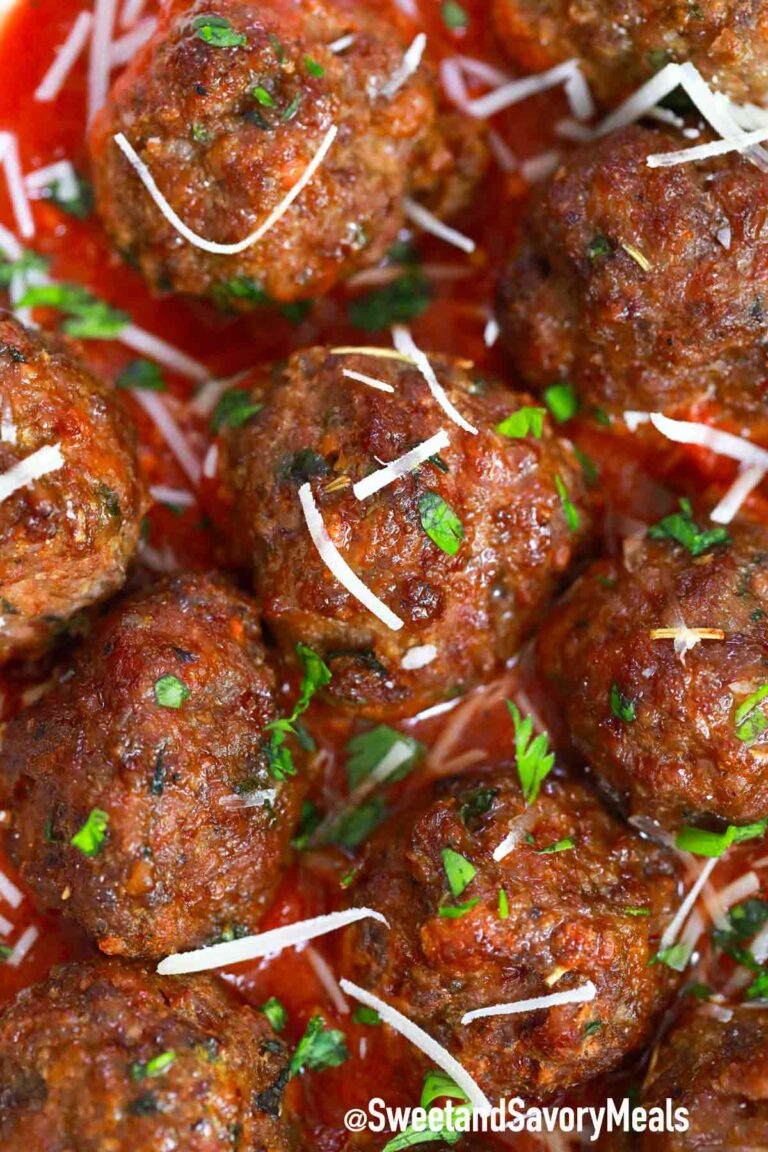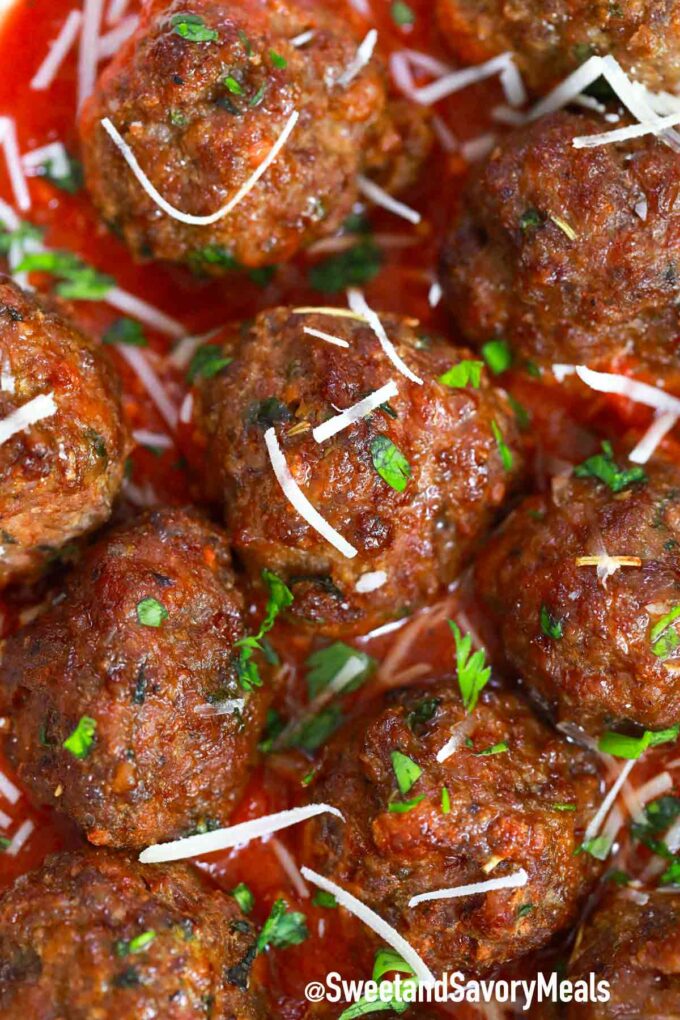 Air Fried Meatballs Recipe – for Dinner or as an Appetizer
Air Fryer Meatballs are tender, juicy, and perfectly crispy. They have been seasoned with fresh parsley, basil, Italian seasoning, smoked paprika, and garlic. They make the perfect appetizer, cook a large batch and serve them with Homemade BBQ Sauce.
Using a combination of ground beef and ground sausage makes this recipe very flavorful and also very juicy. Using fresh herbs is a must, to have that authentic Italian flavor everyone likes.
Opt for plain or seasoned breadcrumbs and do not skip the parmesan cheese!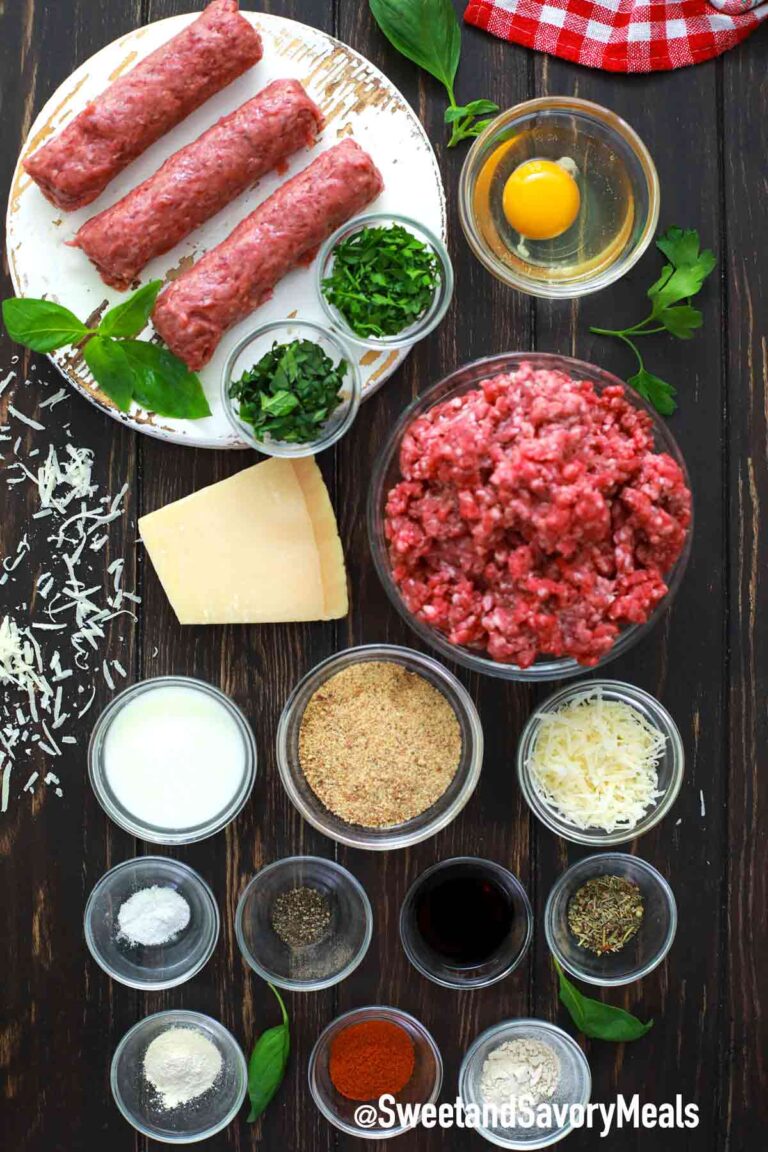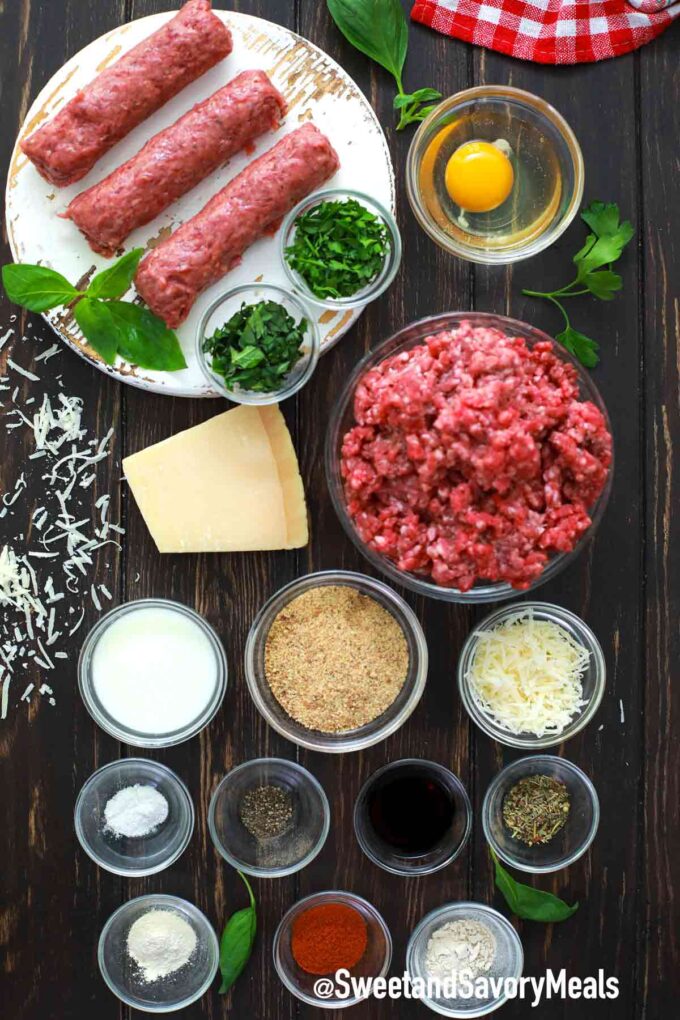 Ingredients You Need
Ground Beef – we like using 20% fat ground beef, to make sure the meatballs turn out juicy.
Ground Sausage – choose between mild or spicy.
Fresh herbs – fresh parsley and basil will make these taste fabulous.
Seasoning – dried Italian herbs, onion powder, and garlic powder will add extra flavor.
Worcestershire sauce – just a little to make the beef flavor more prominent.
Milk – to add moisture.
Bread crumbs – you can use seasoned bread crumbs for extra flavor.
Cheese – parmesan cheese will make these even more delicious and tender.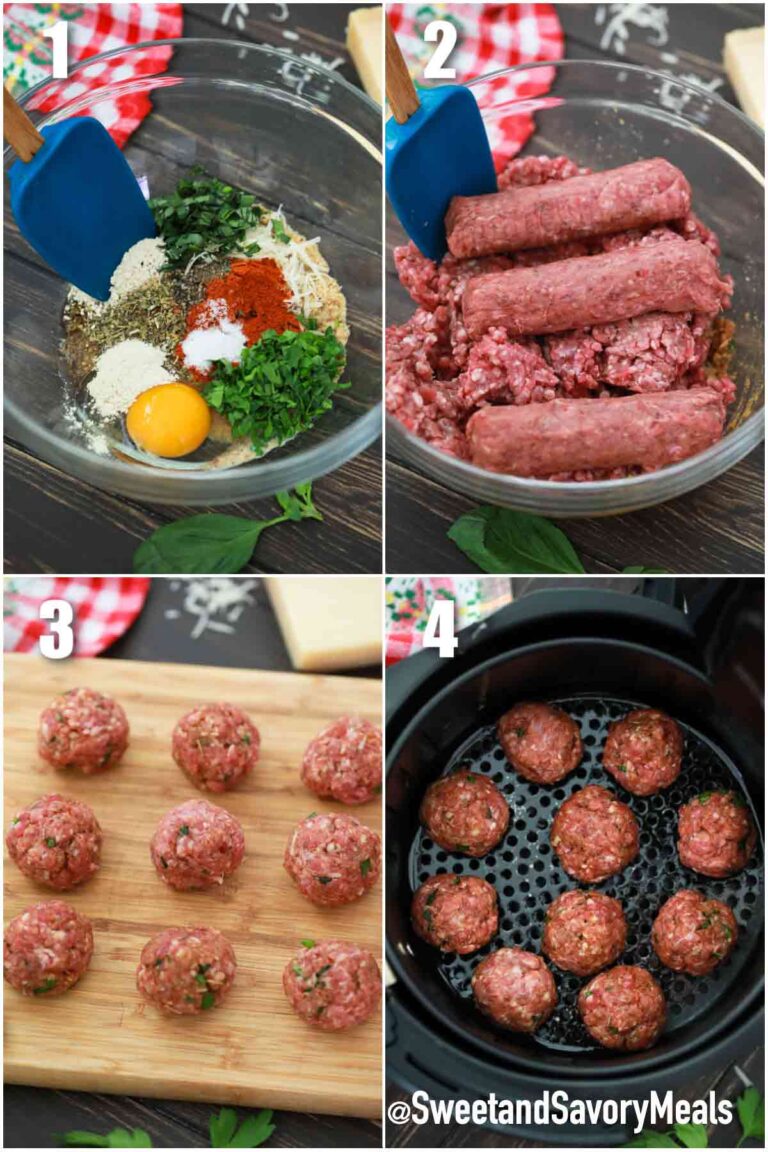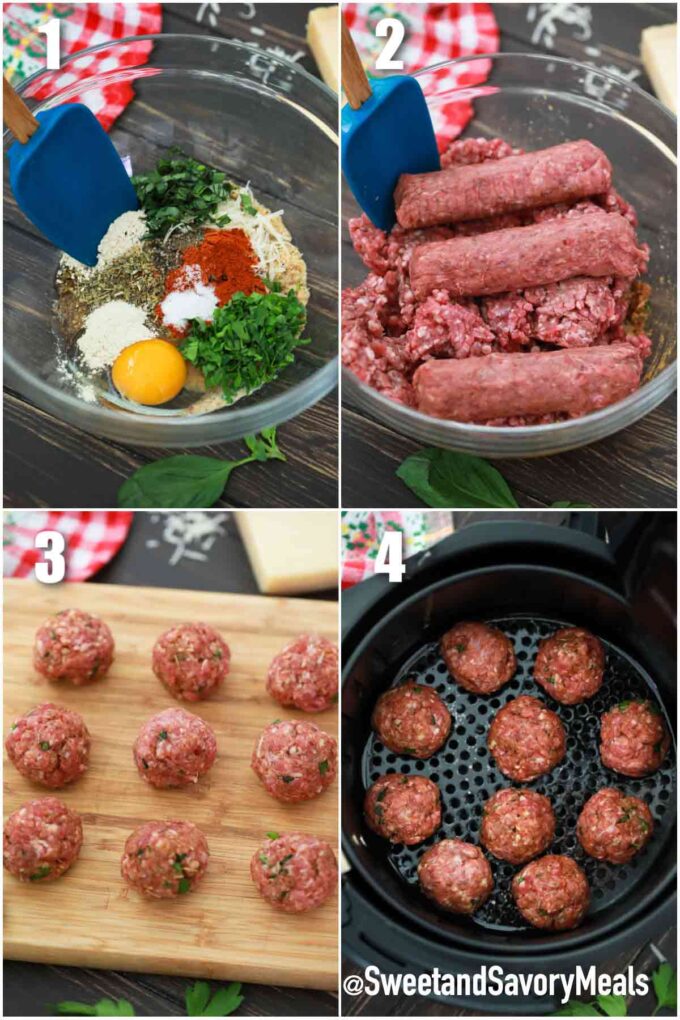 How to make Air Fryer Meatballs from scratch
Mix the ingredients except for meat: First, start by mixing all the ingredients except ground beef and sausage.
Add beef and sausage: Next, stir in the ground beef and sausage and use your hands to mix until fully combined.
Form the meatballs: Scoop the meat mixture and form about 16 meatballs.
Air Fry: After that, preheat the air fryer to 380 degrees and air fry the meatballs.
Serve: Serve the meatballs as they are as an appetizer or with marinara sauce and pasta.
Recipe Variations:
Different Flavors: This recipe is very versatile, you can play with different flavors, skip or add more fresh or dried herbs. Also, you can add taco seasoning for a Mexican twist.
Use another type of meat: Make these Air Fryer Meatballs with just beef or sausage. Also, you can use ground chicken or turkey for a leaner recipe.
Cheese: Play with the cheese, add more parmesan cheese, or add a combination of mozzarella and parmesan cheese. Another delicious option is to use cheddar cheese. A delicious alternative is to stuff the meatballs with cheddar cheese cubes, or your favorite cheese.
Make them spicier: Add chili powder, hot sauce, or chopped jalapenos and Pepper Jack cheese for a spicier version.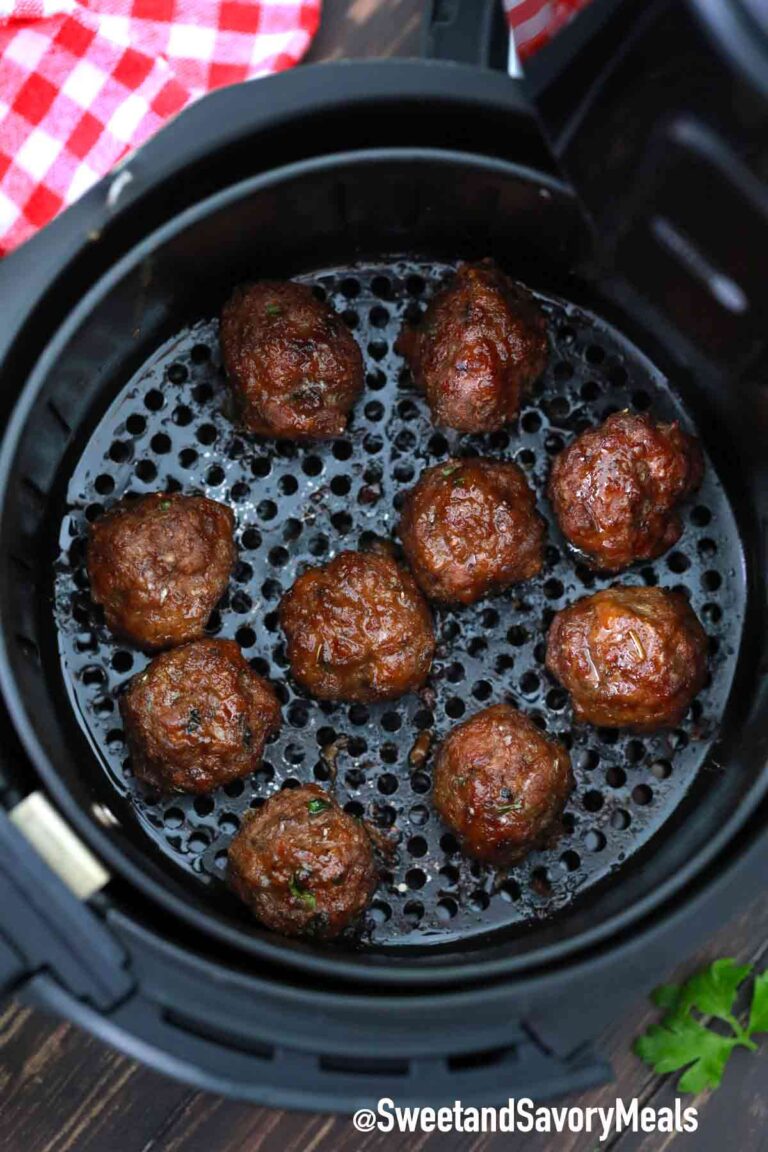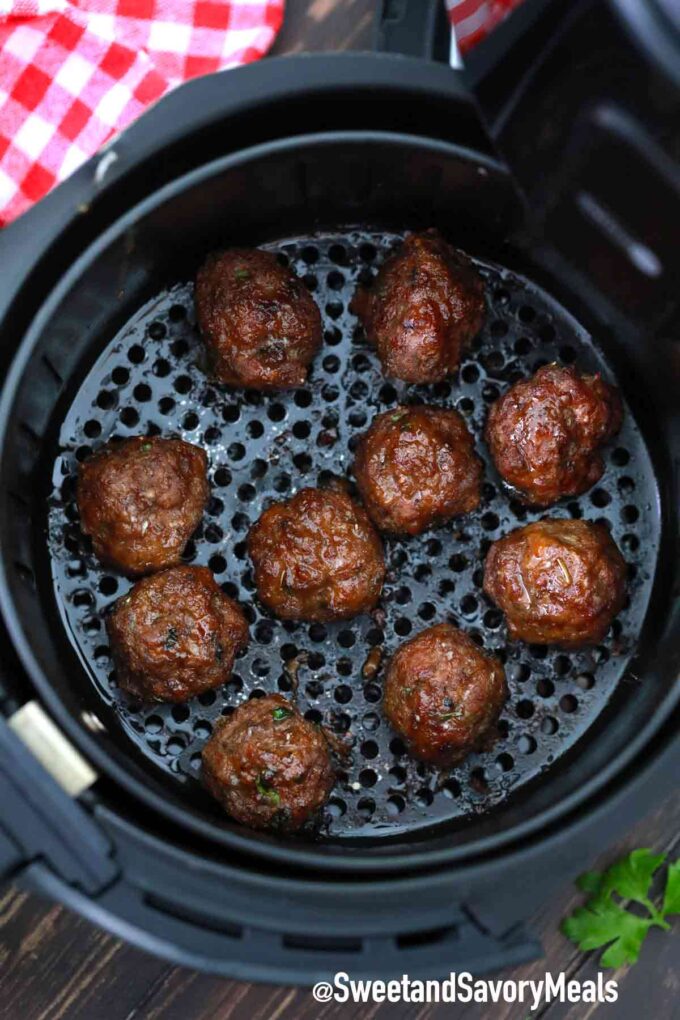 Frequently Asked Questions
What do you eat with Meatballs?
As stated above, these are delicious on their own and can be served as an appetizer, they make the perfect party food. There are other delicious ways to enjoy them, stuff them in a sub with cheese, sauce, and fresh basil.
Also, heat some marinara sauce in a large skillet, add the meatballs, serve with pasta, garnished with parmesan cheese.
How to freeze Air Fryer Meatballs?
After you have cooked them, make sure you let them cool to room temperature. Next, add them to a freezer-safe container or Ziploc bag and freeze for up to 3 months.
To serve, defrost and reheat them, either in the microwave or with some marinara sauce. Either arrange them on a baking sheet and cook for 20-30 minutes at 350 degrees F.
How do I cook frozen meatballs in the air fryer?
First, preheat the air fryer to 380 degrees F.
Next, arrange the frozen meatballs into the basket, make sure they do not touch.
Air fry for 10 minutes or until heated through and the internal temperature is 165F.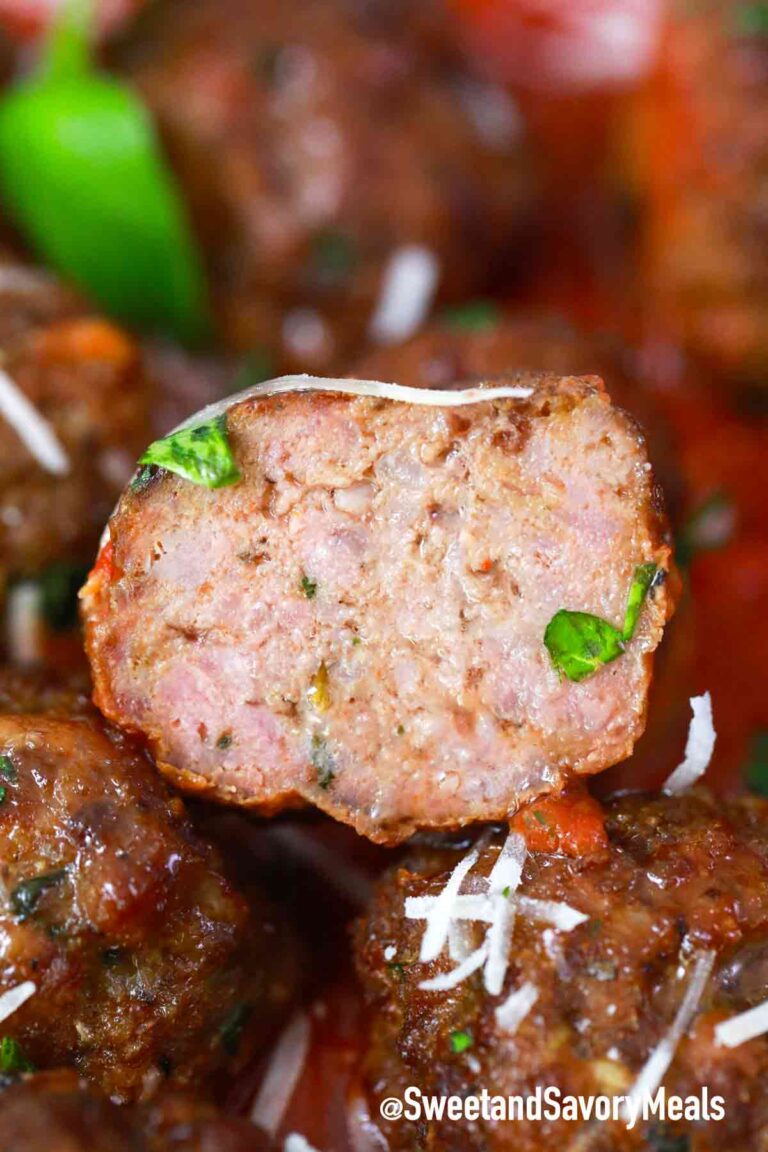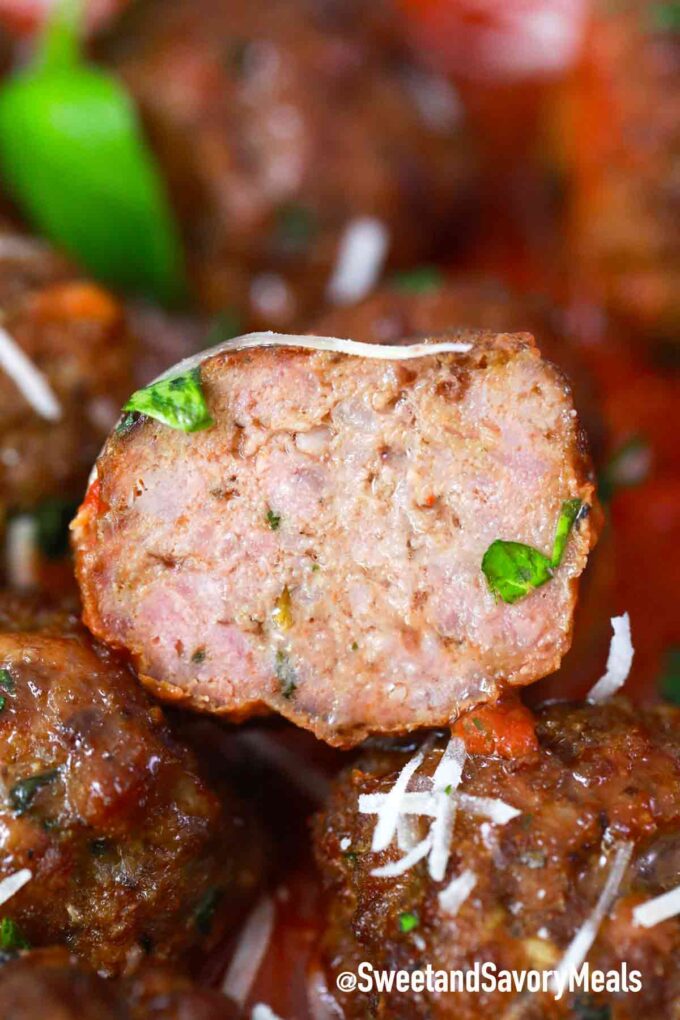 Is it better to bake or air fry meatballs?
Both options are delicious and way healthier than frying. We recommend air frying them for the delicious crispy exterior achieved during the process.
More Beef Recipes:
Recipe Tips:
Use a combination of leaner and fatter meat, this way you will avoid dry meatballs.
Also, using milk and cheese will also add moisture to the meatballs so make sure to use some.
Mix well the meat to get some air bubbles into it and make them more tender.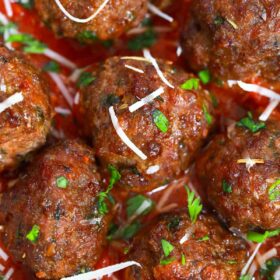 Air Fryer Meatballs
Air Fryer Meatballs are made with ground beef, ground sausage, seasonings, fresh herbs, and parmesan cheese after that air fried to crispy perfection.
Save
Share
Print
Pin
Rate
Ingredients
1

pound

lean ground beef

1/2

pound

lean ground sausage

1/3

cup

bread crumbs

1

egg

2

tablespoons

milk

1

tablespoon

Worcestershire sauce

2

tablespoons

fresh parsley

2

tablespoons

fresh basil

2

tablespoons

parmesan cheese grated

1

teaspoon

Italian seasoning

1/2

teaspoon

onion powder

1/2

teaspoon

garlic powder

1

teaspoon

smoked paprika

1/2

teaspoon

salt

1/4

teaspoon

black pepper
Instructions
Preheat air fryer to 380°F.

Combine all ingredients except beef and sausage in a large bowl and. mix well.

Next, add the ground meat and mix to combine.

Divide into 16-18 meatballs.

Arrange meatballs in a single layer in the air fryer, making sure the do NOT touch, if needed cook in batches.

Cook for 12-14 minutes or until browned and the internal temperature of the meatball reaches 165°F.
Nutrition
Calories:
97
kcal
|
Carbohydrates:
2
g
|
Protein:
7
g
|
Fat:
2
g
|
Saturated Fat:
1
g
|
Polyunsaturated Fat:
1
g
|
Monounsaturated Fat:
1
g
|
Trans Fat:
1
g
|
Cholesterol:
29
mg
|
Sodium:
133
mg
|
Potassium:
128
mg
|
Fiber:
1
g
|
Sugar:
1
g
|
Vitamin A:
143
IU
|
Vitamin C:
1
mg
|
Calcium:
22
mg
|
Iron:
1
mg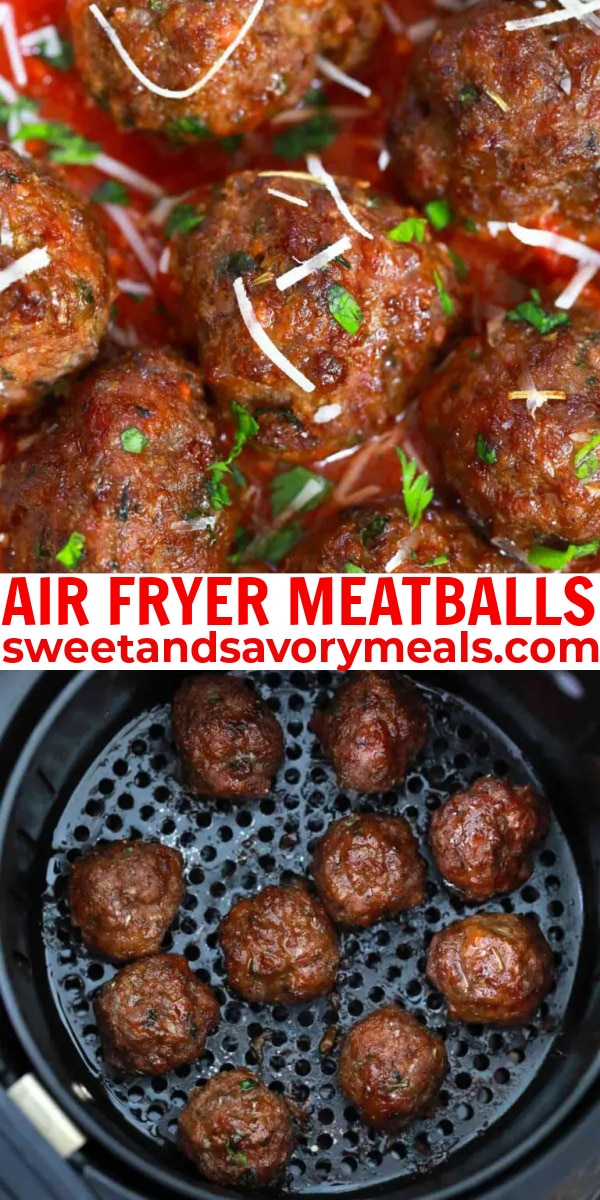 More recipes you might love