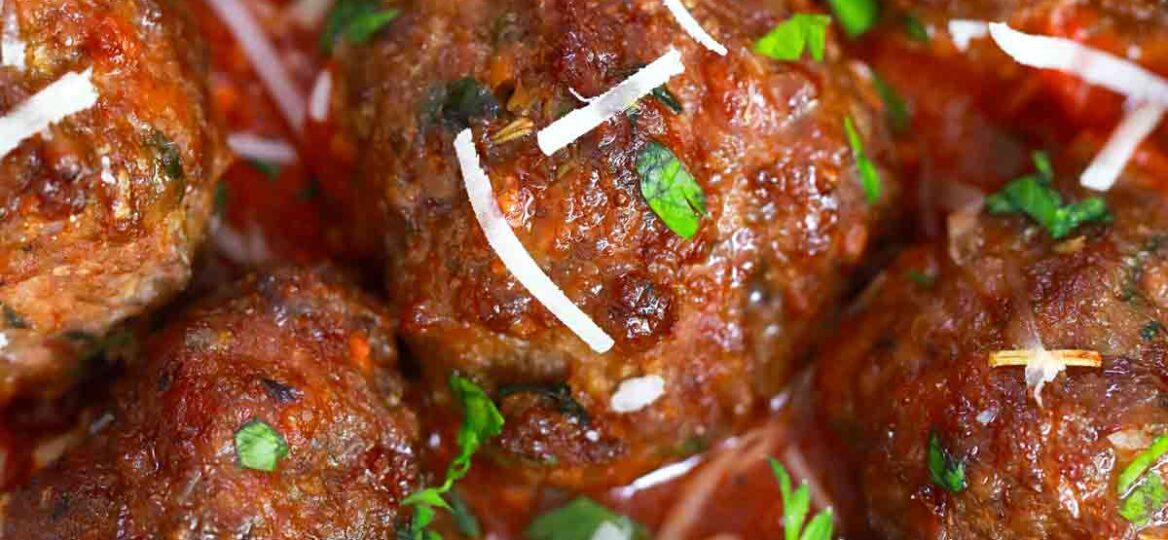 Best Air Fryer Meatballs Recipe [Video]
Air Fryer Meatballs are made with ground beef, ground sausage, seasonings, fresh herbs, and topped with parmesan cheese, They are crispy on the outside, juicy inside, and ready in 15 minutes. A quick weeknight meal that goes perfectly with marinara sauce and pasta.
Air fryer recipes are so easy and versatile that we make them every week. If you don't have this kitchen appliance, you are really missing out! You can make perfect Churros, Air Fried Oreos, and the juiciest, most fabulous Pork Chops.
These Juicy Air Fryer Meatballs are tender, moist, and perfectly crispy on the outside. They have been seasoned with fresh parsley, basil, Italian seasoning, smoked paprika, and garlic. Feel free to serve them as appetizers or dip them in a homemade tomato sauce over pasta.
Using a combination of ground beef and ground sausage makes this recipe very flavorful and also very juicy. Also, I like using fresh herbs to have that authentic Italian flavor everyone likes.
The best part about this recipe is that you can make them ahead and freeze them for later. Or, if you want to make a double batch, simply store them in a freezer bag for months to come.
Also, opt for plain or seasoned breadcrumbs, and do not skip the parmesan cheese! It is a must here! 🙂 Try this recipe and you are guaranteed to end up with the best meatballs, that are always a crowd pleaser!
Ingredients You Need:
Ground Beef – we like using 20% lean ground beef, to make sure the meatballs turn out juicy. However, feel free to use leaner meat.
Ground Sausage – choose between mild or spicy.
Fresh herbs – fresh parsley and basil will make these taste fabulous.
Seasoning – dried Italian herbs, onion powder, and garlic powder will add extra flavor.
Worcestershire sauce – just a little to make the beef flavor more prominent.
Milk – to add moisture.
Bread crumbs – plain or panko breadcrumbs are the best. However, feel free to use whatever you have on hand. Even seasoned bread crumbs will work and will add extra flavor.
Cheese – parmesan cheese will make these even more delicious and tender.
How to make Air Fryer Meatballs?
Follow these easy steps:
Preheat the air fryer: First, preheat it to 380 degrees F. You can also cook them at 400 degrees F, but the cooking time will be reduced to 12 minutes.
Mix the ingredients except for meat: First, start by mixing all the ingredients except ground beef and sausage.
Add beef and sausage: Next, stir in the ground beef and sausage and use your hands to mix until fully combined.
Form the meatballs: Scoop the meat mixture and form about 16 golf-sized balls.
Air Fry: After that, place them in a single layer in the air fryer basket, and cook them.
Serve: Serve the juicy meatballs with your favorite sauce over pasta, or as appetizers.
Recipe Variations:
Different Flavors: This recipe is very versatile, you can play with different flavors, skip or add more fresh or dried herbs. Also, you can add taco seasoning for a Mexican twist.
Use another type of meat: Alternatively, feel free to use other meats. Great substitutions would be ground turkey, ground pork, ground chicken, or even Italian sausage.
Cheese: Play with the cheese, add more parmesan cheese, or add a combination of mozzarella and parmesan cheese. Another delicious option is to use cheddar cheese. A delicious alternative is to stuff the meatballs with cheddar cheese cubes, or your favorite cheese.
Make them spicier: Add chili powder, hot sauce, or chopped jalapenos and Pepper Jack cheese for a spicier version.
Crockpot: Another easy dinner option would be my crockpot meatballs recipe.
Frequently Asked Questions
When are they cooked through?
Cooking metaballs perfectly usually depends on two factors. Their size, and the type of brand you are using.
As a general rule, when cooked at 400 degrees F and about golf-sized balls, the cooking time should be about 10 to 12 minutes. I tend to cook them at 380 degrees f to get them extra moist. In that case, the cooking time is 12-14 minutes.
In any case, you should ALWAYS check the internal temperature using an instant-read thermometer. Once fully cooked, they should reach an internal temperature of 160 to 165 degrees F.
How do I cook frozen meatballs in the air fryer?
First, preheat the air fryer to 380 degrees F.
Next, arrange the frozen meatballs into the basket, make sure they do not touch.
Air fry for 10 minutes or until heated through and the internal temperature is 165F.
Instant Pot version:
Making this recipe in the pressure cooker is equally easy. Here are the steps to make Instant Pot meatballs:
In a large bowl, mix all the ingredients together. Then, using your hand, roll on the meat mixture to form evenly sized meatballs.
Using the saute function of the Instant Pot, saute the chopped onions for about 5 minutes.
Next, stir in the marinara sauce and season with salt and black pepper. Then, add the meatballs.
Lastly, close the lid and pressure cook on HIGH for 8 minutes, followed by natural pressure release.
What do you eat with Meatballs?
As stated above, these are delicious on their own and can be served as an appetizer, they make the perfect party food. There are other delicious ways to enjoy them, stuff them in sub rolls with cheese, sauce, and fresh basil.
Also, heat some marinara sauce in a large skillet, add the meatballs, serve with pasta, garnished with parmesan cheese.
Or feel free to pair them with these sides:
Is it better to bake or air fry them?
Both options are delicious and way healthier than frying. Baked Classic Italian Meatballs are the classic way of cooking them. A recipe we have been cooking for well over 10 years!
However, I like air frying them as it is a more convenient way, at a fraction of the time. Also, they get a perfectly crispy exterior every time you cook them.
How to store leftovers?
First, let them completely cool down at room temperature. Then, transfer them into an airtight container and refrigerate them for up to 5 days.
Reheat them in a preheated oven at 350 degrees F for about 5-7 minutes, until fully warm. Also, feel free to serve them on a sub and some cheese on top, and make some delicious meatballs subs.
How to freeze Air Fryer Meatballs?
After you have cooked them, make sure you let them cool to room temperature. Next, add them to a freezer-safe container or Ziploc bag and freeze for up to 3 months.
To serve, defrost and reheat them, either in the microwave or with some marinara sauce. Either arrange them on a baking sheet and cook for 20-30 minutes at 350 degrees F.
More Air Fryer Recipes:
Recipe Tips:
Use a combination of leaner and fatter meat, this way you will avoid dry meatballs.
Also, using milk and cheese will add extra moisture to them. Therefore, make sure to use some.
Mix well but DO NOT overmix. If you overwork it, you will end up with tough meatballs.
Similarly, make sure not to overcook. Therefore, keep an eye on cook time and always use a meat thermometer to check their internal temperature. And if needed, it is easy to simply air fry them for a few extra minutes.
Garnish them with finely chopped parsley.
Deliciousness to your inbox
Enjoy weekly hand picked recipes and recommendations