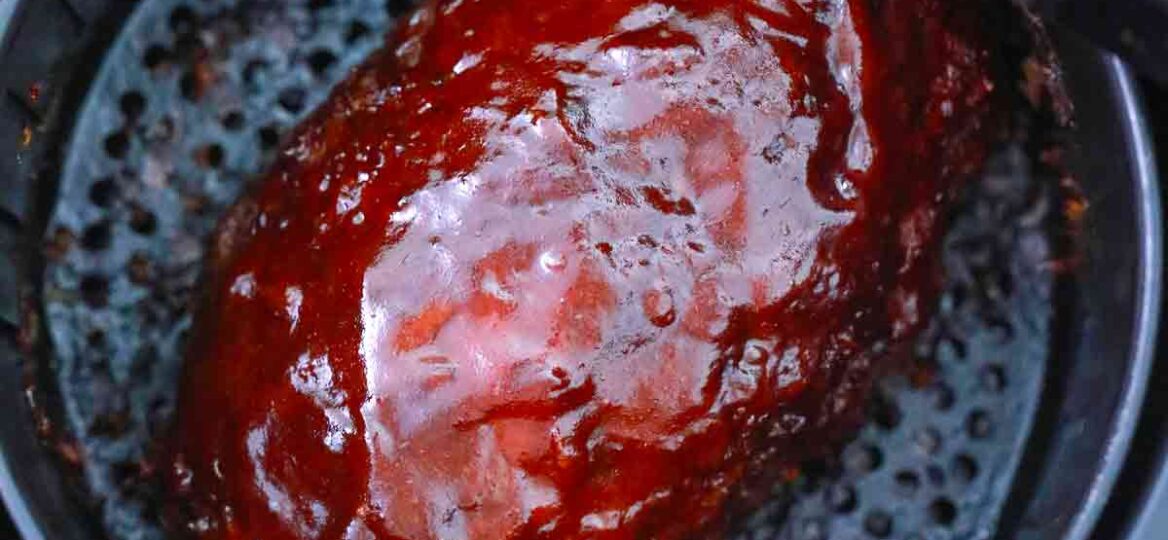 Air Fryer Meatloaf Recipe [Video]
Air Fryer Meatloaf can be prepared and ready to eat in less than 30 minutes. Made with ground beef, cheddar cheese, an egg, garlic, parsley, parmesan cheese, milk, onion, and breadcrumbs. Topped with a sweet and spicy glaze, made with brown sugar, ketchup, chili sauce, and barbecue sauce, this is the perfect comfort food.
Using the air fryer to make meatloaf is genius. But you can also try this Homemade Meatloaf recipe or use this Best Crockpot Meatloaf recipe if you want your dinner to be ready when you get home from work. If you want something different, wrap it in bacon with this Easy Bacon Wrapped Meatloaf recipe.
Air Fried Meatloaf
Why bother turning on the stove when it is hot outside and waiting for over an hour for your dinner? Actually, using this recipe, you can have it done in half that time and the house stays cool while still giving you that smell of tasty dinner in the air. Meatloaf has been a family favorite for many households all over the world.
In fact, it is believed that the first one was made in the fifth century in Europe with meat scraps, nuts, fruits, and seasonings. Also, it has been remade over the years to include all sorts of meat leftovers from pork to chicken, but it has always been a hit. Besides, you don't need much to make it, just ground beef, cheese, egg, milk, onion, seasonings, and breadcrumbs.
Air Fryer Recipes are incredibly popular on the blog! We have something for everyone, breakfast, side dishes, main dishes, and even mouthwatering desserts. To summarize, make sure you check them and choose something to cook!
Ingredients needed:
For precise measurements, check out our handy recipe card below. This is what you need to get started.
Meatloaf:
Ground beef: Lean beef is best.

Cheddar cheese: We always recommend taking the time and shredding it yourself.
Breadcrumbs: Homemade or store-bought are both fine. Also, use flavored or plain. For a change, use Panko bread crumbs.
Onion: White, finely diced.
Milk: You can use whole, 2%, or skim.
Parmesan cheese: Fresh and grated or from a can if you want to cut some time.
Parsley: Fresh and chopped.
Garlic cloves: You can use garlic powder instead if you don't have fresh garlic.
Egg: Separated; yolk only.
Italian seasoning: Use our easy recipe.
Sweet and Spicy Glaze:
Ketchup: Any brand will do, we usually prefer to use the ones with less sugar.
Chili sauce: It adds such a nice subtle kick!
Brown sugar: Light or dark are both fine, the molasses flavor pairs so well with the spiciness from the chili sauce.
Barbecue sauce: Use this simple recipe to make your own.
How to make air fryer meatloaf from scratch:
Preheat: First, turn your air fryer to 350 degrees F.

Chop: Meanwhile, prepare the onion and garlic cloves by chopping them into small chunks.

Combine: Next, mix all of the ingredients together in a large bowl until it is combined.

Separate: After that, make two loaves about five inches long and two inches wide.

Cook: Then, put them in the air fryer for 20 minutes.

Make the glaze: Afterward, mix all the topping ingredients in a small bowl until completely combined.

Glaze it: Next, spread the glaze evenly on top of the meatloaves and cook for another five to seven minutes. Also, make sure to cook until the meat thermometer reaches 165 degrees F.

Rest: Finally, let it rest for five minutes and then top with chopped parsley.
Store: Lastly, you can store leftovers in the fridge for up to three days in an airtight container.

Freeze: If you are going to freeze the leftovers, wrap them in plastic wrap and foil and they will be good for up to three months. However, thaw in the refrigerator overnight before reheating for best results.
Recipe variations:
Meat: Alternatively, try using ground turkey, chicken, or pork instead of or in addition to ground beef.

Veggies: On the other hand, add mushrooms or bell peppers to your meat mixture for a different twist.

Give it a kick: An option is to add a tablespoon of Worcestershire sauce to the meat as well as to the glaze for a kick of tanginess.

Mexican night: Alternatively, you may like the Mexican flavor of adding taco seasoning to the mixture.

Sweeten it: In addition, use honey mustard to the glaze for a sweet and tangy flavor.
Cheeses: Also, gouda, fontina, pepper jack, or other cheeses will work well in this recipe.

Ranch: Add a packet of dried ranch dressing to the meat mixture for a unique twist.

Sauciness: Similarly, for a different glaze use this tangy teriyaki sauce, rich marinara sauce, or this delicious sweet and sour sauce.

Gluten-free: Make it gluten-free by using gluten-free bread crumbs.
Low-carb: Also, try making it low-carb by skipping the breadcrumbs and making a low-carb glaze.
How to serve it:
Serve the meatloaf while warm but after it rests for five minutes. Top with the chopped parsley or try one of these serving ideas:
Traditionally, it goes great with mashed potatoes.
Also, it goes with any side dishes like instant pot corn on the cob, grilled vegetables, and a side of homemade breadsticks.
In addition, you can crumble up the leftovers and add them to homemade chili.

Also, mixing it with soup is another way to make any soup thick and meaty as well. Actually, this is a great way to utilize the leftovers, try it with this beef and macaroni soup.

Alternatively, leftover meatloaf would be a perfect ingredient in a beef stew recipe.
Frequently asked questions
Can I use a pan in the air fryer?
Actually, anything you would put in an oven is safe to use in the air fryer. Whether it is silicone, metal, ceramic, or glass. Just be sure that the pan is safe for the temperature you will be using since some air fryers cook at a higher temperature than others. In addition, you can also use aluminum foil in the air fryer to prevent your meatloaf from becoming too brown on top.
Why did my meatloaf fall apart?
Actually, one of the main reasons your meatloaf will fall apart is if you do not use lean meat. Hence, the fat will mix with the liquids in the ingredients and your loaf will be too moist to hold its shape. Also, be sure to use lean ground beef to keep it together. Alternatively, this is one reason to use cheese in the mix, because it helps keep it all together.
How do I clean my air fryer?
You know you will have some grease leftover after you cook your meatloaf no matter how lean the meat is. With this in mind, one way to prevent this is to line the bottom of your air fryer with parchment paper. Subsequently, don't worry if there are spills, they should be easy to remove.
First, wash the pan, tray, and air fryer basket in mild dish soap and hot water. Also, you can use the dishwasher if the owner's manual says it is dishwasher safe. Just as important, never use steel wool, abrasive sponges, or metal utensils to remove food particles since this can damage the non-stick coating.
More Delicious Recipes:
Recipe tips:
In addition, remember not to overmix the ingredients or it will be too dense and dry.

Also, be sure to use milk to provide the much-needed moisture to make your loaf juicy.

In fact, you can add other veggies like peppers, carrots, and even corn to the meat.

In addition, keep an eye while you air fry it, after the first 15 minutes as some air fryers cook at different temperatures so yours may have a different cook time.

It also depends on how thick it is, and it should reach an internal temperature of 160 degrees F.