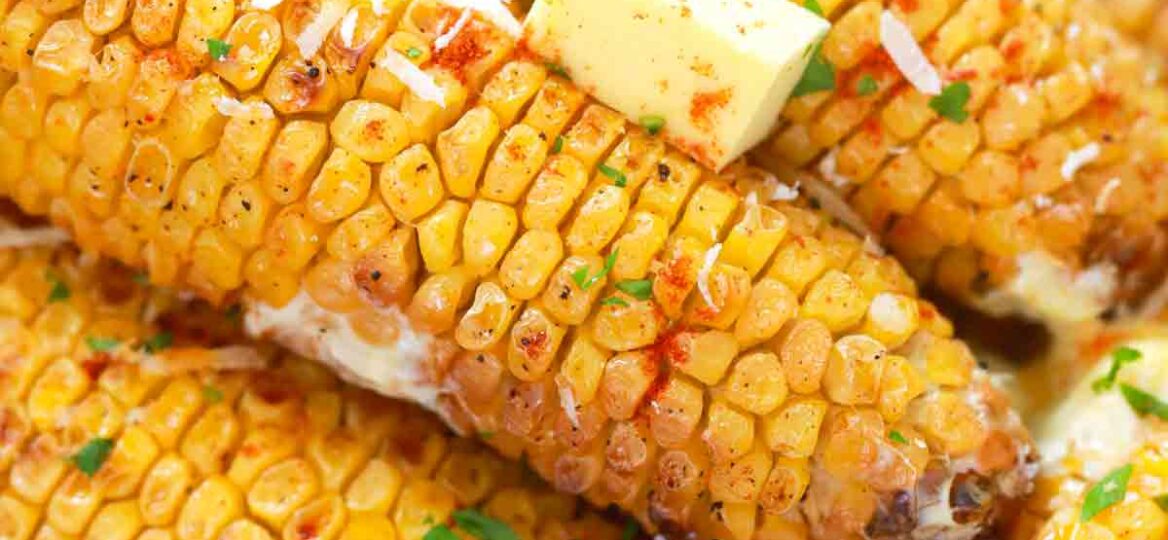 Air Fryer Corn Recipe [Video]
Air Fryer Corn is so easy to make with just a few ingredients and 15 minutes of your time. All you need is corn on the cob, olive oil, butter, parmesan cheese, and a few seasonings. And your air fryer. That's it!
Barbecue season is in full bloom about now in most cities and you just cannot walk outside without getting hungry. Fire up your own grill and toss on some burgers and dogs or a couple of steaks. And let the corn cook while you are out there so it will be ready when you come inside. Try some other quick and easy air fryer veggies like Sweet Potatoes, Asparagus, or Sweet Potato Fries too.
Air Fried Corn Recipe
Corn on the cob is a favorite in our household any time of the year but during the summer it just seems so perfect. Although you could cook these veggies on the grill with your other food, why not let them cook inside while you are busy outside? Or better yet, make this lemon chicken in the air fryer too so you can stay inside where it is cool.
Air fryers are such a healthy way to cook that we are all finding ways to make everything in them from apple fritters for breakfast to Oreos for dessert. Find more air fryer recipes on our website, there is something for everyone.
This simple recipe for fresh and juicy roasted corn on the cob blends butter, oil, and a few other seasonings to make a mouthwatering side dish to any meal.
Ingredients needed:
For the exact measurements, check the recipe card below. Here is what you will need for this tasty recipe.
Corn on the cob: Ears of corn grown in your garden, from the farmer's market, or from your grocer.

Olive oil: Virgin or extra virgin are both fine.
Butter: Melted on the side.
Parmesan cheese: Freshly grated is best.
Cilantro: Chopped very fine.
Seasonings: Salt, pepper, and paprika are what we used.
How to make air fryer corn from scratch?
Prepare the ears: First, peel the leaves and remove all the silk strands from each ear, and rinse them under cold running water. Afterward, rub olive oil onto each one.
Set your air fryer: Next, put your corn in the air fryer basket single-layered or under the hood and set it for 370 degrees.

Cook: Then, you will cook these until they are tender and charred. Typically this takes 12 to 15 minutes depending on the size of the corn, number of ears, and the size of the fryer. Also, don't forget to turn them halfway through to get an even char. Keep in mind that the cooking time may vary depending on how thick or what type of corn you use.
Serve: Finally, remove the corn and place on a warm dish to serve with butter, cheese, and seasonings of your choice.
Store: Besides, you can store leftovers in the fridge for several days in an airtight container. To reheat, cook for 30 seconds in the air fryer.
Freeze: In order to freeze these, cover in plastic wrap, after that in foil, and place them into a freezer-safe Ziploc bag. After that, lay them flat in the freezer and freeze for up to 3 months.
Defrost: To defrost, either thaw them in the fridge overnight and after that reheat in the AF. Or place them directly in the AF and cook for about 10 minutes.
Recipe variations:
Make it with garlic: An option is to use garlic-flavored oil or add some fresh garlic or garlic powder to your corn instead of plain olive oil.

Mexican night: In addition, if you are having tacos or just feel like Mexican food for dinner, try taco seasoning for a Mexican corn flavor.
Juice it up: Also, you can add a squeeze of lemon or lime to the corn as it cooks or after it is done.
Add tajín: Similarly, chili lime seasoning is another fantastic taste on this air fryer corn.

Add some heat: Likewise, try sprinkling the corn with cayenne pepper or tabasco for a spicy kick.

Sweeten it up: Alternatively, you may want to add honey or a sprinkle of sugar for a sweet corn flavor.
Smoke it: Another variation is to cut the corn into quarters and soak in liquid smoke before air frying for a smokey flavor perfect with any meal.
New Orleans: Add some cajun seasoning for a Southern flavor.
How to serve:
Serve it fresh out of the fryer sprinkled with a touch of paprika, salt, and pepper. Also, slather on some melted butter and coat with a bit of shredded parmesan and cilantro. In addition, here are a few of our other favorite serving ideas:
More Air Fryer Recipes:
Frequently Asked Questions
How does an air fryer work?
First, air fryers do not actually fry anything. In fact, the food cooks by blowing hot air all around it, which is why most air fryers have a basket to put your food into. The force of the air makes a convection effect that will cook it quickly and easily as well as evenly and will even add some browning to it.
What should you not cook in an air fryer?
Although you can cook just about anything in an air fryer, there are some things that are just not going to cook properly with this method. For example, you cannot cook fried food with a VERY wet batter like onion rings or fresh corn dogs. While these are possible to make with a few tweaks, always avoid very wet batter. Also, hamburgers are not that great in the air fryer, I find them a bit drier. Also, broccoli tends to turn into rubber a bit. I would say that any kind of cheese would work better in the microwave or slow cooker and if you make grilled don't expect it to taste like the classic.
Recipe tips:
If you do not have any olive oil, it is fine to use vegetable or canola oil.

In fact, you can use coconut oil for a Hawaiian twist.
Alternatively, if you do not have fresh corn on the cob, it is okay to use frozen corn. Keep in mind to thaw it out first or make sure you cook it longer depending on the size.

Finally, make sure you do not stack the corn or place them too close together because they need air circulation to cook properly.
Deliciousness to your inbox
Enjoy weekly hand picked recipes and recommendations