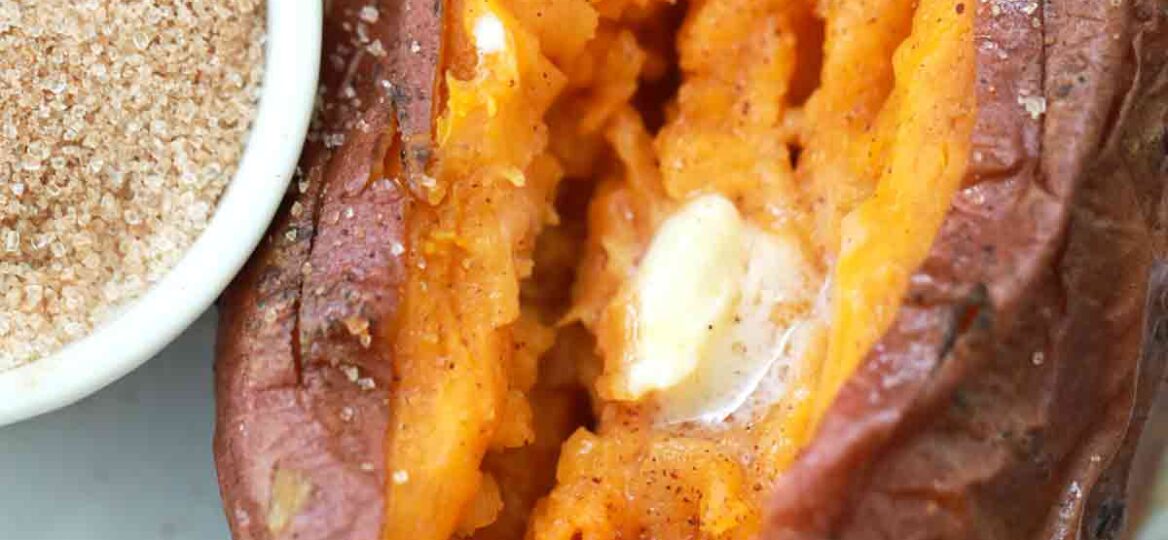 Air Fryer Baked Sweet Potatoes [Video]
Air Fryer Baked Sweet Potatoes are rubbed with olive oil, simple seasoning before getting air-fried until incredibly tender inside and crispy on the outside. This is a healthy and easy side dish that can go with any main meal. Top them with butter and cinnamon sugar for the perfect finish!
Looking for more air-fried side dishes? Then, you have to try these tasty Fried Pickles, Cabbage Steaks, and Crispy Air Fryer Zucchini Fries!
My family is absolutely in love with these Air Fryer Sweet Potatoes. This is our go-to side dish during the week, especially when we are looking for healthy options. They are sweet and savory with perfectly crispy skin. Also, they are a healthy alternative to deep-fried french fries because only little oil is used.
You only need a handful of ingredients to make this healthy side dish. Previously, we've already shared how to microwave a sweet potato and how to bake sweet potatoes in Instant Pot. Now, we put the air fryer to the test. The result? Delicious, super tender baked spuds with a crispy exterior and perfect for all sorts of toppings and fillings!
We love how hands-off this recipe is. You can leave the spuds to air-fry while you prepare the rest of your meal. Also, this kitchen appliance doesn't heat up the kitchen, and cleaning it is pretty much effortless.
Feel free to stuff these baked potatoes with all sorts of delicious ingredients like butter, spices, fruits, and even savory toppings like BBQ, chili, and cheese!
Why air-frying?
There are a couple of reasons why I love and use this appliance on a weekly basis.
First, it is a great way to get perfectly cooked ingredients with a tender inside and crispy outside. Whether it is meat or veggies.
In addition, it is a low-fat way of cooking since less oil is used compared to deep-frying or even oven-baked methods.
Very easy clean-up with no mess that frying requires. Also, you do not get the grease splashing out.
Ingredients Needed:
Whole Sweet potatoes: I try to always buy organic ones because I cook them whole and with the skin on. You can find them at the local grocery store. Rinse them very well and pat dry them using a paper towel.
Oil: We use olive, but you can use any neutral oil you have like vegetable or avocado oil.
Seasonings (optional): Salt and pepper. During the holiday season, I like adding cinnamon sugar and butter for serving. However, feel free to use your favorite seasoning.
How to make Air Fryer Baked Sweet Potatoes?
Season and poke holes: First, pierce them using a sharp knife, or poke them using a fork. Then, rub the spuds with oil and seasonings.
Cook: Then, place the spuds in the air fryer basket in a single layer. Cook them at 390 degrees F for about 40-50 mins. Flip during the 20-minute mark.
Add some toppings: Slit open, then slather with butter and sprinkle with cinnamon sugar. Enjoy hot!
Recipe variations and substitutions:
Use regular potatoes: You can use this recipe to air-fry regular white potatoes.
Mix in other spices: Aside from salt and pepper, feel free to use any sweet or savory seasoning you like. For instance, try them with white pepper, flavored salt, Cajun seasoning, ranch seasoning, or herbs.
Air Fryer Sweet Potato Fries: Alternatively, slice the spuds into wedges and turn them into fries.
Are baked sweet potatoes healthy?
Yes, it's one of the healthiest ways to cook them. For one, these barely have any oil, so it's a low-fat dish. In addition, sweet potatoes themselves are extremely healthy. They're a great source of Vitamin A, Vitamin B6, Vitamin C, plus minerals and anti-oxidants.
They've also been found to relieve inflammation, help protect against certain cancers, manage stress (due to significant levels of magnesium), guard against ulcers, and more.
Compared to regular spuds, they also have fewer calories and carbs.
How to serve Baked sweet potatoes?
Our favorite way of enjoying hot, baked sweet potatoes is with lots of melted sugar, a tiny bit of salt, plus cinnamon sugar all over. This simple flavor combo embraces the sweetness of the spuds while infusing them with warm spice and a rich, buttery taste. It's seriously amazing!
More Sweet potatoes recipes to try:
Favorite toppings:
Aside from butter and cinnamon sugar, we love experimenting with toppings every time we make this baked potato recipe. They go with so many sweet and savory flavor combos! These are some of our must-tries:
Sweet toppings:
Butter, maple syrup or honey, and candied pecans
Cheddar and honey
Vegan butter
Marshmallow fluff, brown sugar, and cinnamon
Caramel sauce and crushed peanuts
Yogurt and strawberry or apple pie filling
Peanut butter, honey, and bananas
Fresh fruits or jam
Savory toppings:
Black beans, salsa chicken, corn kernels, and avocado, chipotle sauce
Shredded BBQ chicken + cheese
Sloppy joe meat plus a ton of cheddar
Sour cream
Beef chili, jalapenos, cilantro
Shredded buffalo chicken with blue cheese dressing
Breakfast-stuffed sweet potato (top with scrambled eggs, chopped bacon, hash browns, sausages, tomatoes, and cheese)
Chopped ham and pineapple
How to store leftovers?
First, cool down the spuds. Then, place in an airtight container and refrigerate for up to 3 days. They are delicious right out of the fridge, but you can also warm them up by air-frying at 350F for about 10 to 20 minutes. You can also microwave them until hot.
You can also freeze these easily. Again, cool them first, then wrap in cling then foil. Alternatively, you can simply flash freeze the cooled spuds for about an hour or two on a baking sheet. Then, place in a Ziploc and store frozen for up to 3 months.
To reheat, defrost first either overnight or on the counter. Then, air-fry until hot or microwave.
Cooking tips:
You can increase the temperature to 400 degrees F. In that case, the cooking time will be reduced to about 40 minutes.
The best way to check the doneness is by using a fork. When fully cooked, they should be fork-tender.
Also, prior to cooking, wash them under cold water to remove any dirt.
Poke the spuds prior to cooking to ensure even baking. In addition, poking helps from exploding in the air fryer.
Do not wrap them in aluminum foil. Wrapping them will make the skin soft.
Remember that smaller-sized potatoes require less cooking time than large sweet potatoes.
Deliciousness to your inbox
Enjoy weekly hand picked recipes and recommendations