Air Fryer Baked Sweet Potatoes
Air Fryer Baked Sweet Potatoes are rubbed with olive oil and your choice of seasonings before getting air-fried until incredibly tender inside. Top them with butter and cinnamon sugar, or try our delicious sweet and savory topping ideas below!
Looking for more air-fried side dishes? You have to try these tasty Air Fryer Fried Pickles, Air Fryer Cabbage Steaks, and Crispy Air Fryer Zucchini Fries!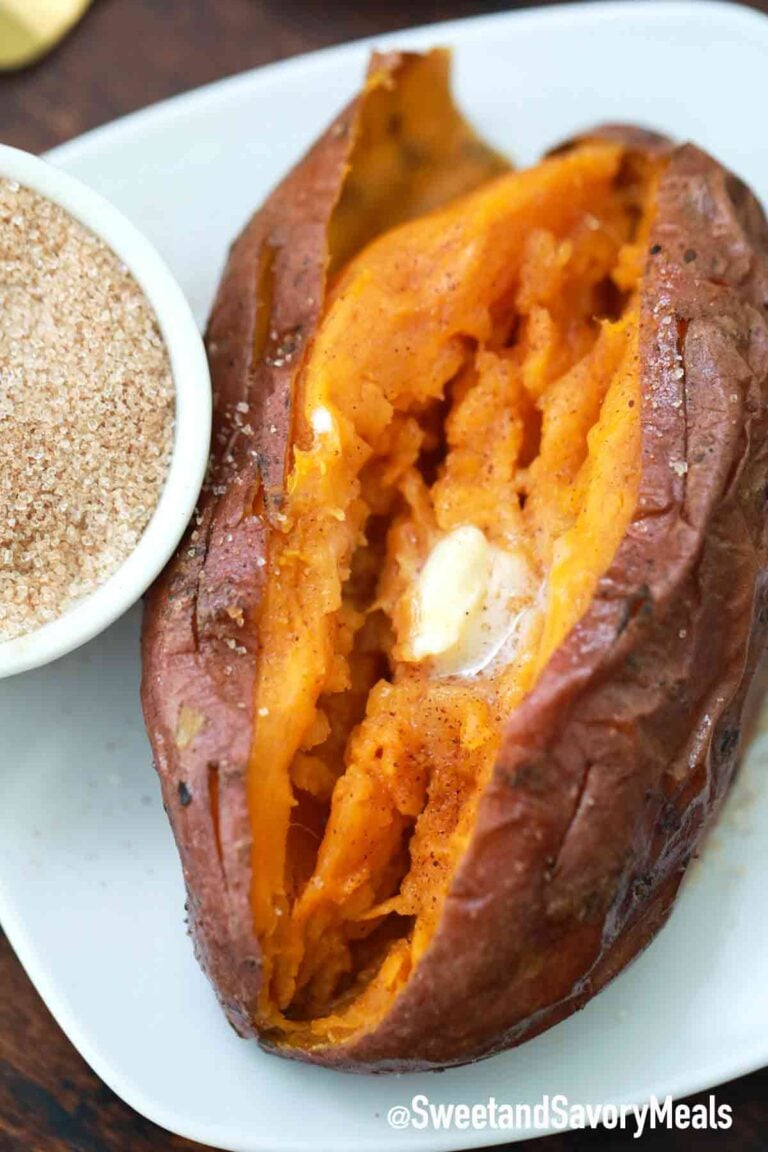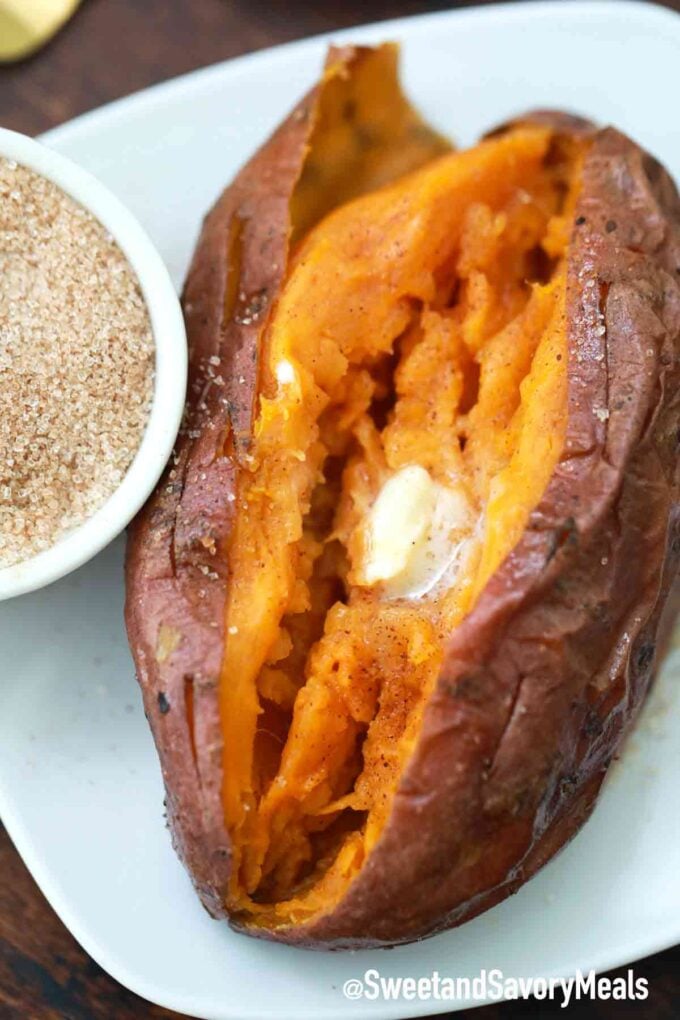 Baked Sweet Potatoes in the Air Fryer
Air Fryer Baked Sweet Potatoes are effortless to make and healthy as well! Previously, we've already shared how to microwave a sweet potato and how to "bake" them in the Instant Pot. Now, we put the air fryer to the test. The result? Delicious, super tender baked spuds perfect for all sorts of toppings and fillings!
We love how hands-off this recipe is. You can leave the spuds to air-fry while you prepare the rest of your meal. It doesn't heat up the kitchen too, so that's another plus.
Finally, these baked potatoes can be stuffed with all sorts of delicious ingredients like butter, spices, fruits, and even savory toppings like BBQ, chili, and cheese!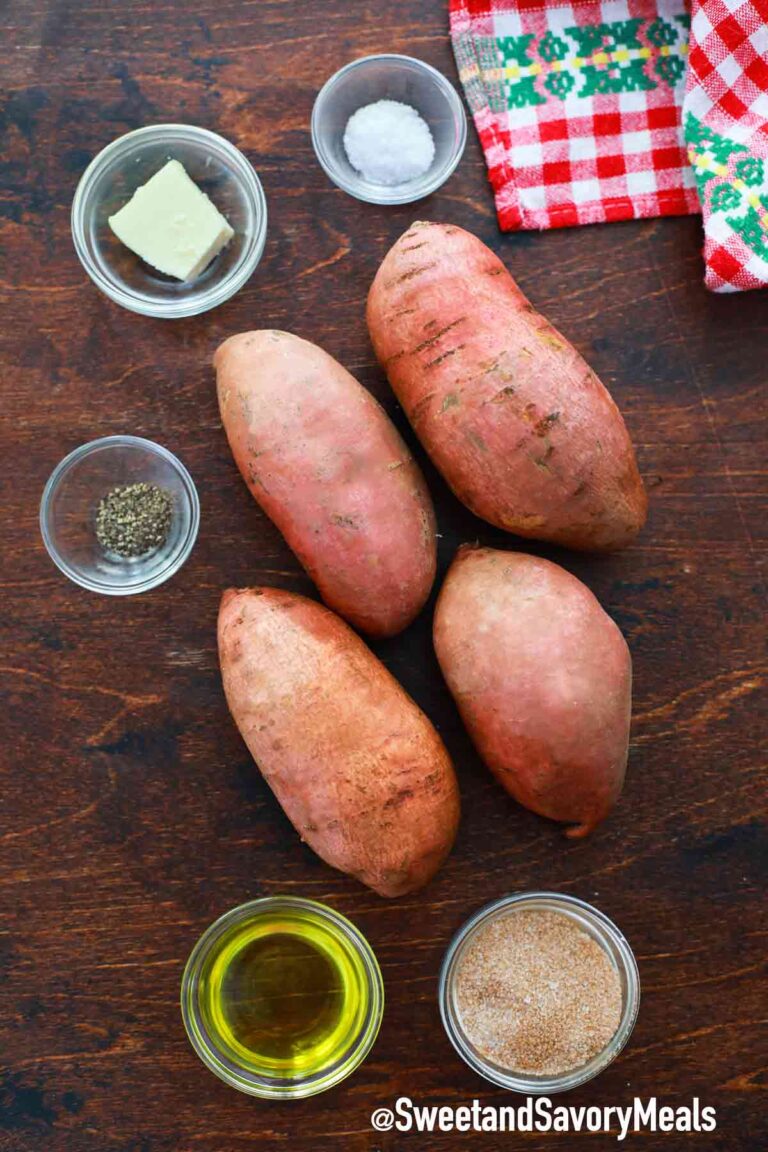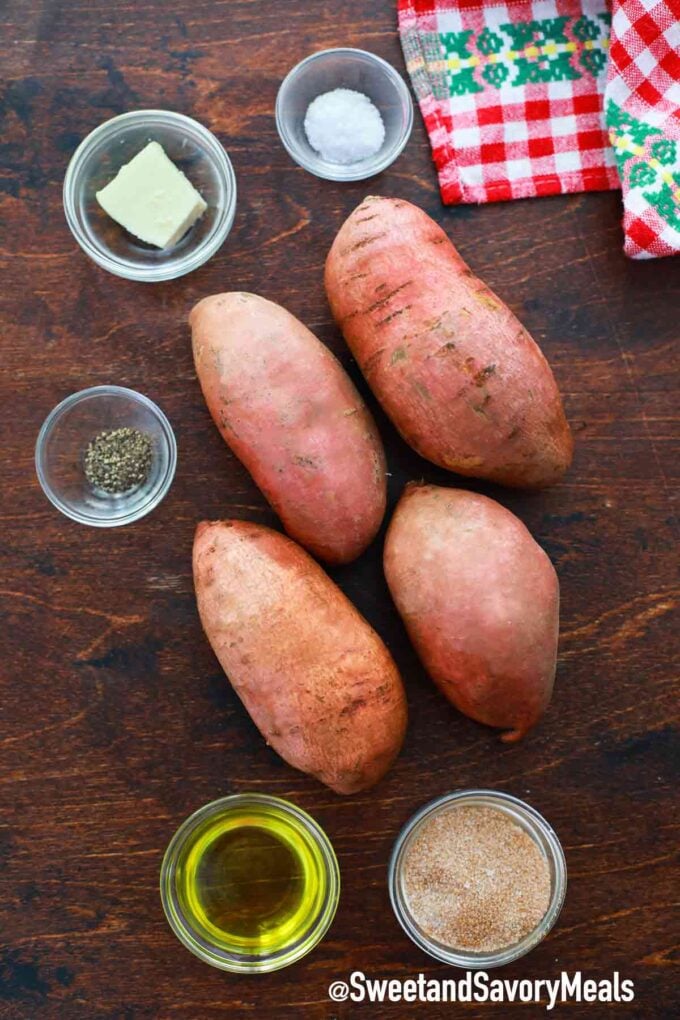 Is it healthy to eat homemade Air Fryer Baked sweet potatoes?
Yes, it's one of the healthiest ways to cook them. For one, these barely have any oil, so it's a low-fat dish. In addition, sweet potatoes themselves are extremely healthy. They're a great source of Vitamin A, Vitamin 6, plus minerals and anti-oxidants.
They've also been found to relieve inflammation, help protect against certain cancers, manage stress (due to significant levels of magnesium), guard against ulcers, and more.
Compared to regular spuds, they also have fewer calories and carbs.
Ingredients Needed to make this recipe: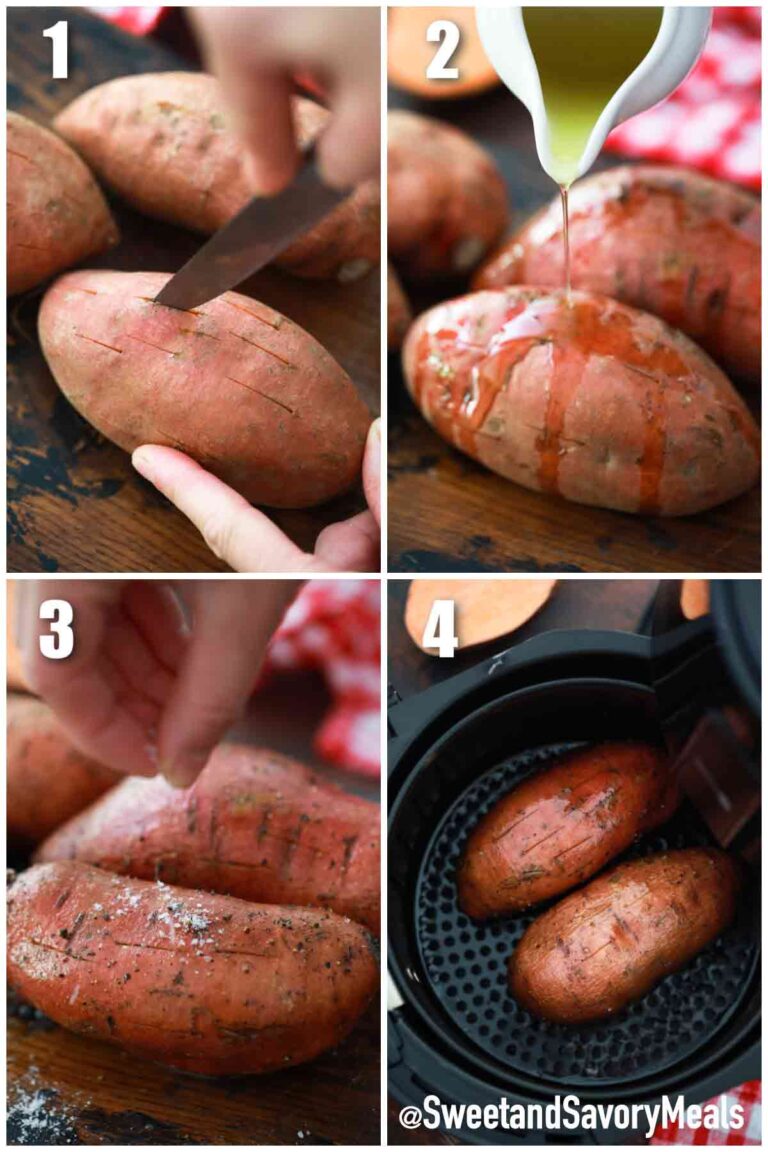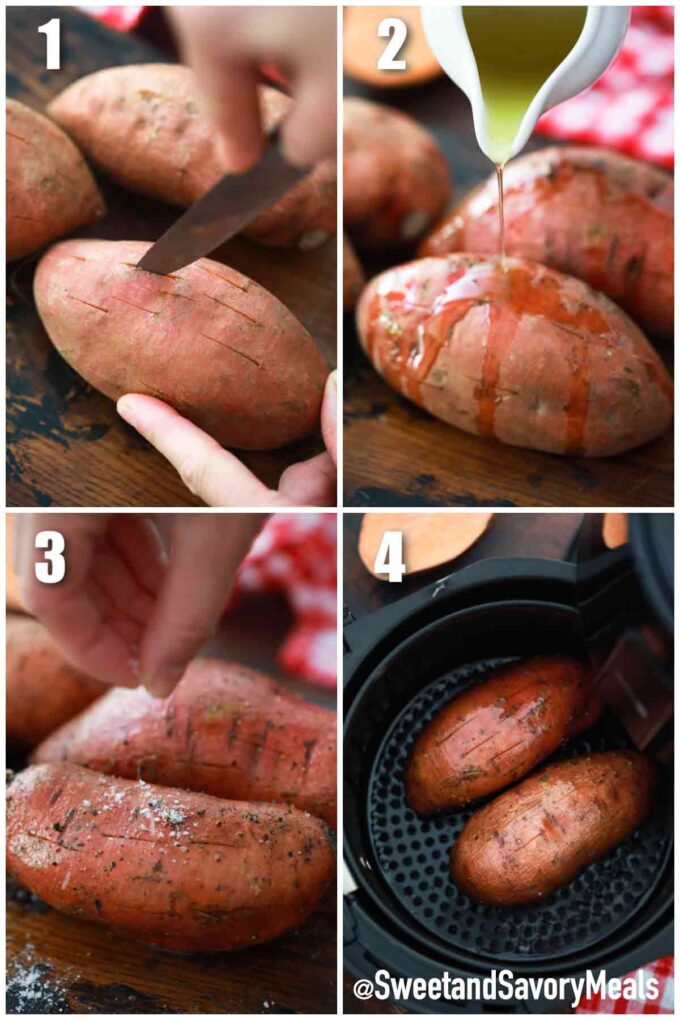 How to make homemade Air Fryer Baked Sweet Potatoes?
Season: First, rub the spuds with oil and seasonings.
Cook: Air-fry at 390F for about 40-50 mins. Flip during the 20-minute mark.
Add some toppings: Slit open, then slather with butter and sprinkle with cinnamon sugar. Enjoy hot!
Recipe variations and substitutions: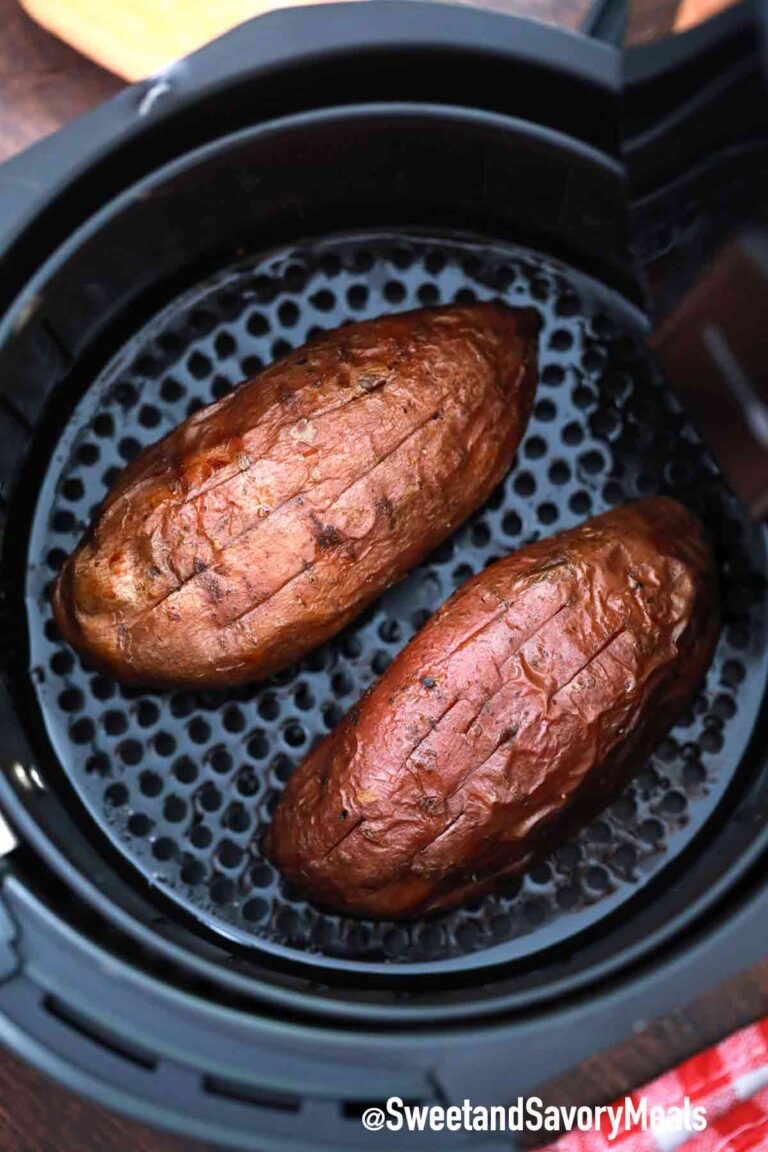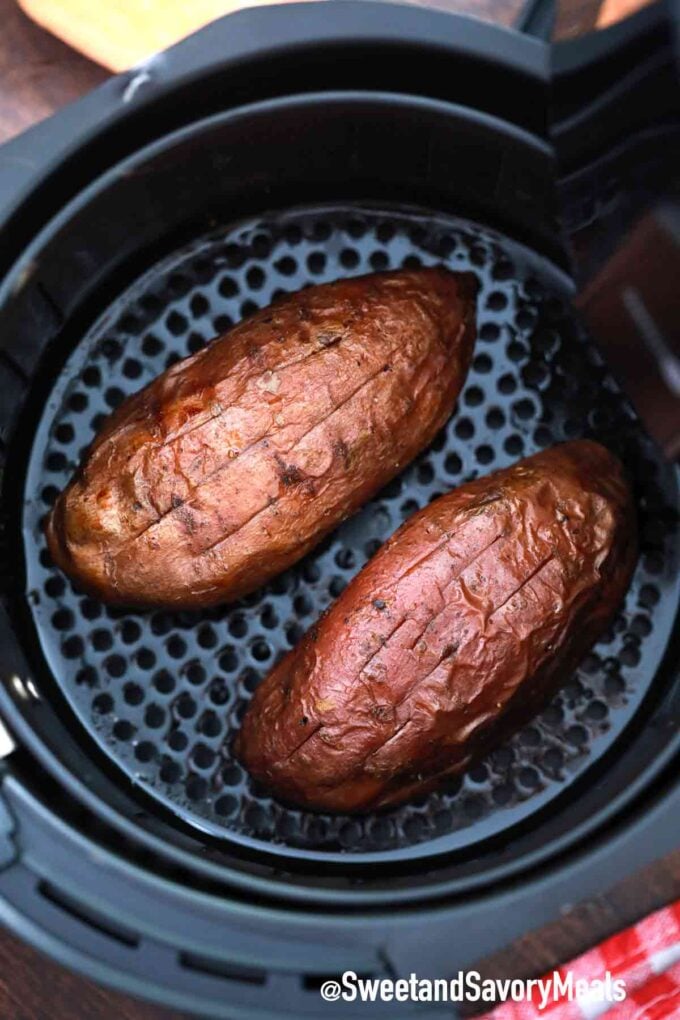 How to serve Baked sweet potatoes?
Our favorite way of enjoying hot, baked sweet potatoes is with lots of melted sugar, a tiny bit of salt, plus cinnamon sugar all over. This simple flavor combo embraces the sweetness of the spuds while infusing them with warm spice and a rich, buttery taste. It's seriously amazing!
More Sweet potatoes recipes to try:
Sweet potato toppings:
Aside from butter and cinnamon sugar, we love experimenting with toppings every time we make these baked spuds. They go with so many sweet and savory flavor combos! These are some of our must-tries:
Sweet toppings:
Savory toppings: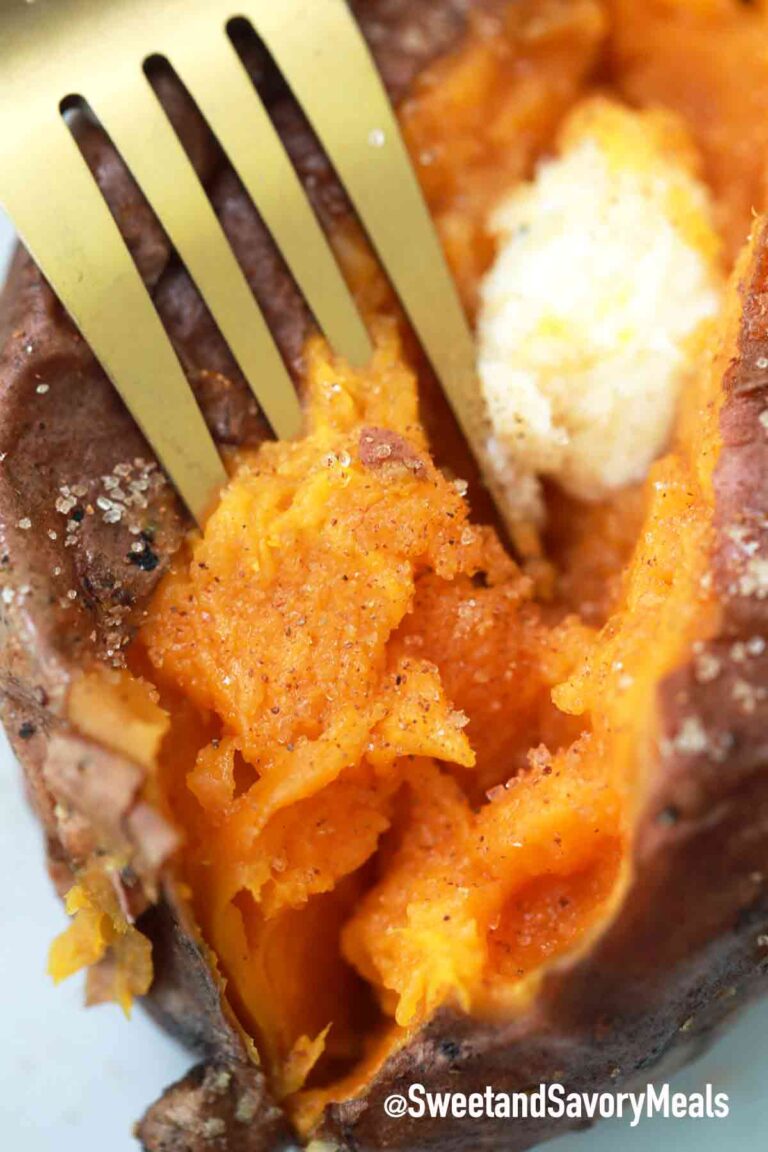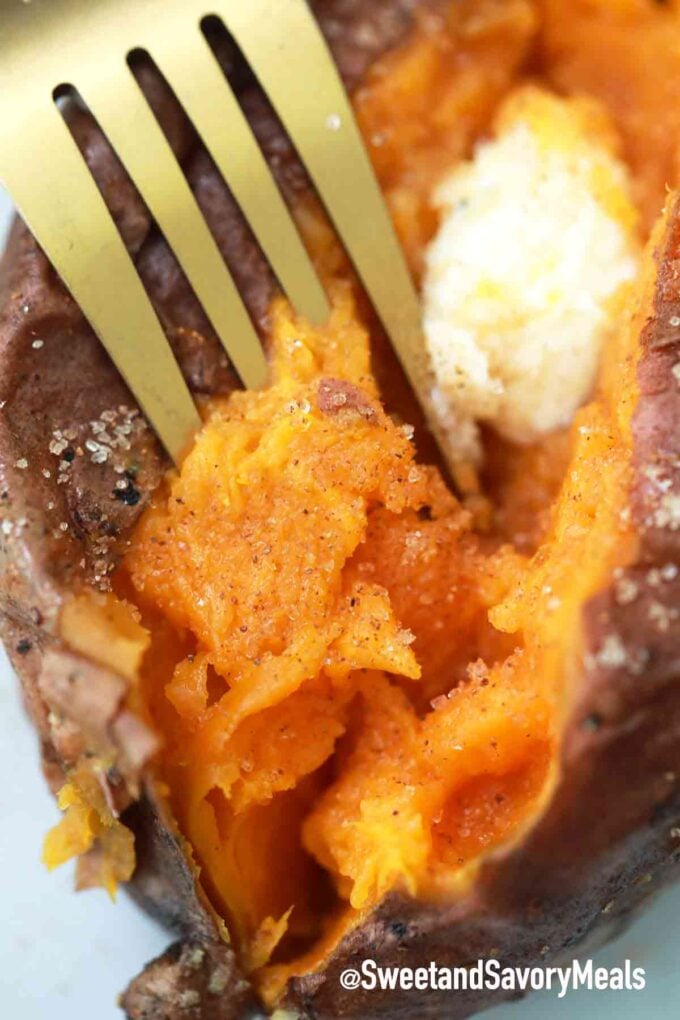 How to store leftovers?
First, cool down the spuds. Then, place in an air-tight container and refrigerate for up to 3 days. They are delicious right out of the fridge, but you can also warm them up by air-frying at 350F for about 10 to 20 minutes. You can also microwave them until hot.
You can also freeze these easily. Again, cool them first, then wrap in cling then foil. Alternatively, you can simply flash freeze the cooled spuds for about an hour or two on a baking sheet. Then, place in a Ziploc and store frozen for up to 3 months.
To reheat, defrost first either overnight or on the counter. Then, air-fry until hot or microwave.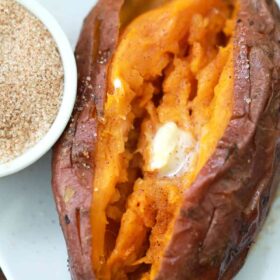 Air Fryer Baked Sweet Potatoes
Air Fryer Baked Sweet Potatoes are rubbed with olive oil and your choice of seasonings before getting air-fried until incredibly tender inside.
Save
Share
Print
Pin
Rate
Servings:
4
sweet potatoes
Ingredients
4

medium sweet potatoes

(scrubbed and dried with paper towels)

3

teaspoons

olive oil

1

teaspoon

kosher salt

1/4

teaspoon

black pepper
Instructions
Preheat air fryer to 400 degrees F.

After cleaning and drying the sweet potatoes, pierce them several times with a small knife a fork.

Drizzle with olive oil and rub into the potatoes with your hands to coat well.

Sprinkle with salt and pepper.

Place sweet potatoes in the air fryer basket, and leave some space between them, DO NOT STACK.

Cook for 40-50 minutes, depending on the size of the sweet potatoes, flipping over halfway.

Once tender, serve with butter and cinnamon sugar.
Notes
Don't forget to prick lots of holes into the potatoes before you air-fry them, or they can burst.
Feel free to peel them if you like.
Avoid stacking the spuds, or they will not cook evenly. Instead, arrange them in a single layer with small gaps in between.
Nutrition
Calories:
221
kcal
|
Carbohydrates:
46
g
|
Protein:
4
g
|
Fat:
3
g
|
Saturated Fat:
1
g
|
Sodium:
706
mg
|
Potassium:
763
mg
|
Fiber:
7
g
|
Sugar:
9
g
|
Vitamin A:
32063
IU
|
Vitamin C:
5
mg
|
Calcium:
69
mg
|
Iron:
1
mg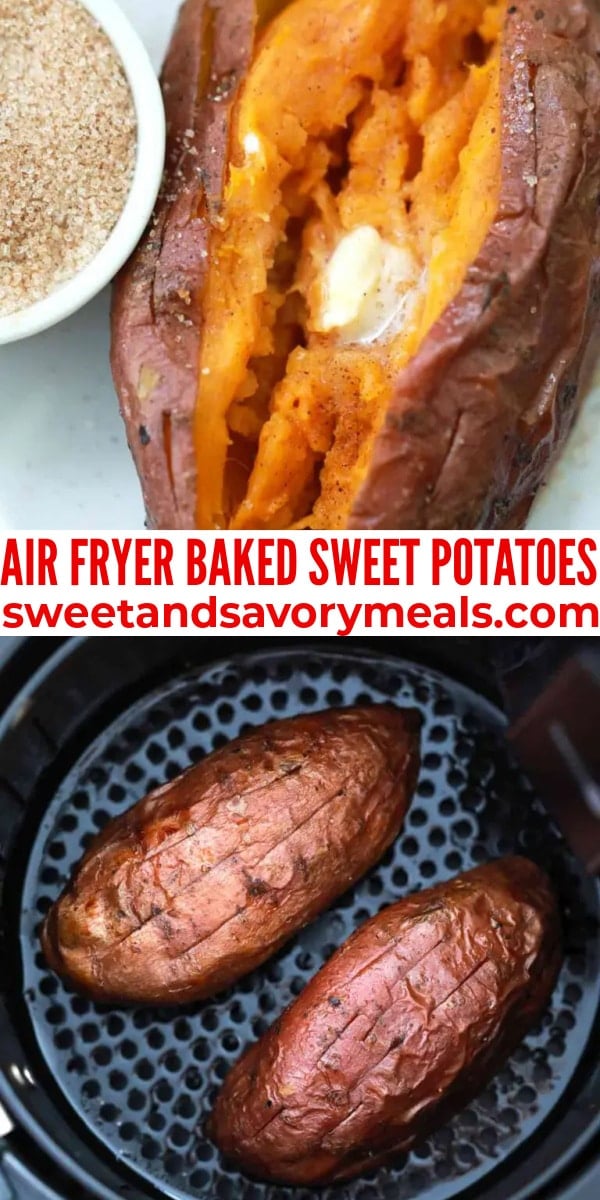 More recipes you might love