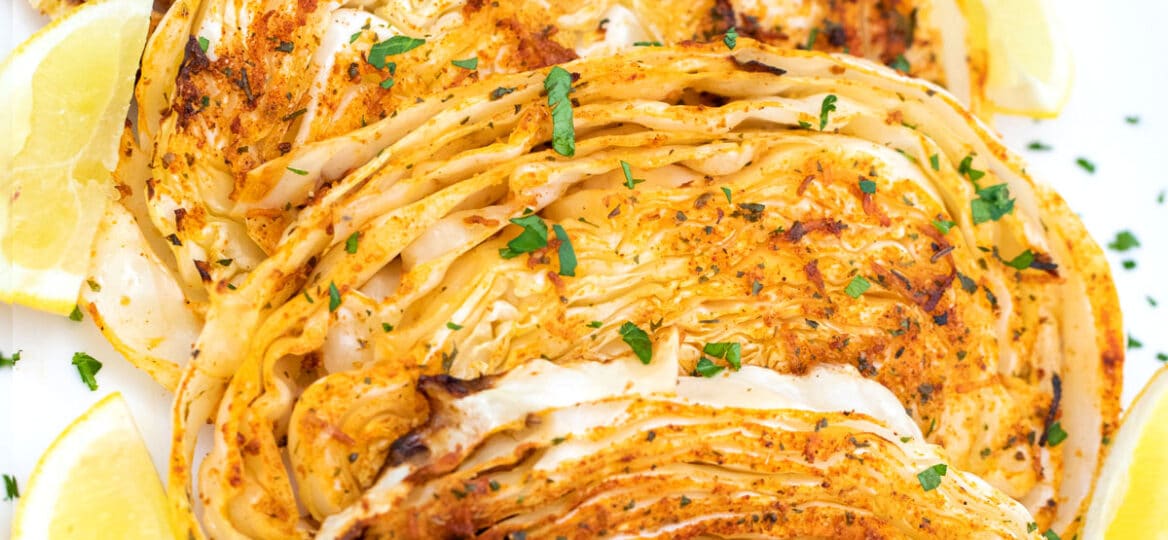 Air Fryer Cabbage Steaks [Video]
Air Fryer Cabbage Steaks are seasoned with Old Bay, parmesan, and spices then air-fried to caramelized, tender perfection. A fantastic vegetarian light meal or side!
Air fryers can help you enjoy healthier foods with less oil, and they tend to cook food quicker as well. In fact, we love cooking bacon in ours! It also makes the crispiest pork chops and fried chicken, so if you don't have one yet, we highly recommend adding it to your kitchen collection.
Crispy Air Fryer Cabbage Steaks
Air Fryer Cabbage Steaks are a unique and delicious way to prepare cabbage. Air frying the veggies makes short work of the recipe, and it only takes a few minutes to get a golden and tender veggie steak with hints of caramelization outside.
Because cabbages naturally taste mild, we're punching up the flavor with spices, parmesan cheese, parsley, and Old Bay. You can definitely play with flavors here, and we also love ours with Cajun seasoning or Italian seasoning! This dish is perfect as a vegetarian main, or as a tasty side to almost any entrée!
What is an air fryer?
It's a kitchen appliance designed to give you "deep-fried" results without actually deep-frying the food in oil. You can think of it as a mini convection oven because they work in very similar ways.
Air fryers have a basket where you place the food. When you close it and turn it on, this activates a fan that rapidly circulates hot air throughout the basket and around the food. This crisps up and browns the food really well.
Is roasted cabbage healthy?
Yes! Roasting vegetables brings out their flavor without overwhelming the veggies with fat, salt, and carbs. In particular, this dish provides a ton of fiber, vitamins, and minerals!
More cabbage recipes:
What do you need to make Air Fryer Cabbage Steaks?
Cabbage: We recommend green or white because those mild flavors (which turn sweet as they cook) really make the seasonings shine. Slice them into steaks about 3/4″-inch thick.
Butter or olive oil: Butter contributes a lot of flavor and richness, while olive oil is a healthier fat that also tastes great. You can use either, or a combination of the two (a tbsp each).

Seasonings: We're using Old Bay, garlic powder, paprika, onion powder, shredded parmesan cheese, and dried parsley. Mix all of these in a bowl for our seasoning mix.
How do you make air fryer cabbage steaks?
Prepare your air-fryer. Under the basket, pour a quarter cup of water. Then, preheat for about 5 mins. at 360F.
Season. Put one cabbage steak into the basket. Brush with butter or olive oil, then sprinkle the seasoning blend on top.
Air fry. Close the basket, and let the cabbage steaks cook for around 8 minutes. They're done at this point, but you can add 2 more minutes if you want them a little more toasted and crispier.
Serve. Enjoy hot!
At what temperature do you cook cabbage in the air fryer?
We cook ours at 360F. It's hot enough to give the vegetables some beautiful caramelization outside without burning it, while the insides get cooked to delicious tenderness. At that temperature, the dish cooks fast as well— less than 10 minutes!
Recipe Variations:
Oven-roasted: Season, then bake in a 350F oven for 30 to 45 mins.
Grill: Season, then grill at 400-425F for 5 mins. on each side.
Use different cheeses: Try topping the finished dish with some gruyere or cheddar for a cheesy touch!
Brush with balsamic vinegar: Add to the olive oil, then brush all over the vegetables.
Spicy: Add some chili flakes, chili powder, or cayenne to the seasonings.
What meat goes with cabbage?
Thanks to the delicate flavor of cabbage, it's delicious with almost any meat! It's especially tasty with sausage, stuffed with ground beef, corned beef, bacon, and pork. We also recommend serving cabbage with other entrees. For instance, sauteed cabbage is amazing with chicken, beef, and lamb!
What do you eat cabbage with?
If you're eating these vegetarian steaks as a main dish, you can make it a full meal by serving it with minestrone soup and a hearty slice of cheesy zucchini casserole. All three dishes are vegetarian!
If you're serving it as a veggie side, it goes with almost any meat entrée. It's lovely with some beef stew, roasted chicken, and balsamic pork loin, for instance. Perfect with seafood like glazed salmon, too!
How to store leftovers:
After cooling the leftovers completely, transfer them to an air-tight container. You can store this in the fridge for up to three days, but we recommend finishing it as soon as you can for the best texture and taste. To reheat, pop it in a 400F air-fryer for about 3 minutes.
More air fryer recipes:
Recipe tips:
Don't forget to pour water under the basket! This will catch all the oily drips and prevent them from burning and creating too much smoke.
Depending on the size of your air-fryer basket, we suggest cooking one piece at a time, so the hot air can really get in and around the cabbage steaks.
When slicing the head into steaks, keep the stem intact. This will allow you to roast each piece whole.