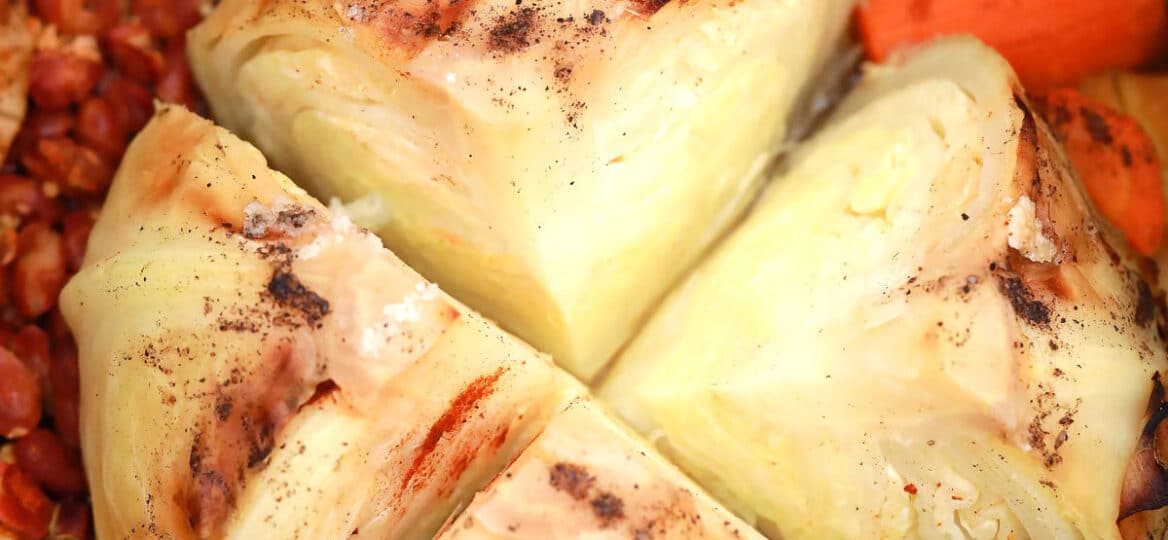 Vegetarian Cabbage Pot Roast
Vegetarian Cabbage Pot Roast is baked with seasoned potatoes, beans, and carrots flavored with fennel and ground mustard. A delicious vegetarian twist on classic pot roast!
Cap off your feast with the perfect vegetarian dessert such as this amazing Strawberry Crisp, Carrot Cake Cheesecake, or Mint Brownies!
Vegetarian Cabbage Pot Roast
Vegetarian Cabbage Pot Roast will surprise you with how hearty a vegetarian dish can be! Since the beans and the rest of the vegetables naturally taste mild, we're packing on the flavors with seasonings and herbs.
Together, the bay, fennel, ground mustard, and paprika give the roast such an earthy and complex flavor, plus heat from the chili peppers. Everything becomes beautifully caramelized as the dish roasts, especially with that high heat finish at the end. You won't miss the meat in this healthy and delicious roast!
More Vegetarian recipes to try:
Is vegetarian cabbage pot roast healthy?
Yes, it's very nutritious! There may not be any meat in this recipe, but you still get tons of protein from the kidney beans. You get even more vitamins and nutrients from all the vegetables, as well as fiber to keep you full and boost digestion.
Ingredients for Vegetarian Cabbage Pot Roast:
Cabbage: Use a medium green or white. Cut an X shape deep into the stem.
Beans: We're using canned kidney beans, so no need to soak them prior to cooking.

Vegetables: Chop some potatoes, an onion, and a couple of carrots.
Herbs: Fennel seeds lend an earthy and warm flavor to the dish, along with a bay leaf.
Seasonings: You'll need minced garlic, ground mustard for tanginess, chili peppers for heat, and a dash of smoked paprika.

Broth: We prefer chicken broth for that hint of umami, but you can also use veggie stock.
How to make a vegetarian cabbage pot roast?
Assemble. Combine the kidney beans, carrots, and the rest of the veggies in the pot. Add the seasonings, herbs, fennel, and broth. Set the head of cabbage on top, and finally, season everything.

Roast. Cover and place into the oven to bake for around 45 mins at 375F. Check the veggies and beans for your desired doneness at this point. If it starts to dry out, simply add more stock. Continue baking for around 15 to 20mins more.
Broil. Once everything is tender, turn up the oven to 425F. Uncover and roast for another 15 mins. until the cabbage becomes golden brown and slightly caramelized.
Serve. Slice up the cabbage for serving; we prefer ours in wedges. Spoon some veggies and beans onto the plate, and place the wedge on top. Enjoy hot!
Recipe variations and substitutions:
"Classic" pot roast flavor: Flavor the dish with some red wine, Worcestershire, and tomato paste plus dried Italian herbs.
More vegetables: Add more root vegetables like chunks of sweet potatoes, turnips, parsnips, and rutabaga. Mushrooms are delicious in this dish, too!
Use other herbs: Instead of fennel, we also love this flavored with thyme, coriander, dried Italian herbs, and sage.
Include meat: Add some chopped bacon, sliced sausages, or diced ham to the bean mixture.
How to make cabbage and beans pot roast in the slow cooker?
Assemble in the crockpot as the recipe directs. Cook on high for about 3 hrs., and on low for around 6 hrs. Check halfway for doneness. If the whole head won't fit in the pot, feel free to slice it in half before placing it on top of the veggies and beans.
More Cabbage recipes to try:
How to make it in the instant pot?
If you want to make this in the instant pot, we recommend cooking the beans and cabbage separately, since they require different cooking times. Place the beans, veggies, and seasonings into the IP and cook on High Pressure for around 6 minutes with a quick release. Transfer to a plate.
Pour some broth into the bottom and deglaze any leftover bits. Set the cabbage on a trivet, then cook on High Pressure for around 25 minutes. Serve according to the recipe.
What to serve with vegetarian cabbage pot roast?
Soups like pumpkin or mushroom are the perfect starter for this vegetarian main! You can also serve smaller portions as a side to a meat entrée like roasted chicken, baked pork chops, or grilled salmon.
How to store leftovers?
Once the leftovers are cool, transfer them to a well-sealed container. You can store them for up to 3 days, but we recommend consuming them ASAP especially if you like your vegetables on the crisper side. Microwave for a few minutes until hot.
Recipe tips:
Remember to carve an X into the stem of your cabbage, or the middle will end up raw.
The veggies should be chopped and cooked in large chunks. Otherwise, they may turn too soft after roasting.
Use other beans like black beans or cannellini if you prefer.
Deliciousness to your inbox
Enjoy weekly hand picked recipes and recommendations