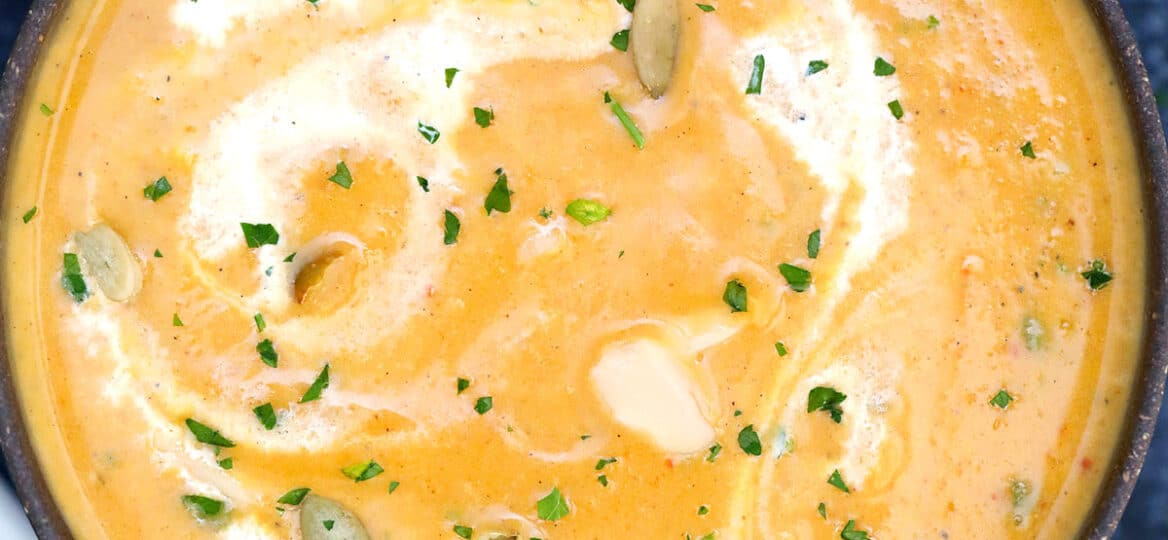 Slow Cooker Pumpkin Soup is super easy to make, resulting in a creamy, hearty, and very delicious soup! It is perfectly spiced that goes well with the fruit's earthy flavor! You can easily adjust it to make it vegan, gluten-free, or paleo.
Autumn will never be complete without pumpkin recipes! Serve this delicious soup along with Sweet Potato Bread, Pecan Pie Bars, and Creamy Mashed Sweet Potatoes!
With the pumpkin season in full swing, this Slow Cooker Pumpkin Soup is a must-try! It smells amazing as it slow cooks for hours. The fall aromas and spices will fill your room as it cooks in the crockpot. This dish capitalizes on the natural earthy and nutty taste of the pumpkin.
Also, the spices like nutmeg and cinnamon complement this soup nicely and bring the fall flavors together. At the same time, the aromatics and the curry paste add a bit of savory note to it.
I like adding a bit of peanut butter to it for a nuttier flavor. In addition, it makes the soup richer with a hint of sweetness.
Not only is this a simple and easy recipe to follow, but it is also adaptable. You can easily make it vegan or gluten-free and is perfect to serve during the holiday season or on a cold fall day.
It is one of the best winter comfort food to enjoy with the whole family. Also, it requires very little prep time, and leftovers taste even better the next day.
Ingredients:
Fresh pumpkin: Feel free to use whole pumpkin (such as sweet pumpkin or butternut pumpkin) and roast it prior to using it. Or, feel free to use pumpkin puree as well.
Onion, fresh ginger, and garlic: This adds a lot of flavor to it.
Oli oil
Vegetable stock or chicken broth: Go with what you have on hand, or like the most.
Red curry paste: This is the secret ingredient here! Also, you could use curry powder instead.
Aromatics: Such as cayenne pepper, black pepper, ground cinnamon, nutmeg, and salt.
Heavy cream: For a rich and creamy soup.
Pumpkin seeds and parsley: To garnish.
How to make Slow Cooker Pumpkin Soup
Sauté: First, in a skillet, sauté the aromatics in olive oil until the onions turn translucent. Then, add the curry paste. Add in a mixture of the peanut butter with a small amount of broth. Add in the pumpkin and sauté.
Slow cook: Then, transfer everything into the crockpot. Add broth, salt, and spices. Set to cook for 4 to 6 hours on LOW until everything is mushy.
Blend: Next, transfer everything into a heat-resistant blender and process until smooth. Also, use an immersion blender or stick blender so you can blend it directly in the pot.
Cook further: Allow the soup to heat up again by putting it back in the pot.
Serve: Add in the cream and garnish before serving.
Variations and adaptations:
Dairy free: To make it dairy-free, simply substitute the heavy cream with coconut milk, coconut cream, or almond milk.
Spices: Use your favorite spices or fresh herbs. Some great alternatives would be bay leaves, thyme, rosemary, etc.
Instant Pot: Alternatively, make it in the pressure cooker. Just follow this Instant Pot Pumpkin Soup recipe.
Stove top: You can also make it on the stove-top.
Vegan pumpkin soup: Simply use vegetable broth and coconut milk.
Butternut squash soup: Substitute the fresh pumpkin with butternut squash.
Favorite toppings:
green onions
croutons
bacon bits
fried shallots
nuts
cheese
maple syrup
brown sugar
lime juice
a dollop of sour cream
How to roast a pumpkin?
I highly recommend roasting your own pumpkin and use it to make the soup. This way, you control the flavors and know exactly what goes into it.
Here are the steps to roast it:
First, repeat the oven to 375 degrees f.
Then, using a sharp knife, slice it in half.
Using a spoon, scoop out the seeds.
Drizzle some olive oil on top, and place the slices on a baking sheet.
Bake for about 45 minutes.
Can I use pumpkin puree instead?
Absolutely! Feel free to make your own pumpkin puree and use it in the soup. You will need about 4 cups of homemade puree.
Can I make it spicy?
Yes! I like it spicy to compensate for the cold weather. I add more of the cayenne pepper.
Can you make it in advance?
Yes! Simply follow the storage instructions below, and then reheat it. It still tastes good even after freezing, if not better!
Or, what you can do is to make a huge batch of this, store the leftovers, and reheat them when needed.
What to Serve with Pumpkin Soup?
The best partner for a hearty dish like this is a slice of crusty bread or dinner rolls.
It also goes well with a side salad or some roasted veggies.
More delicious soups:
How to store it:
Refrigerate: First, allow it to cool to room temperature. Then, store it in an airtight container for up to 4 days.
Freeze: This can be frozen well by first allowing it to cool completely. Then, transfer it to a roomy freezer-proof container. You need enough headspace to allow it to expand. Freeze the soup for up to 3 months. Do not freeze with the dairy in it. Stir it in upon reheating.
To reheat: Simply thaw first overnight, then, reheat on the stove. This is the only time that you will add in the cream.
Cooking Tips:
If you are cutting some calories, then, substitute the cream with low-fat yogurt or milk. It will still be creamy without much of the calories.
You can add celery, carrots, or potato to it. They add more variation and nutrition without altering the taste as much.
Carve out a bread bowl and pour in the soup for a nice presentation.
Also, I highly recommend properly blending it. Use either a food processor, or immersion blender, or regular blender.