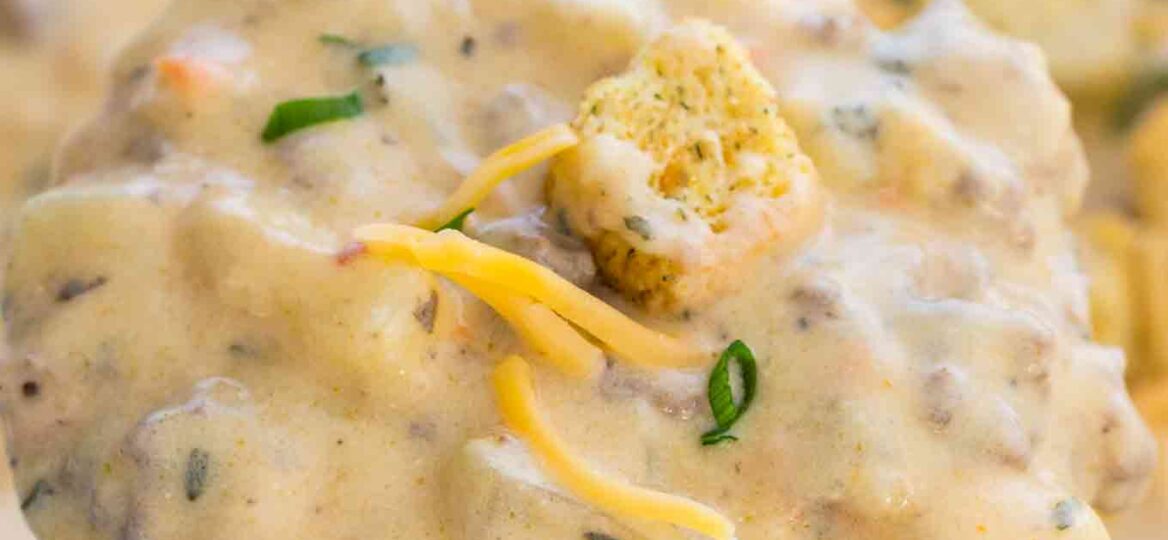 Best Cheeseburger Soup Recipe [VIDEO]
Cheeseburger Soup is incredibly creamy, flavorful, and the perfect comfort food. It is made with ground beef, shredded carrots, celery, potatoes, seasoning, and cheese! An easy homemade soup that is perfect for colder weather.
We love making homemade soups, but this creamy version is a true keeper. It is very similar to our cheeseburger pasta but in a soup form! Try our other favorites such as Slow Cooker Clam Chowder, Homemade Chicken Noodle Soup, and Taco Soup.
This Easy Homemade Cheeseburger Soup is filled with lean ground beef, lots of crunchy veggies, shredded Velveeta, and cheddar cheese. We have tried many variations of this hearty soup, but this version is one of the best we know.
This creamy soup is truly satisfying, with beefy and cheesy flavor, and tender potatoes in every bite. On top, it is very easy to make, and ready in less than one hour. Also, I use a bit of flour to make it thicker, but you can easily adjust that. My whole family loves it because it's the perfect dish to serve during chilly nights.
Whether you are entertaining for the Super Bowl, serving a larger crowd, or simply craving for a cheeseburger in a soup form, then this is the perfect dish!
Ingredients list:
Meat: I go with lean ground beef here.
Veggies: Such as onion, garlic, potatoes, carrots, and celery.
Seasonings: Dried basil, parsley, thyme paprika, salt, and black pepper.
Butter and canola oil
Chicken broth: I love to use homemade chicken stock here. The flavors are great, and you know exactly what goes into it.
Cheese: A combination of cheddar cheese and Velveeta cheese is used.
Sour cream
Heavy cream or whole milk
All-purpose flour: To thicken the dish.
How to make cheeseburger soup?
This creamy cheesy soup is very quick and easy to put together. Please watch the attached video tutorial and see the step-by-step instructions. Below, are the general steps:
Brown ground beef: In a large pot, over medium-high heat add some olive oil. Cook and crumble beef until no longer pink. Drain excess grease and set aside.
Saute the vegetables: Next, add some butter and saute onion. Add the rest of the veggies along with seasonings. Saute for a couple of minutes until tender.
Add in potatoes and beef: Then, add the potatoes and cooked ground beef to the veggies. Pour the chicken broth and bring to simmer. Reduce heat, and continue to simmer covered until the potatoes are tender (for about 10-12 minutes).
Make a roux: Meanwhile, in a large skillet, melt the remaining butter. Add flour, cream and continue cooking for about 3-5 minutes, while continuously stirring. Next, add the roux to the dish, and bring it to a boil. Cook and stir for about 2 minutes.
Stir in cheese: Lastly, melt the cheddar cheese and Velveeta cheese in the skillet, and add the cheese mixture to the soup. Mash it together, and remove it from the heat.
Serve: Garnish with freshly chopped green onions, croutons, and some sour cream.
Variations and substitutions:
Meat: Swap the ground beef with ground chicken, ground turkey, pork, or even Italian sausage.
Seasonings: Also, feel free to use your favorite seasonings here. Some great additions would be ranch seasoning, chili powder, garlic powder, red pepper flakes, etc.
Cheese: Substitute the Velveeta cheese with sharp cheddar cheese or Colby jack cheese.
Mix in other veggies: Alternatively, you can add other vegetables such as mushrooms, bell peppers, peas, etc.
Broth: Instead of chicken broth, you could use beef broth or vegetable broth.
Follow us on Pinterest for more delicious recipes!
Crock Pot cheeseburger soup:
Alternatively, make this comforting soup in the crockpot/slow cooker. We make it quite often, and is a huge hit with the whole family!
Here are the steps:
First, brown beef and it to the slow cooker.
Then, add veggies, seasoning, and broth.
Next, close the lid and cook on high for 2 hours or on low for 4 hours.
Meanwhile, prepare the cheese sauce roux in the skillet as per the original recipe directions. Add it to the slow cooker.
Lastly, add the sour cream. Stir until fully combined.
Cook for another 30 minutes on high. Enjoy!
Here is the full post on how to make this soup in the crockpot.
Instant Pot version:
Instant Pot cheeseburger soup is another great and fast way to make this recipe.
Making it in the Instant Pot will actually save you some time since the cooking time is reduced. It is very easy and convenient, especially during busy weekdays. Add this one to the best recipes list!
Favorite toppings:
Thi dish is super delicious and hearty just as is. However, for additional flavor, try adding some of the below toppings:
Bacon crumbs or chopped bacon
Chopped green onion or parsley
Pickles
Oyster crackers
Croutons
Corn chips
Salty chips or pita chips
What can I substitute for the Velveeta cheese?
Any low melting-point cheeses, such as Swiss and sharp cheddar can be substituted for the Velveeta.
Or for a kick, use pepper jack.
Storing instructions:
To store: First, let it completely cool at room temperature. Then, transfer leftover to an airtight container or a sealed dish, and refrigerate it for up to 4 days.
To thaw: Use a microwave-safe bowl, and microwave it for a few minutes until warm.
How to freeze cheeseburger soup?
Before freezing, make sure it is completely cooled.
Use quart bags, or freezer-proof containers to freeze it.
Then, transfer it from the pot into the bags.
Next, squeeze out excess air and seal the bags.
Once the soup has been packed, lay the bags flat in the freezer.
The bags can nicely be stored in the freezer for up to 3-4 months.
How to thaw it?
To thaw, remove it from the freezer the night before serving. To expedite the process, put the sealed soup bag in a large bowl filled with warm water. Similarly, you can heat it in a pan over medium heat for 10-15 minutes, or until warm.
More delicious soup recipes:
Cooking Tips and notes:
We love using a mix of cheddar cheese and Velveeta due to its rich and sharp taste. If you prefer to not use processed cheese, you can replace the Velveeta with more cheddar cheese. However, the texture of the soup will be thinner and less cheesy.
If you love bacon, add some to the dish.
Freshly minced garlic is the best to use here. It really elevated the flavors well! So, I highly recommend using some!
Sour cream and heavy cream make it creamier. But, you can substitute it with plain whole milk yogurt or even cream cheese.
Similarly, the chicken broth can be substituted with beef broth or even vegetable broth.
To prevent it from curdling, remove it from the heat before adding sour cream.
In addition, I use medium potatoes, such as Yukon gold potatoes. But you can use whatever is available, and simply cut into smaller cubes.
Best Cheeseburger Soup
Ingredients
1

pound

ground beef

2

tablespoons

canola oil

or vegetable oil

2

tablespoons

butter

1

medium onion

finely diced

4

cloves

garlic

minced

1

cup

shredded carrots

1

cup

diced celery

1

teaspoon

dried parsley flakes

1

teaspoon

dried basil

1/2

teaspoon

dried thyme

1

teaspoon

paprika

or smoked paprika for more flavor

1/4

teaspoon

salt

1/4

teaspoon

ground black pepper

2

pounds

potatoes

peeled and cubed

3

cups

chicken broth

more if needed

1/2

cup

sour cream

optional
Cheese Sauce:
1/4

cup

all-purpose flour

4

tablespoons

butter

2

cups

cream

or whole milk

1

pound

Velveeta process cheese

2

cups

cheddar cheese

shredded
Instructions
Place a large saucepan or Dutch oven over medium heat, add oil, and once it's hot add ground beef. Use a wooden spoon to crumble and cook the beef until no longer pink. Transfer beef to a plate and drain grease from the saucepan.

In the same saucepan, melt 2 tablespoons of butter over medium heat. Add diced onion, stir and cook for about 1 minute.

Add the rest of the veggies and seasoning: garlic, carrots, celery, basil, parsley, thyme, paprika, salt, and black pepper. Stir and sauté for about 8-10 minutes, until veggies are just tender.

Add cubed potatoes, cooked ground beef, and chicken broth. Add enough broth to cover the potatoes. Bring to a boil.

Reduce heat, cover and simmer, until potatoes are tender, 10-12 minutes.
Cheese Sauce:
Meanwhile, place a medium skillet over medium heat. Add butter and melt.

Add flour and cook stirring continuously until bubbly and fully combined, about 3 minutes.

Add the cream, little by little, and stir to combine.

Reduce heat to low, add the cubed Velveeta cheese, and stir to melt. Once melted, add the shredded cheddar cheese and stir until fully melted.

Add the mixture to the soup, stir and bring to a boil. Cook and stir for 2 minutes. Taste and adjust for salt and pepper.

Remove from heat and blend in sour cream.

If the soup is too thick, add more cream/milk or broth, little by little.

Serve topped with extra cheddar cheese and preferred toppings.