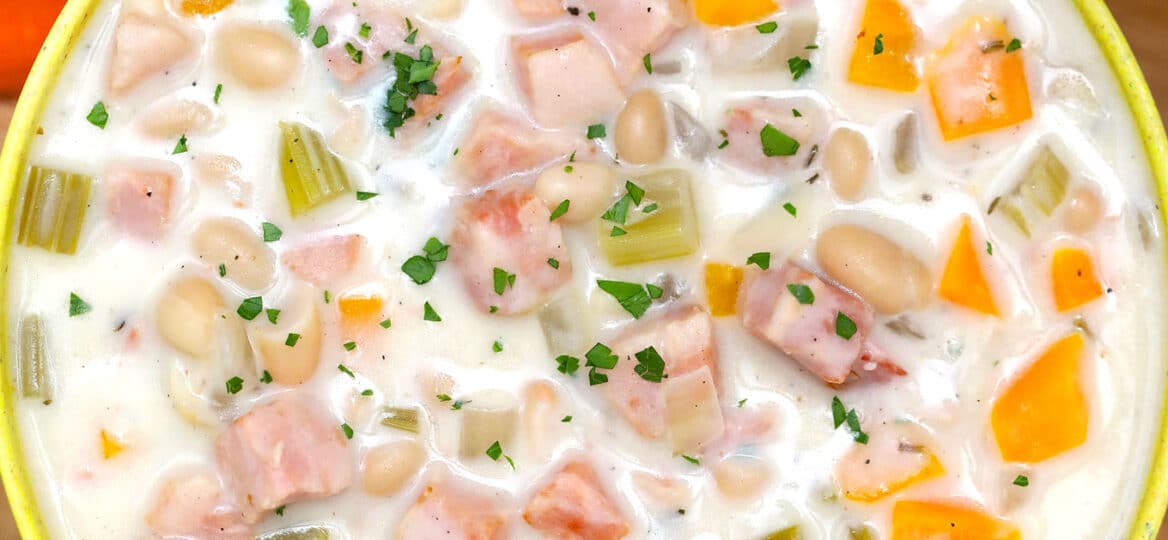 Slow Cooker Ham and Bean Soup [Video]
Slow Cooker Ham and Bean Soup smells divine as it simmers and it tastes just as amazing! It works wonders in this cold weather as it is warm and comforting! Also, watch the recipe step by step video tutorial below.
We have a lot of crockpot recipes that are easy to put together yet so satisfying. You can check out our recipes for Mashed Sweet Potatoes, Crack Chicken, and Cheesy Rotini!
Crockpot Ham and Bean Soup
This Slow Cooker Ham and Bean Soup recipe comes in handy when you are too busy to watch the stove. The crockpot takes hours to prepare a dish and because of that, the flavors meld so well together that it is perfect for recipes like this.
The chilly weather calls for warmth and this dish gives that. I like that I can have a mixture of protein and fiber in this soup. It is also best served with bread which is a good source of carbs. Paired with a tossed salad, you get a hearty and nutritious meal.
You can even go out and run some errands while this cooks in the crockpot. You do not even need some complicated ingredients, and even that leftover hambone will not go to waste with this recipe. Try it!
How to make Slow Cooker Ham and Bean Soup:
Sauté: In a skillet, brown the ham in some olive oil.
Cook: Add the rest of the ingredients except for the Roux to the crockpot. Set the crockpot to LOW and cook for 7 hours or more, or on HIGH and cook for 5 to 6 hours. Check if the beans are already tender beginning at the 5-hour mark.
Thicken: Add the roux out of butter, flour, and half and half towards the end of the cooking. In a saucepan, whisk the flour in melted butter, then, add the half and half a little bit at a time.
Serve: Make sure to discard the bay leaves, then, garnish with some chopped parsley.
Do you have to soak beans?
Even if you are using dry legumes for this, you will not need to soak them. Some people do that hoping that the cooking time will be much faster. However, since we are using the crockpot in this recipe, it will not be of much help as it will still take hours.
But if your concern is more on the gas that legumes cause, then, go ahead and soak it overnight if you like. Note that this is for dry ones. Canned ones are already pre-cooked, so, all you need to do is rinse them.
Can I use leftover ham to make it?
Absolutely! This dish is perfect for days following Thanksgiving and Christmas because of the leftovers. You can give the leftover ham new life with this dish. Use the USDA's guide on handling the leftovers for food safety.
How to thicken Ham and Bean Soup?
You can do this by doing any of the following:
Add roux.
Add a slurry of water and cornstarch.
Mash some of the legumes using a masher, a fork, or a blender.
Can you make it in advance?
Yes! It can keep well in the fridge or freezer, so, consider the storage when planning to make this in advance. Another thing to consider is chopping vegetables. You can do this in advance, too, so that your prep time will be shorter.
Can you freeze Ham and Bean Soup?
Yes! Simply cool it completely, put in freezer bags, and squeeze out excess air and seal. Then, freeze for up to 3 months. Reheat by thawing first in the fridge, then, reheating on the stove.
Recipe Tips:
You can use chicken or vegetable broth in this recipe. Just make sure to use the low-sodium or unsalted kind especially that the ham could already be salty.
When using a ham bone, you can shred the meat once it is tender enough. Then, put back the meat and discard the bone.
You can also check out the stovetop and Instant Pot versions of this recipe.