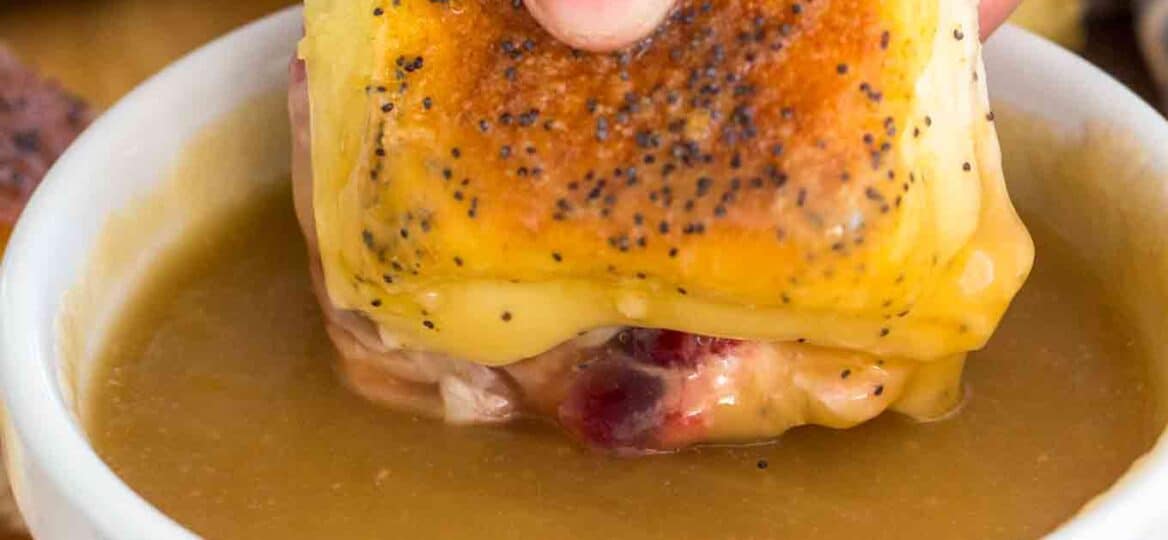 Cheesy Turkey Sliders [Video]
Cheesy Turkey Sliders are ready in just 30 minutes. Loaded with white turkey meat, cranberry sauce, and cheese. Serve these with gravy for dipping. Watch the video tutorial below and you'll see how easy this is.
We love making easy appetizers to be on top of our entertainment game. The holiday season doesn't have to be stressful if you are the hostess. Check my Homemade Hummus Recipe that is ready in just 5 minutes! For the meat lovers just fix these Turkey Sliders that are guaranteed to be a hit with everyone.
Turkey Sliders
Entertaining can sometimes be stressful, especially if you are hosting and you need to plan in advance. We usually opt for simple recipes that can be made ahead of time or can be fixed in a few minutes before guests arrive. In the end, the goal is to spend more time eating the food, than preparing it.
These Turkey Sliders are a great option when you need a quick and easy appetizer that is bound to impress everyone. If you have some Thanksgiving leftovers and can't stomach another turkey sandwich or salad, there are better ways to put to good use that meat and cranberry sauce.
We like using leftover turkey for this recipe, and it works perfectly well. Also, you can use white turkey meat or darker meat, this is totally up to you. The sliders are guaranteed to please everyone!
What do you need to make Cheesy Turkey Sliders
For the Buttery Mixture:
Butter
Garlic Powder
Onion Powder
Turkey Sliders Recipe Tips:
Use the On-Cor Gravy & Sliced White Meat Turkey entrée to save time. All On-Cor entrées have no monosodium glutamate (MSG) added, which makes me like convenience even more.
You can also make this recipe with shredded leftover turkey meat, delicious meat, roasted beef or ham.
The cranberry sauce layer is optional, but it takes the whole appetizer to a new level. The combo of sweet and savory is absolutely delicious.
You can use your favorite cheese in this recipe. I used shredded mozzarella cheese. I choose a milder cheese, for it to not compete with the other flavors.
Another delicious option is to use provolone cheese or even gruyere cheese.
To add some spiciness and a kick to the whole recipe, use Pepper Jack cheese.
The poppy seeds on top are optional. They add a nice and subtly nutty flavor, but if you don't have any on hand its ok to skip them.
Watch the sliders in the oven to not burn them.
How do you make Homemade Cranberry Sauce
Cranberry Sauce takes only a few minutes and a few ingredients to make. With the holiday season in full swing, I think cranberry sauce is the way to go. You can use our quick and easy Instant Pot Cranberry Sauce recipe to fix some.
How do you serve the Turkey Sliders
First, it is important to note that the sliders should be served immediately or within 30 minutes of baking. If you have any leftovers, which I highly doubt, you should store them in the fridge wrapped in plastic wrap, otherwise, the sliders will dry out.
While the cold sliders are still delicious, it is best to microwave them for 30 seconds to 1 minute before serving, if they have been refrigerated.
We enjoy serving these with warm gravy for dipping. The On-Cor Gravy & Sliced White Meat Turkey entrée makes this especially easy since it comes with the gravy ready. All you have to do is use the meat in the sliders and the gravy for dipping.
How to store turkey sliders?
If you end up with extra on hand, the best way to preserve them would be in the refrigerator. First, transfer them to an airtight container, or wrap each slider individually in an aluminum foil. Then, store in the fridge for up to 4 days.
Watch Cheesy Turkey Sliders Recipe Video:
Deliciousness to your inbox
Enjoy weekly hand picked recipes and recommendations