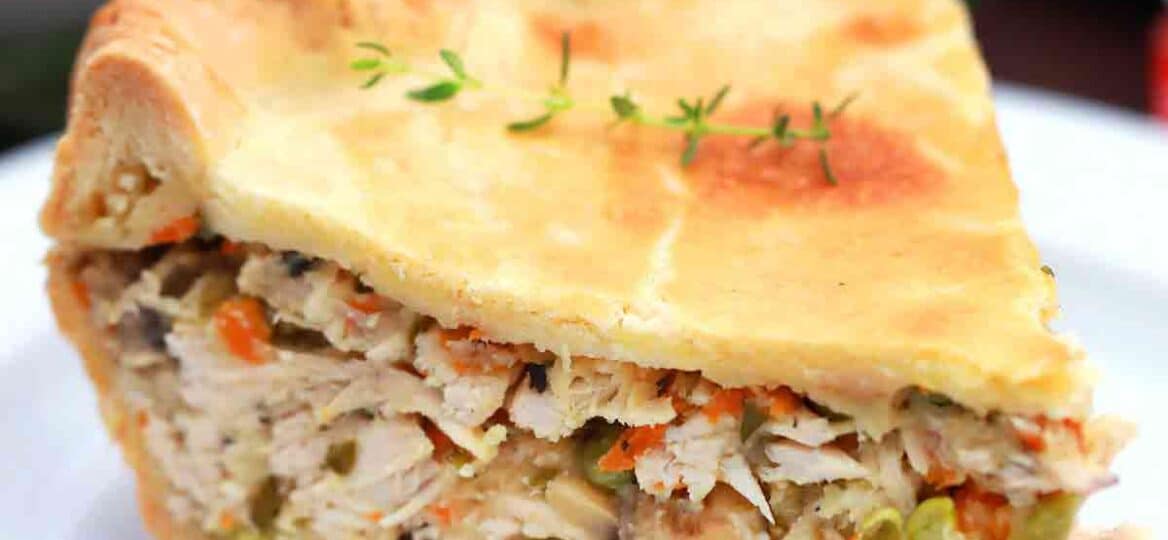 Turkey Pot Pie Recipe [Video]
Turkey Pot Pie made with leftover roasted turkey is a hearty, comforting way to enjoy this classic comfort food! Creamy meat and veggies are encased into the flakiest, buttery crust and then baked until perfectly golden. A filling meal in a beautiful pie form!
With the holiday season around the corner, this is the perfect dish to serve on Thanksgiving day or the following day. Serve it along with some other holiday classic dishes, such as Sweet Potato Casserole, Brown Sugar Candied Yums, and Slow Cooker Scalloped Potatoes.
Best Leftover Turkey Pot Pie
This Classic Turkey Pot Pie gets me so excited for the day after Thanksgiving! Everyone asks for a thick slice for lunch or dinner the next day. It's so creamy and loaded with delicious roast meat and vegetables. Then, it's all tucked into a buttery crust that complements the filling perfectly. Pure comfort food goodness!
In my opinion, there is no better use of Thanksgiving leftover turkey than this dish. My family just does not get enough of this top-rate recipe. Another thing I love about this classic dish is that it only uses pantry ingredients. Also, to make it easier, you can even use frozen crust if you don't want to make it from scratch.
This is the ultimate comfort food that is also super easy to make. You sauté everything, simmer the sauce, then bake the assembled pie. Say hello to your newest holiday tradition!
Follow us on Pinterest for more delicious recipes!
Ingredients:
Crusts: Homemade is best, but pre-made is fine too!
Turkey: I recommend shredding your leftover roast for this dish because it's already flavorful
Butter: Go with unsalted so you can control the saltiness of the dish
Carrots, shredded: Adds nutrients and color to the dish
Mushrooms: White or brown varieties will do
Chopped onion and minced garlic: Our main aromatics
Broth: To loosen up the cream and make the sauce more flavorful
Flour: Our main thickener for the sauce
Heavy cream: makes the sauce rich, creamy, and silky
Herbs: I use dried oregano, finely chopped rosemary, chopped parsley, and dried basil
Seasonings: Fresh ground pepper and kosher salt
Peas: We'll be adding this frozen, so do not thaw
Egg: Beat well for the egg wash
How to make the best Turkey Pot Pie?
Cook the filling. Sauté the aromatics and carrots in butter, then continue with the herbs and mushrooms. Continue sauteing with the flour. Next, pour broth and mix until there are no more flour lumps, then follow with the cream. Simmer until you achieve a gravy-like consistency. Season well. Lastly, add the veggies and meat.
Assemble. Roll one of the crusts onto a baking plate for the bottom crust. Carefully spoon the filling inside. Then, place the second crust on time. Crimp sides together to seal. Cut 5 slits on the top layer to release steam as it bakes. Brush with egg wash and lightly sprinkle with salt and fresh ground pepper.
Bake. For 30-35 mins at 425F, bake until it's golden. If the top is getting too brown, protect it from direct heat by covering it with a circular piece of foil.
Serve. Remove from oven and cool slightly. Slice and enjoy.
Recipe variations and substitutions:
Use chicken: Roast chicken is a terrific alternative to shredded meat.
Add other veggies: throw in some spinach, corn kernels, and chopped-up broccoli florets.
Make it cheesy: Stir in some fresh parmesan into the sauce before baking.
Make it spicy: Add a dash of cayenne or chili flakes into the sauce for a hot version.
Can I use leftover turkey?
It's the best meat to use for this recipe! There's already so much flavor from roasting the meat and it all goes into the dish.
Since it is already cooked, all you have to do is to shred it. I also hate wasting food, so being able to repurpose leftovers into something yummy is always a win in my book.
Can I use store-bought pie crust for turkey pot pie?
Yes, you can use store-bought pie crust to save time. However, making your pie crust from scratch can add a homemade touch and enhance the flavor.
Can I use frozen vegetables for the filling?
Frozen vegetables can be convenient and work well in a homemade turkey pot pie. Just make sure to thaw them before using them, or you can cook them slightly before assembling the pie.
How do I thicken my pot pie?
Don't skip the flour. You're making a roux by sautéing it in butter, and it's essential to get that thick, delicious sauce we're going for. In addition, it's important to let the sauce simmer well until it's reduced to your desired consistency.
Why is my pot pie runny?
One of the most common reasons is underbaking. Just because you see the crust is getting brown doesn't mean it's already done. Some ovens just run hot, so you should always follow the bake times indicated in the recipe.
Another reason is you didn't let the sauce thicken first. It should already have a rich gravy-like consistency before you pour it into the crust.
Finally, don't thaw the peas! We want them frozen so that they won't release excess moisture into the sauce. Instead, they'll soak up that wonderful sauce while baking and turn tender.
What to serve with Turkey Pot Pie?
These 30-minute dinner rolls are perfect for soaking up that velvety sauce!
It's also great with a simple side salad.
For a full Thanksgiving-themed spread, serve it with Loaded Sweet Potato Casserole, cranberry sauce, and cheesy baked green beans!
Can I make it ahead of time?
Absolutely! First, assemble the pie per the instructions below. Then, cover it with plastic wrap and refrigerate it for a day before baking. This can be a great time-saver for busy days.
How to store leftovers?
Make sure all leftovers are cooled first. Then, transfer to a sealed container. You may also cover the pan tightly with plastic wrap and then foil. Keep in the fridge for up to two days for the best texture.
If you want to make it ahead, don't bake yet. Simply assemble the dish, then freeze. It will keep well for as long as 3 months. To serve, thaw, and bake.
More easy Turkey recipes:
Recipe tips and notes:
Make sure your crusts are chilled before assembling so that they hold up to the filling.
Always cut slits into the surface so that the steam doesn't make the crust soggy.
Also, thaw frozen vegetables before use. If you're using frozen vegetables for the filling, make sure to thaw them before adding them to the pie. Excess moisture from frozen vegetables can make the filling watery if not properly thawed and drained.
This recipe can be made with chicken meat as well.
Let the Pie Rest Before Serving. After you take it out of the oven, let it rest for about 10-15 minutes before slicing and serving. This allows the filling to be set and makes it easier to serve neat slices.
Turkey Pot Pie
Ingredients
Homemade Pie Crust:
2 1/2

cups

all-purpose flour

plus more for dusting

1

teaspoon

white granulated sugar

1/2

teaspoon

salt

1/2

lb

COLD unsalted butter

diced into 1/4" pieces

6

tablespoons

ice-cold water
Turkey Pot Pie Filling:
4

cups

cooked turkey

shredded

6

tablespoons

unsalted butter

1

small yellow onion

chopped

1

cup

shredded carrots

8

oz

mushrooms

stems discarded and caps sliced

4

garlic cloves

minced

1/3

cup

all-purpose flour

2

cups

chicken broth

1/2

cup

heavy cream

2

teaspoons

salt

1/4

teaspoon

black pepper

1

teaspoon

dried basil

1

teaspoon

dried oregano

1

teaspoon

fresh rosemary

finely chopped

1

teaspoon

fresh rosemary

finely chopped

1

cup

frozen peas

do not thaw

1/4

cup

parsley finely chopped

plus more to garnish

1

egg beaten

for egg wash
Instructions
Homemade Pie Crust:
Add flour, sugar, and salt into the bowl of a food processor and pulse a few times.

Add the cold diced butter and pulse until the mixture resembles pea-sezed coarse crumbs. The mixture should be dry and sandy.

Add the 6 tablespoons of very cold, ice water and pulse just until moist clumps start to form. Test the dough by pressing it between your fingertips, and if it sticks together, you are done. If the dough is too crumbly and it falls apart, add more water, just a teaspoon at a time. Careful NOT to add too much water, or the dough will become very sticky and difficult to roll.

Transfer dough to a clean work surface, and gather it into a ball, bo NOT knead it, just gather it together.

Divide thee dough in half and using a rolling pin, flatten the pieces to form 2 disks.

Cover with plastic wrap and refrigerate for at least 1 hour before using in recipes.
Turkey Pot Pie Filling:
In a dutch oven or pot, melt the 6 tablespoons of butter over medium heat.

Add the diced onions and carrots and saute for 8-10 minutes, or until soft.

Add the sliced mushrooms and minced garlic, rosemary, thyme, dried basil, dried oregano, and saute for another 5 minutes until mushrooms are softened.

Add 1/3 cup flour and stir constantly for 1-2 minutes until combined.

Add chicken broth and stir very well, next, add 1/2 cup heavy cream, stir and then bring the mixture. Let it cook for 1-2 minutes, or until the mixture has a thick gravy consistency.

Add the salt and black pepper, taste it and adjust the seasoning if needed.

Add shredded turkey, frozen peas, and 1/4 cup parsley, stir to combine. Remove from heat and cool slightly.

Preheat oven to 425 degrees F.

Roll 1 chilled pie crust disk into a 12" diameter circle. Carefully transfer it into a 9" pie dish.

Spoon the turkey pot pie filling over the bottom crust.

Roll the second dough disk into a 10" diameter circle and place it over the pie filling. Fold the excess dough behind the bottom crust and crimp together to seal.

Cut 5 small slits on the top to allow steam to escape.

Brush the top with the beaten egg and sprinkle lightly with some sea salt and pepper.

Bake for 30-35 minutes or until top crust is golden brown. If the pie edges are browning too fast, cover it loosely with foil over the pie.

Once baked, let it rest for 15 minutes at room temperatire before slicing and serving.