Turkey Pot Pie Recipe [Video]
Turkey Pot Pie is a hearty, comforting way to enjoy leftover roast! Creamy meat and veggies are encased into the flakiest, buttery crust then baked until perfectly golden. A filling meal in a beautiful pie form!
With the holiday season around the corner, this is the perfect dish to serve on Thanksgiving day or the following day. Serve it along with some other holiday classic dishes, such as Sweet Potato Casserole, Brown Sugar Candied Yums, and Slow Cooker Scalloped Potatoes.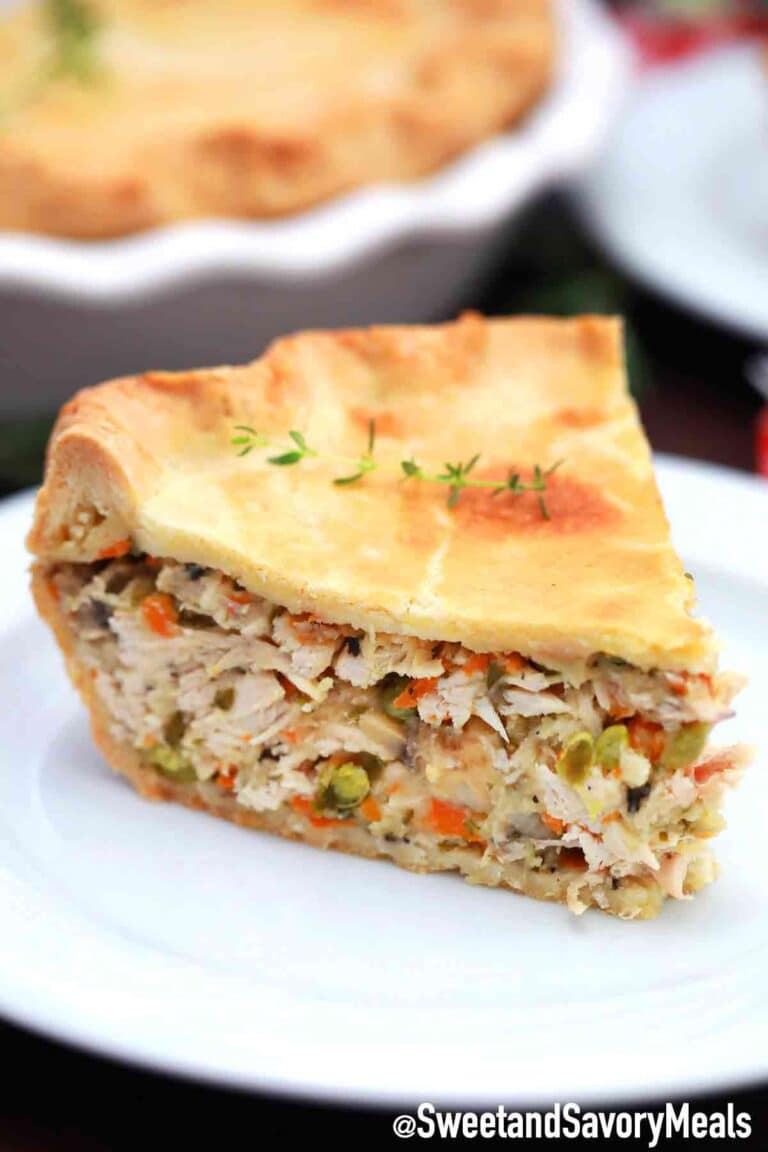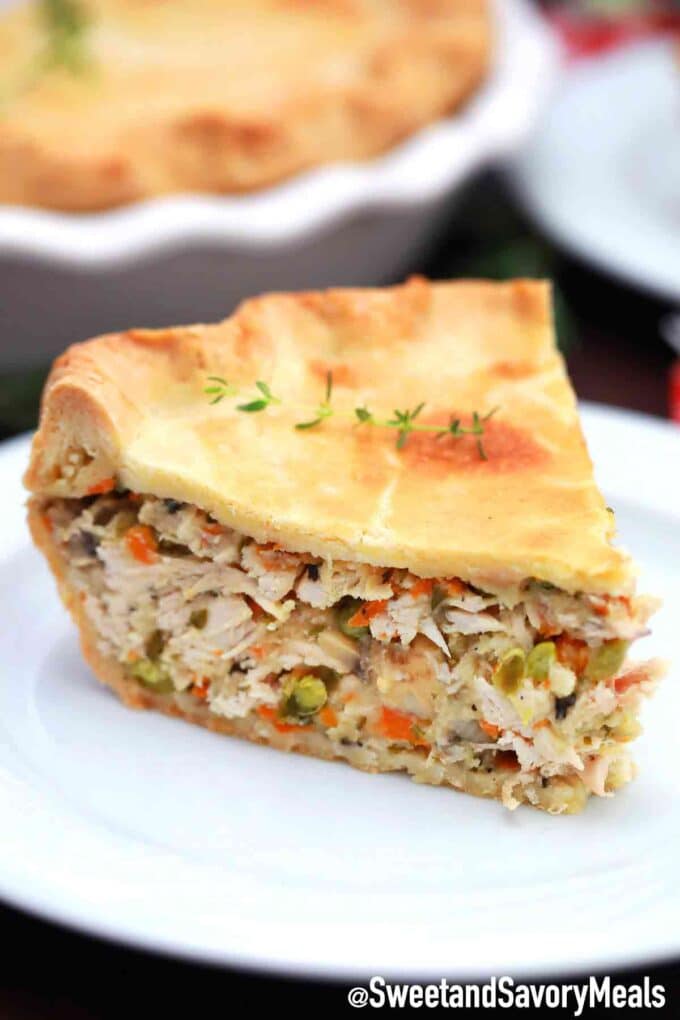 Leftover Turkey Pot Pie
This Classic Turkey Pot Pie gets me so excited for the day after Thanksgiving! Everyone asks for a thick slice for lunch or dinner the next day. It's so creamy and loaded with delicious roast meat and vegetables. Then, it's all tucked into a buttery crust that complements the filling perfectly. Pure comfort food goodness!
Another thing I love about this recipe is that it only uses pantry ingredients. Also, to make it easier, you can even use frozen crust if you don't want to make it from scratch.
This is a classic and comfort dish that is also super easy to make. You basically sauté everything, simmer the sauce, then bake the assembled pie. Say hello to your newest holiday tradition!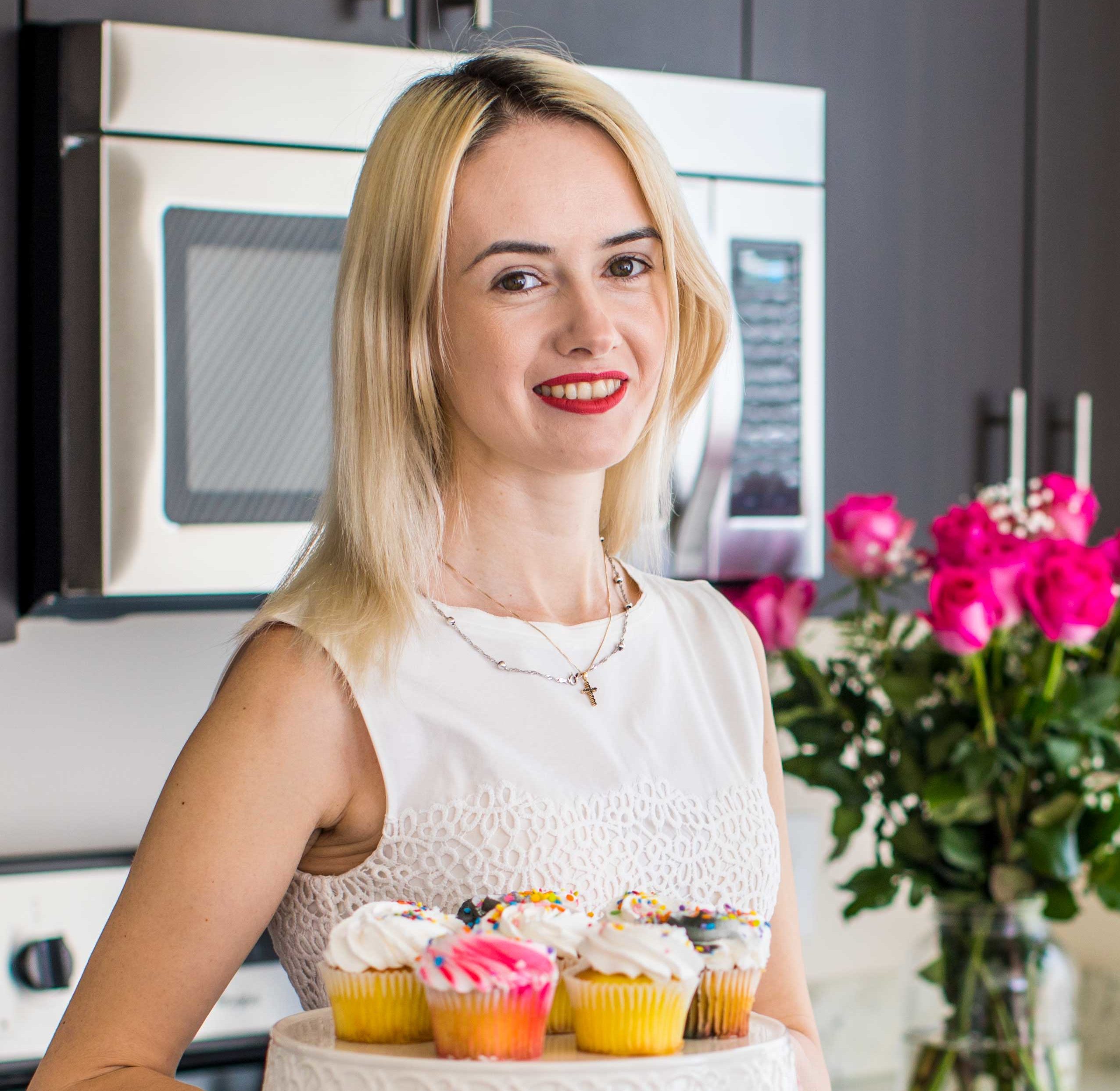 Follow us on Pinterest for more delicious recipes!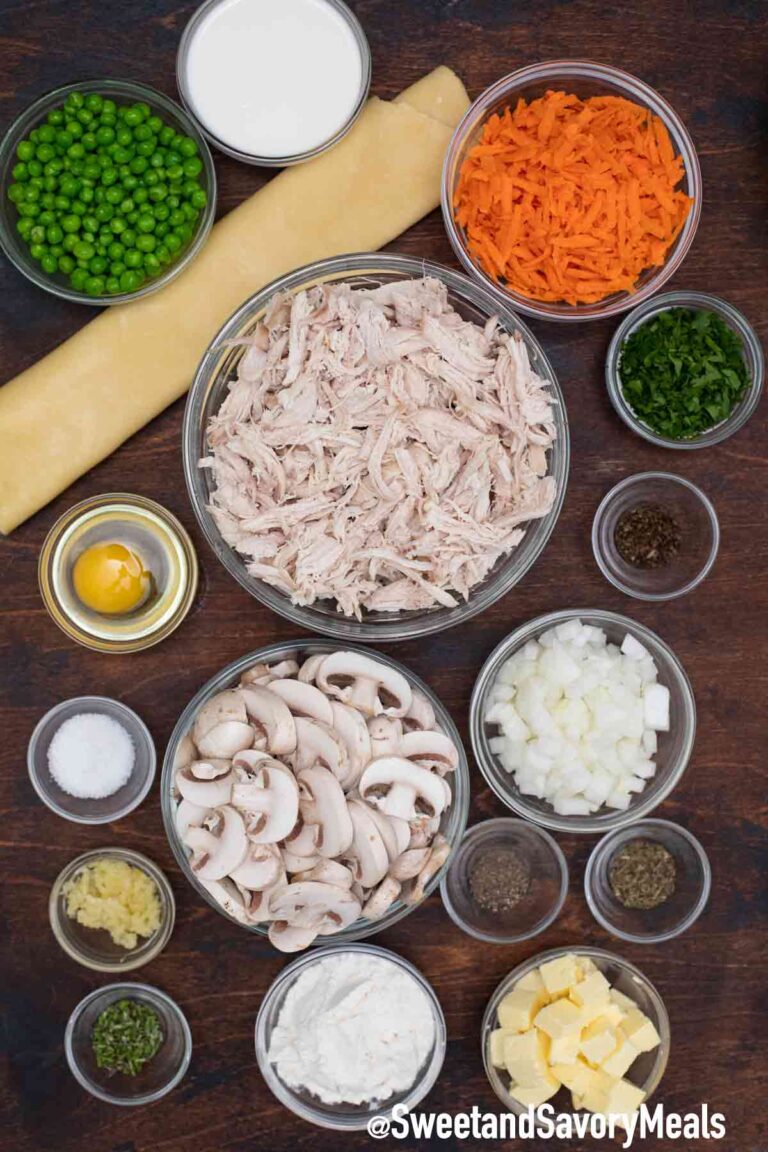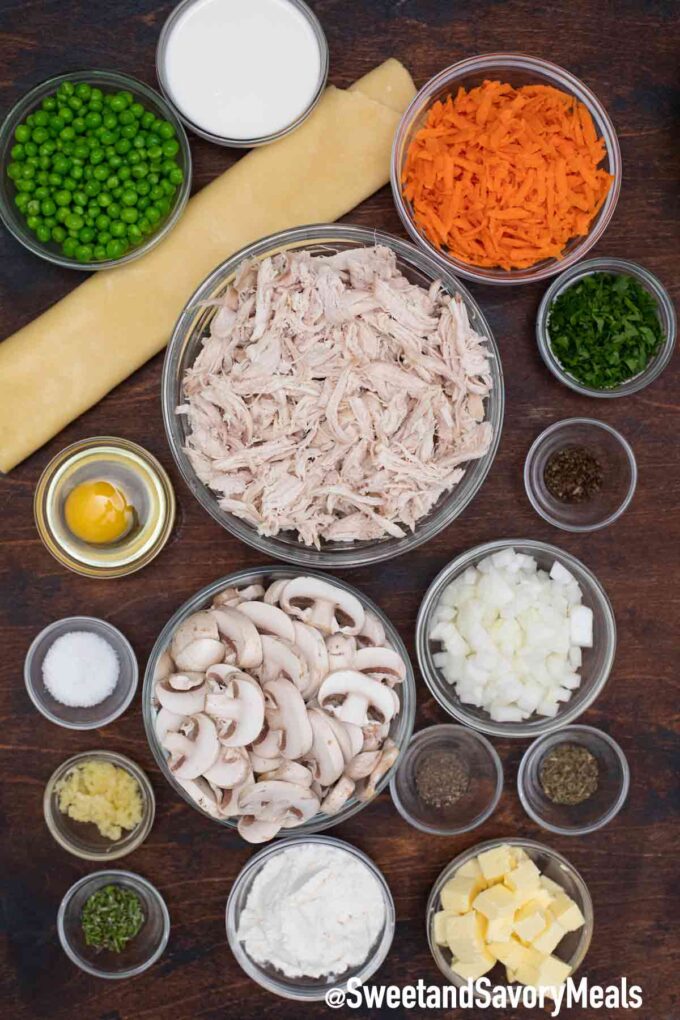 What ingredients go into Turkey Pot Pie?
Crusts: Homemade is best, but pre-made is fine too!
Turkey: I recommend shredding your leftover roast for this dish because it's already flavorful
Butter: Go with unsalted so you can control the saltiness of the dish
Carrots, shredded: Adds nutrients and color to the dish
Mushrooms: White or brown varieties will do
Chopped onion and minced garlic: Our main aromatics
Broth: To loosen up the cream and make the sauce more flavorful
Flour: Our main thickener for the sauce
Heavy cream: makes the sauce rich, creamy, and silky
Herbs: I use dried oregano, finely chopped rosemary, chopped parsley, and dried basil
Seasonings: Fresh ground pepper and kosher salt
Peas: We'll be adding this frozen, so do not thaw
Egg: Beat well for the egg wash
How to make the best Turkey Pot Pie?
Cook the filling. Sauté the aromatics and carrots in butter, then continue with the herbs and mushrooms. Continue sauteing with the flour. Next, pour broth and mix until there are no more flour lumps, then follow with the cream. Simmer until you achieve a gravy-like consistency. Season well. Lastly, add the veggies and meat.
Assemble. Roll one of the crusts onto a baking plate for the bottom crust. Carefully spoon the filling inside. Then, place the second crust on time. Crimp sides together to seal. Cut 5 slits on the top layer to release steam as it bakes. Brush with egg wash and lightly sprinkle with salt and fresh ground pepper.
Bake. For 30-35 mins at 425F, bake until it's golden. If the top is getting too brown, protect it from direct heat by covering with a circular piece of foil.
Serve. Remove from oven and cool slightly. Slice and enjoy.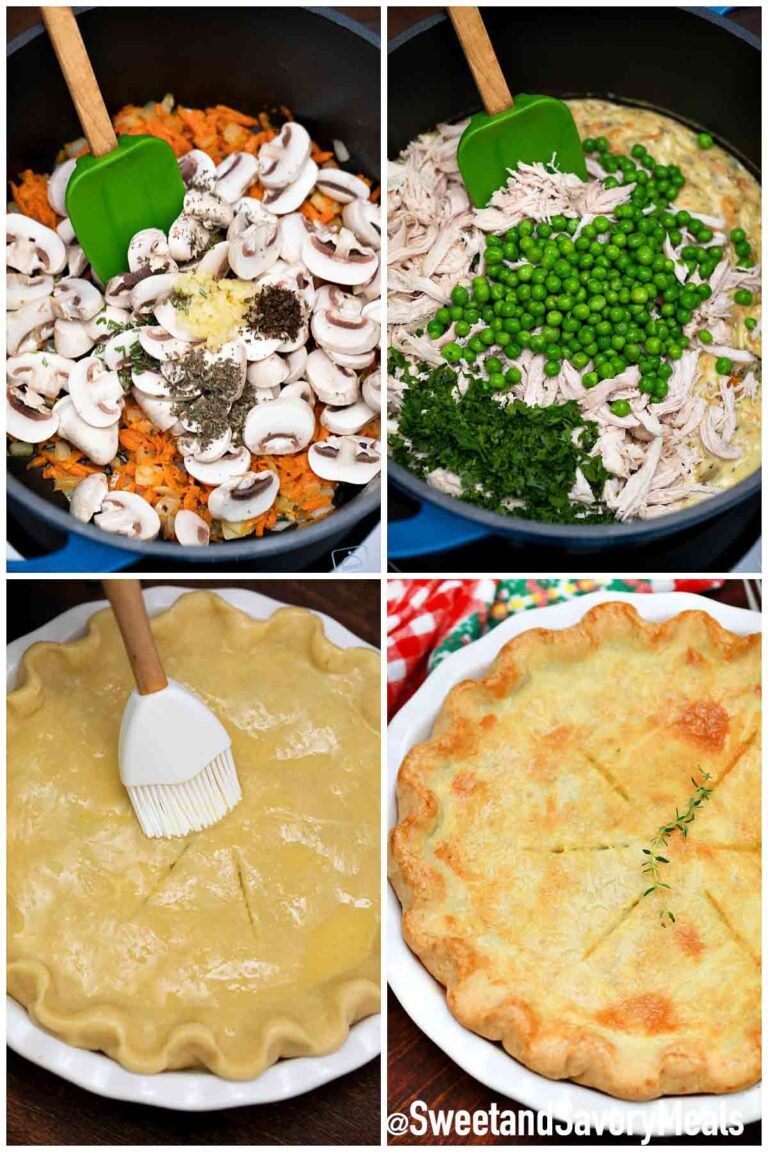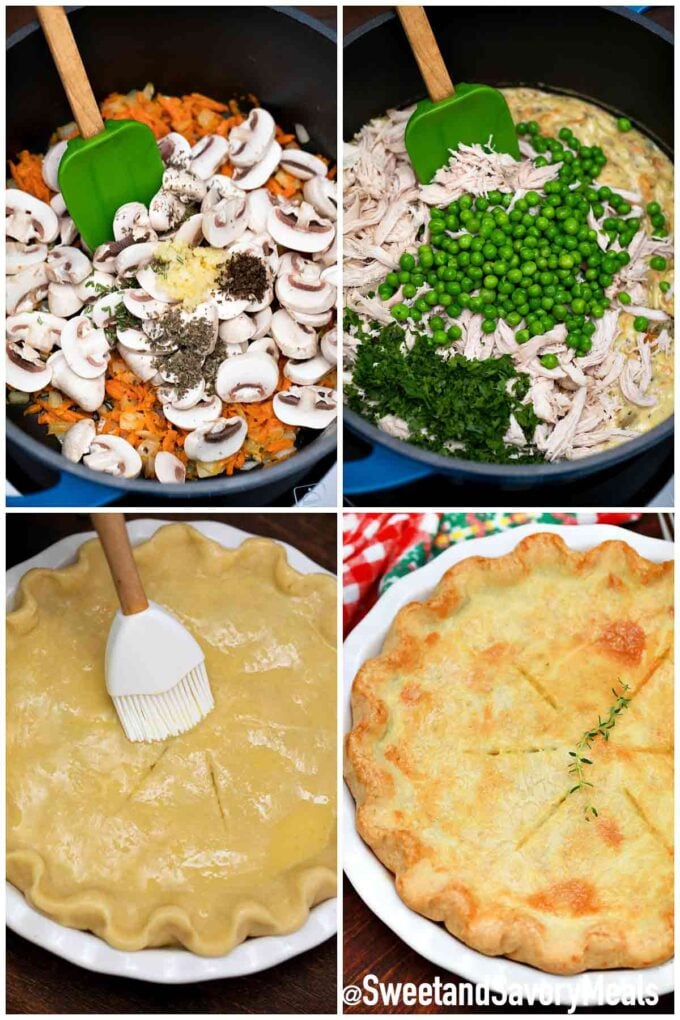 Recipe variations and substitutions:
Use chicken: roast chicken is a terrific alternative for the shredded meat.
Add other veggies: throw in some spinach, corn kernels, and chopped up broccoli florets.
Make it cheesy: Stir in some fresh parmesan into the sauce before baking.
Make it spicy: Add a dash of cayenne or chili flakes into the sauce for a hot version.
Can I use leftover turkey?
It's the best meat to use for this recipe! There's already so much flavor from roasting the meat and it all goes into the dish.
Since it is already cooked, all you have to do is to shred it. I also hate wasting food, so being able to repurpose leftovers into something yummy is always a win in my book.
How do I thicken my pot pie?
Don't skip the flour. You're basically making a roux by sautéing it in butter, and it's essential to get that thick, delicious sauce we're going for. In addition, it's important to let the sauce simmer well until it's reduced to your desired consistency.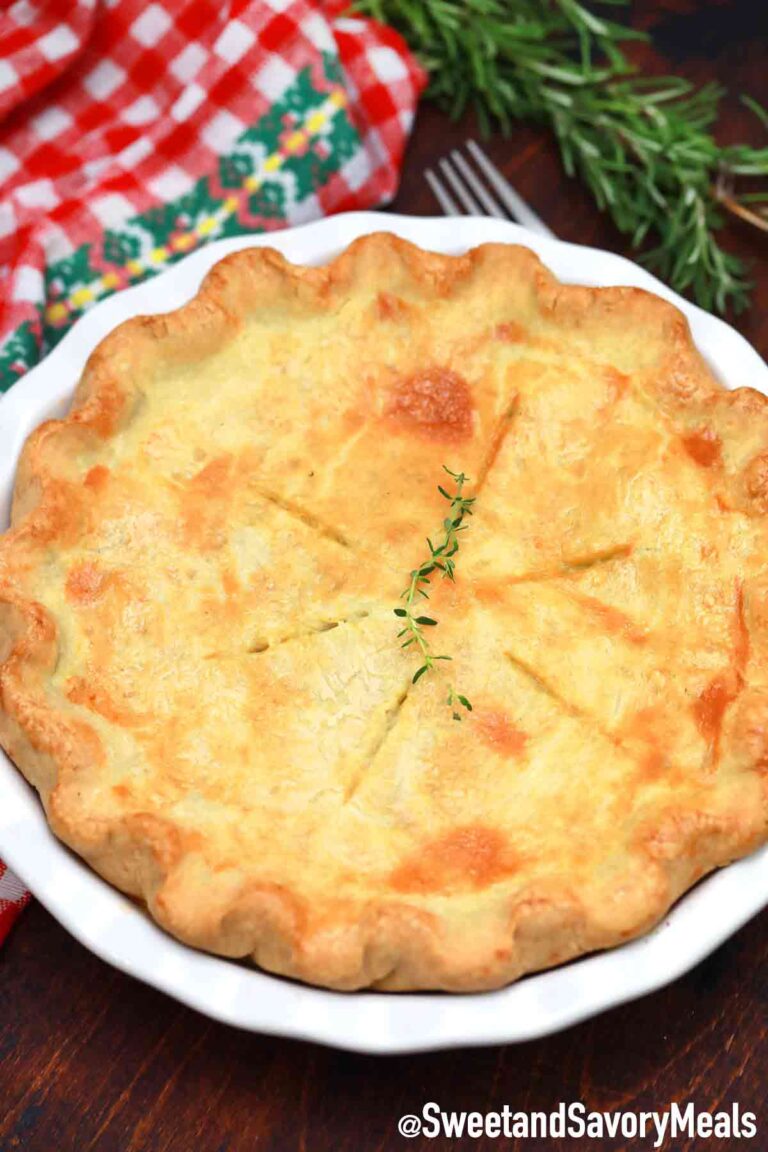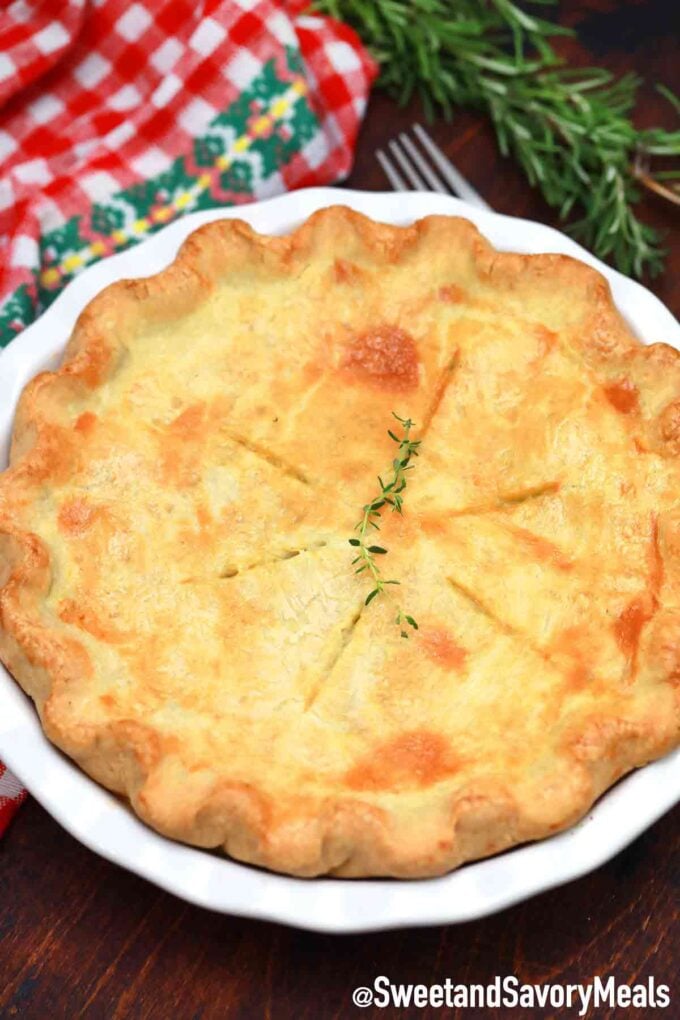 Why is my pot pie runny?
One of the most common reasons is underbaking. Just because you see the crust is getting brown doesn't mean it's already done. Some ovens just run hot, so you should always follow the bake times indicated in the recipe.
Another reason is you didn't let the sauce thicken first. It should already have a rich gravy-like consistency before you pour it into the crust.
Finally, don't thaw the peas! We want them frozen so that they won't release excess moisture into the sauce. Instead, they'll soak up that wonderful sauce while baking and turn tender.
What to serve with Turkey Pot Pie?
These 30-minute dinner rolls are perfect for soaking up that velvety sauce!
It's also great with a simple side salad.
For a full Thanksgiving-themed spread, serve it with Loaded Sweet Potato Casserole, cranberry sauce, and cheesy baked green beans!
How to store leftovers?
Make sure all leftovers are cooled first. Then, transfer to a sealed container. You may also cover the pan tightly with plastic wrap then foil. Keep in the fridge for up to two days for the best texture.
If you want to make it ahead, don't bake yet. Simple assemble the dish, then freeze. It will keep well for as long as 3 months. To serve, thaw and bake.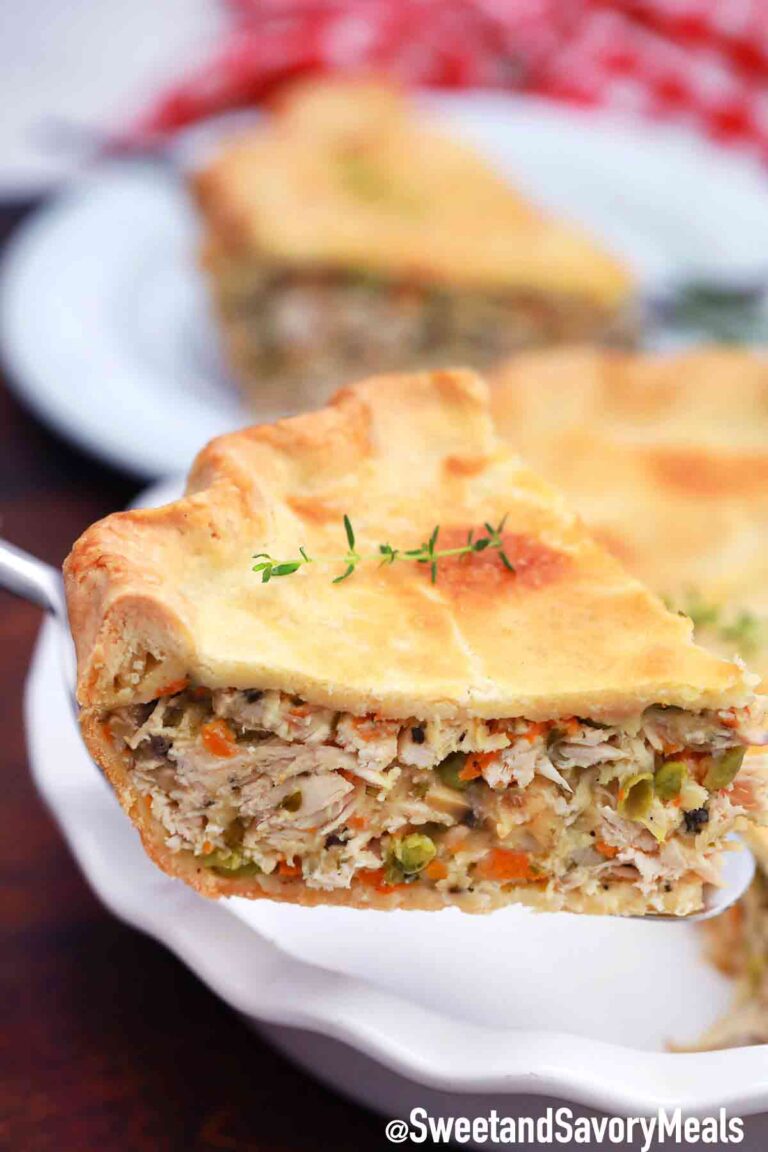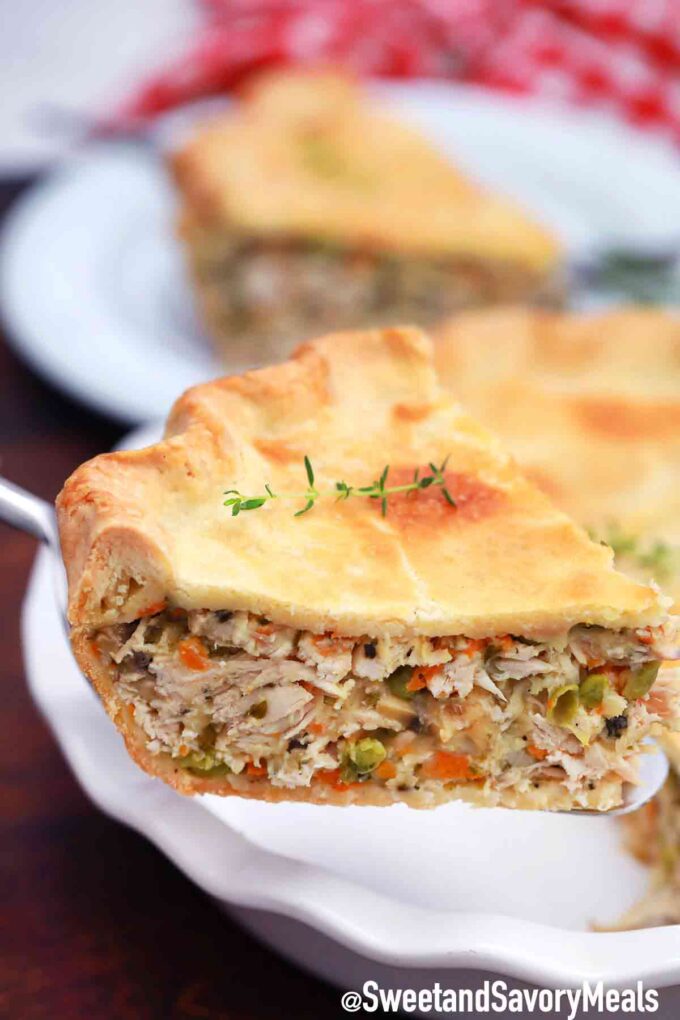 More easy Turkey recipes:
Recipe tips and notes:
Make sure your crusts are chilled before assembling so that it holds up to the filling.
Always cut slits into the surface so that the steam doesn't make the crust soggy.
Use frozen peas, not thawed, to avoid watering down the filling.
This recipe can be made with chicken meat as well.
Save Recipe
Turkey Pot Pie
Turkey Pot Pie is a hearty, comforting way to enjoy leftover roast! Creamy meat and veggies are encased into the flakiest, buttery crust then baked until perfectly golden.
Author: Catalina Castravet
Serves: 8 servings
Prep time:

1

hour
Cook time:

35

minutes
Total time:

2

hrs

35

mins
Ingredients
Homemade Pie Crust:
Turkey Pot Pie Filling:
Instructions
Homemade Pie Crust:
Turkey Pot Pie Filling:
Nutrition information
Calories: 547 Carbohydrates: 39 Protein: 18 Fat: 37 Saturated Fat: 21 Cholesterol: 121 Sodium: 1298 Potassium: 503 Fiber: 5 Sugar: 4 Vitamin A: 3921 Vitamin C: 14 Calcium: 113 Iron: 4
Save Recipe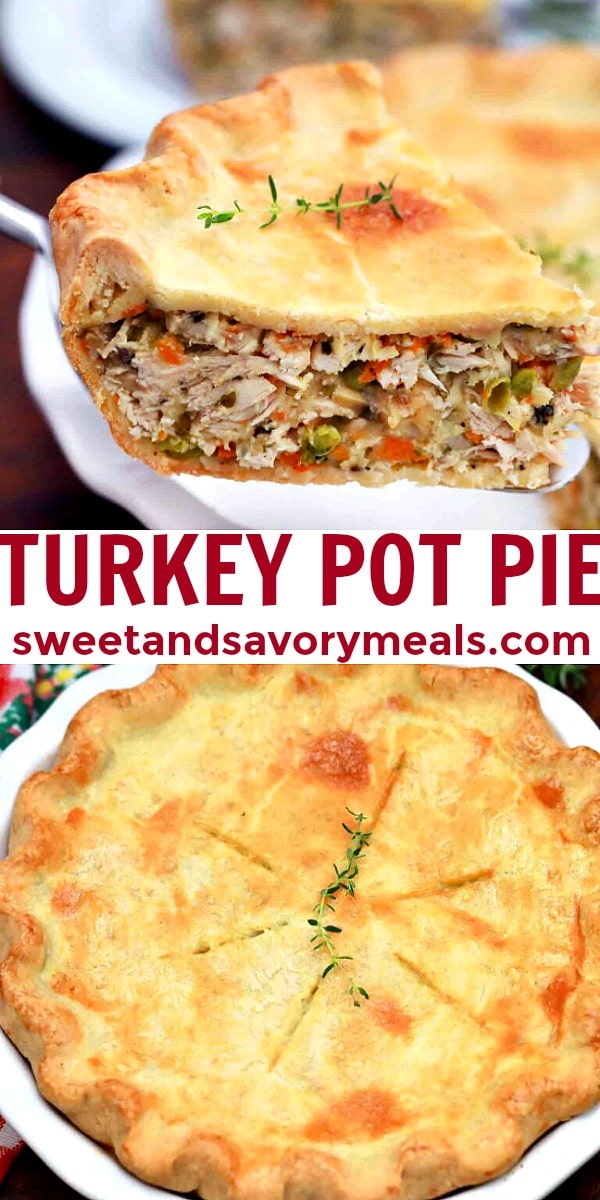 More recipes you might love