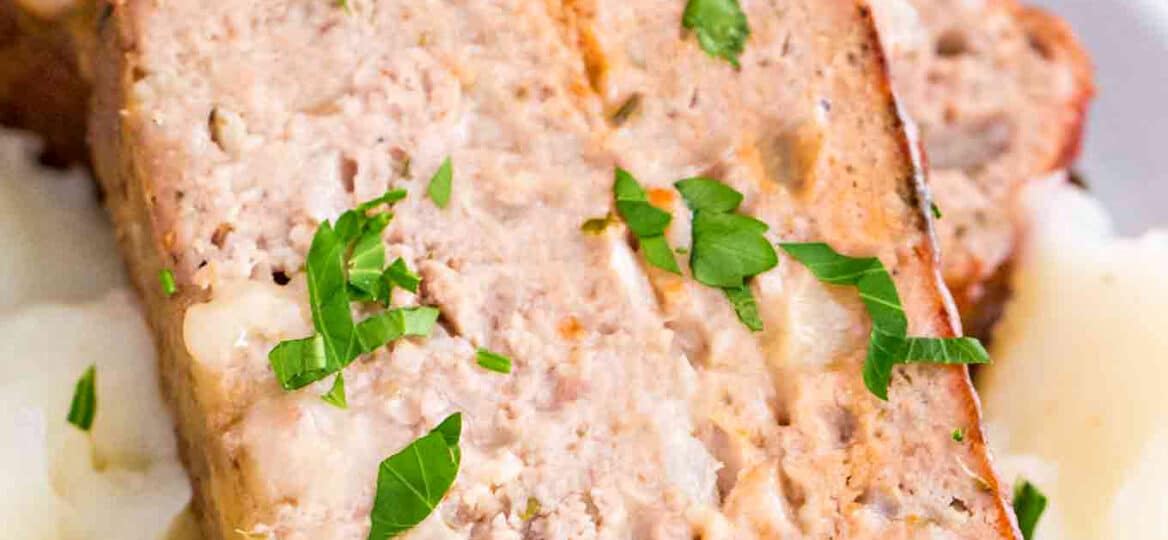 Turkey Meatloaf with Pepper Jack Cheese [Video]
Turkey Meatloaf is moist, juicy, and packed with amazing flavors and delicious cheese! A quick and healthy dinner to prepare on busy weeknights.
Meatloaf is a fun and easy dish to prepare. You just mix together the ingredients, and dump them in the cooking pan, for the most delicious and satisfying meal. For a complete meal, pair it with Cheesy Potatoes, Steamed Broccoli, or Mac and Cheese.
Moist Turkey Meatloaf
This Turkey Meatloaf has all the flavors of a regular beef-based meatloaf, but with a lot fewer calories and fats. The dish takes about an hour to make and can be also very versatile. For example, you can add some veggies into it, such as spinach, to satisfy your taste for greens.
Also, in this version, we used pepper jack cheese, which gives the meatloaf a moist, tender texture, and a spicier kick. This is the perfect dinner to enjoy with the family. It is full of flavor, moist in the middle, and has quickly become a reader favorite!
The garlic and Italian seasoning herbs add just the right balance of flavor. This is an easy dinner that requires just a few simple ingredients. Topped off with the most delicious glaze, it has all the components to become the favorite go-to meal. It is recommended to eat it warm right after cooking or could be similarly tasty the next day as a cold meatloaf sandwich.
How to make the best Turkey Meatloaf?
We love this dish because it is super moist and juicy. Please watch the recipe video tutorial attached below for a quick step by step guidelines. The general steps are as follows:
Preheat oven to 350 degrees F.

Combine ground turkey, milk, egg, onion, garlic, bread crumbs, seasoning, and cheese in a large bowl and mix well with your hands.

Then, spoon the mixture into the loaf pan. Similarly, you can just shape it into a log and place on a baking sheet.

Bake it and then, spoon over the glaze onto the meatloaf midway through baking.

Let it sit for 10-15 minutes before slicing and serving.
Meatloaf Recipe Variations:
Make it gluten-free: Instead of regular breadcrumbs, use a gluten-free version. Also, try ground gluten-free hard pretzels, rolled oats, or gluten-free Chex cereal in place of the breadcrumbs. In addition, ensure that the ketchup used is gluten-free.
Instant Pot Meatloaf: For a quick dinner, try making it in the Instant Pot. It is equally delicious but with less hassle.
Slow Cooker Version: In addition, you can easily make it in the slow cooker.
Use other meats: You can make this recipe with other meats. The classic, beef version is the ultimate comfort food. Ground pork or ground chicken can be used as well.
Other cheeses: Swap the cheese with your favorite type. American, mozzarella, parmesan cheese, are all great options.
Follow us on Pinterest for more delicious recipes!
HOW LONG DO YOU COOK TURKEY MEATLOAF FOR?
We like to cook it at 350 degrees F for about 55-60 minutes for about 2lb size loaf. You could also cook it at 400 degrees F and reduce the cooking time to about 50 minutes.
Similarly, if you use more than 2 pounds of meat, just add approximately 30 minutes for each additional pound of turkey.
WHAT TEMPERATURE SHOULD turkey MEATLOAF BE COOKED TO?
The most important thing about this dish is not to overcook it. Therefore, it is very important to keep an eye on it, so you end up with a perfectly moist and tender meal.
It should be ready when the internal temperature reaches 160 degrees F. Please also note, that even after removing it from the oven, the residual heat will raise. So, I would take it off from the oven when it reached about 155 to 157 degrees F. Use an instant-read thermometer to check the temperature.
Can I swap the meat to make the Meatloaf?
For this recipe, I used regular ground turkey meat. However, any type of meat would work here. Ground chicken, ground pork, or ground beef would work just as well, or you could even mix the two. Just remember, that ground turkey has less fat and is on the healthier side.
WHAT TO SERVE WITH TURKEY MEATLOAF:
Some great suggestions are listed below:
CAN YOU FREEZE Turkey MEATLOAF?
Yes, this dish can be easily frozen. Whether you want to make it in advance or have leftovers, this is the perfect meal to refrigerate for later times.
To freeze it, first, let it cool completely. Then slice the loaf, and transfer to freezer-safe containers and freeze up to 3 months.
To reheat, thaw in the refrigerator the night before. Then warm it up in the oven at 350 degrees F for about 10 minutes, or simply microwave it for about 1-2 minutes until warm.
Recipe Tips:
Both, the lean and regular ground turkey would work well. However, using the leaner option will result in a slightly denser meatloaf as it has a less fat content.
To make it dairy-free, substitute the milk for unsweetened, plant-based milk like coconut, or almond milk.
For a juicy meatloaf, I highly recommend not to vermix the ingredients. If the meat is overworked it will become denser. Therefore, it is best to gently mix all the ingredients until just mixed in.
Also, you can form the meatloaf up to 8 hours ahead, and refrigerate until ready to bake.
For a gluten-free meatloaf, skip the breadcrumbs, and try ground gluten-free hard pretzels or rolled oats. Also, use a gluten-free based ketchup.
In addition, you can add some veggies in the mix if desired, such as spinach, finely diced carrots, etc.
For the optimal taste, use fresh garlic. The canned one will not be just as good.
Similarly, if you want to use a store-bought BBQ sauce for topping, it will work as well.
Tools I used to make this Recipe:
Turkey Meatloaf
Ingredients
2

lbs

ground turkey

1/2

cup

milk

1

egg

beaten

1

small onion

finely diced

4

cloves

garlic

minced

1

cup

bread crumbs

1

teaspoon

dried parsley

1

teaspoon

Italian seasoning

1

cup

pepper jack cheese

diced into small cubes or shredded

1/4

teaspoon

salt and pepper
Meatloaf Glaze:
1/3

cup

ketchup

2

tablespoons

light brown sugar

1

tablespoon

apple cider vinegar

1/2

teaspoon

ground mustard
Instructions
Preheat oven to 350 degrees F.

Next, lightly grease a meatloaf pan with some oil and set aside. Similarly, you can make the meatloaf on a baking sheet, cover it with aluminum foil and lightly grease with oil. Set aside.

In a small bowl mix all the ingredients from the "Meatloaf Glaze" list until fully combined. Set aside.

In a large bowl, combine ground turkey, milk, egg, onion, garlic, bread crumbs, dried parsley, Italian seasoning herbs, salt and pepper. Using your hands, mix well until combined.

Add cheese and mix well until combined

Then, shape the mixture into a loaf like shape and transfer it to the meatloaf pan, or place it onto a baking sheet.

Bake for about 60 minutes, and midway through baking, spoon the "Meatloaf Glaze" on top of the meatloaf, distribute it evenly and bake for another 20-30 minutes. Or until the internal temperature of meat is 160-165 degrees F.

Once done, transfer meatloaf pan from the oven onto a cooling rack and let it sit for 10-15 minutes before slicing and serving.