Instant Pot Roasted Potatoes [VIDEO]
Instant Pot Roasted Potatoes are crispy on the outside, tender on the inside, and ready in under 30 minutes. Cooked with a mix of dried herbs for extra flavor, these are always a hit.
Our passion for Instant Pot meals has been well documented here. We like making easy and restaurant-quality dishes using it. Among our most popular recipes that would pair well with roasted potatoes would be: Instant Pot Ribs, Pressure Cooker Corned Beef, and Instant Pot Short Ribs.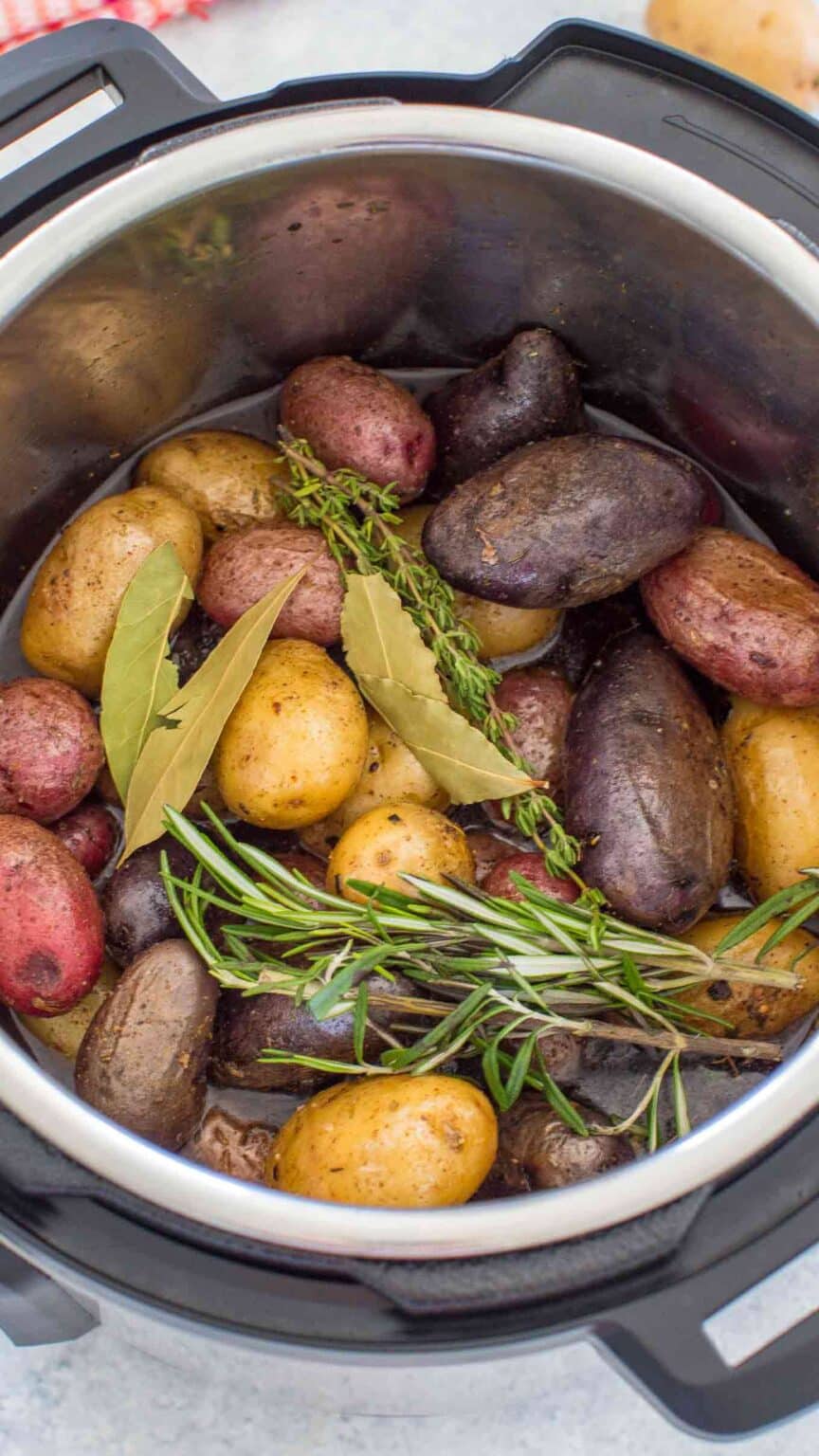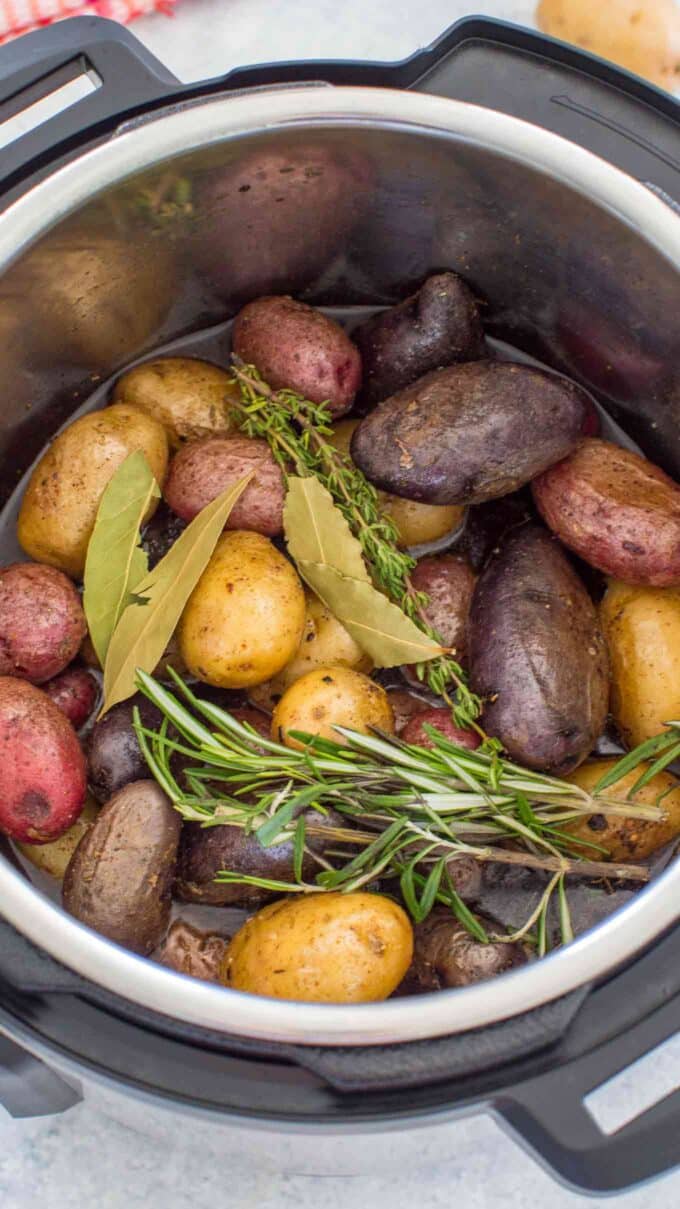 Easy Instant Pot Roasted Potatoes
These Instant Pot Roasted Potatoes are one of my favorite side dishes to make in my Pressure Cooker. Usually, if I cook something on the stove or oven. But when I need to make a quick and delicious side dish, choosing these pressure cooked roasted potatoes is a no brainer.
This recipe is specifically made with baby potatoes. I also like to use tri-color ones, but you can use any baby spuds that you like or have on hand.
The best part of this recipe is that the spuds are seasoned with a mix of dried herbs, loading them with flavor. The potatoes are crispy on the outside and tender on the inside.
This is a kid-friendly, budget-friendly, and super easy to make recipe. This is the perfect side dish to go with any meals. It is truly a restaurant-worthy side dish, with hints of rosemary and thyme, that would go well with so many dishes.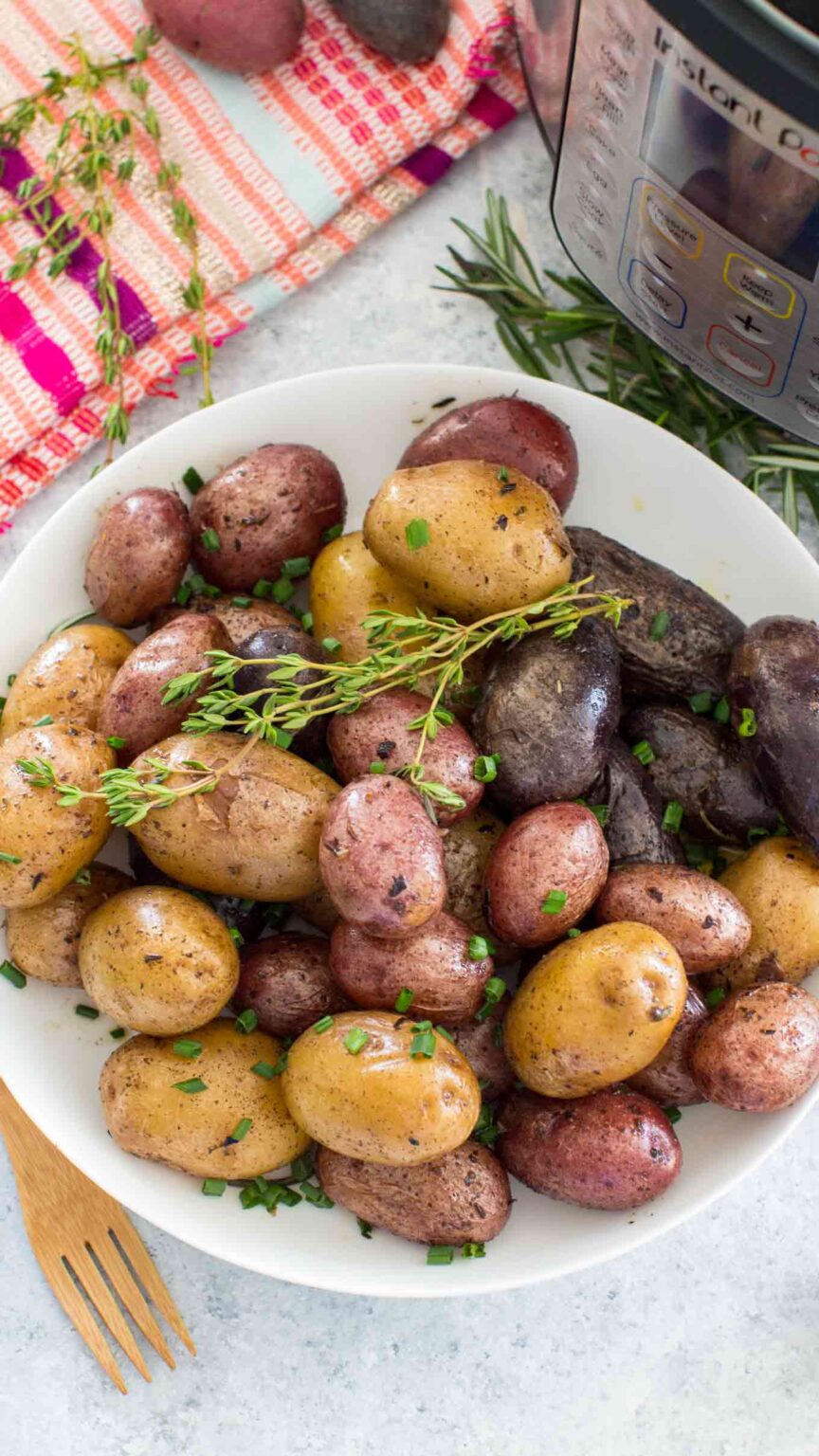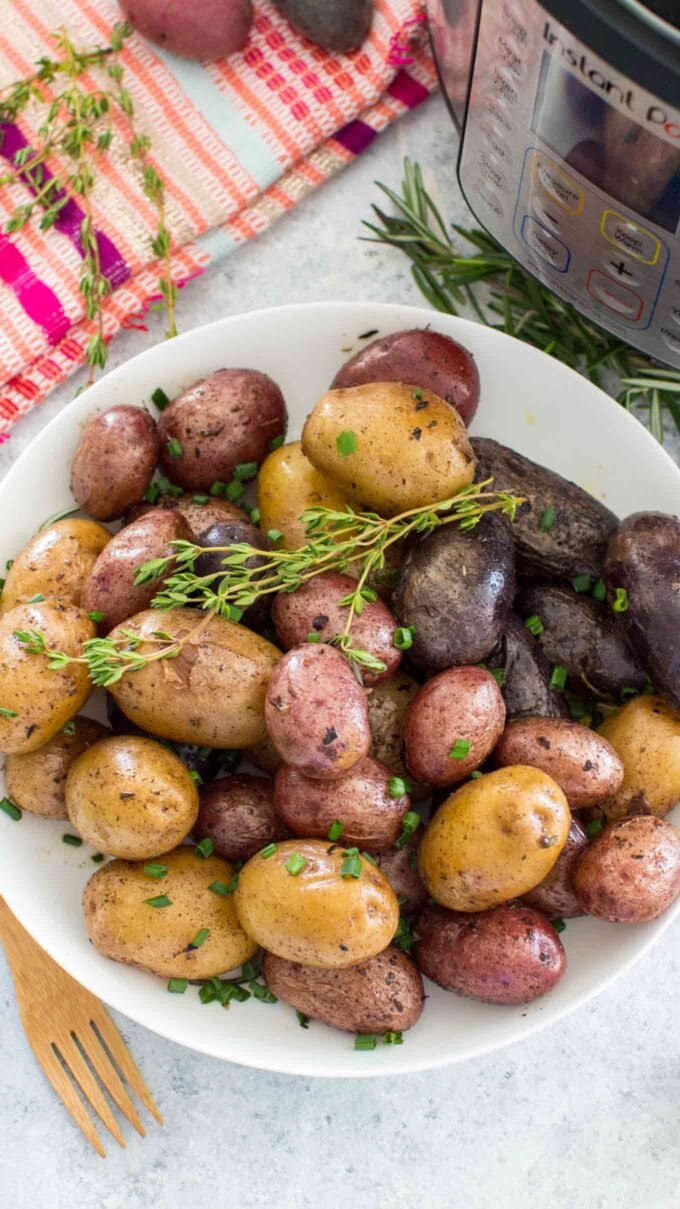 What dried herbs do you need to make Instant Pot Herb Roasted Potatoes?
For this recipe, you can season the potatoes with just salt and pepper and maybe add some paprika or cayenne pepper for extra heat. If you want the flavor explosion of deliciously dried herbs, which by the way I highly recommend, here is a list of exactly what I used:
Did you know that you can make baked potatoes in the Slow Cooker? This easy recipe for Slow Cooker Baked Potatoes is always a success!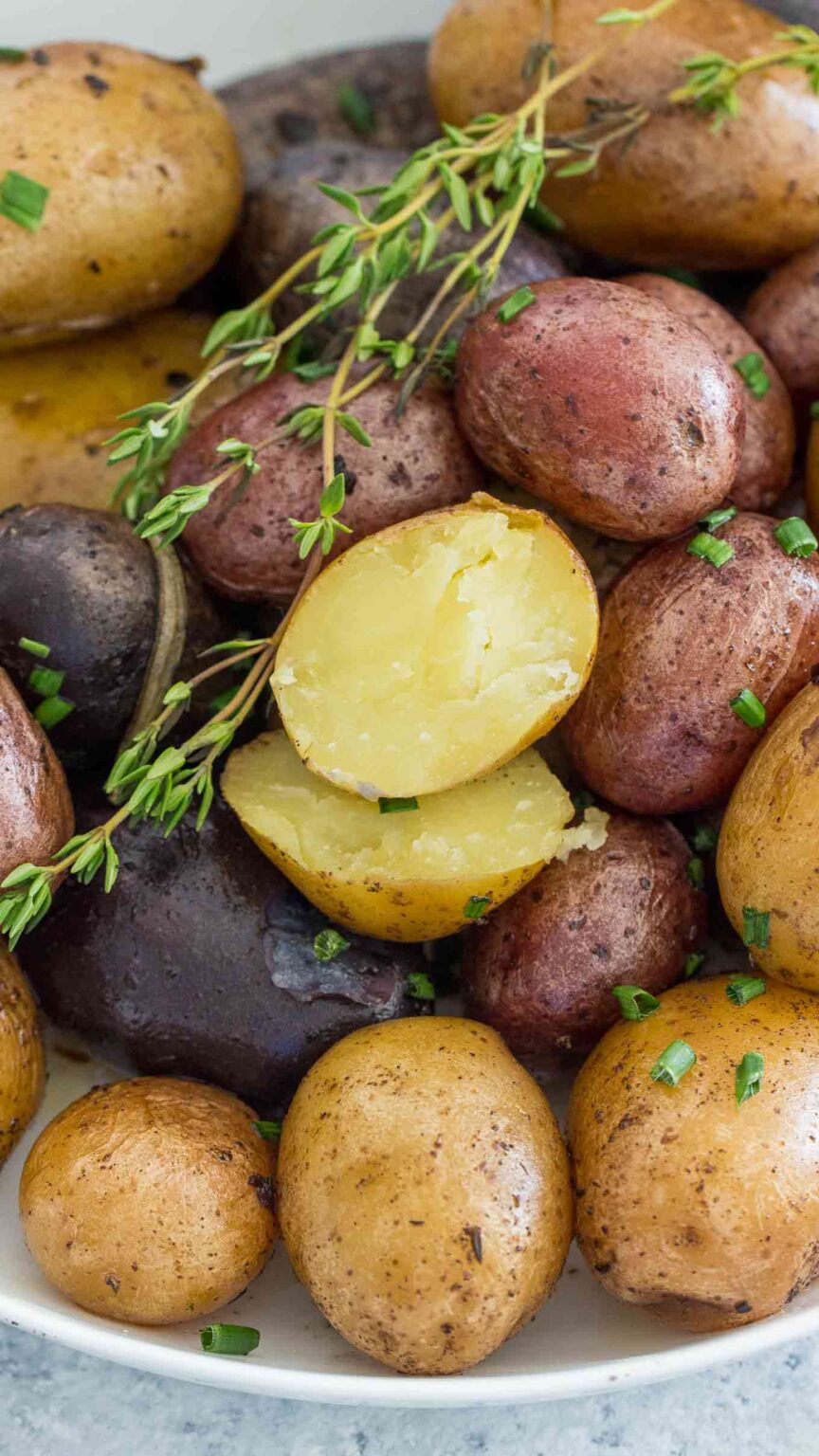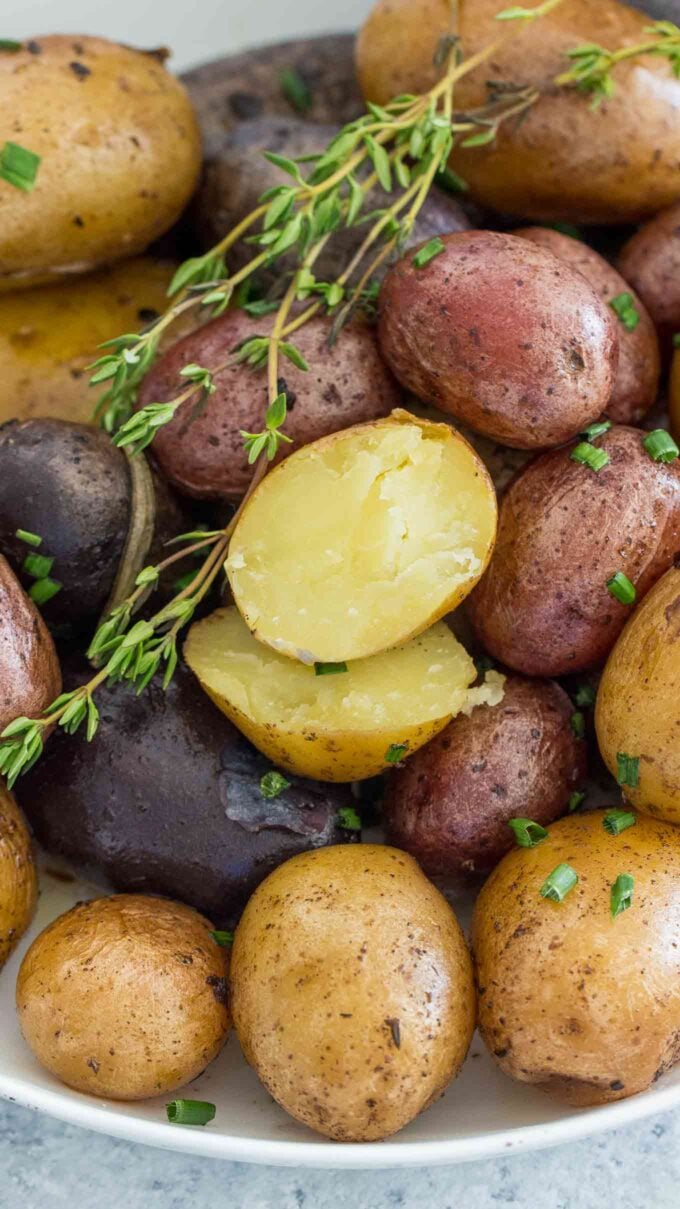 How to make Pressure Cooker Roasted Potatoes?
This recipe is super easy to make and results in a delicious side dish. Also, I have attached the recipe video so you can watch and see the exact steps.
Prepare the potatoes: I use small-sized once, with skin on. Once properly washed, wipe them with a paper towel, so they are dry. Then, season with some herbs and olive oil.
Saute: Using the pressure cooker function, saute them on each side for about 4 minutes, until golden brown.
Cook: Once browned, add water or broth to the pot. Then, add some additional herbs, such as rosemary and bay leaves, and cook on high pressure.
How to make oven-roasted potatoes?
Yes, if you don't have an Instant Pot or Pressure Cooker, you can totally make these roasted potatoes in the oven. To make Crispy Oven Baked Potatoes follow these steps:
Firstly, if you are using baby potatoes you can keep them whole or cut them in half. If you are using larger potatoes, cut them into wedges.
Also, if you have sliced the potatoes, soak them in cold water for at least one hour. This removes some of the starch and will help make the potatoes crispier.
Then, dry well the potatoes before cooking, use paper towels to soak excess water.
Make sure the oven is very hot when you add the potatoes. Preheat oven to 425 degrees F.
Do not overcrowd the potatoes on the baking dish or pan. Just don't do it. The potatoes should be laid in one layer, so they have enough room to get crispy. If you overcrowd them, they will start releasing steam and not be as crispy. Hence, try to avoid it.
Cook for 25 minutes. Stir and return to the oven for 10 minutes or until golden brown and tender when pinched with a fork.
Also, feel free to check out my other delicious alternatives: Garlic Roasted Potatoes or Oven-Baked Rosemary Potatoes.
Looking for more Pressure Cooker Side Dishes? Check these out:
How to store Instant pot roasted potatoes:
Refrigerate: To refrigerate leftovers user an airtight container. Then, refrigerate for up to 4 days.
Freeze: To freeze leftovers use a freezer-safe container, and freeze them for up to 3 months. Reheat in the microwave, or oven at 350 degrees F for about 10 minutes, until warm.
More delicious Potato Recipes:
Recipe Tips: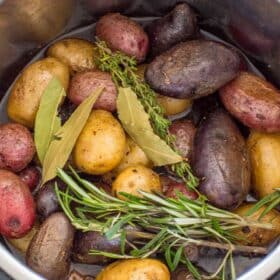 Instant Pot Roasted Potatoes
Instant Pot Roasted Potatoes are crispy on the outside and tender on the inside. Cooked with a mix of dried herbs for extra flavor, these are alwasy a hit.
Save
Share
Print
Pin
Rate
Ingredients
1 1/2 - 2

pounds

baby potatoes

((or russet potatoes that have been peeled and cut into wedges))

1/4

cup

olive oil

2

sprigs fresh rosemary

4

sprigs fresh thyme

3

bay leaves

1

cup

water

((or broth of your choice))
Herb Seasoning:
1

teaspoon

garlic powder

1

teaspoon

onion powder

1/2

teaspoon

dried rosemary

1/2

teaspoon

dried thyme

1/2

teaspoon

dried oregano

1/2

teaspoon

dried marjoram

1/4

teaspoon

red pepper flakes

1/2

teaspoon

kosher salt

1/4

teaspoon

ground black pepper
Garnish:
Chives

(chopped)

Green onion

(chopped)
Instructions
Turn on your pressure cooker or Instant Pot and select the Sauté function.

In the meantime, in a large bowl, mix the potatoes with olive oil and all the ingredients from the Herb Seasoning section. Stir to combine.

Once the Instant Pot reads HOT, add the oiled and seasoned potatoes in one layer. If needed cook the potatoes in batches.

Do not stir the potatoes for 2-3 minutes, cook until golden on one side, stir and cook on the other side; for a total of about 5 to 8 minutes. Remove from pot and repeat with the remaining potatoes.

Once the potatoes have been browned, add all the potatoes to the pot. Pour in water or broth. Top with bay leaves, rosemary and thyme sprigs.

TIP: to keep the potatoes crispier, add a trivet or steamer basket to the pot, this will keep them above the water and result in crispier on the outside potatoes.

Close and lock the lid. Make sure the valve points to Sealed.

Select high pressure and set timer for 7 minutes. Once the Instant Pot beeps, release pressure carefully using the quick-release method.

Unlock and remove lid.

Serve potatoes warm garnished with chopped chives and green onions.
Nutrition
Serving:
0
g
|
Calories:
126
kcal
|
Carbohydrates:
1
g
|
Protein:
0
g
|
Fat:
13
g
|
Saturated Fat:
1
g
|
Cholesterol:
0
mg
|
Sodium:
297
mg
|
Potassium:
8
mg
|
Fiber:
0
g
|
Sugar:
0
g
|
Vitamin A:
85
IU
|
Vitamin C:
1.6
mg
|
Calcium:
8
mg
|
Iron:
0.5
mg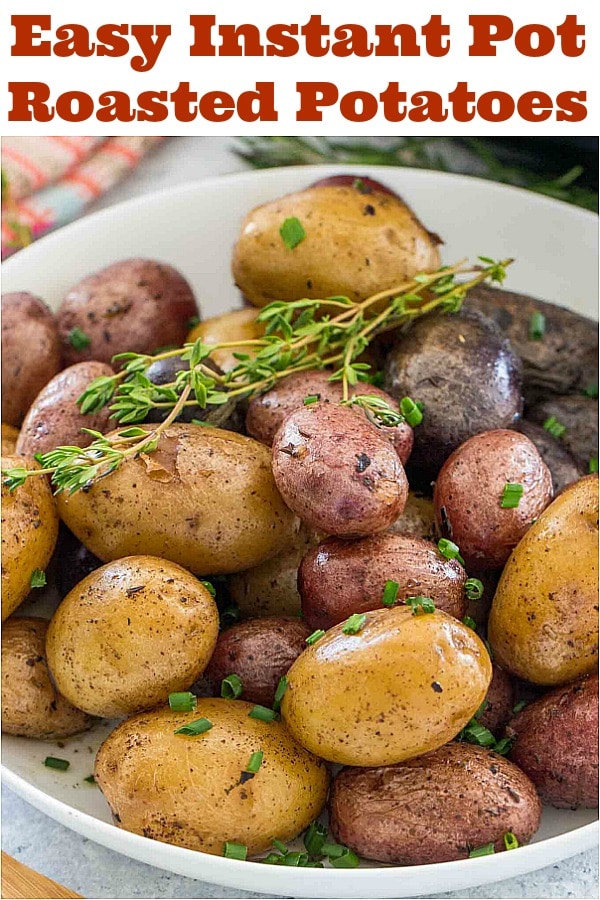 More recipes you might love