Slow Cooker Baked Potatoes [VIDEO]
Slow Cooker Baked Potatoes are the perfect side dish that you can make in your crock-pot year around.
Our passion for Slow Cooker meals has been well documented here. We like making easy and restaurant quality dishes using it. Among our most popular recipes is Asian Short Ribs, Crock Pot Sesame Chicken and Tuscan Chicken Pasta.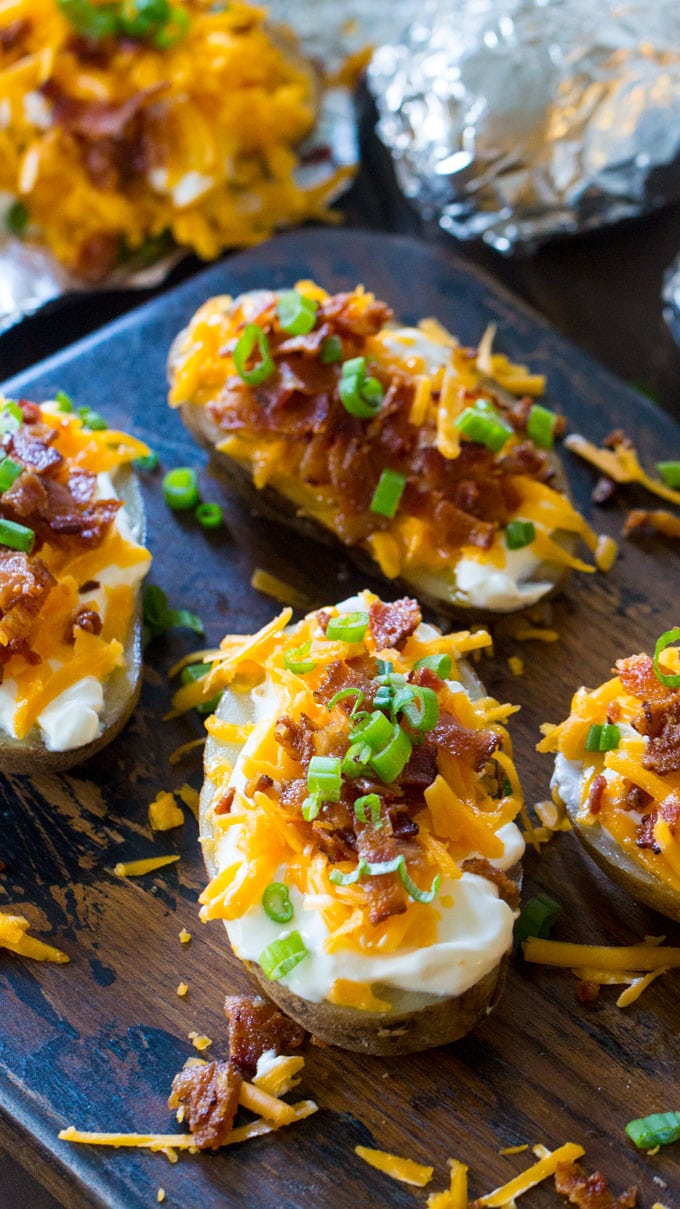 Best Slow Cooker Baked Potatoes
Slow Cooker Baked Potatoes are the easiest, foolproof recipe, that no one can mess up! We love potatoes, and since we got the Slow Cooker, making baked potatoes became a tradition in our house. The recipe for this dish involves a few simple steps. This homemade dish is best cooked on low, for 7-8 hours in the crock-pot.
I like to quickly add them to my crockpot before I go to work, and at dinnertime, my husband just grills a steak or chicken and we have a rounded, delicious meal. Easy like that! I love my Crockpot – this one is so reasonably priced!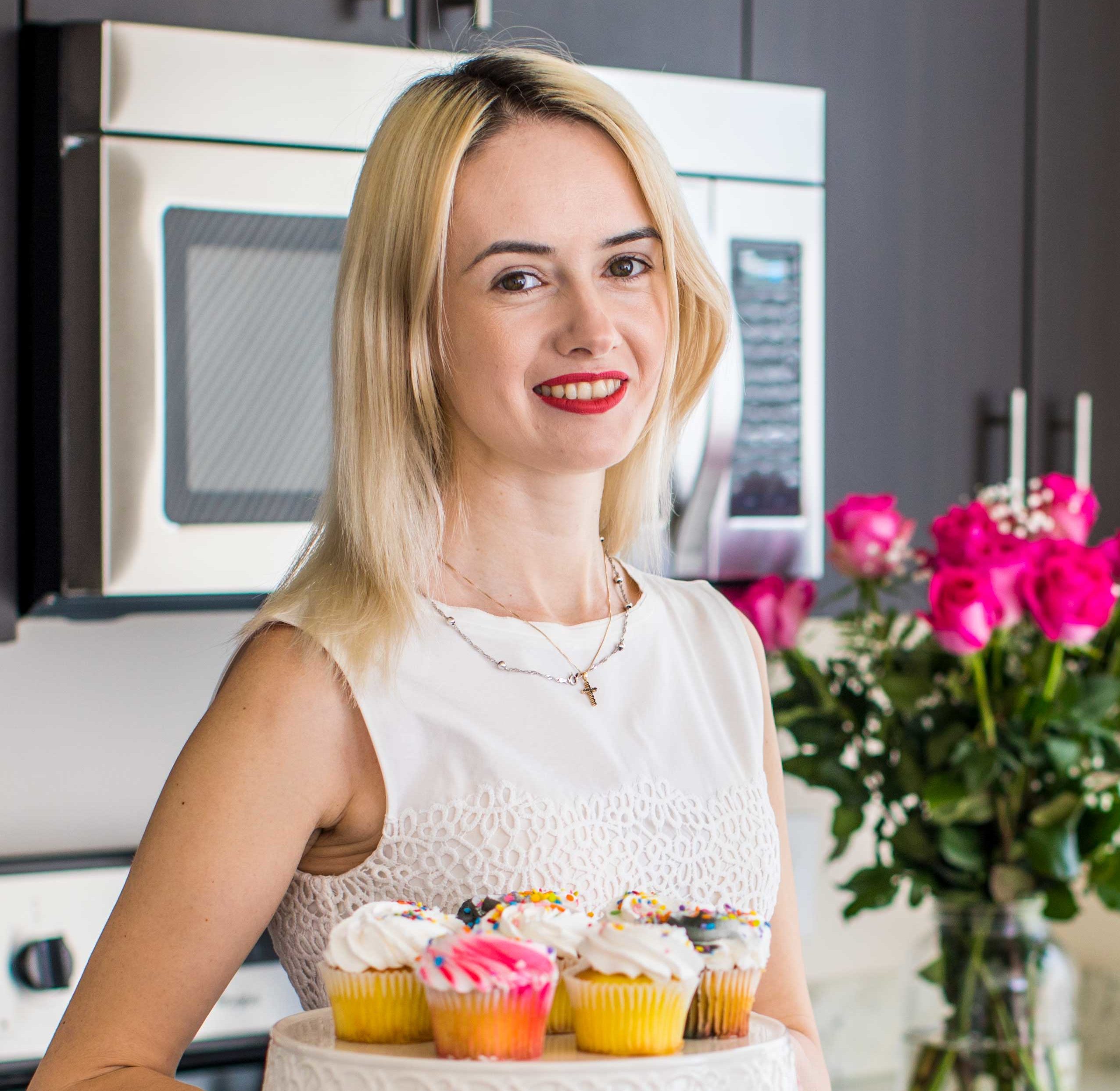 Follow us on Pinterest for more delicious recipes!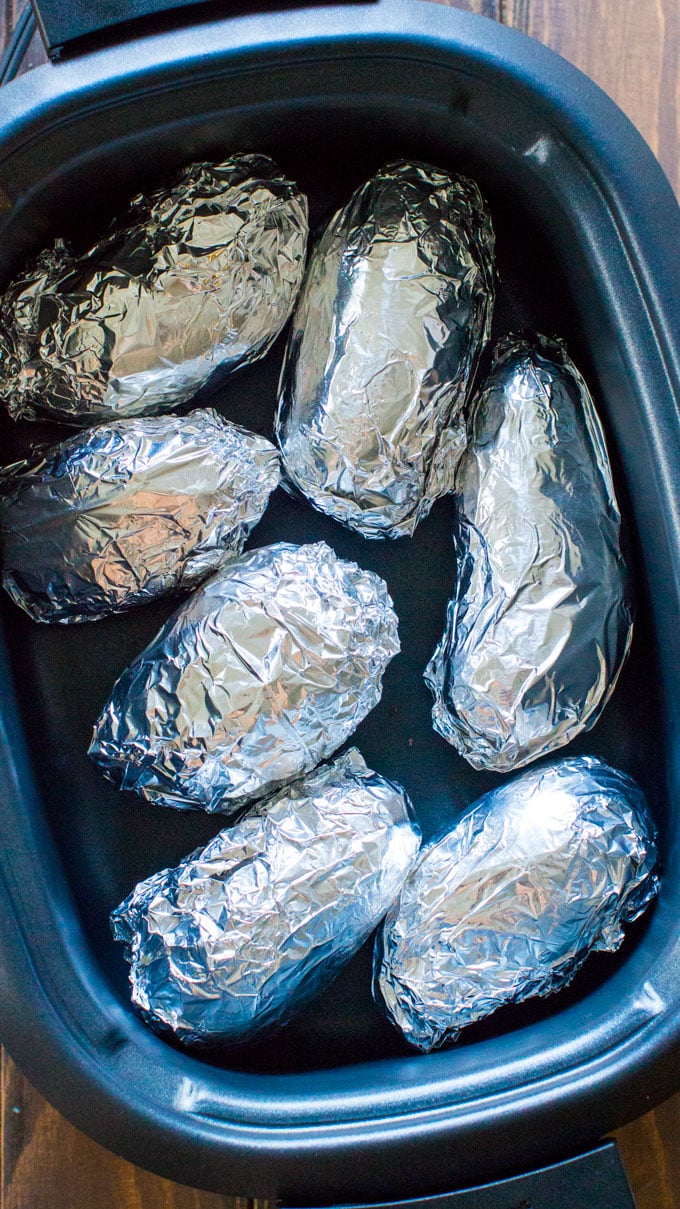 How to make the best Slow Cooker Baked Potatoes?
Making Baked Potatoes using the crock-pot is very simple. Follow the below steps:
Ingredients:
7-8 large potatoes
2 tablespoon olive oil
salt and pepper
aluminum foil
Directions:
First, pierce the potatoes with a fork several times on al the sides.
Then, rub potatoes well with olive oil and sprinkle with salt.
Wrap each potato tightly in foil.
Lastly, place the potatoes into the crockpot, cover, and cook on Low for 7 to 8 hours or until tender.
Please note, the cooking time in the crockpot will vary based on the size of the potatoes you use. As a general rule, we use 2.5-3 hours on high or 7-8 hours on low. However, this might vary if the potatoes are smaller, so it is best to test them with a fork for doneness.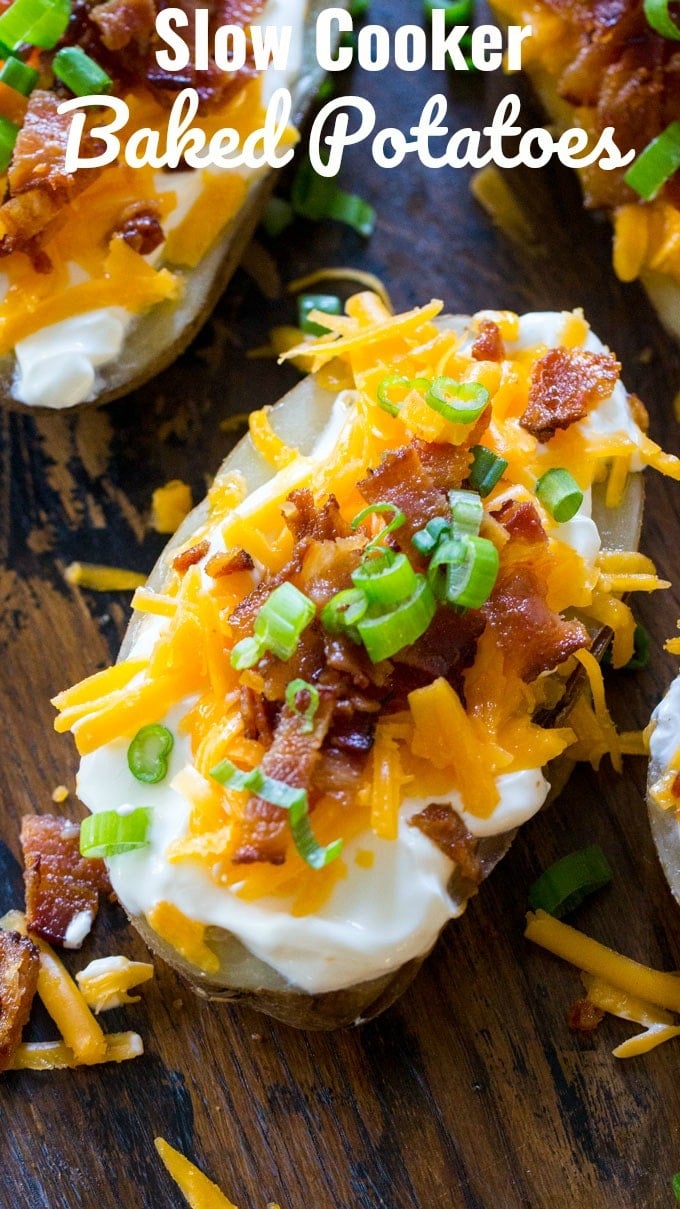 Can you use aluminum foil in a crock-pot?
Using aluminum foil is actually very convenient when cooking something in the crock-pot. Firstly, it will make it easier to clean the dish. Also, it will help the food cook more uniformly and evenly. Simply, wrap the food in foil, and place it in the crock-pot. It will result in a delicious and tasty dish.
WHAT ARE THE BEST POTATOES FOR BAKING?
As a general rule, you want to use starchy potatoes when baking. The best ones for baking would be Yukon Gold and Russets potatoes, as they have the most starch in them.
WHAT IS THE MOST NUTRITIOUS PART OF A POTATO?
I always recommend using organic potatoes when cooking, since they contain way fewer chemicals, and are safe to eat with skin-on. That being said, potato skin contains significant nutrients. Similarly, the flesh is healthy and has good nutrients. Potatoes are a rich source of fiber, iron, vitamin C and vitamin B-6, but to get the most nutrients you'll need to eat the whole potato.
Recipe Tips:
Make sure to pierce the potatoes, at least 4 times on each side.
Also, rub them in olive oil, salt, and pepper.
I like using larger size potatoes, but you can use medium to large once if you prefer.
Cook them on low, not on the high setting, I like the results more on low.
Once done, unwrap a potato, check if done, and if needed, cook for an extra hour just until tender.
Watch Step by Step Recipe Video:
Save Recipe
Slow Cooker Baked Potatoes
Easy Slow Cooker Baked Potatoes are the perfect side dish that you can make in your crock-pot year around. Seriously, its the easiest recipe you will ever make!
Author: Catalina Castravet
Serves: 7 potatoes
Prep time:

7

minutes
Cook time:

8

hours
Total time:

8

hrs

7

mins
Nutrition information
0 Calories: 203 Carbohydrates: 38 Protein: 4 Fat: 4 Saturated Fat: 0 Cholesterol: 0 Sodium: 10 Potassium: 888 Fiber: 2 Sugar: 1 Vitamin C: 12.1 Calcium: 28 Iron: 1.8
Save Recipe
More recipes you might love
Categories: