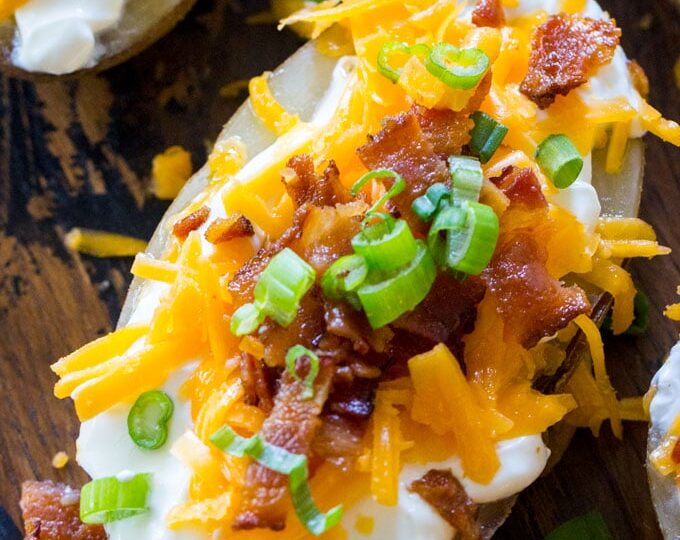 Slow Cooker Baked Potatoes [VIDEO]
Slow Cooker Baked Potatoes are the perfect side dish that you can make in your crock-pot year around. This is a super easy alternative to bake them without heating up the oven!
Our passion for Slow Cooker meals has been well documented here. We like making easy and restaurant-quality dishes using it. Among our most popular recipes is Asian Short Ribs, Crock Pot Sesame Chicken, and Tuscan Chicken Pasta.
Crock Pot Baked Potatoes
These Slow Cooker Baked Potatoe are the perfect and easy solution when you want Baked Potatoes but without heating up the kitchen. Making this great side dish requires minimal effort. All you need is a few simple ingredients and less than 10 minutes of preparation time.
Also, when it comes to fluffy baked potatoes, the crockpot does it best. It is probably the easiest way to cook the veggies, and they ALWAYS end up with a perfectly fluffy interior!
We love potatoes, and since we got the Slow Cooker, making this dish became a tradition in our house. Also, we love serving them as a side dish or main dish with various toppings. They are great to enjoy pretty much year-round – whether it is a hot summer day, or during any winter months!
I like to quickly add them to my crockpot before I go to work. Then, at dinnertime, my husband just grills a steak or bbq chicken and we have a delicious and complete meal. You can also serve it with a pot roast, pork roast, or salmon. Easy like that!
Ingredients list:
Large potatoes – Feel free to use your favorite types of potatoes. I like using Yukon golds, Idaho potatoes, or Russet.
Olive oil
Kosher salt and black pepper
Aluminum foil
How to make the best Slow Cooker Baked Potatoes?
First, pierce the spuds with a fork several times on all the sides.
Then, rub them well with olive oil and sprinkle them with salt.
Wrap each potato tightly in foil.
Lastly, place the potatoes into the bottom of the slow cooker, cover, and cook on low until fork tender.
Cooking time:
Depending on the size of the potatoes, the cooking time might vary a bit. Generally, I cook larger spods on HIGH for 3-4 hours, or on LOW for 7-8 hours until tender and fluffy.
For medium potatoes, I would reduce the cooking time by about 30 minutes. However, you should always check with a fork for doneness.
How to make a baked potato bar?
To make it a complete meal, I would suggest stuffing them with:
Cheese – Here you can use any type of shredded cheese. Sharp cheddar, cheddar, parmesan, pepper jack, goat cheese, or mozzarella would be great options.
Vegetables – Also, feel free to add steamed broccoli, sweet corn, or grilled corn, scallions, roasted red peppers, avocado, tomatoes, etc.
More Favorite toppings:
Shredded parmesan cheese
A dollop of sour cream
Chopped green onions
Greek yogurt
Melted butter
Chives
Bacon
Sour cream
Can you use aluminum foil in the crock pot?
Yes. Using aluminum foil is actually very convenient when cooking something in the crock-pot.
Firstly, it will make it easier to clean the dish. Also, it will help the food cook more uniformly and evenly. Simply, wrap in foil, and place the spuds at the bottom of your crockpot. It will result in a delicious and tasty dish.
What are the best potatoes for baking?
As a general rule, you want to use starchy potatoes when baking. The best ones for baking would be Yukon Gold and Russets type, as they have the most starch in them.
What is the most nutritious part of a potato?
I always recommend using organic potatoes when cooking, since they contain way fewer chemicals, and are safe to eat with skin-on.
That being said, potato skin contains significant nutrients. Similarly, the flesh is healthy and has good nutrients. In addition, they are a rich source of fiber, iron, vitamin C, and vitamin B-6, but to get the most nutrients you'll need to eat the whole potato.
More delicious potato recipes:
Storing instructions:
Refrigerate: First, let leftovers completely cool at room temperature. Then, transfer them to an airtight container, and refrigerate them for up to 3 days.
Freeze: Use a freezer-safe dish, and freeze them for up to 3 months.
Reheat: You can easily reheat them in the microwave for a few minutes, or oven at 350 degrees F for about 5-7 minutes till warm.