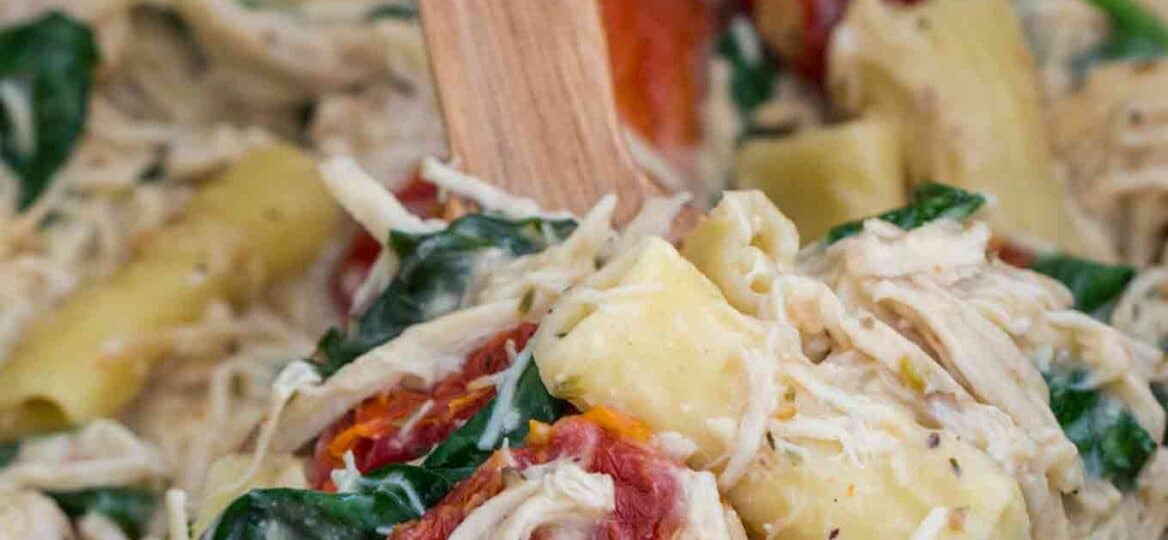 Slow Cooker Tuscan Chicken Pasta [VIDEO]
Slow Cooker Tuscan Chicken Pasta is creamy, hearty, and delicious. Cooked to juicy and tender perfection entirely in the slow cooker. This is classic comfort food for the whole family to enjoy!
After making this Instant Pot Tuscan Chicken Pasta, it quickly became one of the most popular recipes on the blog. Based on many requests, I have made you a crockpot version of it. Here are some other delicious crockpot recipes you should try: Slow Cooker Baked Potato Soup and Creamy Slow Cooker Tortellini Soup.
Easy Crockpot Tuscan Chicken Pasta
Every time I crave a creamy dish, this Slow Cooker Tuscan Chicken Pasta comes to mind. It is actually one of my family's favorite crockpot pasta recipes. First, it is rich, super creamy, and loaded with Mediterranean flavors.
Also, this creamy Tuscan chicken pasta is deliciously flavored with garlic and cooked in a creamy alfredo-based sauce. The combination of melted cheese, pasta, sun-dried tomatoes, along with tender chicken, and veggies makes this dish extra special.
This is such a hearty and creamy dinner, and the best part, it's entirely made in the slow cooker from start to finish. If you like creamy chicken and pasta, with chewy and tangy sun-dried tomatoes, this meal will be perfect for you. In addition, it is super easy to make.
You simply dump the ingredients in the crockpot and let it do the cooking. This recipe makes enough to feed a large family and you will also have unbelievably good leftovers.
Ingredients:
Chicken: I use raw, boneless skinless chicken breasts. However, you can also use leftover rotisserie chicken and simply add it at the end of the cooking process.
Chicken broth: Using homemade chicken stock is the best option because it adds plenty of flavors, and you know exactly what went in. I love making my own stock and refrigerate for later use. But if you are short on time, feel free to use a store-bought, low-sodium broth.
Aromatics: Dried oregano, thyme, Italian seasoning, red pepper flakes, minced garlic, salt, and black pepper.
Alfredo sauce: My secret ingredient here! I just love my homemade alfredo sauce. It is rich, creamy, and delicious! Alternatively, use a store-bought alfredo sauce.
Sun-dried tomatoes: Use good quality ones. Also, do not be afraid to use extra 🙂
Fresh spinach
Pasta: I go with rigatoni pasta. However, feel free to use your favorite pasta type.
Cornstarch: To make the corn starch slurry to thicken the sauce.
How do you make Slow Cooker Tuscan Chicken Pasta?
For quick and easy step-by-step guidelines, watch the video attached. But the general steps are as follows:
Cook chicken: First, spray the crockpot with some cooking spray. Then, add the poultry breast, broth, and seasonings. Cover and cook on high heat setting for 2-3 hours, or low heat setting for 5-6 hours until tender.
Shred-it: Next, once the meat is cooked, transfer the meat to a plate and using a fork shred it. Then, discard the liquid from the crock pot.
Stir in pasta: Next, add the shredded chicken to the bottom of the crock-pot, then add pasta, minced garlic, and seasoning. Pour chicken broth and alfredo sauce on top. Cover and cooker for about 30 minutes until pasta is cooked (al dente).
Add sun-dried tomatoes and slurry: Lastly, add sun-dried tomatoes, cornstarch slurry, and fresh baby spinach. Gently whisk together, and cover for an additional 10 minutes for the flavors to get together.
Serve: Enjoy it warm with your favorite side dish.
Possible variations and substitutions:
Add Cheese: To make it creamier, feel free to stir in some cream cheese and shredded parmesan cheese or cheddar cheese at the end of the cooking process.
Meat: You can also use leftover rotisserie chicken or even chicken thighs here. In addition, use other meats as well, such as ham, turkey breast, or Italian sausage.
Bacon: For extra flavor, add some crunchy bacon on top.
Pasta: Use different pasta types or whatever you have on hand. A great alternative would be ziti, macaroni, fusilli, fettuccine, or tertellini.
Seasoning: In addition, go with other seasonings such as garlic powder, Tuscan seasoning, dried basil, etc.
Vegetarian: Turn this into a vegetarian dinner by simply using veggie broth and omit the meat.
Artichoke hearts: When in season, I like adding some artichoke hearts.
Instant Pot version:
A great and quick alternative would be making this comfort food in the electric pressure cooker. That way, you have a delicious dinner ready in less than 30 minutes from start to finish. Just ideal for busy weeknights!
Check out my Instant Pot Tuscan Chicken Pasta recipe here.
How long do you cook pasta in the crockpot?
Pasta is cooked in a Slow Cooker, usually between 45-90 minutes, depending on the recipe.
How do you know when the chicken is done cooking?
Use a meat thermometer to check for doneness. The meat is cooked when it reached an internal temperature of 165 degrees f.
Can I omit the spinach?
Absolutely! I love spinach as it is healthy and also it adds a nice color to the whole dish. However, if you are not a fan, simply leave it out. Also, feel free to substitute it with broccoli or asparagus.
How to make this dish lighter?
For a lighter version, substitute alfredo sauce with a light cream sauce, such as half & half or reduced-fat cream. This will keep the sauce creamy, but not as intense.
Storing instructions:
Refrigerate: First, let leftover pasta completely cool at room temperature. Then, transfer leftovers to an airtight container and refrigerate for up to 4 days.
Freeze: This slow cooker pasta recipe is great for meal prep and easy to freeze for later use. Simply transfer it to an airtight container or ziploc freezer bag. Squeeze out any excess air, and label. Then, freeze it for up to 3 months.
How to reheat Tuscan chicken pasta on the stove?
Usually, when refrigerated the sauce will thicken and the pasta will also absorb more of the liquid.
To reheat, first, add pasta to a medium-large saucepan over medium heat and add 1/2 to 1 cup of milk. Remember that pasta absorbs liquid as it sits, so you have to add some when reheating it.
Start with 1/2 cup, stir to combine and if needed add more, until you achieve the desired sauce consistency.
You can also add cream instead of milk, or broth.
What wine goes with it?
White meat-based, creamy sauce like this, pairs well with white wines like Sauvignon Blanc or Chardonnay.
More delicious slow cooker dinner recipes:
Recipe tips:
I highly recommend using freshly minced garlic as it adds plenty of aromas and flavors.
Also, in this recipe, you can use chicken breast meat or boneless/skinless chicken thighs meat.
Similarly, to save time you can use rotisserie chicken or pre-cooked meat.
If you are not a fan of shredded chicken you can simply chop the meat into 2-inch chunks. Then, brown the pieces in a skillet (or slow cooker). Next, add the rigatoni and cook.
In addition, pasta doesn't have to be pre-cooked for this recipe.
Add 1 cup of shredded parmesan cheese or mozzarella cheese for a cheesier and creamier texture.
Make this meal vegetarian by skipping the meat. Start on the step where you add the pasta to the crockpot.
Also, I do not chop the sundried tomatoes as I prefer eating them whole. However, if you want to chop them, use a sharp knife and be careful when chopping them as they are quite slippery and sticky.