Slow Cooker Tuscan Chicken Pasta [VIDEO]
Slow Cooker Tuscan Chicken Pasta is creamy, hearty and delicious. Cooked to juicy and tender perfection entirely in the slow cooker.
Instant Pot Tuscan Chicken Pasta is one of the most popular recipes on the blog and based on many requests, I have made you a Slow Cooker version of it. Here are some other slow cooker recipes you should try: Slow Cooker Baked Potato Soup and Creamy Slow Cooker Tortellini Soup.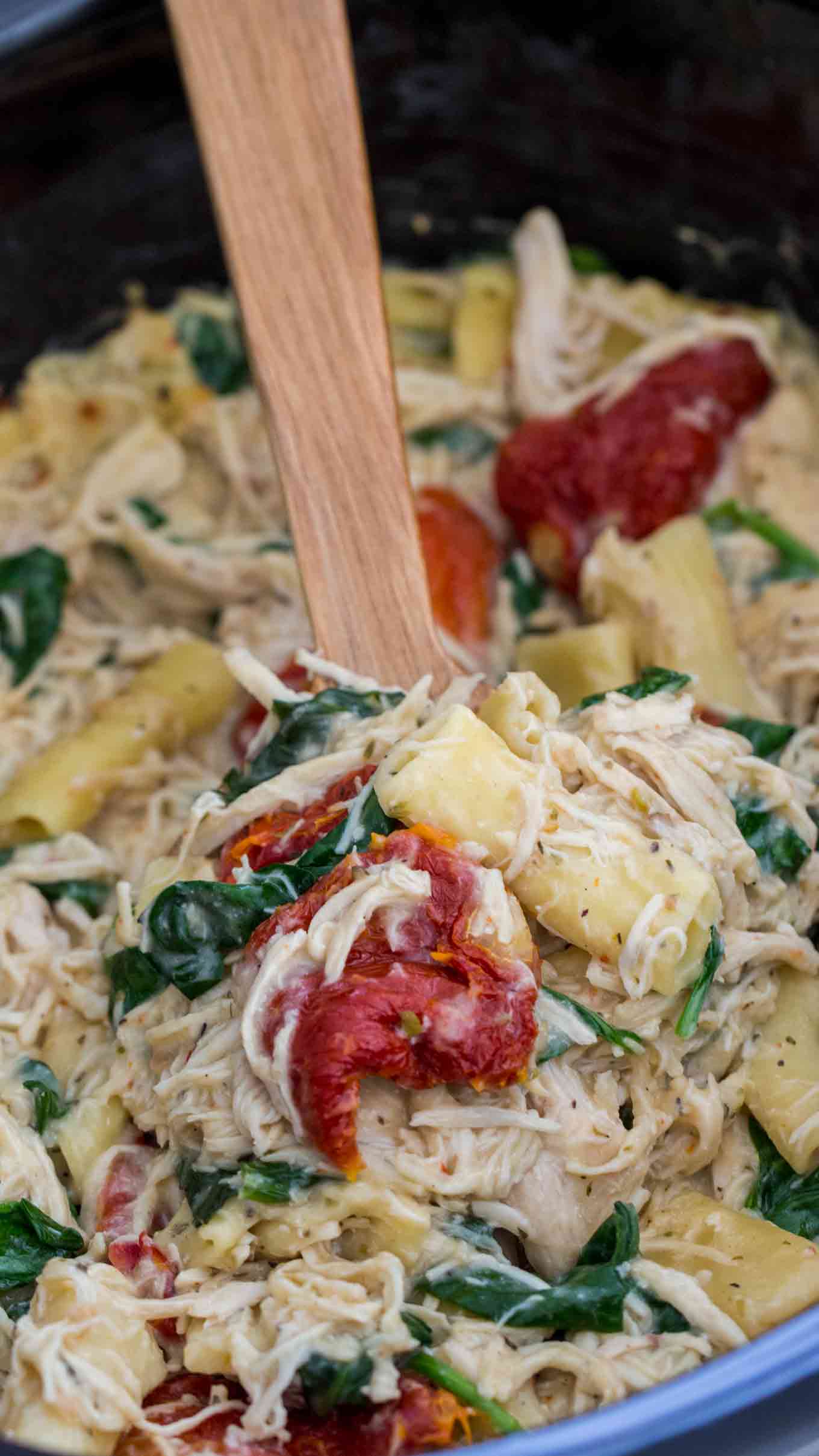 Easy Crockpot Tuscan Chicken Pasta
Slow Cooker Tuscan Chicken Pasta must be one of the best slow cooker meals that I have made in a while. This is such a hearty and creamy dinner, and the best part, its entirely made in the slow cooker from start to finish.
If you like creamy chicken and pasta, with chewy and tangy sun-dried tomatoes, this meal will be perfect for you. This recipe makes enough to feed a large family and you will also have unbelievably good leftovers.
How do you make Slow Cooker Tuscan Chicken Pasta?
Start by cooking the chicken on low and shred when done.
Once the chicken has been cooked, pasta, liquid, seasoning and Alfredo sauce is added.
Later, sun-dried tomatoes and spinach are added.
Also, if you would prefer a thicker sauce, a mix of cornstarch and water can be added.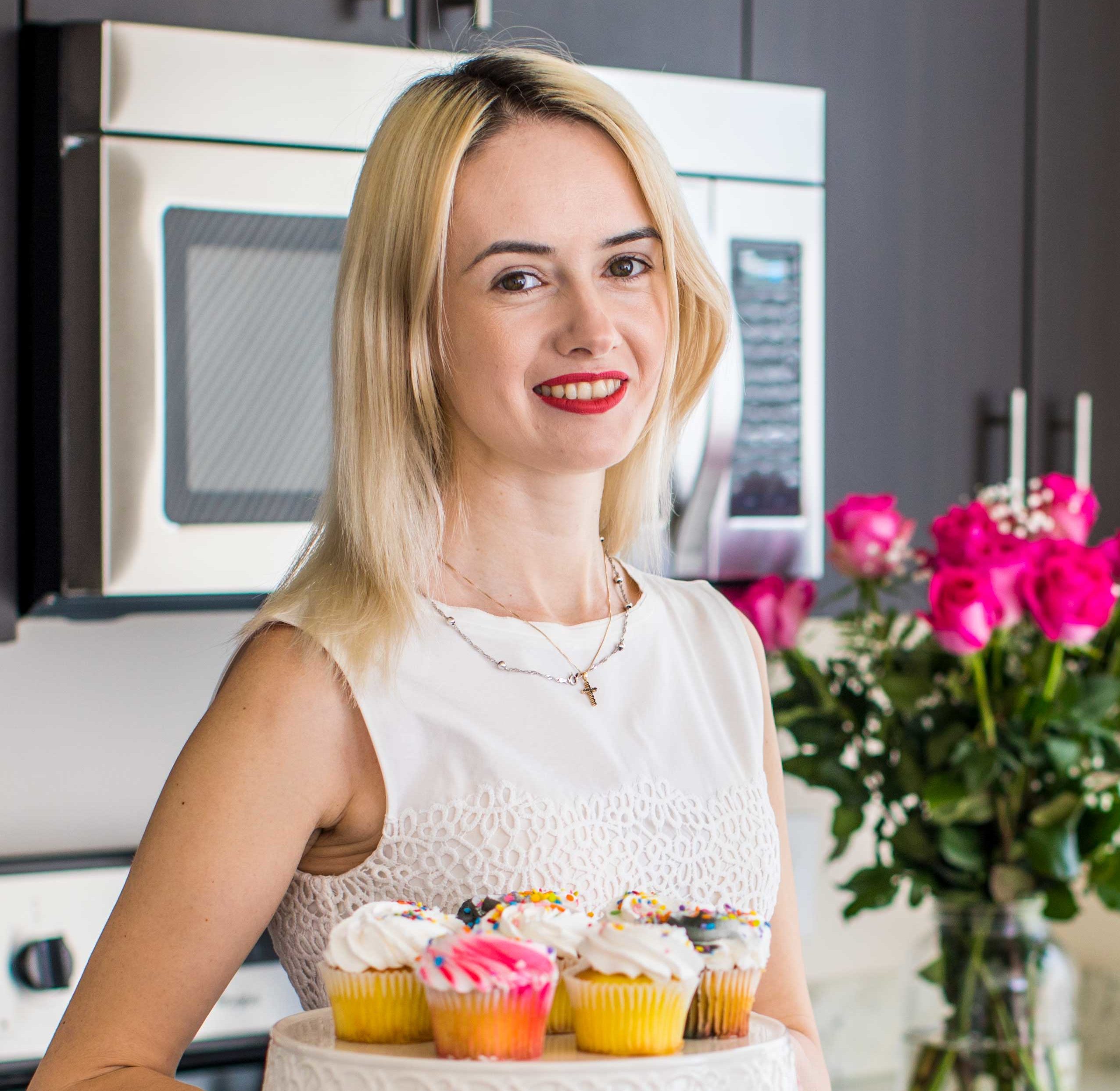 Follow us on Pinterest for more delicious recipes!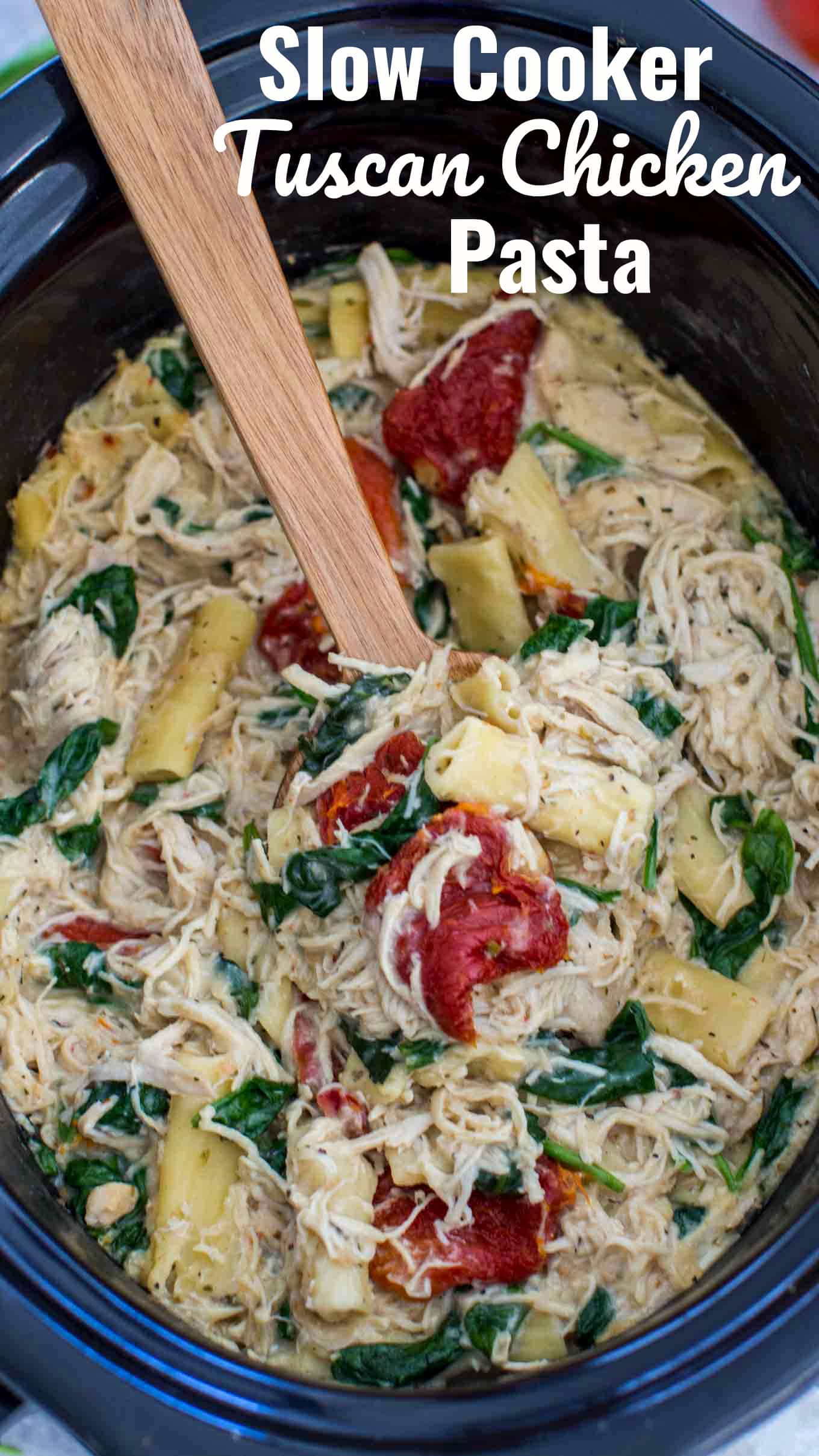 Slow Cooker Tuscan Chicken Pasta Recipe Tips:
Preferably use organic chicken for this meal.
Also, in this recipe, you can use chicken breast meat or boneless/skinless chicken thighs meat.
Similarly, to save time you can use rotisserie chicken or cooked chicken, and just skip the step where you have to cook the chicken.
If you are not a fan of shredded chicken or are in a hurry, chop the chicken into 2-inch chunks and brown them in a skillet (or slow cooker). Add the pasta and cook.
Pasta doesn't have to be pre-cooked for this recipe.
Add 1 cup of shredded parmesan or mozzarella for a cheesier dish.
Make this meal vegetarian by skipping the chicken. Start on the step where you add the pasta to the slow cooker.
How long do you cook pasta in the crockpot?
Pasta is cooked in a Slow Cooker, usually between 45-90 minutes, depending on the recipe.
How do you reheat the Slow Cooker Tuscan Chicken Pasta on the stove?
Usually, when refrigerated the sauce will thicken and the pasta will also absorb more of the liquid.
To reheat, add pasta to a medium-large saucepan over medium heat and add 1/2 to 1 cup of milk.
Start with 1/2 cup, stir to combine and if needed add more, until you achieve the desired sauce consistency.
You can also add cream instead of milk, or chicken broth.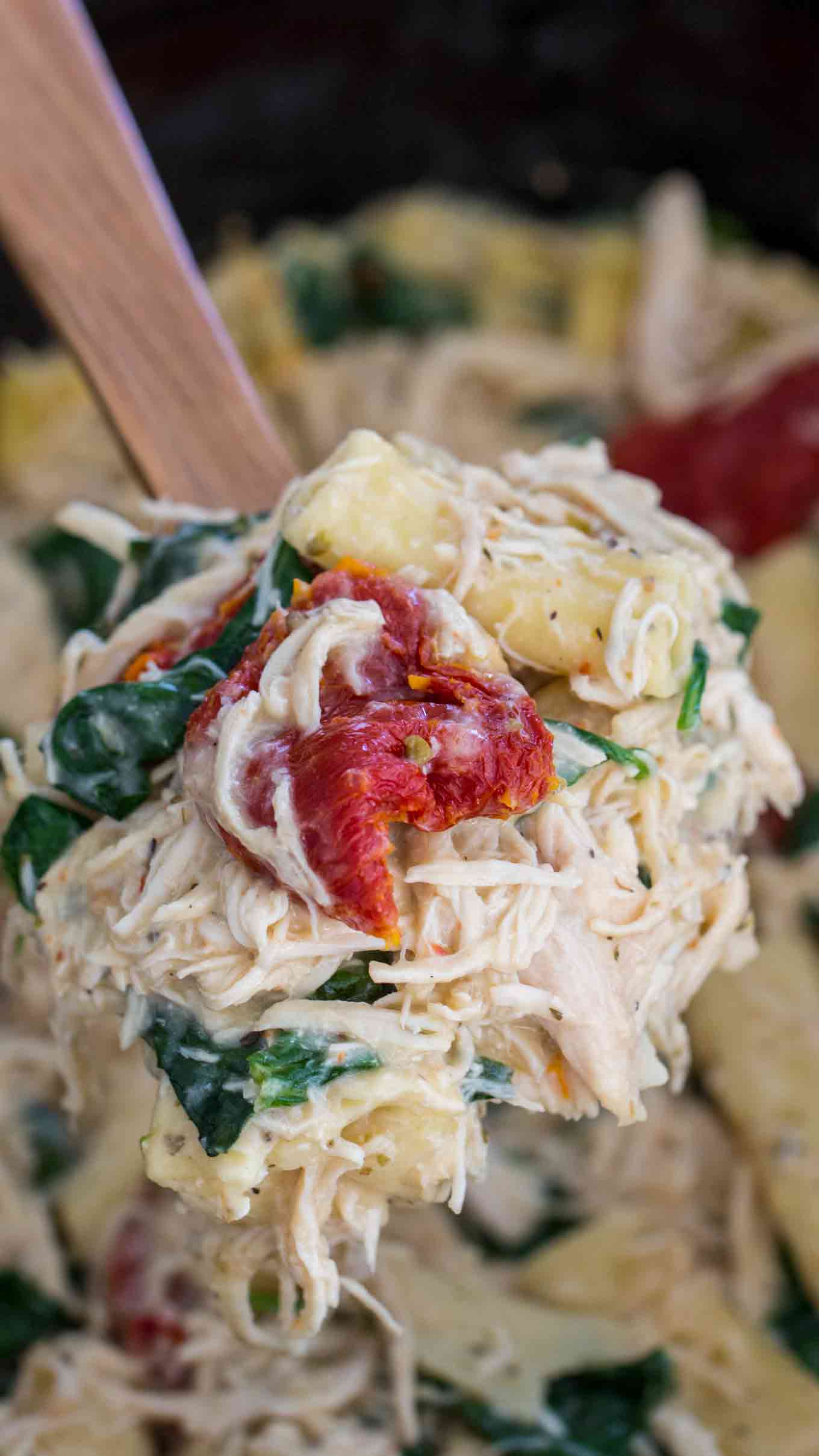 What wine to serve with Tuscan Chicken Pasta?
White meat-based, creamy sauce like this, pairs well with white wines like Sauvignon Blanc or Chardonnay.
WHAT SEASONING CAN YOU USE FOR TUSCAN CHICKEN PASTA?
This meal can be even more delicious and very flavorful if you use the following dried herbs:
Watch Crockpot Tuscan Chicken Pasta recipe step-by-step video:
Save Recipe
Slow Cooker Tuscan Chicken Pasta
Author: Catalina Castravet
Serves: 6 servings
Prep time:

10

minutes
Cook time:

5

hours
Total time:

5

hrs

10

mins
Ingredients
Cook the Chicken:
1.5-2 pounds boneless skinless chicken breasts
1 cup chicken broth (low sodium)
salt and pepper
Rest of the ingredients:
2 cups chicken broth (low sodium)
1 tablespoon minced garlic
1 teaspoon dried oregano
1 teaspoon dried thyme
1 teaspoon dried Italian seasoning
1/4 teaspoon red pepper flakes
2 jars (14.5 ounces each) creamy Alfredo sauce
2 cups dry rigatoni pasta
1 cup sun dried tomatoes in oil (drained)
3 cups fresh spinach (packed)
Salt and pepper to taste
Cornstarch Slurry:
1 tablespoon cornstarch
1 tablespoon water
Instructions
Cook the Chicken:
Spray the slow cooker with nonstick spray.
Trip chicken breasts of excess fat and add them to the slow cooker.
Pour 1 cup of chicken broth over the chicken breasts and season with salt and pepper.
Cook on low for 5-6 hours or cook on High for about 3 hours. Check foe the chicken to be fully cooked, juicy and tender.
Once cooked, transfer chicken to a large plate and shred using 2 forks.
Discard the chicken broth from the slow cooker.
Cook Pasta:
Add shredded chicken to the slow cooker.
Add dry rigatoni pasta and distribute evenly on top of the chicken.

Add 2 cups chicken broth, minced garlic, oregano, thyme, Italian seasoning, red pepper flakes and 2 jars of Alfredo sauce. Stir well to combine.

Cover and cook on high for 30 minutes. Stir in drained sun dried tomatoes. At this point, check on the sauce, if its too thin for your liking, stir together in a small cup, the cornstarch and water with a fork until smooth. Add the mixture to the slow cooker and stir.

Cook for another 15 minutes on high. Check on pasta, if its still uncooked, cook it for another 15 minutes. Usually it takes 45-60 minutes for the pasta to be done, but it depends on the slow cooker, so keep an eye on it.
Place slow cooker on Keep Warm (or on Low if you don't have that setting), taste and adjust for salt, pepper and spiciness. Stir in fresh spinach and cover for 10 minutes, the heat will wilt the spinach.
Gently stir to combine and serve immediately.
Calories: 361 Carbohydrates: 22 Protein: 28 Fat: 6 Saturated Fat: 1 Cholesterol: 72 Sodium: 627 Potassium: 928 Fiber: 2 Sugar: 0 Vitamin A: 1700 Vitamin C: 32.9 Calcium: 57 Iron: 2.3
Save Recipe
More recipes you might love