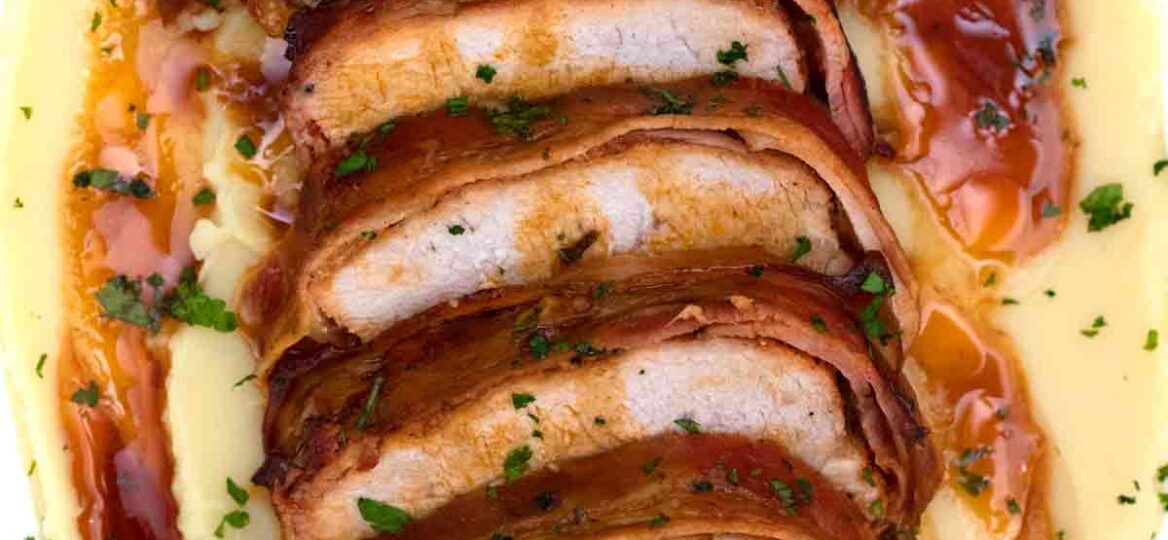 Crockpot Bacon Pork Loin [Video]
Crockpot Bacon Pork Loin is melt-in-your-mouth delicious and packed with hearty flavors from the smoky bacon, paprika, garlic, and brown sugar. Use the slow-cooker for an ultra-gourmet meal that takes almost no effort to make!
This recipe goes so well with any side. To keep prep work to a minimum, pop my Crispy Roasted Rosemary Potatoes or Brown Sugar Roasted Carrots before the slow cooker finishes. For an indulgent finish to this delicious meal, serve my Brownie Bailey's Cheesecake for dessert!
Slow Cooker Bacon Garlic Pork Loin
Crockpot Bacon Pork Loin is one of the best examples of why I love my slow cooker so much. First of all, the loin cut is super budget-friendly, full of protein, and can easily feed a large family. Secondly, making it in the slow cooker is the best way to prepare the meat.
Those four to five hours inside the crockpot turns the loin into juicy, fork-tender meat. The brown sugar becomes a garlicky, slightly sweet glaze with a hit of paprika.
Also, those smoky stripes of bacon take it over the top. I guarantee that your family and friends won't know what hit them from the very first bite of this delicious meal.
Every time I make this recipe, it feels like magic! It tastes and looks like it took hours of hard work when it only takes me minutes to put the seasoning paste together, and then wrap the bacon around the pork. Afterward, I let my slow cooker do its thing.
Five hours later, I've got an unbelievable dish that's beautiful enough for Thanksgiving or Christmas dinner, and easy enough for a weekday meal.
What is the difference between pork loin and tenderloin?
These two may sound similar, but they're totally different cuts of meat. Pork loin comes from the animal's back and is big enough to cut steaks from. Also, you can get it with or without the bone.
On the other hand, pork tenderloin is boneless, leaner, usually a thin and long cut, and also known as pork fillet.
Since they're very different cuts, double-check that you're getting the right one! Tenderloin cooks very quickly, which makes it ideal for grilling and searing. The loin cut is perfect for slow-cooked methods, like our recipe here.
Crockpot Bacon Wrapped Pork Loin Ingredients:
This recipe proves that you don't need a ton of ingredients to make something amazing. I bet you already have most of these in your pantry! You only need these ingredients:
Pork Loin
Canola oil
Salt
Pepper
Paprika
Light brown sugar
Garlic
Onion powder
Bacon
How to make the best Crockpot Bacon Pork Loin?
Prepare the seasonings: Make a paste from the brown sugar, garlic, oil, and seasonings.
Prepare the meat: Rub the paste all over the meat, then drape with the bacon.
Cook: Set the slow cooker for 4-5 hours on low and cook.
Crisp up the bacon. Broil for 2-3 minutes if you'd like it crispier.
Serve: Let it rest for 10 to 15 minutes to absorb all the delicious flavors. Then, serve it with your preferred sides.
How long to cook Pork Loin in the slow cooker?
Set your crockpot to about four to five hours on low. That's the ideal time for a three-four pound cut. So, adjust according to weight. If you are cooking a larger cut, then increase the time by about 1 hour per extra pound.
Can I cook frozen meat in the crockpot?
You can, but it can take longer. I highly suggest thawing your meat in the fridge overnight before preparing it in the crockpot. Also, for the best texture and maintaining food safety, it is recommended to use thawed meat.
Can you make Crockpot Pork Loin in advance?
You can prepare it a day ahead. Make the sauce, pour it over the meat, and store it in the fridge. Take it out and place straight in the crockpot when you're ready to cook.
Once completely cooled, store leftovers in a ziplock bag or dish. Consume within three days, or store up to a month in the freezer. Heat up in the microwave, heat in a pan with the sauce, or place in the oven until hot.
What to serve with Crockpot Bacon Pork Loin?
Serve it with roast potatoes and carrots, or try something new by having my Coconut Rice Recipe as a side dish. Also, if you plan on serving it for a fancier dinner, pair it with my Pear Salad, Roasted Cauliflower, and Creamed Spinach for a sure knockout.
More delicious Pork Recipes:
You might also love these top-ranked recipes:
Recipe Tips:
You may brush the meat with some maple syrup to add another layer of flavor.
Some tasty variations: add some orange or lemon zest. Also, try adding various herbs and spices, such as Cajun seasoning, and Italian seasoning.
For a spicier taste, add some red chili flakes.
In addition, it is important to give the meat some time to rest after it is done cooking. Let it rest for 10-15 minutes for it to absorb all the juices together. Then, slice into desired portions.
To maximize the crispiness of your bacon, pop the loin into the oven to broil for a few minutes after it's done cooking!
Deliciousness to your inbox
Enjoy weekly hand picked recipes and recommendations