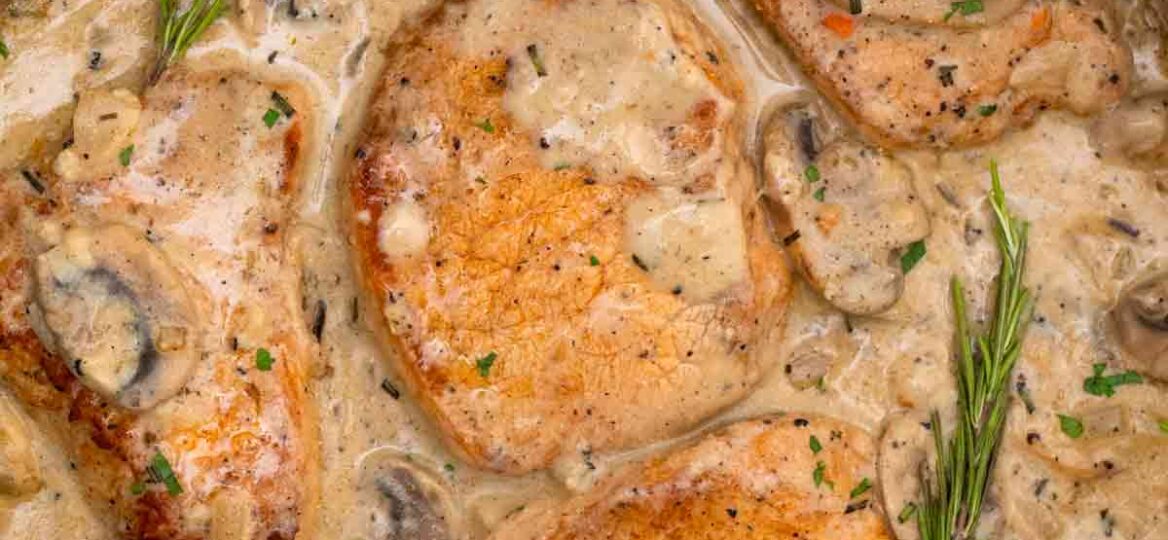 Mushroom Pork Chops Recipe [Video]
Mushroom Pork Chops are juicy, tender, and smothered in a velvety mushroom sauce. A hearty and creamy dish that takes no time at all!
This is a one-pan recipe, so no mountain of dirty dishes to wash! For other effortless meals, you can make in one pan, try my Whole Roasted Red Snapper with Potatoes, Mediterranean Chicken, and Sticky Honey Garlic Beef.
Pork Chops in Creamy Mushroom Sauce Recipe
Mushroom Pork Chops are one of those meals that taste fancy but is actually fast and easy. Ready in about 30 minutes, this will quickly become your go-to dinner! Also, it's the perfect quick recipe for any night of the week.
Got guests coming over? It's also elegant enough for a dinner party. I've had so many guests asking for the recipe after trying these luscious chops.
Best of all, it's just pure comfort food. Creamy, filling, and delicious with many sides. And that sauce – it's almost impossible to stop myself from eating it straight up! Perfect for kids, adults, or for treating yourself with a delicious homemade meal.
Learn how to make this easy restaurant-quality dinner from the comfort of your home at a fraction of the price!
How to make pork chops in the creamy mushroom sauce?
Follow the steps to make this luxurious dish:
Season your meat. Then, heat oil and butter in a pan. Sear until golden.
Remove from the pan. Keep warm by covering in foil.
Next, add more butter to the pan and lightly brown your mushrooms.
Sauté your onion and garlic in a bit of butter. Add your herbs.
Add flour and stir well.
Pour your whipping cream and broth. Season with dried mustard, salt, and pepper. The sauce will thicken as it simmers.
Then, return the meat to the skillet. Simmer for a few more minutes covered in sauce.
Sprinkle with rosemary and parsley. Serve immediately with your desired side dish.
Can I make it with other meat cuts?
For this recipe, I like using thicker chops with nice marbling. Thin and lean chops tend to dry out due to the sear and simmer. I recommend thick cuts of pork steak so you end up with juicy, tender meat that beautifully absorbs the sauce.
Also, if you'd like another type of protein, swapping this out with steak or chicken works as well. I've got this fantastic Creamy Parmesan Mushroom Chicken you should try out!
How to Substitute for Bone-in Pork Chops:
I prefer to make this recipe with bone-in chops because they are more flavorful. However, you can easily make it with boneless pork chops or even chicken breasts. If you want to go with boneless meat, then cook for an additional 2-3 minutes longer per side, depending on the thickness of the meat.
Just remember to check the doneness using a meat thermometer. The internal reading of the thickest part should read 145°F. This is the recommended safe temperature to consume pork.
What kind of mushrooms is best to use?
You can use any fresh white or brown mushrooms. For meatier flavor, I like using a mix of cremini and white mushrooms.
In addition, don't slice the mushrooms too thin so they hold up during cooking and soak up the sauce. Plus, hearty pieces add a nice texture to this dish.
How to make the pork chops tender?
It all starts with the cut. Thick, marbled chops are best. Pay attention to the cooking times in the recipe to avoid drying out the meat. Make sure to cover the meat with the mushroom gravy while simmering to keep it moist.
You can also use a meat mallet to tenderize the meat further. Just a few whacks are enough. Remember to do it evenly.
What to serve with Mushroom pork chops?
This dish pair perfectly with some Steamed Broccoli, Garlic Roast Potatoes, or my Perfectly Creamy Mashed Potatoes. Similarly, you can serve it with White Rice or Brown Rice!
How to store Mushroom pork chops?
Cool it completely. Then, store it in an airtight container in the refrigerator for up to 5 days. Reheat prior to serving.
More easy Pork recipes:
Pork chops in mushroom sauce Recipe Tips:
You can wilt some chard or spinach at the end.
For extra flavor, use freshly minced garlic. Adjust the garlic based on your preference.
For the juiciest results, choose cuts with extra marbling. Either bone-in or boneless is fine. But try to avoid lean center cuts.
Because this is a very quick recipe, I strongly recommend prepping everything before you begin cooking.
Also, don't wash or use a new pan! Those brown bits left from searing the meat are called fond and have a massive impact on the sauce.
If you don't have parsley, some fresh thyme is a tasty substitute.
You can use vegetable broth if you prefer.
Remember to sear the meat in butter, because butter adds richness, while oil keeps it from burning.
If you must use thinner cuts, please adjust the cooking time accordingly.
This dish is rich, so serving them with simple sides like steamed vegetables balances it out.
For some heat, feel free to sprinkle some red pepper flakes to taste.