Creamy Parmesan Mushroom Chicken [video]
Mushroom Chicken is creamy, made easily in One Pan and is ready in 30 minutes. Made with cheese, wine and garlic, it packs lots of flavors.
We love making easy and flavorful chicken meals in our kitchen. Some of our most popular once are Slow Cooker Garlic Sesame Chicken, Baked Mongolian Chicken, and Cranberry Orange Chicken.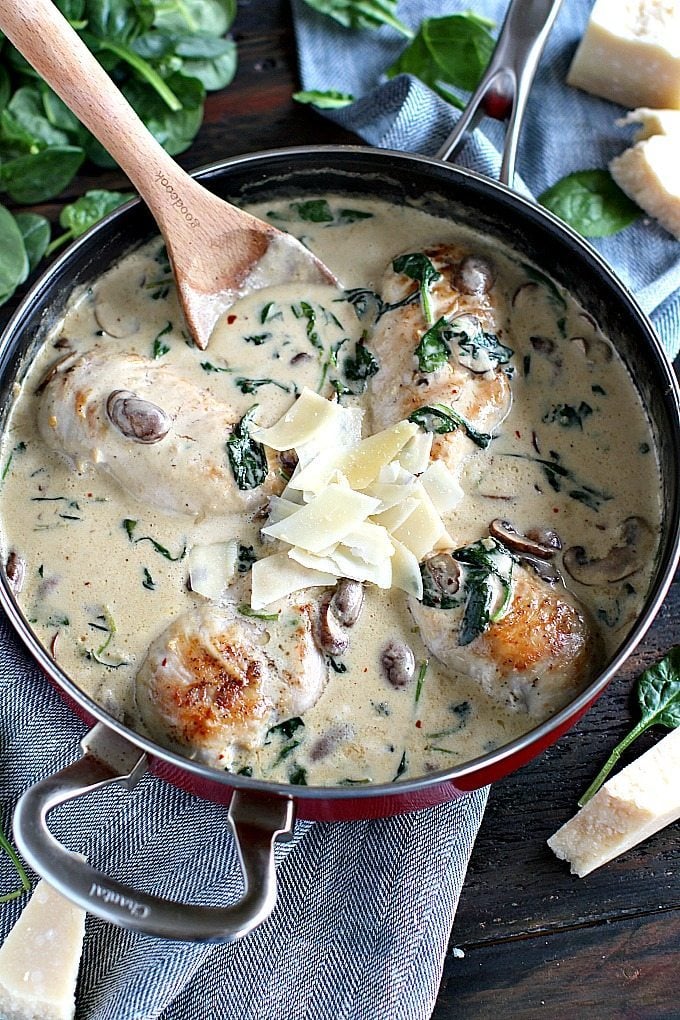 The Best Mushroom Chicken
One Pan Creamy Parmesan Mushroom Chicken is one of the easiest and most flavorful dishes you will ever make. This meal is a staple in our house because it is perfect to cook during a weeknight. When you don't want to spend too much time in the kitchen, but crave a fabulous meal, this is the go-to one. Also, this One Pan Creamy Parmesan Mushroom Chicken will be ready quicker than takeout, and you will also have delicious leftovers. The meal is so tasty and appetizing, that you can make it on date nights or when you entertain guests.
We tend to eat a lot of chicken during the week, that's why I am trying to find many delicious ways to cook it so it's not boring. Once every two weeks, we buy chicken breasts in bulk so it will last us for a few meals. I like the versatility of cooking with chicken, chicken breast can be added to so many dishes: soups, salads, casseroles, etc.
In this One Pan Creamy Parmesan Mushroom Chicken, you will taste tender and juicy chicken breast that has been browned to golden perfection. Then, simmered into the most unbelievable Parmesan sauce made with lots of garlic and white wine. Caramelized mushrooms and spinach add a nice texture and take the dish to another level with their earthiness and sweetness.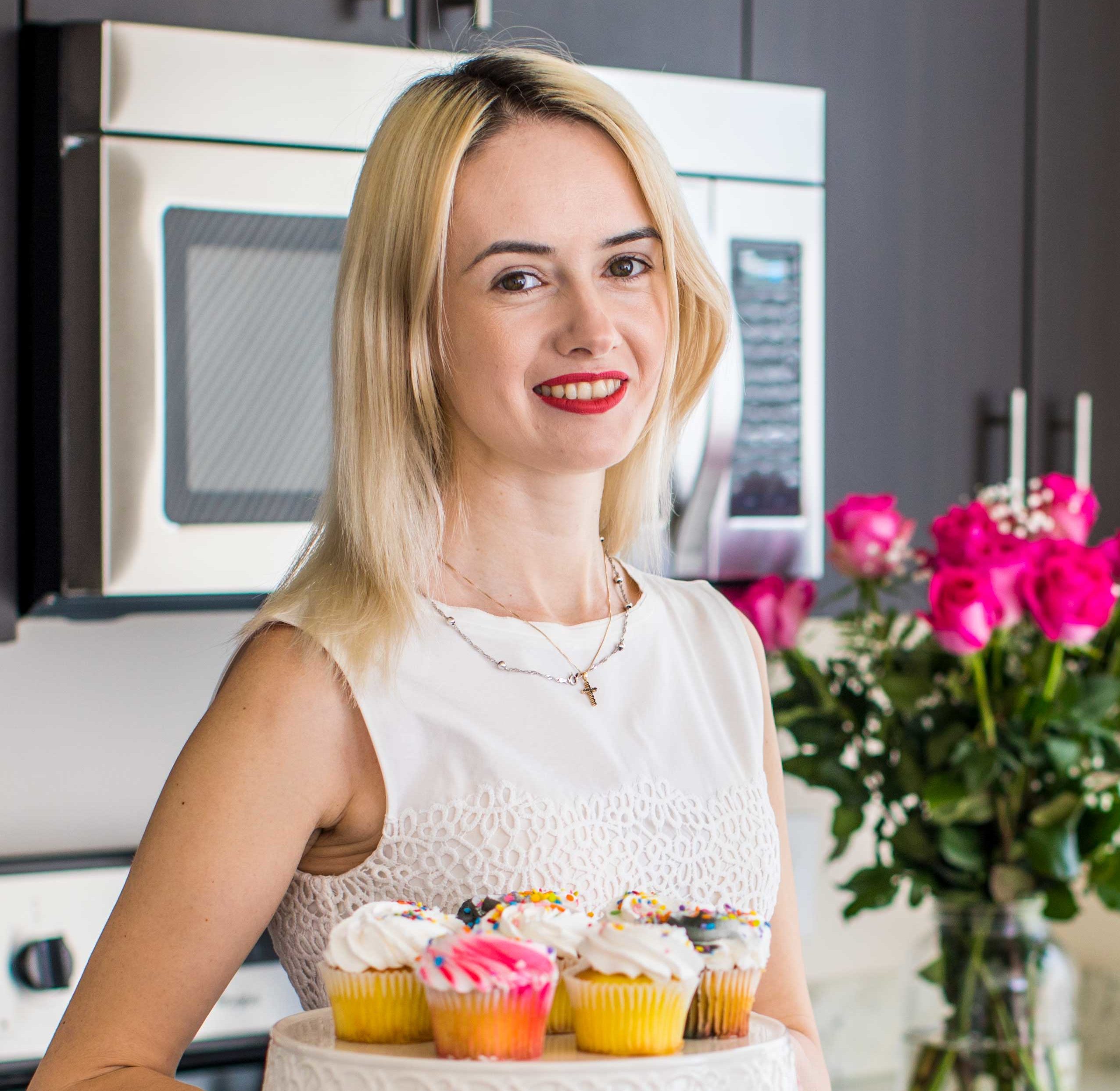 Follow us on Pinterest for more delicious recipes!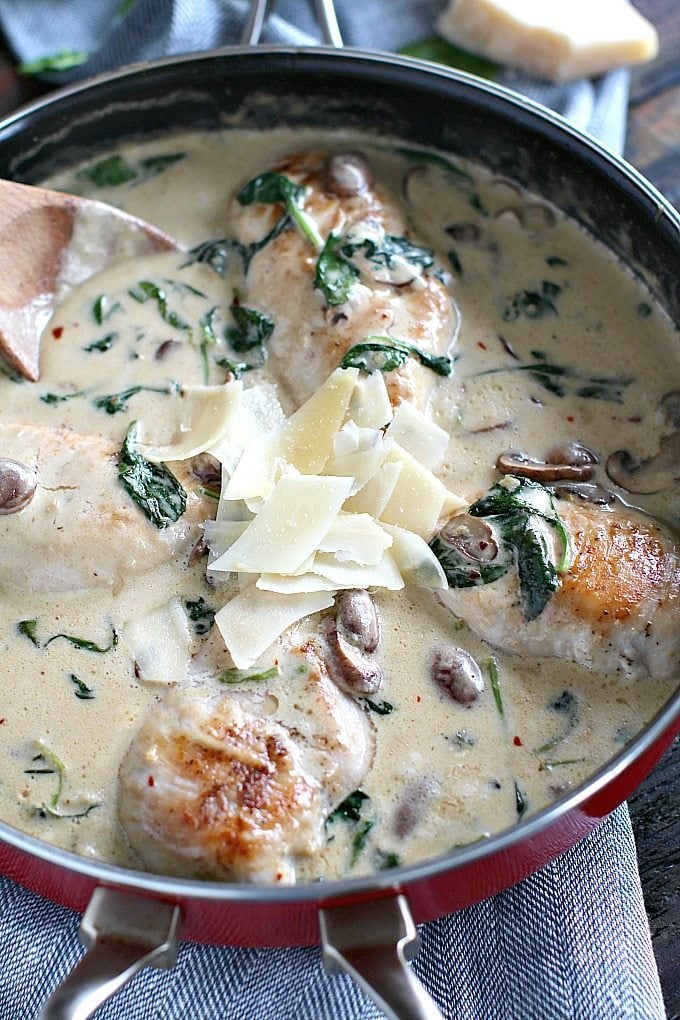 Creamy Parmesan Mushroom Chicken Recipe Tips:
Use quality meat, preferably organic, in this case, I used organic chicken breasts. However, the recipe will work great with chicken thighs as well.
Definitely brown the chicken on both sides to golden perfection. It will take a few minutes, but it will make a huge difference in taste.
Make sure the chicken is cooked, you don't want to serve raw chicken, this is not steak 🙂 What I usually do, after I am done with browning it, I flip it bottom side up, and make a cut to see if the center is cooked. If it's still pink cook for a few more minutes.
Please don't use the pre-grated packaged Parmesan that looks like dust, because it is not a good one. So if you buy grated Parmesan, make sure it's from a good quality brand and you can see beautiful, long strings of Parmesan.
The white wine adds such a nice flavor to this recipe. However, if you want to skip the alcohol, please replace it with chicken broth.
Caramelizing the mushrooms is another very important step. Also, don't discard the liquid that comes from cooking the mushrooms, it will add so much flavor to the sauce.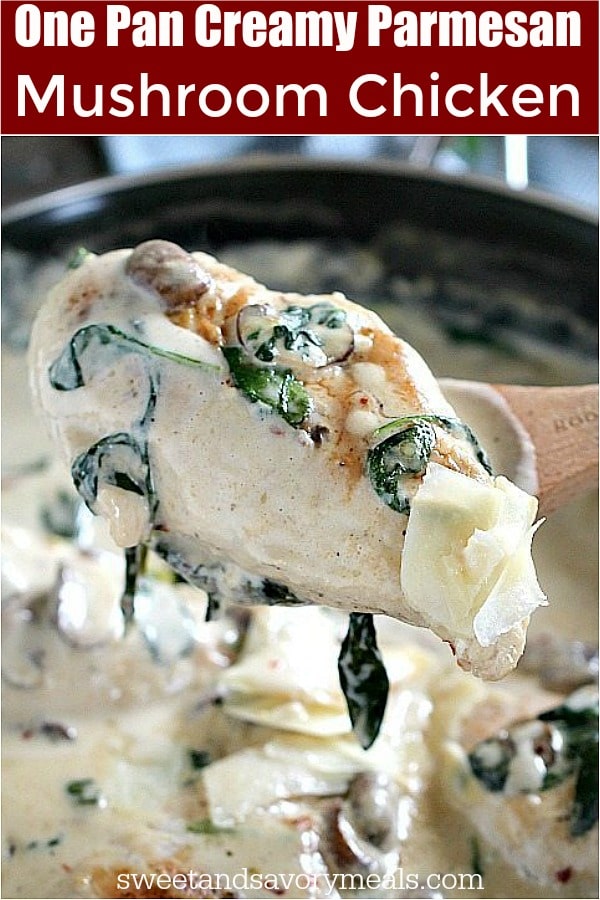 What wine to serve with Creamy Parmesan Mushroom Chicken?
White meat-based, creamy sauce like this, pairs well with white wines like Sauvignon Blanc or Chardonnay.
Tools/Ingredients I use to make this One Pan Creamy Parmesan Mushroom Chicken Recipe:
Chantal Sauté Skillet – I particularly like this skillet for when I make recipes with lots of sauce, the skillet height is perfect so no drippings while cooking. It's also a sturdy skillet made of high-quality material that will last you many years. You can also use a cast iron for this recipe.
Slotted Turner – perfect when you need to remove ingredients from a pot, without any of the liquids.
Tongs – I like the locking functionality on these, they are the best on the market.
Watch Recipe Video Below:
Save Recipe
Creamy Parmesan Mushroom Chicken - One Pan
Author: Catalina Castravet
Serves: 6 servings
Prep time:

10

minutes
Cook time:

20

minutes
Total time:

30

mins
Ingredients
4 chicken breasts (boneless and skinless or 4 bone-in skin-on chicken thighs)
4 tablespoons extra virgin olive oil
16 ounces baby bella mushrooms (sliced)
Sauce:
3 tablespoons unsalted butter
1 whole garlic head (minced)
2 tablespoons all purpose flour
3/4 cup white wine
2 cups heavy cream
2 cups parmesan cheese (grated)
1 teaspoon onion powder
1/2 teaspoon red pepper flakes
1 teaspoon garlic powder
1/2 teaspoon salt
1/2 teaspoon black pepper
3 cups fresh spinach
Garnish:
1 cup parmesan cheese (grated)
Instructions
Season the chicken with a little salt and pepper and set aside.
Clean the mushrooms, slice them and set aside.
Add 2 tablespoons of olive oil to a large skillet over medium-high heat. Once the oil is hot, add the chicken to the skillet and cook for 4-5 minutes on each side or until golden brown on each side and if you slice it the center it should be cooked. Using tongs, remove the chicken from the skillet and place it on a plate near by.
Add the remaining 2 tablespoons of olive oil to the skillet and add the sliced mushrooms. Cook the mushrooms for 2 - 3 minutes, stirring all the time, until tender.
Using a slotted turner, remove the mushrooms from the skillet to a plate near by. Using the slotted turner helps removing the mushrooms, while all the liquid will remain in the skillet.
Reduce heat to medium and add butter to the skillet.
Once the butter has melted, add the minced garlic and cook for 1 minute until tender.
Add the flour and whisk until it thickens, this will happen very quickly so make sure you have the wine and cream on hand.
Stir in the white wine and heavy cream. Fold in the parmesan cheese and season with garlic powder, onion powder, red pepper flakes, black pepper and salt. Taste and adjust for salt and pepper.
Add the fresh spinach and let the sauce simmer until it starts to thicken and the spinach wilts. Stir a few times.
Add the chicken and mushrooms back to the skillet, cover in sauce and let it simmer on low heat for 2 more minutes.
Garnish with 1 cup of grated parmesan and serve with pasta, couscous or bulgur.
The dish can also be served on it's own, with warm, crusty bread for dipping!
0 Calories: 611 Carbohydrates: 13 Protein: 55 Fat: 34 Saturated Fat: 15 Cholesterol: 153 Sodium: 1276 Potassium: 1169 Fiber: 1 Sugar: 6 Vitamin A: 2200 Vitamin C: 6.2 Calcium: 729 Iron: 2.1
Save Recipe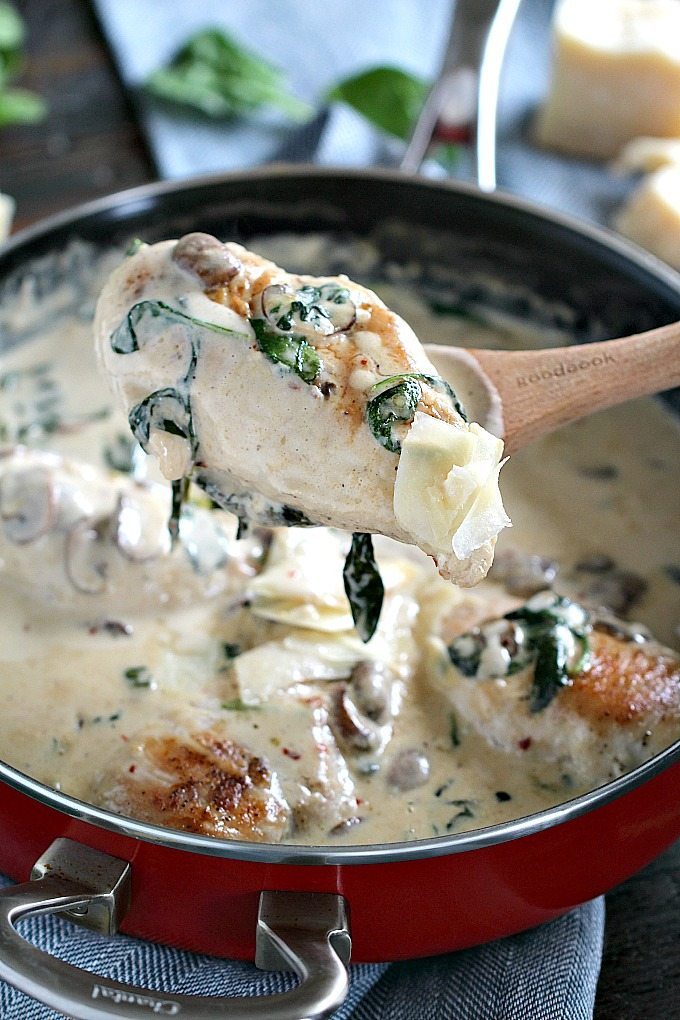 More recipes you might love