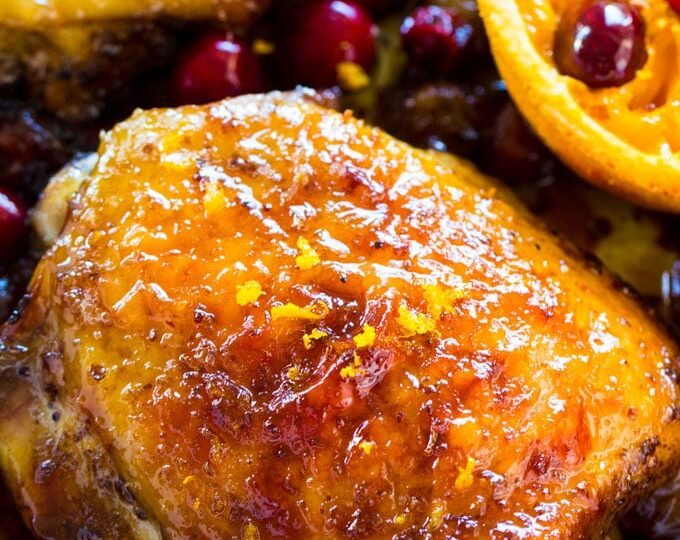 Cranberry Orange Chicken – One Pan [Video]
Cranberry Orange Chicken is the perfect one pan, a seasonal meal made with juicy, tart cranberries and fresh orange juice and zest.
I can say that this Cranberry Orange Chicken is simply the best you can have! It tastes amazingly good with a sweet and savory kick to it. I highly recommend you try two of my most popular recipes: Instant Pot Orange Chicken and this Slow Cooker Brown Sugar Orange Ham!
Best Cranberry Orange Chicken
Cranberry Orange Glazed Chicken is one of the easiest and most delicious fall dinners you can make. I am a huge fan of cranberry orange desserts, I recently made these Cranberry Orange Muffins that are the perfect start to a crisp fall day.
The Cranberry Orange Chicken is so good, the tart and juicy cranberries are roasted with the chicken, creating an amazing sauce. The orange zest and orange juice add a lot of flavor and brightness to the dish. This is the perfect weeknight meal, or you can even make it for a party, as it looks gorgeous and garnished with extra fresh cranberries.
I like serving this chicken topped with homemade Instant Pot Cranberry Sauce and some Sweet Potato Soufflé or Sweet Potato Casserole. Crispy Rosemary Roasted Potatoes are great on the side as well.
Why you will enjoy this Chicken with Cranberry Orange Sauce:
Easy to make and it takes only around 30 minutes!
Perfect fall-flavored dish with cranberries and orange zest.
It uses only one pan – so minimum dishes to use and clean.
The dish is packed with amazing flavors and protein.
Perfect for busy weeknights and also for entertaining guests.
You will have delicious leftovers that can be stored in the fridge, in an airtight container for 3-4 days.
Follow us on Pinterest for more delicious recipes!
How to make Cranberry Orange Chicken?
Make the marinade: First, make the cranberry orange marinade by mixing the ingredients in a food processor. Then, using a large ziplock marinade the chicken for 30 to 60 minutes.
Bake: Next, bake the chicken at 375 degrees F. Make sure to pour the marinate evenly all over the meat, and bake it for about 25-30 minutes.
Garnish and serve: Garnish with fresh orange zest and some fresh cranberries.
Recipe variations:
Use other meat: Feel free to use another meat type, such as turkey breast, pork loin, or lamb chops.
Jam: Instead of fresh cranberries, you can use cranberry jam.
Can I substitute pork for chicken?
Yes, pork or ham is a great alternative for chicken in many recipes including this one. If you are going to use pork or ham instead of chicken, I would recommend using pork chop or pork loin. The cooking time will also be very best on the cut that you choose.
Can I make Cranberry Orange Chicken in the Slow Cooker?
Yes, you can! Prepare the sauce and the rub as directed in the recipe. Add the chicken to the slow cooker and add the sauce around it. Then, cover and cook on low for 4 hours or on high for about 2 hours. The internal temperature of the chicken tights or breast should be 165 F degrees.
How to make Orange Zest?
Rinse the orange.
Set your tool over a cutting board. A microplane produces a very fine zest, perfect for baking and cooking. If you don't have a microplane, use the smallest holes on an ordinary grater.
Grate the skin of the orange only. Grate just enough to get through the orange skin, this way you can avoid the bitter white pith underneath.
Rotate the orange and repeat. Once the white pith is exposed, rotate the orange and zest the next strip of peel. Repeat until most of the peel is removed, or until you have enough zest for your recipe.
Can you use orange juice instead of orange zest?
Yes! Orange zest adds a citrus flavor to your recipes, including desserts, main dishes, and more. If you don't have an orange and a zester handy, you can use regular orange juice. 1 medium-size orange = approximately 1 tablespoon of orange zest = 2 to 3 tablespoons of orange juice.
What to serve with cranberry chicken?
Green Bean Casserole: My favorite side dishes when it comes to the holiday season
Roasted veggies, such as Brussels sprouts, or asparagus
White or brown rice
Other great chicken recipes:
One Pan Cranberry Orange Chicken Recipe Tips:
I like making this dish with chicken thighs, but it works great with chicken breasts as well.
Also, for the best flavors, it's better to marinate the chicken for a few hours or overnight.
Don't skip the fresh orange zest, because it's what makes this dish pop up.
For a spicier kick, add 1-2 teaspoons of red pepper flakes.
In addition, 10 minutes before the chicken is ready, add a handful of more cranberries to the pan, this will add a pop of color to the dish.
Serve the chicken garnished with orange zest.
Cranberry Orange Chicken
Ingredients
4-5

chicken thighs or breasts with skin

1/2

cup

fresh cranberries

1

tablespoon

honey

1

tablespoon

olive oil
Marinade:
1/4

cup

cranberries

1

tablespoon

brown sugar

2

tablespoons

olive oil

2

tablespoons

honey

1

tablespoon

balsamic vinegar

2

cloves

garlic

minced

1

large

orange

zested and juiced

1/4

teaspoon

sea salt

1/8

teaspoon

black pepper
Instructions
Prepare Marinade:
Mix all the marinade ingredients to a food processor and blend until all combined and you have a smooth mixture.

Add chicken to a large ziplock bag, container or deep dish pan. Pour the marinade over the chicken and marinate for 1 hour or better overnight.
Bake:
When ready to bake, preheat oven to 375F.

Add the chicken to a lightly greased roasting pan, a 8x8 inch pan is enough. Pour the marinade over the chicken.

Add the remaining 1/2 cup of cranberries to the pan, spread them evenly.

Bake the chicken for 25-30 minutes. Mix one tablespoon of honey with one tablespoon of olive oil. Brush over the chicken.

Turn on the broiler and broil for 2-3 minutes, or until the skin on the chicken is crispy. Watch it closely not to burn it.

Garnish with fresh orange zest and fresh cranberries.

You don't need the sauce, it can be discarded at this point. Serve the chicken topped with cranberry sauce.