Last updated on April 25th, 2022 at 04:13 pm
Orange Shrimp is a delicious Chinese dish made with crispy shrimp, coated in a sweet and savory, sticky orange sauce and ready in 30 minutes. This is also known as honey orange firecracker shrimp at most Chinese food restaurants because of the slight spiciness of the crushed red pepper flakes.
Try our absolutely delicious orange sauce recipe made with orange juice, brown sugar, and soy sauce on top of your Chinese orange shrimp. If you are looking for other Asian recipes, try our Panda Express Orange Chicken Copycat made with chicken thighs or Shrimp Fried Rice with corn, peas, and carrots.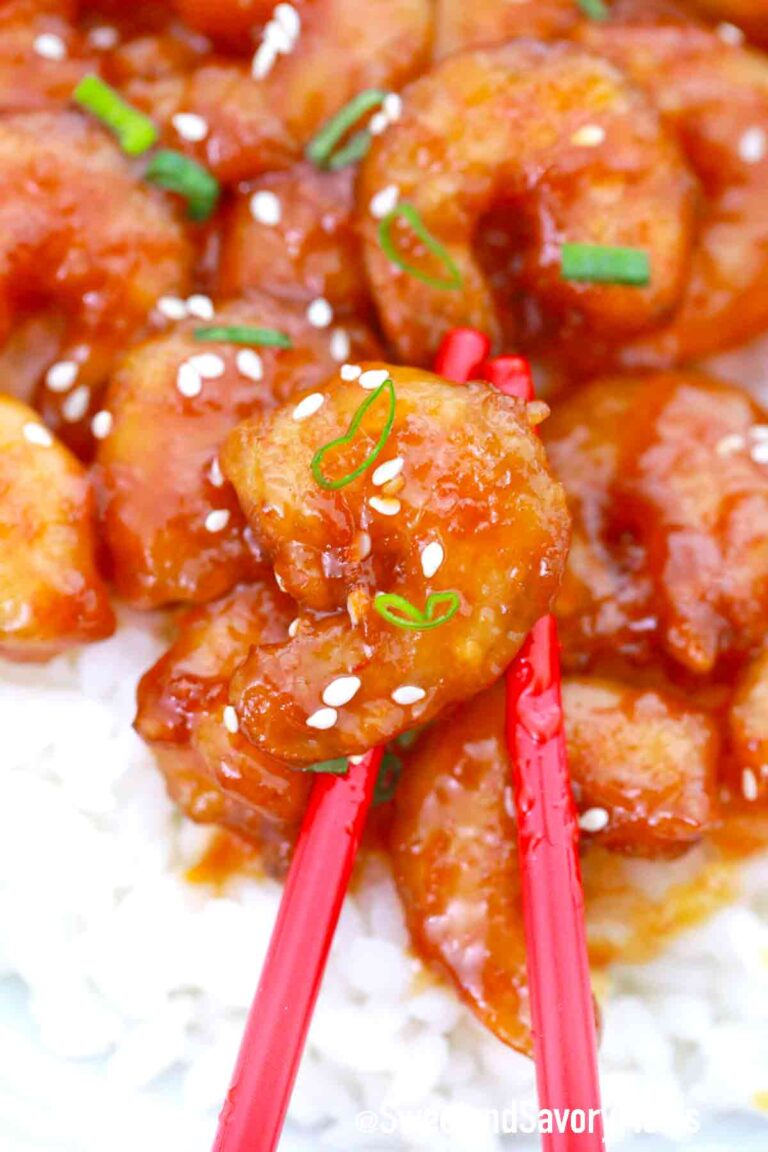 Orange Shrimp is a delicious dish whether you are serving it as an appetizer, side dish, or the main entree. It all depends on how you want to ser it. For an appetizer, just add it to a bowl and place some toothpicks on the side.
This delicious honey orange firecracker shrimp is impressive and is similar to Chinese food you would get from a trained private chef or fine dining establishment. If you think you don't like Chinese food, give this a try anyway. It will most likely change your mind.
Even if you are not a fan of spicy food, this is an amazing dish. Just cut out the red pepper if you want less heat. With the orange sauce, zest, pepper, and sesame seeds, this is one of the most flavorful recipes you will ever have.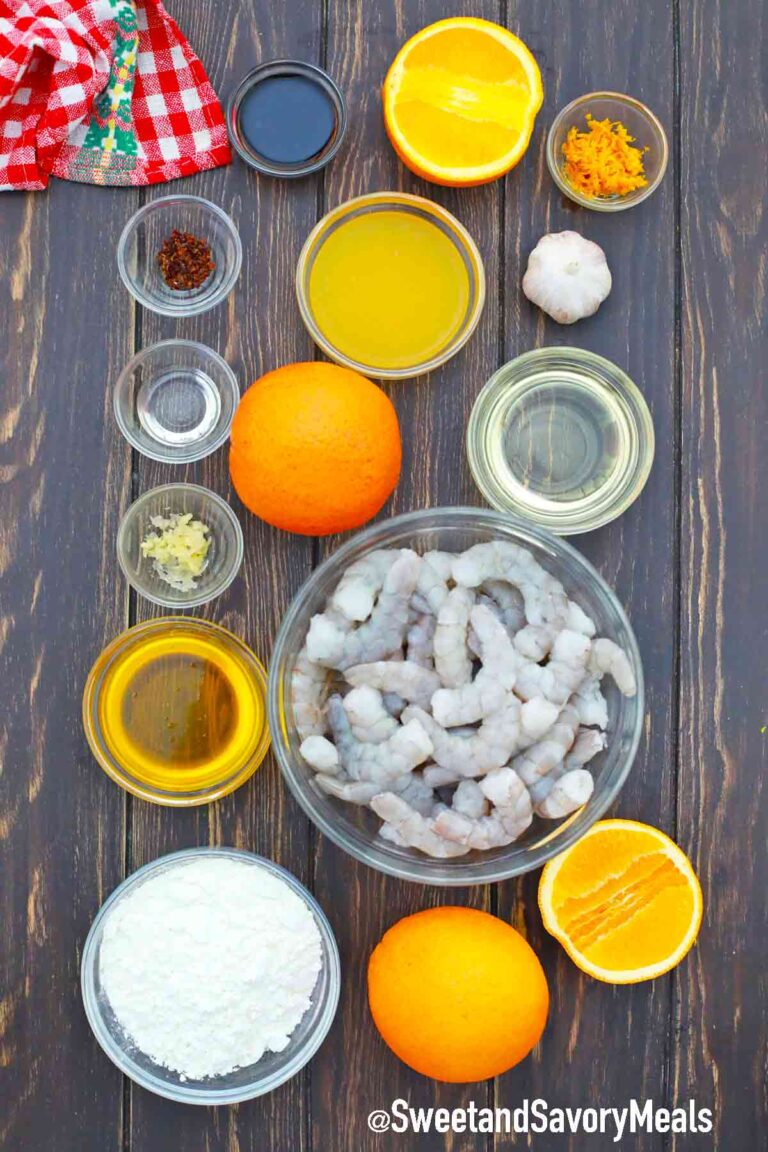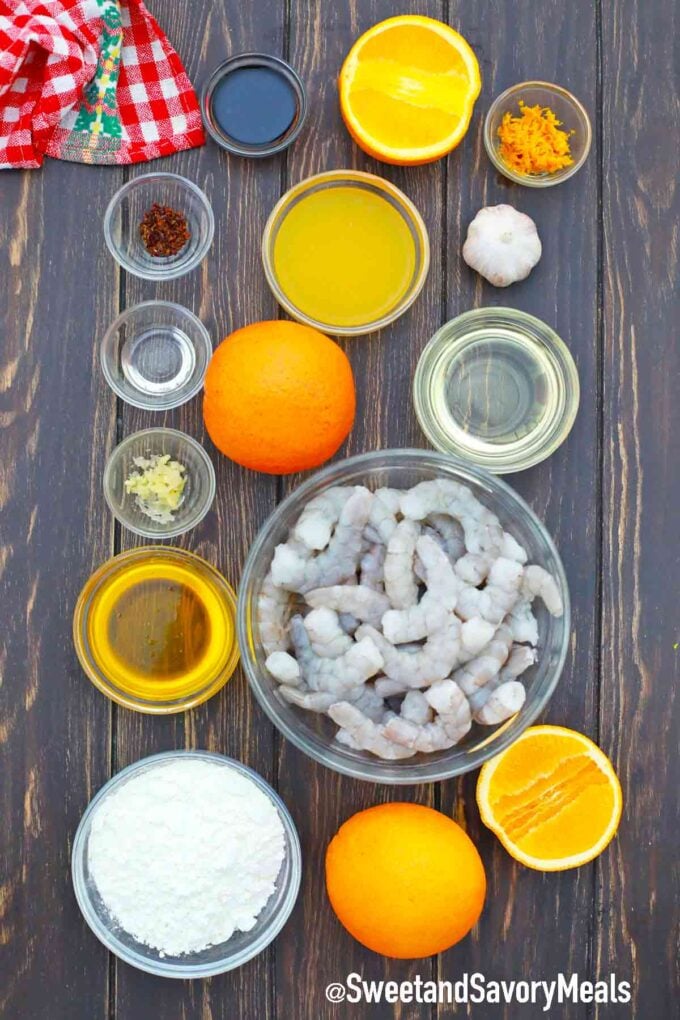 Ingredients needed:
These are the simple ingredients for this honey orange firecracker shrimp recipe. Scroll down to our recipe card for complete instructions and exact measurements.
Shrimp: Peeled and deveined.
Soy sauce: Store-bought or homemade.
Honey: You can also use maple syrup.
Orange zest: In thin strips.
Orange juice: Whatever brand or kind you like.
Mirin: Or dry sherry.
Red pepper flakes: Crushed.
Green onions: For garnish.
Sesame seeds: For garnish.
Corn starch
Canola oil
How to make orange shrimp recipe?
Make the soy sauce and juice mixture: To begin making your orange shrimp, toss the crushed red pepper flakes, orange juice, orange zest, honey, soy sauce, and garlic in a small bowl, mixing with a whisk.
Coat the shrimp: Then, put the corn starch in a bowl or plastic baggie and toss the shrimp until it is well coated.
Preheat: Next, heat the oil in a large skillet or frying pan on medium-high heat.
Cook the shrimp: In small batches, cook the shrimp for two to three minutes on each side, making sure they are crispy and golden brown.
Drain: After, place cooked shrimp on a glass plate to drain. Do not use paper towels or your tender shrimp will get soggy or soft.
Add the orange juice: After you finish cooking all of the shrimp, drain the oil from the pan and add the juice from the bowl back before placing the shrimp on top.
Toss: Last, toss shrimp to mix and cook for about 20 to 30 seconds until the sauce has thickened.
Serve: Finally, add your sesame seeds and green onions as a garnish and serve immediately.
How to cook air fryer orange shrimp:
To cook this fried orange shrimp in your air fryer, combine shrimp with cornstarch and let it chill for 30 minutes to an hour covered in plastic wrap.
Preheat your air fryer to 400 degrees F for about five minutes before removing the shrimp from the fridge.
Place shrimp in the air fryer basket in one layer and cook for five minutes. Shake the basket and cook for another five to 10 minutes or until they are crisp and opaque.
After that, prepare the sauce on the stove per recipe card directions, and once ready toss the shrimp into the sauce until well coated.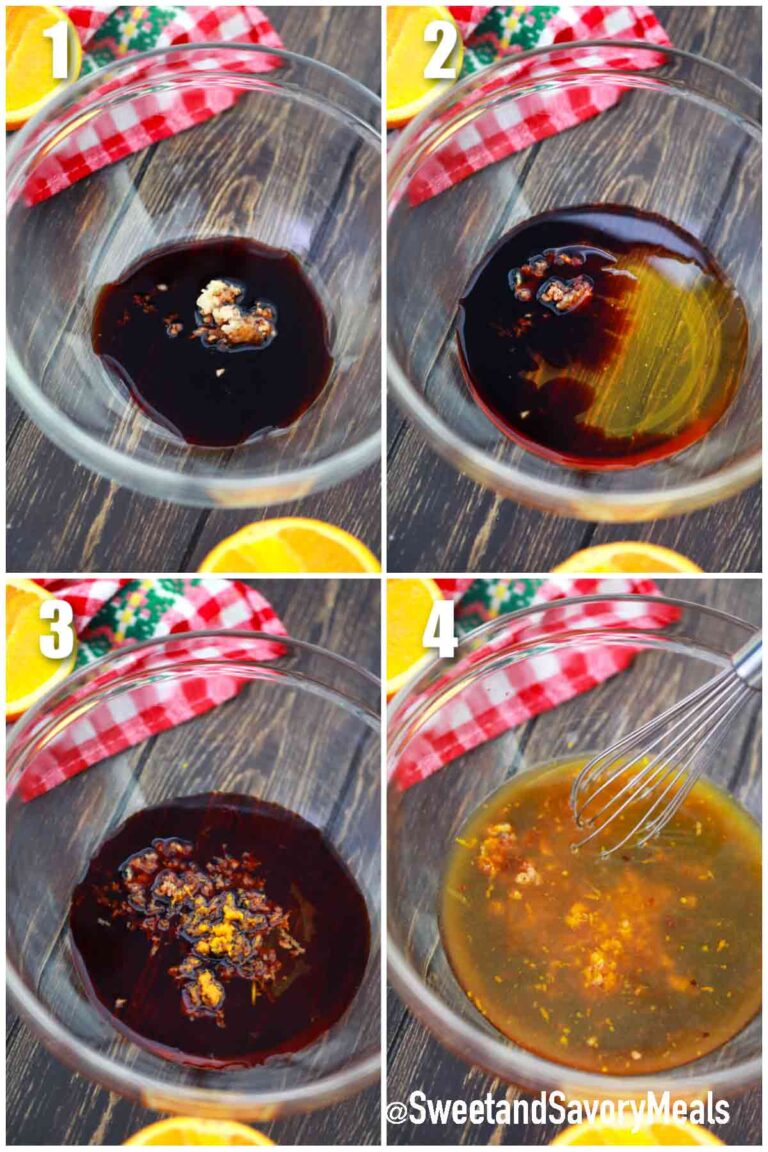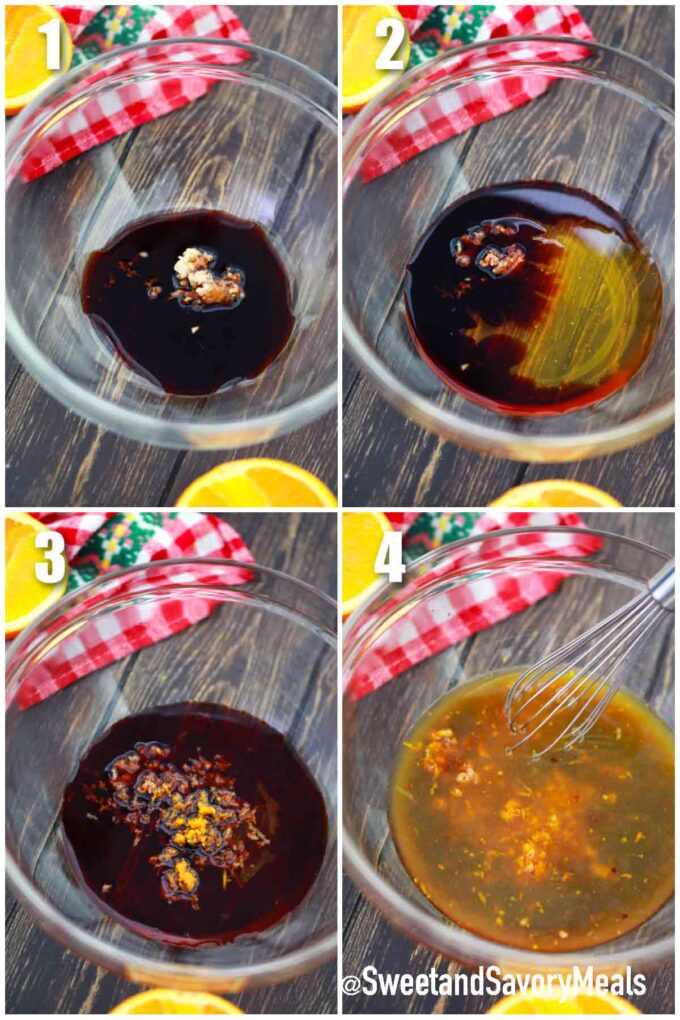 Recipe variations:
Lemon juice: Add fresh lime or lemon juice to this shrimp dish for more tanginess.
Orange sauce shortcut: Try our homemade orange sauce recipe or if you are short on time and on ingredients just use a bottle of store-bought sauce.
Chicken broth: Give your honey orange firecracker shrimp a richer flavor with a half cup of chicken broth.
Bell pepper: Add chopped red or green bell pepper for a dash of color and crunchiness to this shrimp dish.
More veggies: In addition, this easy Asian recipe is great with some bamboo shoots, zucchini, broccolini, or sugar snap means mixed in.
Garlic: Add two cloves of chopped garlic to make this a garlic orange shrimp dish everyone will love.
Gluten-free: This recipe is easy to adapt ti for a gluten-free diet. Use tamari or amino acids instead of say sauce.
How to serve:
This easy orange shrimp recipe is tangy, sweet, and zesty all at the same time. It is a big hit whether you serve it alone or with your family's favorite dipping sauces. Or you could try something different like one of these suggestions:
Add hot sauce and more red pepper flakes on top for really hot honey orange firecracker shrimp with extra high heat.
Serve on a bed of rice such as jasmine rice, our decadent coconut rice, or brown rice.
Give your honey orange firecracker shrimp a spritz of lemon juice before serving for an extra tangy taste.
For low-carb rice, try our delicious cauliflower rice. The cauliflower rice has fewer calories and fewer carbs than regular rice.
Add veggies like bell pepper, yellow squash, zucchini, asparagus, or peas for a more hearty main dish.
A dash of sesame oil is another delicious way to liven this up. Whether you pour it on after cooking or use it instead of canola oil, it adds amazing flavor.
Add a spoonful of bang bang sauce for a bang bang shrimp taste.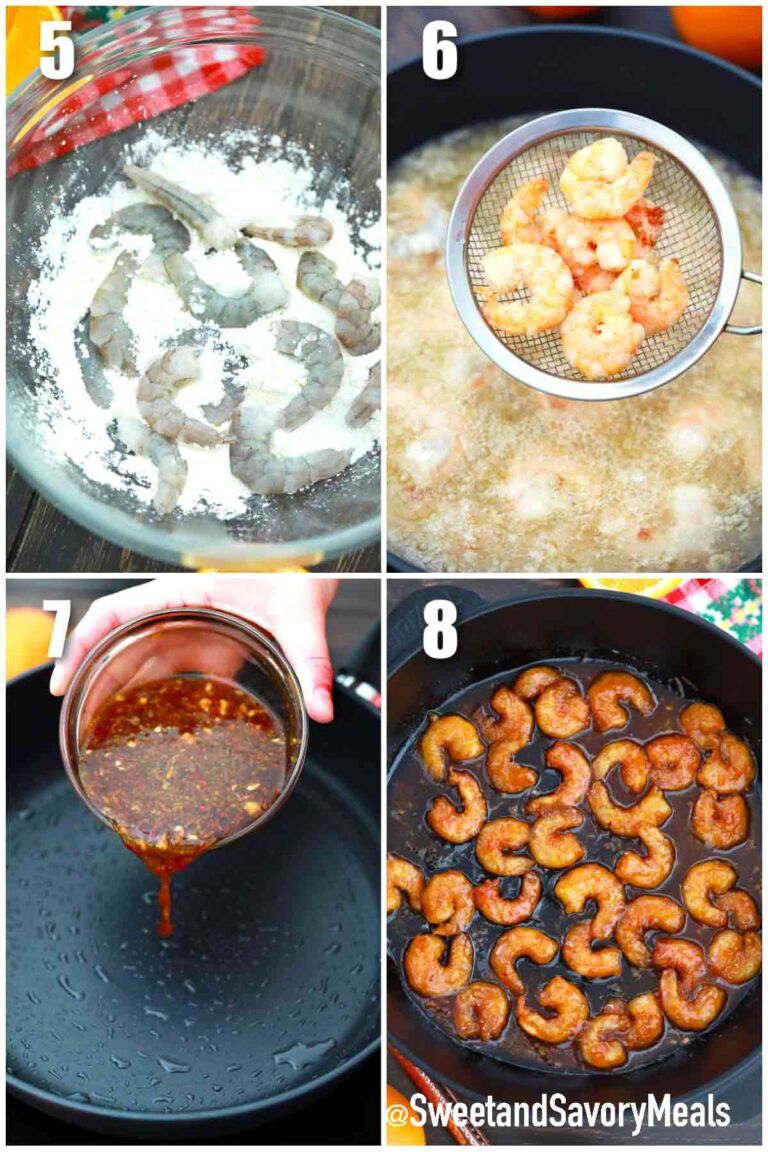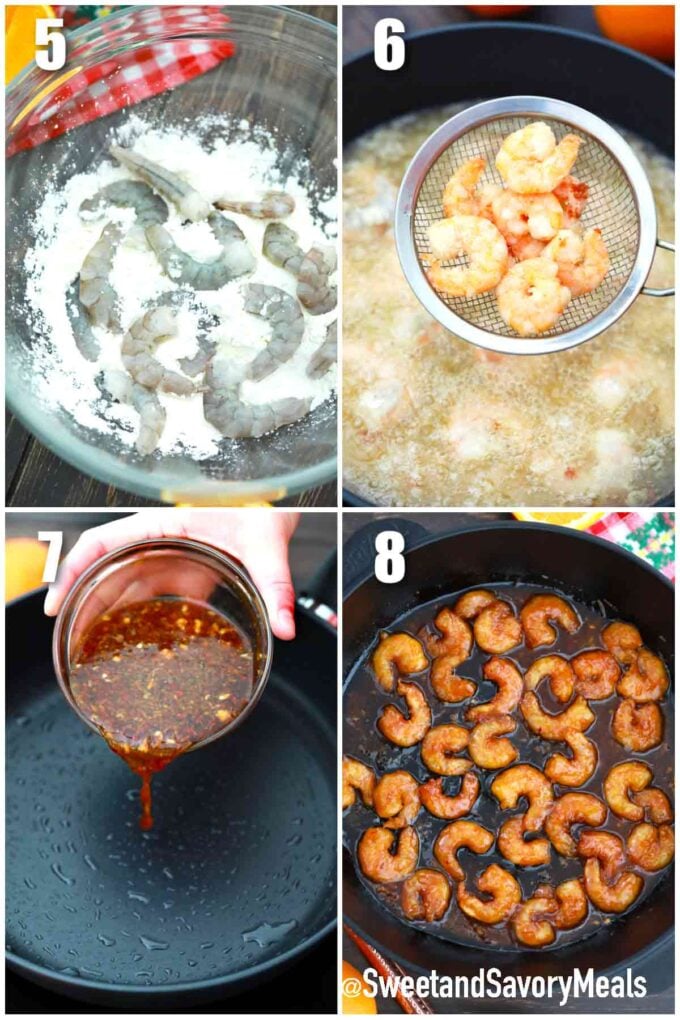 Frequently asked questions
How can I make my own orange zest?
To make your own orange zest for this recipe or any other recipes you want to make, you can use a vegetable peeler, box grater, or microplane. The easiest way is with a microplane, which is a handheld grater with sharp holes.
You can also use the smallest holes in your box grater. Just hold the microplane in your hand at an angle and drag the orange down over the holes. For a box grater, you can just set it on a hard surface.
It is important to only get the orange part of the skin. You do not want any of the white parts. This is called the pith and it is very bitter.
To get the strips you need for this orange shrimp recipe, you could also use a vegetable peeler to remove the orange part of the skin and then cut it into strips.
What is the difference between green onions, scallions, and shallots?
First of all, green onions and scallions are the same things. The only difference is what your grocery store calls them. However, shallots are not the same. Although they are very similar and can be substituted, this does not work in all recipes.
Green onions or scallions are immature bulbs before they are fully formed. A shallot is allowed to grow to a full onion that grows as a bulb similar to garlic. In substitution, it is recommended to use chives instead of scallions and garlic instead of shallots.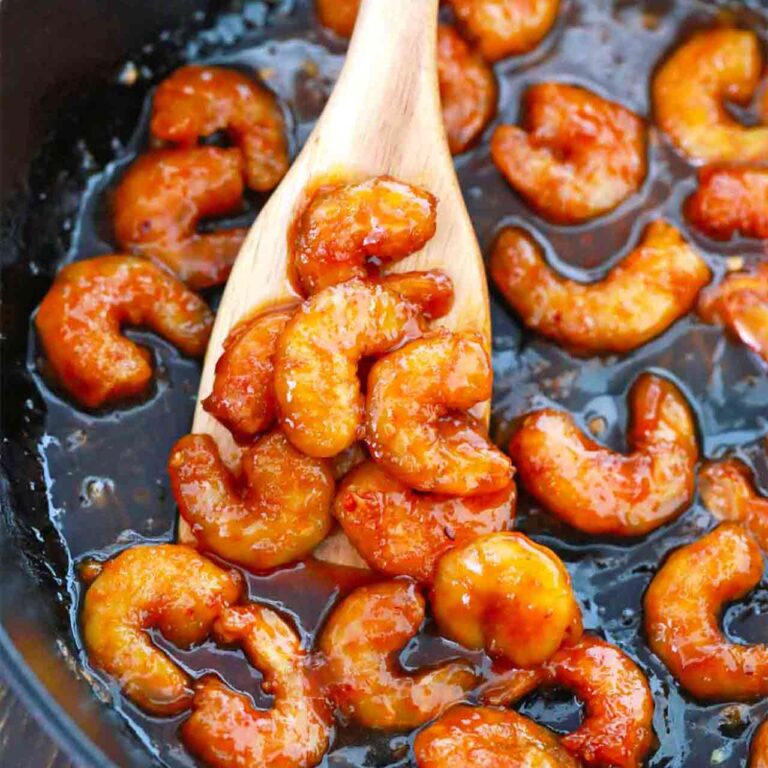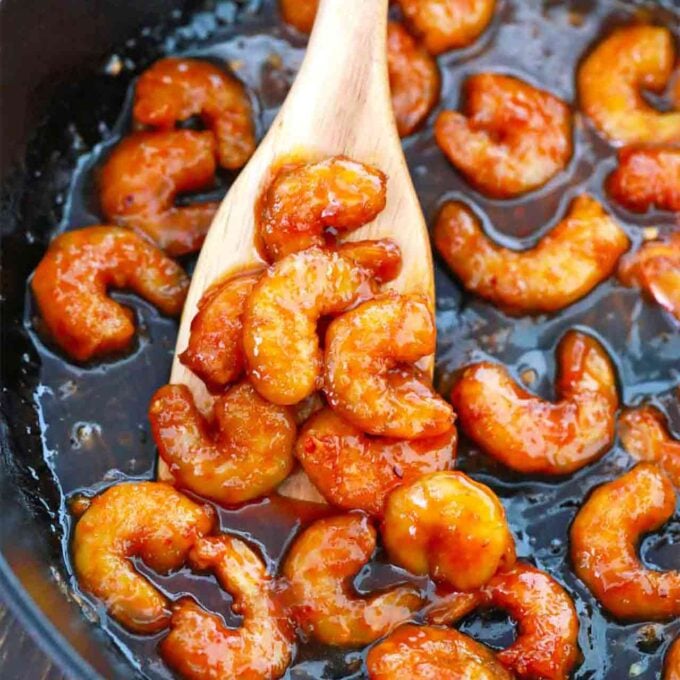 What is jasmine rice?
Jasmine rice and white rice are very similar in some ways but not in others. For example, the nutrition facts are a bit different. They both have four grams of protein and one gram of fiber per serving.
But jasmine has a few more carbs and 20 more calories than white. Also, jasmine is slightly sticky and fluffy, making it an excellent addition to any meal.
And it comes in many colors including black, purple, red, white, and brown rice. In addition, jasmine rice is more flavorful with a nutty taste.
What is the best way to devein shrimp?
First, pull off the legs and head from the raw shrimp. Then, starting with the head, pull off the shell. You can leave the tail on, depending on what you are making and how you are serving it.
For example, leaving the tail on gives you something to hang onto while dipping. However, if you are making this honey orange firecracker shrimp recipe, you will want to remove the tails. Be sure to rinse it well.
Can I use frozen shrimp?
You can absolutely use frozen shrimp for this honey orange firecracker shrimp. If you plan ahead, defrost the shrimp in the fridge for about 24 hours before you plan to make them. Otherwise, you can do a quick thaw.
For a quick thaw, put the shrimp in a bowl and cover it with cold water. Put a small plate or lid on top of the shrimp to keep it submerged. Allow it to sit in the water for 15 to 20 minutes to thaw. Lay on paper towels to dry before cooking.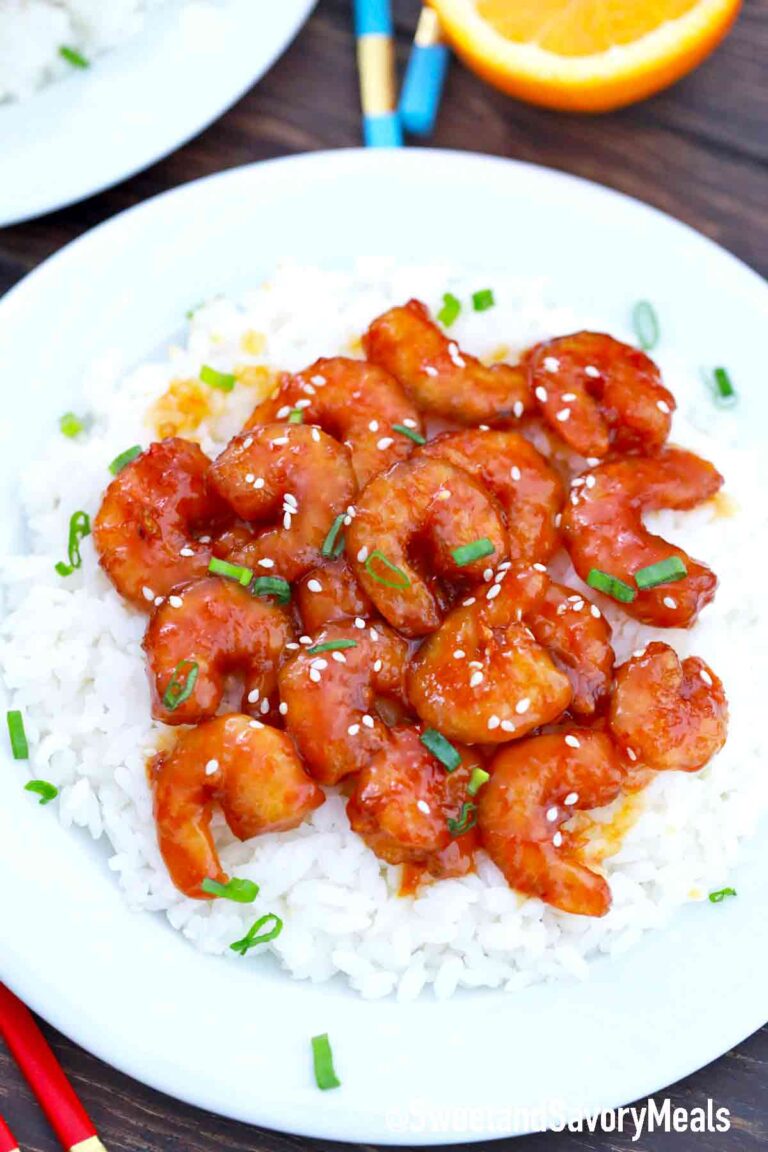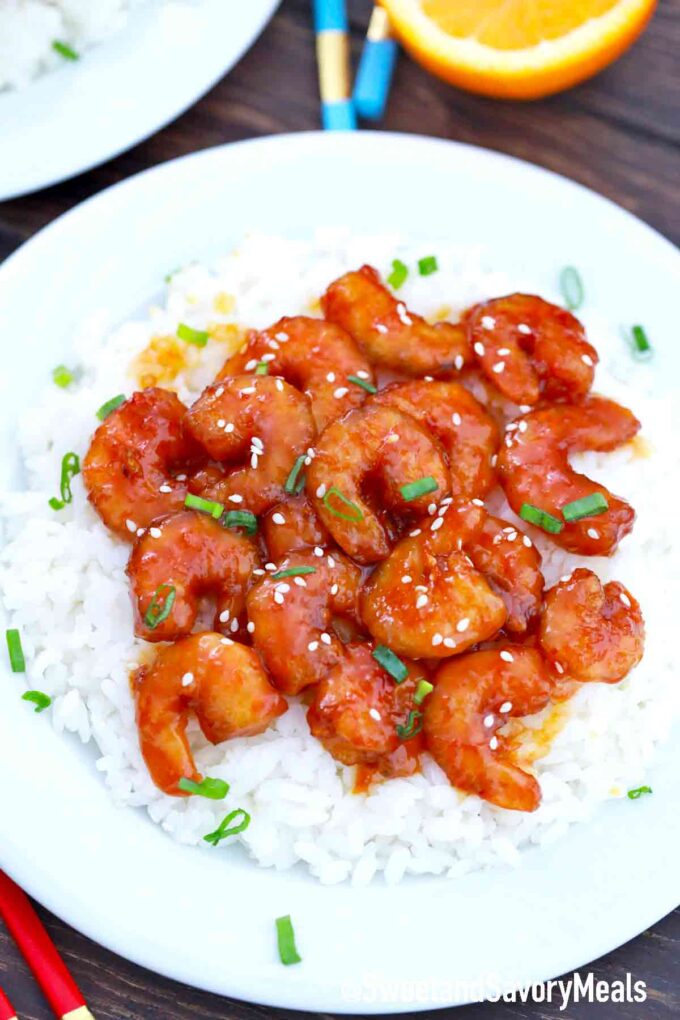 How to store leftovers:
Store: You can easily save your leftover honey orange firecracker shrimp in an airtight container or gallon freezer bag. Refrigerate for two or three days.
Freeze: It is also safe to freeze your honey orange firecracker shrimp for up to three months.
Thaw: Remember to put your frozen leftovers in the fridge to thaw overnight before serving.
Reheat: To reheat, place shrimp in a microwave-safe dish and heat for one minute. You could also reheat it in the air fryer for about 90 seconds.
More Asian recipes:
Cooking tips:
Save time and work. Making honey orange firecracker shrimp is easy and fast if you use precooked shrimp.
If you don't have any chicken broth, you can use vegetable or beef broth instead.
Using sesame oil or olive oil instead of canola is fine for this recipe too.
Make sure you blot dry your shrimp with paper towels before cooking so they are not watery.
Adding garlic to this shrimp dish is a fantastic idea for extra taste and flavor.
Of course, don't forget the salt and pepper.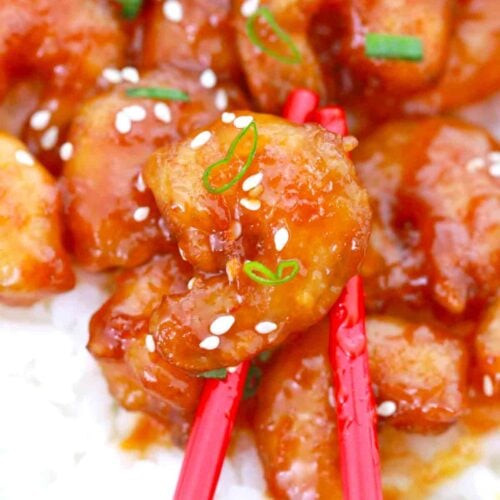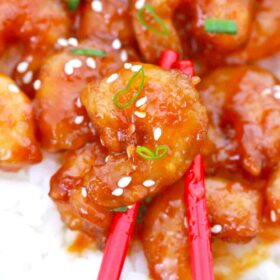 Crispy Orange Shrimp
Orange Shrimp is a delicious Chinese dish made with crispy shrimp, coated in a sweet and savory, sticky orange sauce and ready in 30 minutes.
Save
Share
Print
Pin
Rate
Ingredients
2

pounds

medium to large shrimp

(18-20 count - peeled and deveined)

1

cup

cornstarch

1/2

cup

canola oil

(or more)
Orange Sauce:
2

cloves

garlic minced

2

tablespoons

soy sauce

1/2

cup

honey

(or maple syrup)

1

orange

(zested)

1/4

cup

orange juice

(no sugar added)

1

tablespoon

mirim

1/4

teaspoon

crushed red pepper flakes
Instructions
First, add all the sauce ingredients to a small bowl and whisk until combined.

Next, pat dry the shrimp and add it to a large bowl. Add the cornstarch and toss to coat well.

Heat the oil in a large frying pan over medium-high heat. You need about 1 inch of oil to cover the bottom of the pan.

In batches, fry the shrimp for 2-3 minutes on each side until brown and crisp. Make sure to NOT overcrowd the pan.

Drain onto a plate and DO NOT use paper towels.

When done frying the shrimp drain the oil, give the prepared sauce a stir, and add it to the pan.

Heat the sauce for a minute or two, and add the shrimp.

Very gently toss to combine and cook for about 1-2 minutes or until the sauce has thickened.

Serve immediately as an appetizer or with rice, garnish with green onions and sesame seeds.
Nutrition
Calories:
529
kcal
|
Carbohydrates:
71
g
|
Protein:
2
g
|
Fat:
28
g
|
Saturated Fat:
2
g
|
Polyunsaturated Fat:
8
g
|
Monounsaturated Fat:
18
g
|
Trans Fat:
1
g
|
Sodium:
510
mg
|
Potassium:
141
mg
|
Fiber:
1
g
|
Sugar:
39
g
|
Vitamin A:
142
IU
|
Vitamin C:
26
mg
|
Calcium:
23
mg
|
Iron:
1
mg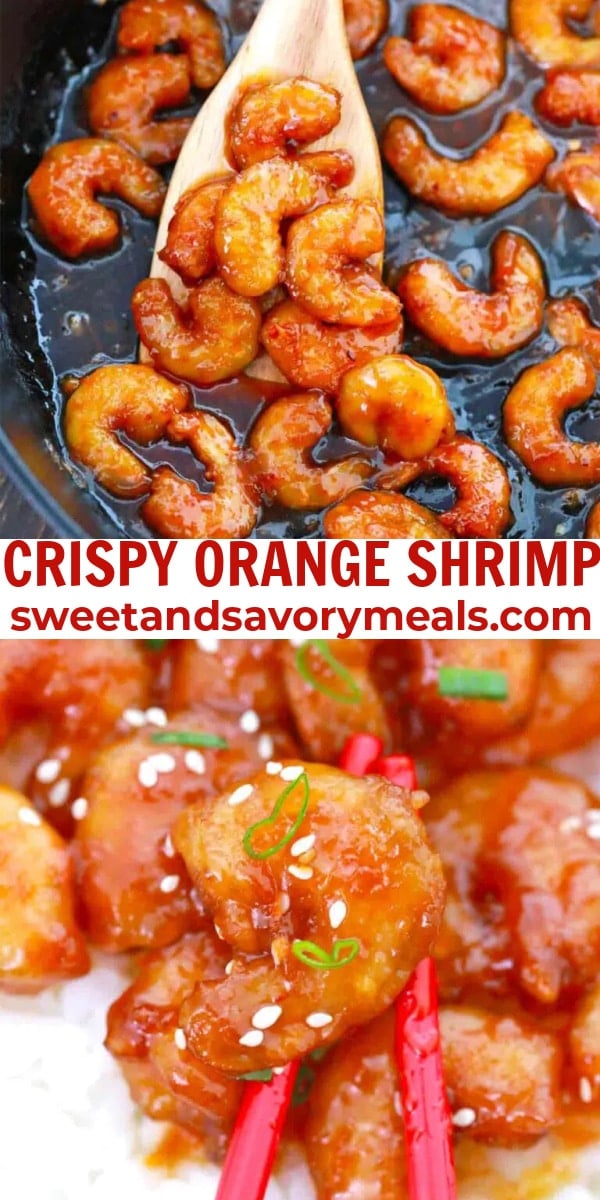 More recipes you might love