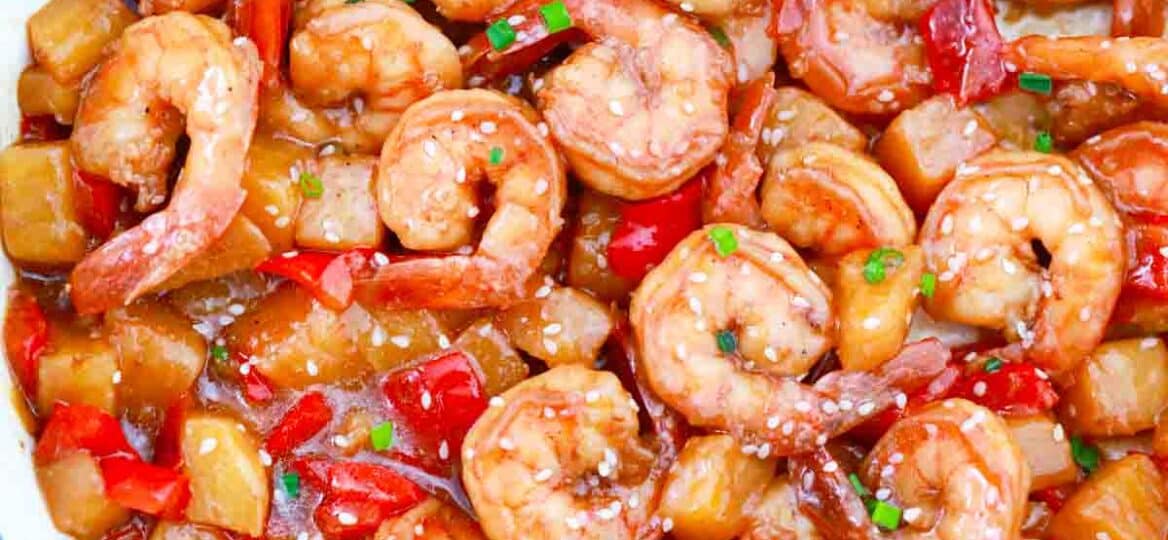 Pineapple Shrimp Recipe
Pineapple Shrimp is both sweet and savory with fresh shrimp, juicy pineapple chunks, and veggies in a sweet and tangy Thai sauce. Then it is seasoned with garlic, ginger, brown sugar, and hoisin sauce for a unique flavor. this is such a versatile recipe, you can add just about anything from fruit to veggies or even meat.
If you love shrimp, try some of our other shrimp recipes. Our Pineapple Coconut Shrimp Curry is scrumptious with coconut milk cream of coconut, and roasted peanuts. For a cold dish, this Pineapple Cucumber Salad is so good made from red bell pepper, avocado, and chili sauce. To add some sweetness to rice, try our Pineapple Fried Rice with oyster sauce, sweet corn, and jasmine rice.
We have been eating shellfish and other seafood for almost two million years. But pineapple shrimp may have gotten its start in the Philippians as a main dish called pininyahang hipon, which means shrimp with pineapples.
Another recipe similar to this is ginataang hipon, which is made from shrimp cooked in coconut milk with spices. It was made with garlic, ginger, onion, and turmeric as well as some peppers and coconut cream.
This delicious stir fry pineapple shrimp recipe is a family favorite here since my whole family loves shrimp recipes. The tender shrimp and tangy pineapples together make this dish so flavorful, even the pickiest eaters will love it! Because pineapple is the star ingredient, make sure you use the good stuff.
Another way to enjoy pineapple is with this sweet pineapple crisp seasoned with coconut, cinnamon, and brown sugar. If you would rather stick to shrimp recipes, our spicy cajun shrimp is perfect with okra, mushrooms, and andouille sausage.
Ingredients needed:
To make this delicious pineapple shrimp recipe, gather the ingredients shown below. Then, when you are ready to start, find our recipe card at the bottom of the page for instructions and exact measurements.
Raw jumbo shrimp: Peeled and deveined with the tails on.
Pineapple chunks: Canned pineapple or fresh pineapple are both fine.
Red bell pepper: Cored, seeded, and chopped into bite-sized pieces.
Sliced green onions
Sesame seeds
Garlic cloves: Minced.
Fresh ginger: Minced.
Brown sugar
Pineapple juice
Hoisin sauce
Low-sodium chicken broth
Low-sodium soy sauce
Corn starch
Vegetable oil
Kosher salt
Black pepper: To taste.
How to make pineapple shrimp from scratch?
Heat the oil: To begin, heat the vegetable oil in a large skillet or pan over medium-high heat.
Add shrimp: After the oil is hot, add the shrimp to the hot pan, seasoning with salt and pepper. Lower the temperature to medium heat and cook for six to eight minutes, stirring occasionally until the shrimp are no longer pink.
Cook the red bell peppers: Now, remove shrimp from the pan and add the red peppers. Cook for four to five minutes or until they are tender. Then add the garlic and ginger and continue to cook for another 30 seconds.
Make the sauce: Meanwhile, whisk the pineapple juice, brown sugar, hoisin sauce, chicken broth, and soy sauce in a small bowl before adding it to the pan.
Thicken the sauce: While you wait for the sauce to simmer, mix the cornstarch and one tablespoon of water until it is smooth and then add it to the pan. Let it boil and cook for one more minute.
Stir in the shrimp: Lastly, add the cooked shrimp back to the pan and let it heat up.
Garnish and serve: Finally, garnish with green onions and sesame seeds before serving.
How to make air fryer pineapple shrimp from scratch?
Prepare the shrimp: First, rinse your shrimp and pat dry with a paper towel while you wait for your air fryer to heat up.
Mix together: Then, combine all of the ingredients in a large bowl and toss together until it is all combined.
Air fry shrimp: Next, put the shrimp in the air fryer basket and cook for five minutes. Halfway through the cooking process, flip the shrimp so they cook evenly. All air fryers cook differently so you may have to adjust the cook time.
Serve: After the shrimp are cooked, sprinkle with sesame seeds and green onions before serving.
Recipe variations:
Another oil: Feel free to use olive oil or whatever oil you like to cook with.
Buttery shrimp: Instead of oil, you can use 2 tablespoons of butter.
Different shrimp: Alternatively, you can use bite-sized shrimp or whichever size you like. But you may have to adjust the cooking time.
Other pineapples: Instead of chunks, you could also use pineapple tidbits or crushed pineapple.
Add veggies: Why not add your favorite veggies to the pineapple shrimp? We recommend green beans, snap peas, and asparagus.
Add fruits: Similarly, this dish tastes even more delicious with more fruit like mandarin oranges, pears, or chopped apples.
Spice it up: For a spicier shrimp, add 1/4 teaspoon of red pepper flakes to your sauce.
Bacon: Bacon goes great with pineapple for some reason, and it is pretty delicious with shrimp too. So, it just makes sense to add it to this dish.
Other meat: To make this an even heartier meal, feel free to add your favorite meat such as chopped pork, chicken, or turkey.
How to serve:
This great recipe is ready in minutes and can be served as a tasty side dish or alone as a whole meal. Try one of these serving ideas or share one of your own suggestions in the comments section at the bottom of this page.
This pineapple shrimp dish goes great on top of a bed of cooked rice. Try it with our instant pot stick of butter rice recipe.
Another way to serve this pineapple shrimp is with any kind of pasta you like.
You can add your favorite sauce to the shrimp such as teriyaki, soy, or barbecue sauce. Try our homemade barbecue sauce recipe.
Top your pineapple shrimp with chopped sweet pickles, mushrooms, or broccoli.
There are so many different sauces you can use with this dish. Try our homemade sweet and sour sauce made with orange juice and pineapple or this orange sauce seasoned with soy sauce and brown sugar.
You could also chop up a small yellow or white onion and toss a handful on top before serving.
Use leftover pineapple shrimp to make another one of your favorite shrimp recipes.
Frequently asked questions
Can I use frozen shrimp and veggies for this recipe?
Yes, you can cut down on prep time by using frozen shrimp and vegetables in this pineapple shrimp recipe. However, we recommend thawing and then draining them. Then, pat dry with a paper towel as soon as they are thawed out. To speed things up, you can run them under cold water in a strainer to thaw them faster.
Why is my shrimp dry and rubbery?
Overcooking is the number one reason for dry or rubbery shrimp. In fact, shrimp cook really quickly so many recipes say that you should cook them until the shrimp turn pink.
Another way to get juicy shrimp is to toss it with 1/4 teaspoon of baking soda and let it sit for 15 minutes before cooking. You could also soak it in brine for 30 minutes. Just mix one tablespoon of kosher salt with one quart of water.
Why is my shrimp mushy?
If your shrimp are mushy or slimy before cooking, toss them out because they have gone bad. However, if they get mushy after cooking, it could be that they were cooked too long or not cooked long enough.
The trick to cooking shrimp is to watch them. It is so easy to under or overcook them, you have to be precise when doing so. The perfect shrimp should be opaque and slightly pink.
What are the nutrition facts in this recipe?
Each serving of pineapple shrimp has 288 calories, 29 grams of carbs, and 9 grams of fat with 5 grams of saturated fat. In addition, it has 300 milligrams of cholesterol, 1,300 milligrams of sodium, and 22 grams of sugar.
On the other hand, you get 350 milligrams of potassium, 1,232 units of vitamin A, 85 milligrams of vitamin C, 3 milligrams of iron, and 200 milligrams of calcium.
How to store leftovers:
Store: You can store your leftover pineapple shrimp in an airtight container in the fridge for two to three days.
Freeze: If you cannot finish leftovers after two days, we recommend packing them up in a freezer bag and freezing it for up to 90 days.
Thaw: To thaw, move the frozen shrimp to the fridge the night before you want to serve them.
Reheat: To reheat, toss them in a large skillet with a tiny bit of oil and stir fry them for about three minutes, stirring frequently.
More seafood recipes:
Cooking tips:
Cut down on prep time by getting your shrimp already peeled and deveined.
Be sure to pat the shrimp dry with a paper towel after rinsing.
Since shrimp cooks so quickly, be sure to have all of the ingredients ready before you begin.
There are many ways to enjoy this recipe including making shrimp kebabs.
Do not reheat your shrimp in the microwave or they will end up rubbery.
The nutrition facts in this guide are approximate. The values will vary depending on the serving size and what else you add to this recipe.
One Pan Pineapple Shrimp
Ingredients
2

teaspoons

vegetable oil

or canola oil

1

pound

RAW jumbo shrimp

deveined and cleaned, you can leave the tails on

1

red bell pepper

seeded, cored, deveined, and cut into 1-inch pieces

1

cup

pineapple chunks

fresh or canned

3

cloves

garlic

minced

1

teaspoon

minced ginger

salt and pepper

to taste

2

teaspoons

cornstarch

1

tablespoon

water
Sauce:
3/4

cup

pineapple juice

1/4

cup

low sodium soy sauce

1/3

cup

low sodium chicken broth

1/3

cup

hoisin sauce

1/4

cup

brown sugar

packed - honey or maple syrup
Garnish:
1

teaspoon

sesame seeds

1

tablespoon

sliced green onions
Instructions
In a small bowl whisk together the sauce ingredients and set it aside.

Place a large pan over medium-high heat and heat the oil.

Season the cleaned shrimp with salt and pepper and add to the hot oil in the pan. Make sure it's not overcrowded, if needed cook it in batches.

Cook the shrimp for 6-8 minutes, stirring occasionally, until no longer pink. Remove it from the pan and set it aside on a plate.

Next, add the red bell pepper and pineapple to the pan and cook stirring occasionally for 4-5 minutes or until tender. After that, add the ginger and garlic and cook for 30 seconds more.

Give the sauce a good stir and add the mixture to the pan and bring it to a simmer.

Mix the cornstarch with 1 tablespoon of cold water until smooth, and add the mixture to the pan and stir to combine. Bring to a boil and cook for 1 minute or until the sauce has just thickened.

Stir in the shrimp and make sure it's evenly coated in the sauce.

Serve with riece. Sprinkle with sesame seeds and green onions before serving.
Deliciousness to your inbox
Enjoy weekly hand picked recipes and recommendations