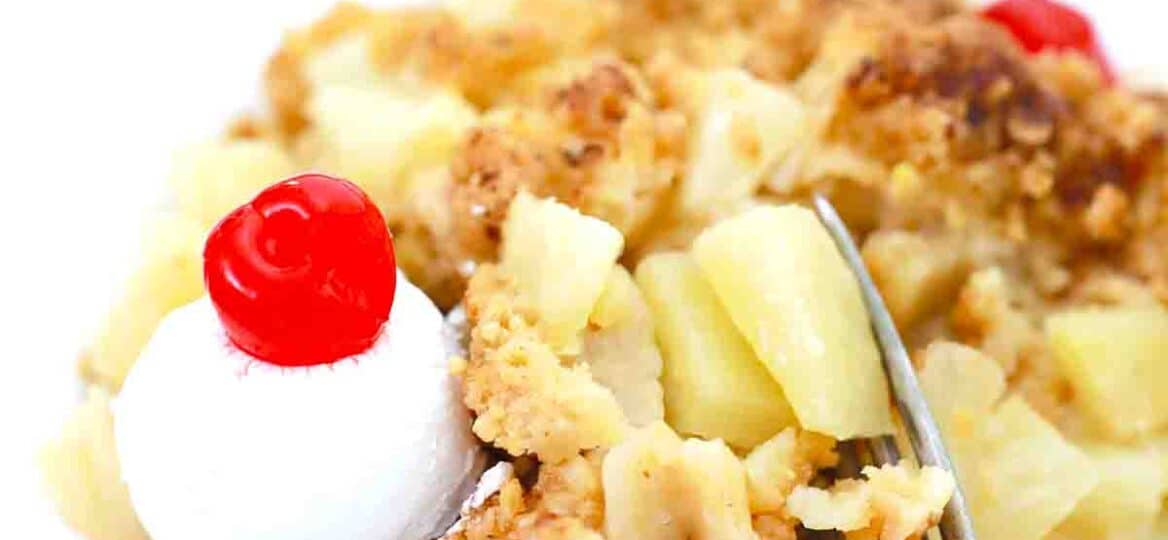 Pineapple Crisp Recipe [Video]
Pineapple Crisp is made with a deliciously sweet and tender pineapple base topped with a brown sugar crumble that makes it the perfect summer dessert. All you need is some canned pineapple for the bottom and some other basic ingredients to make the crumble topping for this fresh pineapple crisp recipe.
If you enjoyed this pineapple crisp recipe, you should try our recipe for Air Fryer Bacon Wrapped Pineapple. It is flavored with Cajun seasoning and brown sugar. Another delicious dish with a fruit theme is this Crispy Orange Shrimp made with orange juice, maple syrup, and soy sauce. For a different flavor, Air Fryer Falafel is crunchy and a bit spicy with red pepper flakes.
This crisp is perfect for summer, or any time of the year. If you are tired of the usual berry or store fruit crisp recipes, this should be a must-try!
The fruit gets juicy, and it realizes all its tropical flavors while baked. Paired with the buttery topping, and the warm spices from the cinnamon and nutmeg it becomes such a scrumptious dessert.
In addition, this easy dessert is perfect for potluck get-togethers or bbq parties. It is easy to assemble and make, it comes together in minutes. Serve it topped with some coconut ice cream and a refreshing iced tea,
Are you looking for more pineapple desserts? Try our pineapple cake made with crushed pineapples and brown sugar or this cinnamon-fried pineapple made with nutmeg and cinnamon. This recipe for pineapple crumb bars is also delicious with shredded coconut and creamy fruit filling.
We have all sorts of dessert recipes you can try. If you like fruit crisps, our strawberry crisp with fresh strawberries and vanilla ice cream is sweet and crunchy. This great recipe for instant pot apple cake is another delight with orange zest and brown sugar.
Follow us on Pinterest for more delicious recipes!
Ingredients needed:
These are the simple ingredients for this pineapple crisp recipe. Scroll down to the printable recipe card for complete instructions and exact measurements.
Drained canned crushed pineapple: Or fresh pineapple chunks.
All-purpose flour
Brown sugar: Light brown sugar is fine.
Baking powder: Not baking soda.
Salt: We used Kosher salt.
Large egg: At room temperature.
Butter: Melted and cooled to room temperature.
Ground cinnamon: Freshly ground cinnamon is best.
Juice of one lime
Lime zest
Fresh ground nutmeg
Coconut extract
How to make pineapple crisp recipe?
Preheat: First thing, preheat the oven to 350 degrees F. Prepare a 9×9-inch baking dish by covering it with melted butter, oil, or non-stick cooking spray.
Prepare the pineapple: While you wait for the oven to heat up, spread your drained pineapple into your baking dish.
Mix the ingredients: Next, mix egg, coconut extract, lime juice, lime zest, salt, baking powder, sugar, and flour in a large bowl until it is smooth.
Top the pineapple: After, spread the flour mixture evenly over the pineapple and pour melted butter on top.
Bake and serve: Sprinkle nutmeg and cinnamon on top and bake in your preheated oven for 40 to 45 minutes. Serve warm or cold with a spoonful of vanilla ice cream.
How to make instant pot pineapple crisp:
Prep time: First, prepare a 7-inch pan with nonstick cooking spray or parchment paper and spread the drained pineapple chunks or crushed pineapple in the pan evenly.
Combine the crisp ingredients: After, mix all the ingredients except the butter, cinnamon, and nutmeg in a medium bowl until completely combined and smooth.
Spread and cover: Next, spread the topping onto the pineapple layer before pouring the butter, cinnamon, and nutmeg on top of it. Cover the pan with aluminum foil.
Cook the pineapple crisp: Afterward, pour one cup of water into the instant pot and place the pan on a trivet with handles. Close the lid and steam valve and cook on high pressure for two minutes.
Quick release: Then, do a quick release and open the lid carefully after all the pressure is released. Remove the pan and take off the aluminum foil. and
Broil for crisp topping: Last, place the uncovered pan in the broiler of your oven for two minutes for crisp topping.
Serve: Finally, serve your fresh pineapple crisp with vanilla ice cream on top or on the side.
Recipe variations:
Other pineapples: If you do not want to use canned crushed pineapple, you can use fresh pineapple chunks. Just toss them in the food processor or blender for a few pulses.
Add some more sugar: For sweeter pineapple crisp, use granulated sugar instead of or in addition to the brown sugar.
Other flavors: You can try other extract flavors like orange, lemon, or lime.
Pina colada pineapple crisp: Pina colada would also be a fun extract flavor.
Rolled oats: Add 1/2 cup of old-fashioned rolled oats to the flour mixture for an even crispier fruit crisp.
Gluten-free: You could also use gluten-free flour instead of all-purpose flour for those who are allergic.
Other fruits: Why not try other fruit crisps like apples, pears, or peaches?
How to serve:
This quick and easy recipe for pineapple crisp dessert goes great with vanilla ice cream and a bit of brown sugar crumble on top. Or try one of these delicious ideas:
Instead of ice cream, add a dollop of whipped cream to the top of your pineapple crisp. Try our homemade whipped topping recipe.
Add some fresh pineapple tidbits on top of the crisp. Pineapple is the perfect fruit for this crisp topping.
I tried this recipe and our whole family loved this pineapple fruit crisp dessert with caramel sauce on top.
Put leftovers in a casserole dish and bake with pork chops for a delicious pineapple pork chop dinner.
Use your leftover pineapple crisp for this pineapple teriyaki chicken recipe.
Adding extra oats to the topping will give you an even heartier dessert.
Frequently asked questions
Can I use a whole pineapple for this recipe?
Yes, feel free to use a whole pineapple for this pineapple crisp recipe. The easiest way to cut a pineapple is to cut off both ends so it is flat. Then, stand it up while you use a sharp knife to cut the outer layer off. Make sure you cut deep enough to get the dark parts out.
After, remove any dark pieces that you missed and stand the fruit up. Cut it in half and then cut it in half again so you have four quarters. Cut the pale middle core out before chopping the flesh into pineapple chunks or cubes.
When is pineapple season?
You can typically find pineapples all year long depending on where you live. But the best time to get them is from March to July. Look for a golden brown or dark yellow color that you can squeeze just a little. And make sure it does not have a weird smell. It should smell sweet.
What do I do with my leftover crushed pineapple?
If you do not want to add it to drinks, salads, or the top of any dessert cuisine, go ahead and freeze it. However, never freeze anything in the original can. Put crushed pineapple in a freezer bag and it can stay frozen for up to two months.
What are the nutrition facts for this pineapple crisp recipe?
Pineapple is one of the healthiest fruits you can eat so you will get plenty of vitamins and minerals as well as fiber. In fact, you get 6% of your recommended daily value of vitamin A, 5% of vitamin B6, and 5% of calcium as well as 10% of niacin, 15% of vitamin C, and 5% of fiber.
The calorie count is 215 per serving and you will also get 25 grams of sugars, 13% of your daily fat with 25% of your daily saturated fat. The cholesterol is 32 milligrams and the carbohydrates total 35 grams.
How to store leftovers:
Store: Place leftover pineapple crisp in an airtight container or Ziplock baggie. It will stay fresh in the fridge for three or four days.
Freeze: If you have too much leftover, put it in the freezer where it can stay fresh for up to three months.
Thaw: Thaw out your frozen pineapple crisp in your refrigerator overnight for best results.
Reheat: To reheat, put it in the air fryer for one minute or in the oven for five minutes.
More pineapple recipes:
Crisp cooking tips:
Make sure you grease or oil your dish before cooking to prevent it from sticking when you serve.
It works even better if you use parchment paper.
If you do not have an empty airtight container, just put the leftovers in a casserole dish and wrap it in several layers of plastic wrap. It will stay fresh in the fridge for several days.
For a boozy dessert, marinate your pineapple chunks or crushed pineapple in a bowl of coconut rum or your favorite in the fridge overnight before using.
The best pan size for this recipe is 9×9 inches but you can use an 8×8 or 9×11 pan. Just be sure to adjust the cooking time.
If you are making this dish gluten-free, make sure you use gluten-free oats if you are using them.
When you measure your flour, use the spoon and level method.
For the most accurate measurements, we recommend weighing the ingredients.
Pineapple Crisp
Ingredients
2

cans

(20 ounces each) crushed pineapple

well-drained

1/2

cup

unsalted butter

melted

1

teaspoon

ground cinnamon

1/4

teaspoon

nutmeg
Topping:
1

cup

all-purpose flour

1

cup

brown sugar

1

teaspoon

baking powder

1/2

teaspoon

salt

1

egg

1

lime

juiced

1/2

teaspoon

lime zest

1

teaspoon

coconut extract
Instructions
Preheat the oven to 350 degrees F.

Spread the pineapple on the bottom of a 9x9 inch square baking dish.

In a medium bowl mix together all the topping ingredients until smooth.

Spoon the mixture evenly over the pineapple.

After that, pour the melted butter on top and sprinkle with cinnamon and nutmeg.

Bake for 40 to 45 minutes until pineapple is tender and the topping is golden brown.