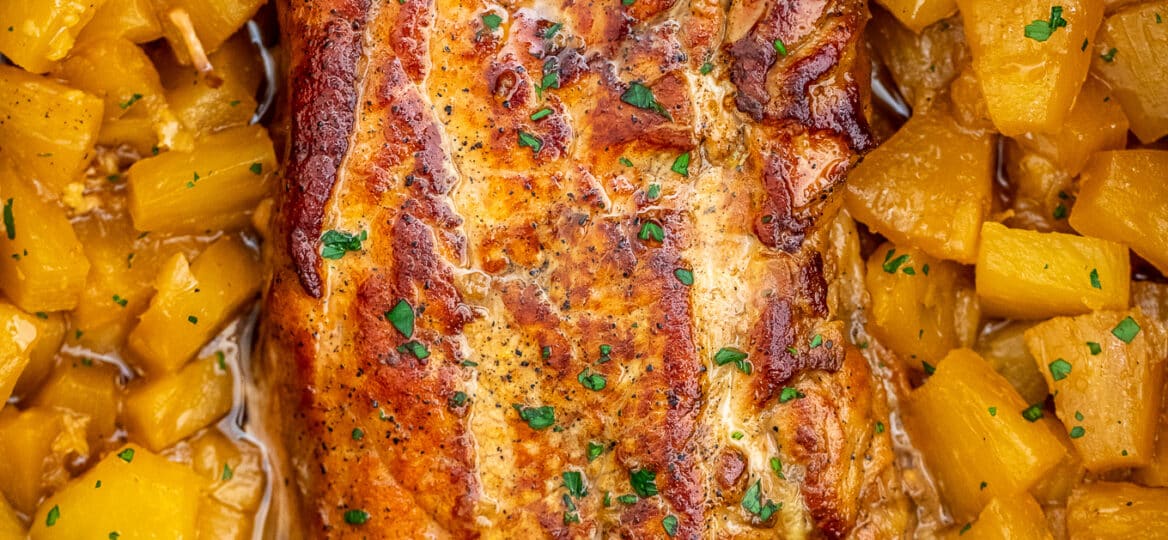 Slow Cooker Pineapple Pork Loin [video]
Slow Cooker Pineapple Pork Loin is delicious and tenderly made with only ingredients. A great family dinner with a tasty tropical twist. Check out the recipe video for an easy step by step tutorial.
This easy crockpot recipe pairs well with Roasted Rosemary Potatoes, Instant Pot Roasted Potatoes or Slow Cooker Rice and Beans.
The Best Slow Cooker Pineapple Pork Loin
Slow Cooker Pork Loin Pineapple is such an amazing meal, budget-friendly, and full of flavor, that is a must-try! I prefer to brown my pork prior to adding it to the slow cooker, but you can easily just add all the ingredients without browning.
This dish is a great combo of sweet and savory with a fun tropical twist from the pineapple. The brown sugar caramelizes and creates a fabulous sauce with the pineapple juice, that you can drizzle all over that pork goodness.
You only need 5 minutes to prepare it, and the crockpot does the rest. Simply dump the ingredients in the pot, set the time, and you will be rewarded with the fall-apart and tender pork. This is a perfect family dinner!
Why You'll Love This Pork Pineapple Recipe:
Firstly, its a very easy to make this dish, with minimal prep work.
You will end up with fall-apart and juicy meat.
In addition, its a hearty and delicious meal that can be served as a weeknight dinner.
Also, the dish is packed with amazing flavors and protein.
You will have delicious leftovers the next day.
What do you need to make Crockpot Pineapple Pork Loin?
You only need 5 ingredients to make this delicious meal:
Pork loin
Brown sugar
Garlic
Soy sauce
Pineapple (you can skip it if not a fan)
How to make make Slow Cooker Pineapple Pork Loin?
Brown the meat: First, start with browning the pork. This will add extra flavor to the meat. It also locks in flavors and will end up in a more tender, succulent meat.
Combine the ingredients: Next, add the pork and the rest of the ingredients to the crockpot.
Cover and cook: Finally, cover and cook.
How Long Does Pork Loin Take in the Crock Pot?
You can cook it on HIGH for about 4-5 hours, or on LOW for about 6-8. It also depends on the size of the cut. If you are cooking a larger-sized cut, you can even increase the cooking time by about one hour. Keep in mind that loin is a thicker cut, and should not be confused with tenderloin (which is a thinner, and leaner cut, and requires less cooking time).
Cooking it for a longer time will result in even better, and tastier meat. The pork loin will be super juicy and fall-apart tender. Also, want to test the internal temperature to make sure it is at least 145°F. Simply, use a meat thermometer for that.
What is the difference between pork loin and pork tenderloin?
The main difference is that these are not cut from the same part of the animal, they also look very different. Pork tenderloin is thin and small, while a pork loin is wide enough that you can cut steak-like pieces from it.
How to cook Pork Loin in the oven?
If you have time, it will be great if you can marinate the pork loin overnight or for 3-4 hours. For that mix 1/2 cup pineapple juice, with 1/2 cup orange juice, zest, and juice of 1 lemon, 4 minced garlic cloves, 1/4 cup soy sauce, and 1/4 cup olive oil. Pinch the pork with a fork, mix the marinade ingredients and add everything to a large ziplock or a large bowl and cover with plastic wrap.
Preheat oven to 325 degrees F (165 degrees C).
Bake in the preheated oven for 25 minutes per pound, or until the internal temperature reaches 145 degrees F (63 degrees C).
Make sure you baste the pork occasionally while cooking.
Once cooked, transfer to a plate and cover with foil. Let the meat roast for 5-10 minutes before serving.
What To Do With Leftovers?
Store it: If you have leftovers, simply store in an airtight container or zippered bag. Then, refrigerate for up to 4 days.
To freeze: Simply transfer the meat to a freezer-safe container or bag, and freeze for up to three months.
To Thaw: Defrost in the fridge, and reheat slowly on the stovetop, or in the microwave for a few minutes. Also, you can quickly heat it in the oven at 350 degrees F for about 10 minutes, or until warm.
Looking for more pork recipes? Check these out:
Pork Loin Slow Cooker Recipe Tips:
Feel free to use other meat cuts. Pork tenderloin works perfectly well here. However the tenderloin is thinner, so the cooking time should be reduced. If going with tenderloin, cook on LOW for 4-5 hours, and HIGH for 2-3 hours.
If not a fan of pineapples, you can skip them from the recipe. Replace them with chicken or beef stock.
Browning the meat is optional but is the key to lock in the flavors. We highly recommend searing the pork loin/tenderloin prior to cooking in the Slow Cooker.
Also, you can add some vegetables like carrots and potatoes to the crockpot. Just make sure to cut them in large sizes so they do not get mushy when cooked over a longer period.
Leftover meat can be used on pasta, sandwiches, salad, etc.
Tools/Ingredients I used to make the Slow Cooker Pineapple Pork Recipe:
Crockpot – very reasonably priced and definitely a kitchen must-have if you are busy. I am a huge fan of slow cooker meals, especially during the school year, when I don't have as much time to play in the kitchen.
Deliciousness to your inbox
Enjoy weekly hand picked recipes and recommendations