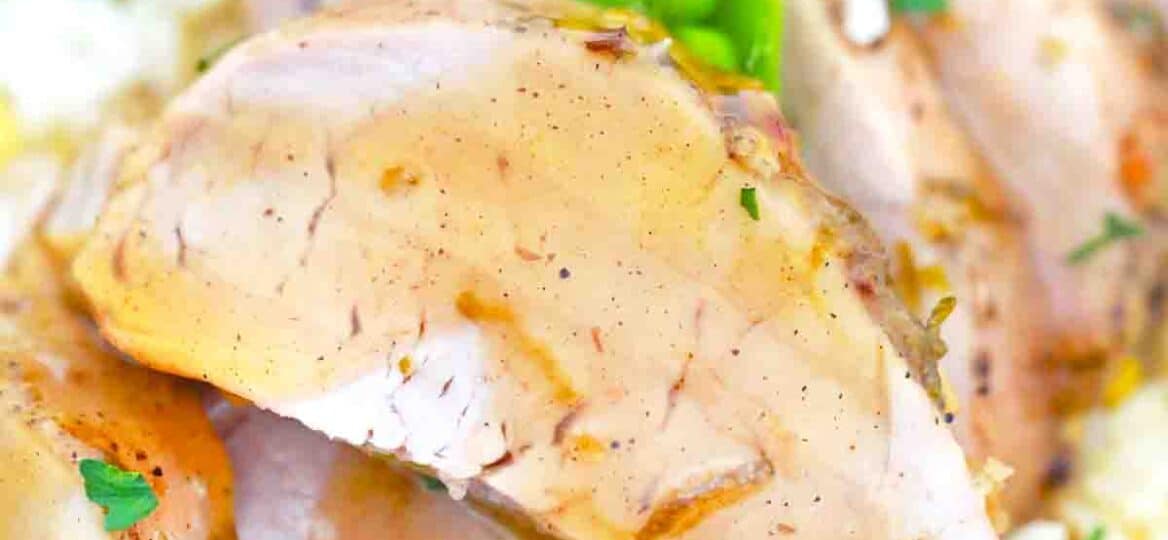 Garlic Lime Pork Tenderloin [Video]
Garlic Lime Pork Tenderloin is a savory and tender entree infused with tangy lime and robust garlic as well as oregano, brown sugar, and maple syrup. You will get a burst of all these flavors in every bite after you marinate the pork for several hours or overnight. The simple glaze only needs three ingredients and tastes amazing.
Looking for a different way to cook pork tenderloin? Our Slow Cooker Pineapple Pork Loin is so tender it falls apart and the sweetness from the pineapples and brown sugar makes it perfectly sweet and savory.
Believe it or not, humans have been dining on pigs for thousands of years. In fact, it dates back to the country of Turkey where there is evidence that humans started eating wild boar in 9000 BC. Today, the pig is one of the most popular meats in the world. From bacon to steaks, this versatile swine is deliciously served in hundreds of ways.
No matter whether you cook this in the oven or on the grill, our garlic lime pork tenderloin is juicy, delicious, and tender. You can serve it alone or with a side dish and salad or with a sweet dessert. The best way to enjoy this dish is with a long marinating time and extra lime sauce from the leftover marinade.
Similarly, this Slow Cooker Peach Pork is cooked slow and low with peaches and tomato sauce for a unique flavor. And these easy Grilled Pork Chops are perfect for your summer BBQ or inside on a grilling pan.
Speaking of dessert, why not try our key lime pie poke cake with lime curd and frosting or pineapple pie flavored with fresh lime and coconut? This fruit salad with honey lime dressing is also a delicious complement to any kind of pork dish with its three kinds of berries grapes, mango, pineapple, and kiwi.
Follow us on Pinterest for more delicious recipes!
Ingredients needed:
These are the ingredients for this garlic lime pork tenderloin recipe. Scroll on down to our handy printable recipe card for complete instructions and exact measurements.
Pork tenderloin: I used two pork tenderloins of about two pounds each.
Marinade:
Minced garlic cloves
Lime zest: From two limes.
Lime juice: From two limes.
Dried oregano
Maple syrup: Or honey.
Olive oil
Kosher salt
Black pepper
Glaze:
Leftover marinade
Brown sugar
Corn starch
How to make garlic lime pork tenderloin recipe?
Preheat: Pierce your pork loin all over using a fork and place it into a small but deep baking dish. You want it to be completely submerged in the marinade.
Make the marinade: Then, mix the marinade ingredients in a medium bowl, whisking it until it is fully combined.
Marinate pork: After, pour lime mixture marinade over the meat and cover it with plastic wrap. Marinate pork for at least one hour but eight hours or overnight is even better.
Be sure to flip: While the meat marinates, be sure to flip it several times to be sure the whole thing absorbs the flavors.
Preheat the oven: When ready to cook, preheat your oven to 400 degrees F and set cooking grate in the middle of the oven.
Cover and put in the oven: After the oven is heated, put the whole baking dish with the marinade in the oven. If you used a baggie, pour it all into a baking dish and bake. The marinade should only come about halfway up at this point.
Cook the pork tenderloins: Next, bake the pork tenderloins for 30 to 35 minutes or until the meat thermometer reads 145 degrees F.
Stand and slice: After it is done, transfer meat to a cutting board and cover with foil. Let pork stand for at least 10 minutes before slicing.
Make the glaze: Using the remaining marinade, cook it in a medium pot over medium heat. Add the corn starch and brown sugar and let it simmer until it is slightly thickened, about seven to 10 minutes, stirring occasionally.
Drizzle and serve: Finally, drizzle the glaze over the pork just before slicing and serving.
How to make grilled pork tenderloin:
Marinate: First, combine the marinade ingredients in a deep baking pan and place pork tenderloins inside after piercing them all over with a fork or sharp knife. Cover with plastic wrap and chill for one hour or overnight, making sure to flip it several times.
Oil cooking grate: After it marinates, prepare a gas or charcoal grill by rubbing olive or vegetable oil on the cooking grate to prevent sticking.
Prepare grill: If you are using a charcoal grill, open the bottom vent all the way and light your grill filled with charcoal briquettes. When the top coals are ashy, place the meat over the glowing coals for several minutes, turning occasionally, until they are well browned.
Gas grill: Using a gas grill, turn the heat to medium and place it on the oiled rack from the marinade letting excess drip off. Cover grill and cook for about 20 minutes, flipping occasionally and basting each time.
Make the sauce: Meanwhile, microwave sauce in 30-second bursts, stirring each time. After it slightly thickens, you can remove it and pour it over your pork. Be sure to save some for serving.
Rest your grilled pork tenderloin: Last, remove it from the grill and let it stand for at least 10 minutes to rest. Otherwise, the juices will all flow out when you cut them.
Slice steaks: Finally, cut the tenderloins in half crosswise, making four half-length steaks. Coat with half the sauce and serve with a small bowl of the remaining sauce.
Recipe variations:
Another oil: Feel free to use other oils such as avocado oil, vegetable oil, or whichever you like cooking with.
Fish sauce: Try this delicious dish covered in fish sauce for an intense flavor.
Add herbs: Go ahead and add your favorite herbs and spices like chopped cilantro, thyme, or garlic powder.
Spice it up: If you like spicy food, add some red pepper flakes or cayenne pepper to the lime mixture.
Less sugar: Marinating in maple syrup and using brown sugar glaze may be too much sweetness for you. Try cutting the amount in half and see how it tastes. You can always add more.
How to serve:
Serve this juicy and flavorful tenderloin as the main entree or slice it up and use it for sandwiches or some other dish. Try one of our delicious serving suggestions or one of your own.
In addition, add some lime wedges to your serving table for those who want to squeeze on some lime juice. Serve on a bed of rice or pasta for a hearty meal.
Our instant pot buttery rice would be perfect.
Additionally, use leftovers for other recipes like pork kebabs, casserole, or chili.
In fact, you can shred it and use it for sandwiches too. Try our pork carnitas sliders recipe with coleslaw and barbecue sauce.
Also, this dish goes great with a large bowl of salad. This easy Greek salad would be perfect.
Optionally, add some extra lime zest to the top of your steaks before serving for a zestier dish.
For a side dish, why not try our savory grilled baked potatoes or crispy roasted rosemary potatoes?
Frequently asked questions
Are garlic and lime good for you?
According to studies, lime and garlic mixture was strongly linked to the lowering of fat and cholesterol in the blood. Out of over 100 patients with hyperlipidemia, there was a significant decrease in cholesterol and fat after just two months.
Over 80% of these participants also showed a marked weight loss. Not to mention that it makes just about anything taste better.
What is the difference between pork tenderloin and pork loin?
These cuts are made from two different areas of the pig. The tenderloin is a long thin cut from the loin muscle. This is a delicate muscle near the spine, so it is very tender. The loin is a wide rectangular cut from the loin of the pig between the shoulder and the back between the back fat and the ribs. It usually has a fat cap.
Do I need to pound my tenderloin?
Even though this is the most delicate cut of meat you can get from a pig, it can still benefit from a little pounding. You can slice steaks from it and pound them individually with a meat mallet or pound the whole tenderloin before marinating for even juicier and tastier pork.
What are the nutrition facts for this pork tenderloin recipe?
Each serving of our delicious garlic lime pork tenderloin has just 575 calories, 28 grams of carbs, 21 grams of fat with 5 grams of saturated fat, 202 milligrams of cholesterol, and 25 grams of sugar. But you also get 3 milligrams of iron, 62 milligrams of calcium, 10 units of vitamin A, and 64 grams of protein.
How to store leftovers:
Store: First, after letting your tenderloin cool to room temperature, you can place the entire thing in plastic wrap and store it in an airtight container in the fridge. Just make sure you eat it within three days.
Freeze: Additionally, if you cannot eat it all in a few days, the tenderloin will stay fresh in the freezer for up to three months.
Thaw: Also, for the best flavor and texture, let frozen pork thaw in the refrigerator overnight before serving.
Reheat: Reheat in the oven at 350 degrees F for 10 minutes or in the microwave for one minute. The cooking time will vary depending on the thickness of the cut.
More pork recipes:
Recipe tips:
Equally important, is to make sure you remove the silver skin from the tenderloins before marinating or cooking.
In order to get the best cut of pork you can since this is the main ingredient in this recipe. Organic pork is best.
If you use a baggie to marinate your pork, be sure to squeeze out as much air as you can.
The darker the pork, the better. It should be a dark pink or purplish red when you buy it.
The internal temperature of your pork tenderloins should be 145 degrees F with a meat thermometer. Any longer than that and it will be dry and chewy.
For fewer dishes, use a large sealable plastic bag instead of a baking dish to marinate the pork. Seal bag and place in a shallow baking dish in the fridge for one hour or overnight.
Use a small food processor to easier chop the ingredients for your marinade.
Do not pat dry your pork after removing it from the marinade. You want all that juiciness in your pork tenderloin.
Garlic Lime Pork Tenderloin
Ingredients
4

lbs

pork tenderloin

I used 2 pork tenderloins, 2 lbs each
Marinade:
8

cloves

garlic

minced

zest of 2 limes

juice of 2 limes

1

tablespoon

dried oregano

1/3

cup

maple syrup

1/3

cup

olive oil

salt and pepper to taste
Glaze:
Leftover marinade

1/4

cup

brown sugar

1

tablespoon

corn starch
Instructions
Pinch the pork loin all over with a fork and add it to a deep baking dish, not a very large one, you want it tightly together so the marinade gets all over it. You can also add the meat to a large ziplock back.

In a medium bowl, combine all the marinade ingredients and combine thoroughly.

Pour the marinade over the pork, cover with plastic wrap and marinate in the fridge for at least 1 hour or better overnight.

During the marinating time, make sure your flip the pork tenderloins onto the other side to ensure it marinates evenly.

Preheat the oven to 400F degrees.

Adjust the oven rack to the middle of the oven.

Once ready to roast, if you marinated the pork in the baking dish, just pop it into the oven.

If you marinated the pork in a Ziplock bag, add the marinade to a baking dish, add the pork, and bake.

The marinade in the baking dish should not cover the top of the pork, it should come to ½ or ⅔ of the pork.

Roast, uncovered, for 30-35 minutes or until a meat thermometer inserted in the thickest part of the pork reads 145F.

Once done, remove from oven, cover with foil and let it stand for 10 minutes before slicing. Please don't skip this step, if you slice it right away all the juice will come out.
Glaze:
If you want to make the glaze, add the marinade in which the pork was cooked to a medium pot over medium heat. Whisk in brown sugar and cornstarch and whisk until fully combined, with no lumps.

Simmer for 7-10 mins, until the mixture thickens, stirring occasionally.

Add the glaze to a small pitcher and drizzle it over the sliced pork before serving.