Garlic Lime Pork Tenderloin
Garlic Lime Pork Tenderloin is tender, juicy and refreshing. Marinated and cooked in the most amazing maple syrup, garlic and lime mixture.
We love making easy and delicious pork dishes like our favorite Slow Cooker Peach Pork, Best Instant Pot Ribs, and Garlic Jalapeno Pork Loin.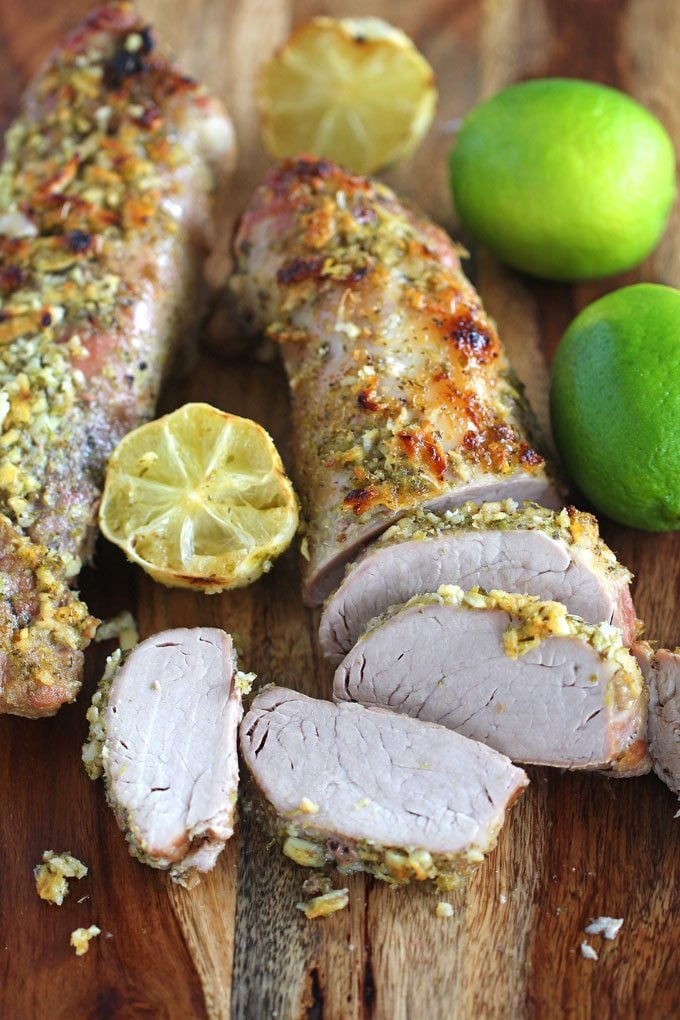 Garlic Lime Pork Tenderloin
Maple Syrup Garlic Lime Pork Tenderloin is so juicy, flavorful and refreshing that it will become your go-to dinner. We start with an amazing marinade of lime juice, lots of fresh lime zest, garlic, olive oil, and sweet maple syrup. This marinade is so good that you can use it on everything: poultry, seafood, and even portobello mushrooms before grilling them.
A delicious marinade can make or break a dish, and I am telling you, this one is a keeper! The Maple Syrup Lime Pork Tenderloin is very easy to make. All you have to do is marinade and bake, eat and enjoy! We like to serve this dish with rice and a salad on the side.
Why You Will Love This Maple Syrup Lime Pork Tenderloin Recipe:
Very easy to make, with minimum ingredients and dishes to clean.
It can be served for a special occasion.
The marinade is incredibly good and can be used in other recipes.
The meat can be marinated hours in advance and roasted before serving.
Minimum prep work involved.
It can be served over rice, salad or sliced and made into sandwiches.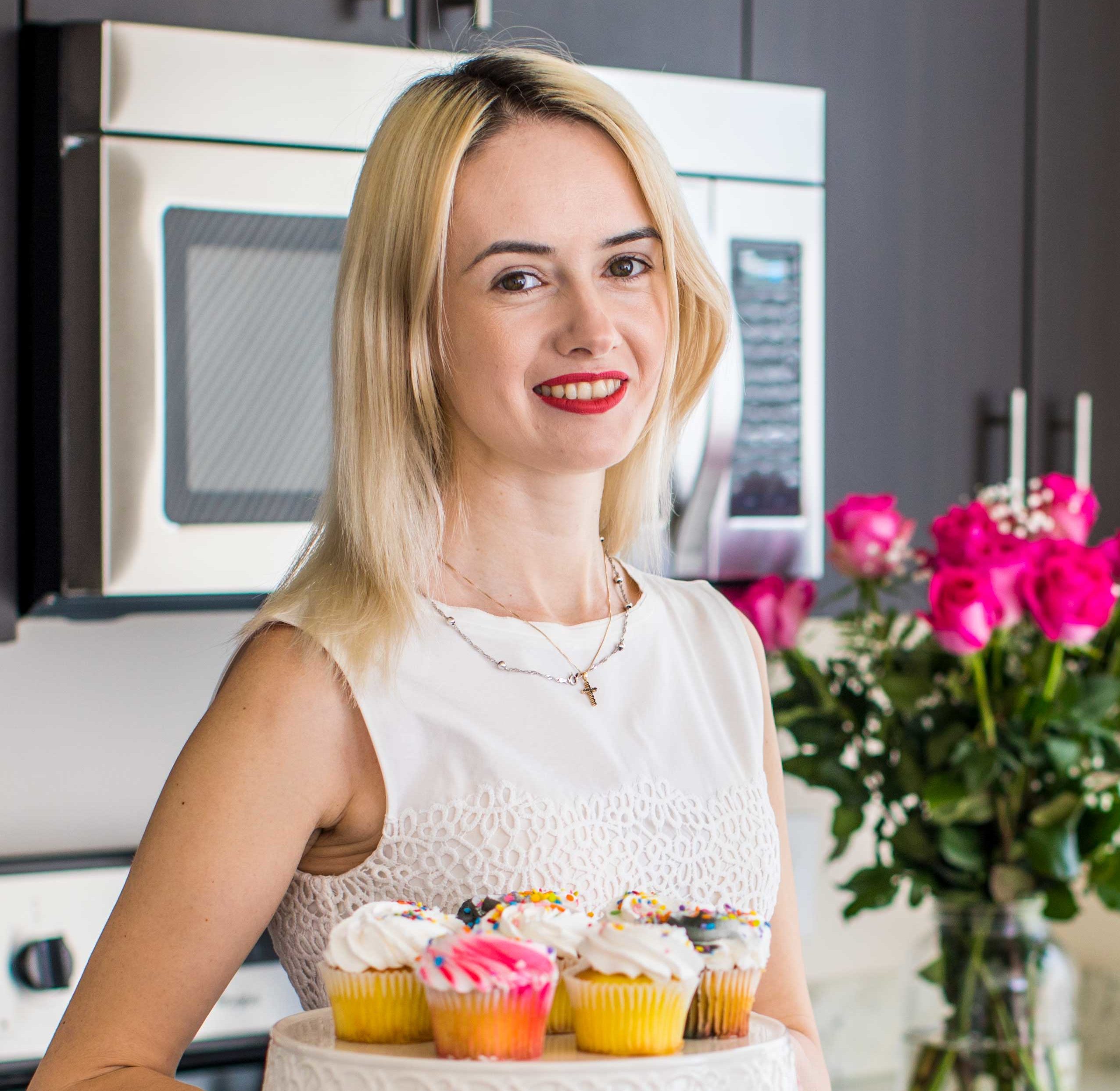 Follow us on Pinterest for more delicious recipes!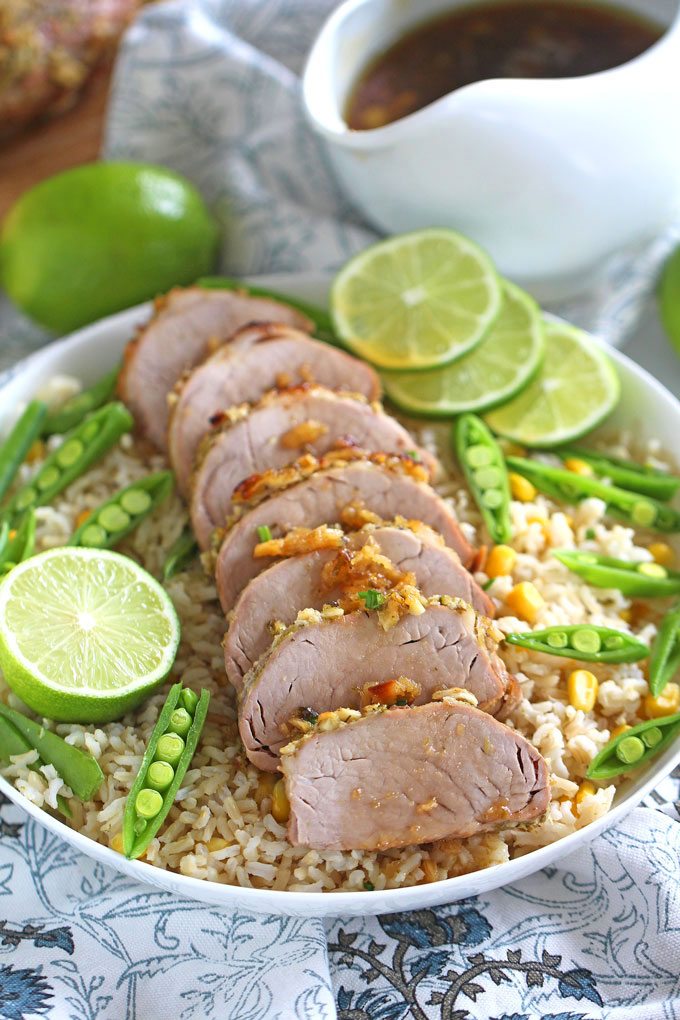 Garlic Pork Tenderloin Recipe Tips:
Try to buy quality organic pork, because the meat is essential in this dish.
Look at the color of the pork, it should be a nice reddish pink color to a purplish red. The darker the pork is the better it will taste!
Plan in advance and marinate the pork, one hour is minimum. For the best results, I recommend marinating it overnight.
Pinch the pork loin with a fork uniformly. That will help the marinade get inside the meat, which will make the pork even more tender and juicy.
Make sure you flip the pork half thru the marinating process, to ensure that both sides are marinating evenly.
I like to roast the pork in the marinade because it makes the meat juicier.
For best results, during the roasting, spoon some of the marinade mixtures over the pork loin top. This will protect the top from drying out.
For a spicier kick, add some cayenne pepper to the marinade.
If you are not sure if the pork is cooked, instead of overcooking, take a meat thermometer. The internal meat temperature for whole cuts of pork should be 160F degrees.
After you take the pork out of the oven, cover it up with aluminum foil and let it rest for 10 minutes. This will give extra moisture to the meat.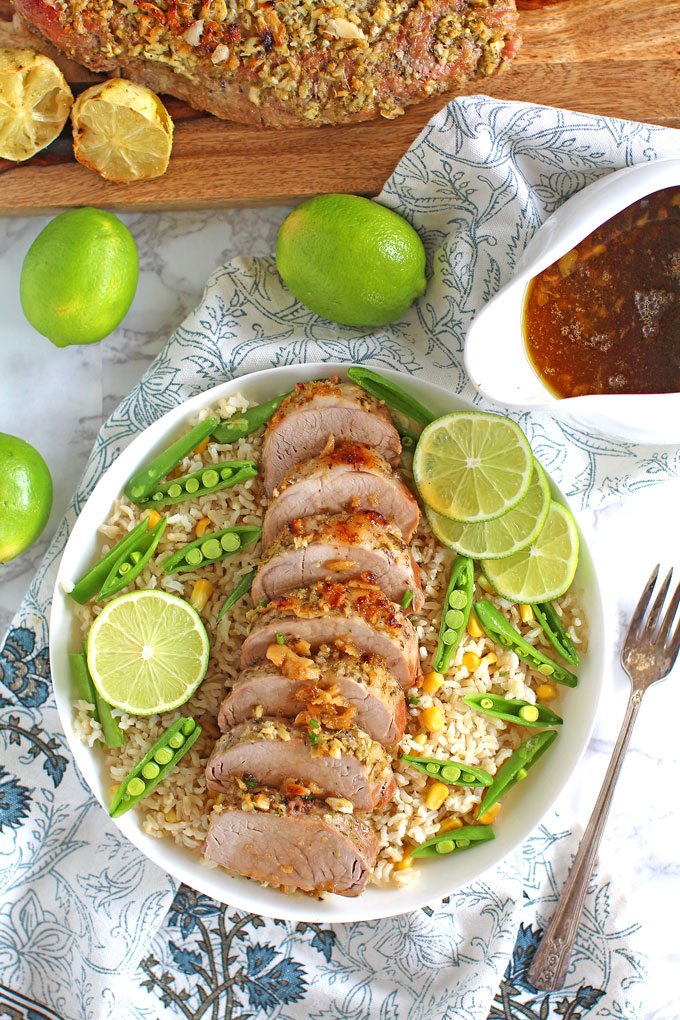 What is the difference between pork loin and pork tenderloin?
The main difference is that these are not cut from the same part of the animal, they also look very different. Pork tenderloin is thin and small, while a pork loin is wide enough that you can cut steak-like pieces from it.
More of a chicken person? Try this marinade on chicken breast or check out this delicious Mediterranean Chicken Recipe made in 1 pan and with the most delicious citrusy marinade.
What to serve with this Garlic Lime Pork Tenderloin?
Some great suggestions are listed below:
Save Recipe
Garlic Lime Pork Tenderloin
Author: Catalina Castravet
Serves: 8 servings
Prep time:

10

minutes
Cook time:

50

minutes
Total time:

1

hr
Ingredients
Marinade:
Glaze:
Notes:
Preparation time does NOT include how long you marinate the pork.
0 Calories: 574 Carbohydrates: 28 Protein: 64 Fat: 21 Saturated Fat: 5 Cholesterol: 202 Sodium: 168 Potassium: 1296 Fiber: 0 Sugar: 25 Vitamin A: 10 Calcium: 62 Iron: 3.4
Save Recipe
More recipes you might love