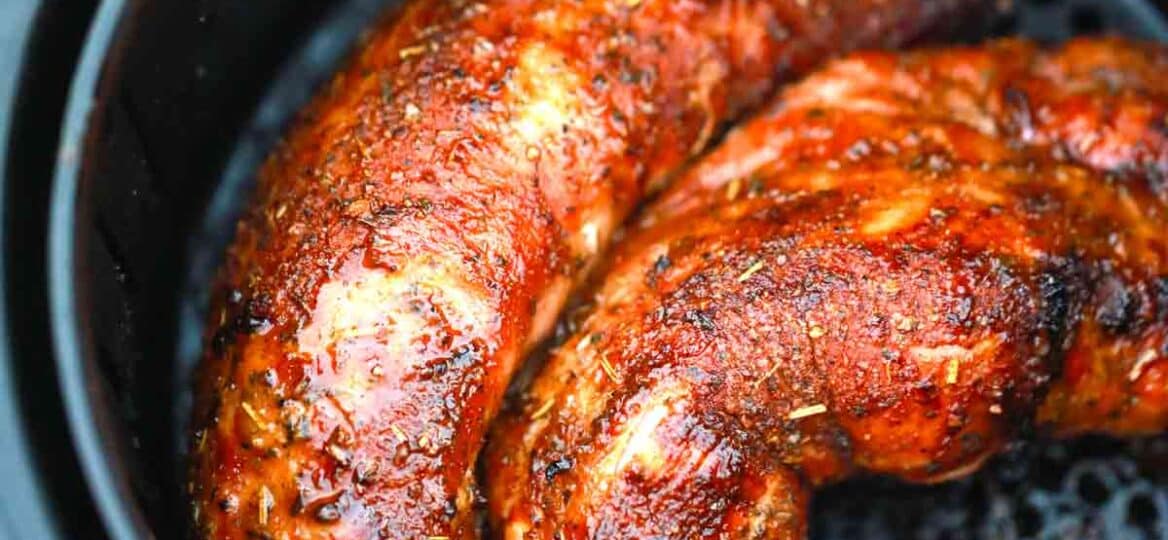 Juicy Air Fryer Pork Tenderloin Recipe [Video]
Air Fryer Pork Tenderloin is a juicy and savory pork recipe that you can make in less than 30 minutes for the perfect weekday meal. Although many people have issues with pork tenderloin being dry, cooking it in the air fryer will solve that problem using this easy recipe.
Air Fryer recipes are a huge hit on the blog. We enjoy cooking breakfast, dinner, and dessert in our air fryer, and the results are always excellent. If you are in a hurry and you forgot to take the meat out of the freezer, try this juicy recipe for Frozen Pork Tenderloin in the Instant Pot for a fabulous dinner in an hour.
Air fryer pork tenderloin
This is guaranteed to be one of your favorite air fryer recipes. While we are using a lean cut of meat, you will end up with juicy pork tenderloin thanks to this cooking method. This is the easiest way with the best results to cook pork.
The high heat cooks the outside to brown and crispy perfection with a moist and juicy inside. And all you have to do is rub it with some seasoning and oil before putting it in the fryer to cook.
The unique blend of ranch seasoning with Italian seasoning mixed with brown sugar, paprika, and a few other spices gives the meat a sweet and savory flavor that the whole family will love. And it is so quick and easy, you will never want to roast your tenderloin again.
Serve this main dish with your favorite sides for a quick weeknight dinner that the whole family will love.
For a different kind of pork meal, make these smoky Bacon Wrapped Pork Medallions or use the instant pot to make mouthwatering Balsamic Pork Tenderloin.
Ingredients needed:
You are only going to need some spices, seasonings, and a few other ingredients to prepare this mouthwatering meal in less than 30 minutes. Scroll down for the exact amounts but here are the ingredients you will need:
Pork tenderloin: Approximately 1.25 to 1.75 pounds. This is a lean cut of pork that is very tender when cooked properly.
Brown sugar: Light or dark are both fine.
Smoked paprika: You can use regular but smoked gives it that delicious smoky flavor.

Ranch and Italian seasonings: Store-bought or make your own.
Spices: We used cinnamon, salt, pepper, ground mustard, onion powder, garlic powder, and cayenne powder.

Olive oil: To rub on the meat.
Kosher salt and ground black pepper
How to make air fryer pork tenderloin from scratch?
Mix: First, mix all of the dry ingredients in a small bowl.
Trim: Next, cut the silver skin and extra fat off the meat.

Oil it up: Then, coat the whole tenderloin with olive oil.

Rub: Immediately, rub the dry ingredients onto the meat.

Preheat: Meanwhile, preheat the air fryer to 400 degrees F for five minutes.

Cook: Finally, place the meat in the fryer and air fry it for 20 minutes to 30 minutes depending on the size of the meat and the size of your air fryer. Hence, keep in mind that the cooking time may depend on the size of the pork roast.
Check the temperature: Using a digital meat thermometer, check the internal temperature of the meat in the thickest part. It is safe to consume when the temperature reaches 165 degrees Fahrenheit. The pork can be a little pink in the middle.
Rest: Last, remove the tenderloin and place it on a cutting board for at least five minutes before slicing and be sure to save the juice and serve it over the meat.
Recipe variations:
Spice it down: If you do not like it spicy, leave out the cayenne pepper.

Marinate: Marinate the pieces of pork in a mixture of lemon juice, olive oil, soy sauce, and honey. After that, pat it dry with paper towels and coat in the dry rub.
Leave it out: Similarly, you can leave out the ranch or Italian dressing if you do not like one of those.

Add other spices: Alternatively, there is nothing wrong with adding your own favorites like thyme, cumin, rosemary, and whatever else you like.

Also, add more cayenne pepper or red pepper flakes for a little heat.

Make it fruity: In addition, sprinkling some lemon or orange zest in the rub would be fantastic too.
Make it meatier: Try some bacon bits or ground bacon in the rub for a meatier flavor.

BBQ Sauce: As an alternative, brush it with BBQ sauce five minutes before the cooking time ends.
How to serve:
The air-fried pork tenderloin goes well with many side dishes. Serve it with mashed potatoes and a veggie like peas or carrots and chopped parsley for a wholesome and delicious dinner.
How to store leftovers:
Store: First, let the leftovers cool to room temperature. After that, you can store any leftovers in the fridge in an airtight container for up to three days.
Freeze: Also, you can freeze the leftovers after letting them cool completely. Then wrap it in plastic wrap and foil or put it in a freezer bag for up to three months.

Thaw: Let it thaw in the fridge overnight before reheating.
Reheat: The best way to reheat is to put it in the oven for 10 minutes.
Frequently asked questions
How do you cook pork tenderloin without drying it out?
Nobody likes dry meat unless they are eating jerky, so having your pork tenderloin come out dry after taking so much time and care in making it is aggravating. One of the main mistakes is cooking pork tenderloin too long so use the shortest cooking times and take it out when your meat thermometer reads 145 degrees F. And it should be cooked at 400 degrees F.
But there are also some tricks in making a mouthwatering tenderloin.
Removing the silver skin before cooking will help a lot because it does not dissolve when you cook it, making it chewy. Next, brining your meat before cooking is also important. Last, sear the pork before roasting it to keep the juices locked inside.
Why is pork tenderloin so dry?
Pork tenderloin is one of the leanest cuts of meat there are. It does not have the marbled fat in it that beef does to help it stay juicy. And it is more difficult to tell when it is done by looking at it.
Also, you should use a meat thermometer and take it out of the oven when the internal temperature reaches 145 degrees F. And make sure you use one of my easy pork tenderloin recipes.
What is the difference between pork loin and tenderloin?
While they may sound similar, they are very different. Tenderloin is the long and narrow meat that is cut from the muscle on the backbone. It is boneless and has almost no fat. A pork loin is a wide and flat piece of meat that has fat marbling and less muscle.
More Air Fryer Recipes:
Recipe tips:
Use an internal meat thermometer to make sure the pork is cooked all the way but not overcooked. Insert the probe into the center of the meat about halfway through.

As an alternative, you could try using avocado oil, sunflower oil, or coconut oil instead of olive oil.

Also, season with salt and pepper after the meat is cooked, rested, and sliced.

Add some Dijon mustard to the leftover juices and baste the meat before serving.
Air Fryer Pork Tenderloin
Ingredients
1.75

lbs

pork tenderloin

you can use two

1

tablespoon

olive oil

more if using two pieces of tenderloin
Dry Rub:
3

tablespoons

brown sugar

1

tablespoon

smoked paprika

1

tablespoon

Ranch seasoning

1

teaspoon

Italian seasoning

1/4

teaspoon

cinnamon

1.1/2

teaspoon

kosher salt

1

teaspoon

ground mustard

1

teaspoon

onion powder

1/4

teaspoon

ground black pepper

1

teaspoon

garlic powder

1/4

teaspoon

cayenne powder

optional
Instructions
Mix all dry rub ingredients in a medium bowl.

Using a sharp knife, trim the pork tenderloin of any excess fat.

After that, coat it with a tablespoon of olive oil, and using your hands, rub it all over the meat.

Next, add the Dry Rub mixture to the entire pork tenderloin and use your hands to rub it into the pork.

Preheat the air fryer to 400° F for 5 minutes.

Add the pork tenderloin to the fryer basket and air fry for 20-22 minutes, or until it reaches an internal temp of 145 – 165 degrees F.

When done cooking, carefully remove the pork tenderloin to a cutting board and let it rest for 5 minutes before slicing.

Serve on top of mashed potatoes with chopped parsley.
Deliciousness to your inbox
Enjoy weekly hand picked recipes and recommendations