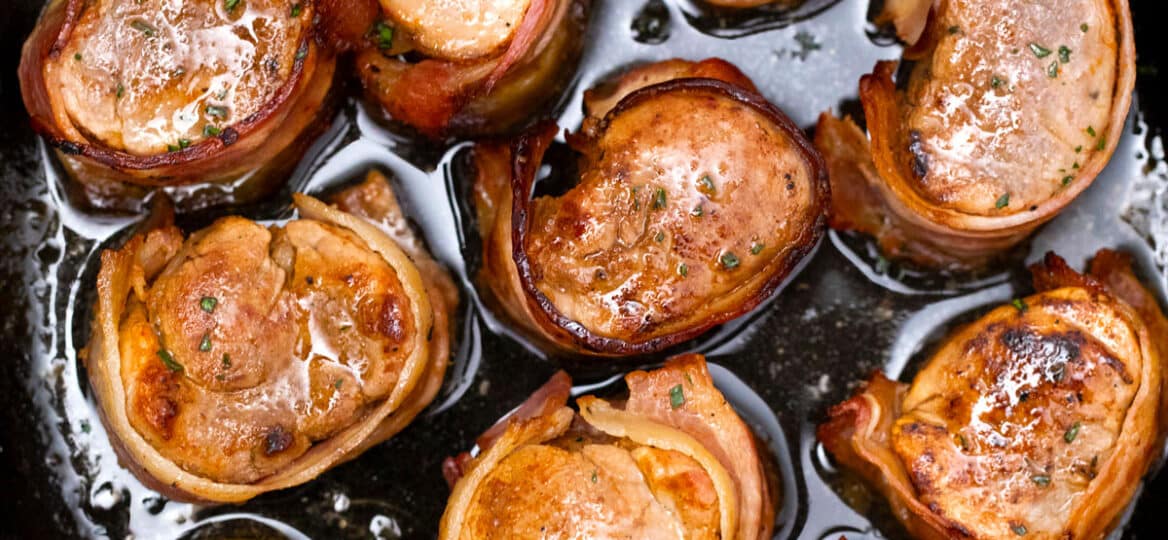 Bacon Wrapped Pork Medallions
Bacon Wrapped Pork Medallions feature spice-rubbed meat covered in a smoky and crisp bacon wrap. This restaurant-quality meal is easy enough to make during weeknights, and elegant enough to impress guests!
On top of that, it tastes so good with almost any side dish. Try them with some Brown Sugar Roasted Carrots, some gorgeous Duchess Potatoes, or a simple Garlic Shrimp Pasta on the side!
Bacon Pork Medallions Recipe
Bacon Wrapped Pork Medallions steal the show every time I serve them on the table. I mean, c'mon— bacon plus super tender pork? It's a winning formula in any book! Add the smoky-sweet and peppery spice crust we put on the meat just before roasting, and you already know every bite is going to be remarkable.
This is the kind of recipe you serve during a romantic date night, dinner with company, or any occasion that merits an extra-special meal. It looks so beautiful plated up with fresh parsley and awesome sides like Fondant Potatoes, Caprese Salad, and Roasted Brussels Sprouts. No one will suspect how effortless it was to make!
What cut of meat is pork medallions?
It's just a fancy term for sliced-up pork tenderloin. The term comes from the circular shape of the cuts. Because tenderloin is already so juicy and soft, to begin with, slicing them into medallions makes them cook much faster while retaining that amazing tenderness.
How do you cut pork into medallions?
I like buying a whole tenderloin and cutting it up myself. This way, I can portion the meat and get perfect sizes according to the recipe I'm making.
For this recipe, begin by slicing off all the visible fat from the surface. Then, cut the tenderloin crosswise into thick slices about two inches each. Now they're ready!
How do you tenderize pork medallions?
You can put them between cling film, then tenderize with a rolling pin or meat mallet. Try marinating them with vinegar, soy sauce, or brine.
For this recipe, the bacon prevents the outside from drying out while the hot roasting process keeps the meat moist while ensuring it's fully cooked.
How do you make Bacon Wrapped Pork Medallions?
Rub. Take the spice mix and coat every surface of the WHOLE tenderloin. Only slice it into medallions AFTER the spice rub.
Wrap. Get a pre-cooked bacon slice, then wrap each piece of meat tightly. Use a toothpick to secure them together.
Bake. Place the meat on a screaming-hot skillet. Drizzle each cut with bacon fat. Roast in a 350F oven for about 15 to 20 mins. Remove all toothpicks when done.
Serve. Plate them up with fresh parsley on top and enjoy hot.
Recipe Variations:
Use other flavors: Liven up the dish with other bacon flavors as hickory-smoked, BBQ, maple smoked, jalapeno, chipotle, and garlic!
Try other seasonings: Feel free to try other rubs like Cajun, lemon pepper, Jamaican jerk, or this fantastic BBQ rub.
Use more herbs: This dish also tastes amazing with rubbed with sage, thyme, or rosemary.
Make it spicy: Add pepper flakes to the rub for a tasty kick.
What temperature should pork medallions be?
The recommended internal temperature is 145F for this cut. Not only is it safe to eat, but it also ensures juicy and perfectly tender meat!
How to cook juicy pork?
So many ways! You can cook them bone-in so that the bone prevents the meat from getting too dry. You can also marinate them first or flatten them with a mallet to tenderize.
For this dish, we keep it juicy by starting with a very hot skillet, then finishing them in the oven. Finally, make sure you're using the freshest, best-quality meat you can get.
Why are my Bacon Wrapped Pork Medallions dry?
Your bacon may not be fatty or thick enough. Remember how we removed the fat from the surface? The bacon replaces that fat, and it protects the meat from drying out while baking. Therefore, use a well-marbled, thick-cut.
Always check if your oven is at the right temperature, too. You can also avoid dry meat by using a meat thermometer to check if it's done. This way, you can take it out of the oven before it overcooks.
Can you cook Bacon Wrapped Pork Medallions in the air fryer?
Sure! But instead of cutting them BEFORE cooking, wrap the entire tenderloin in bacon first. This recipe is great for the air fryer because it's dry-rubbed and tenderloin cooks really quickly.
How do you make Bacon Wrapped Pork Medallions in the air fryer?
Prep. Rub the meat with spices, then wrap the entire tenderloin in bacon. Use toothpicks to keep them in place.
Air fry. Cook in a 400F pre-heated air-fryer for around 35 minutes, or until internal temp reads 145F.
Serve. Slice into medallions, sprinkle with fresh parsley, and serve!
How to store and reheat:
Once completely cooled down, place in a sealed, air-tight container. Keep in the refrigerator for up to 3 days, or up to a month if you freeze them. To reheat, simply microwave until hot (thaw first it reheating from frozen).
More Bacon-Wrapped Recipes:
Recipe Tips:
Cut the meat into 2-inch pieces for easier wrapping.

Put on the rub BEFORE wrapping so they stick to the meat.
Make sure the meat measures 145F inside before taking it out of the oven.
Deliciousness to your inbox
Enjoy weekly hand picked recipes and recommendations