Homemade Key Lime Pie Recipe [VIDEO]
Last updated on January 3rd, 2023 at 03:43 pm
Homemade Key Lime Pie recipe is made from scratch with lots of lime zest and fresh lime juice for a fresh citrusy flavor with the most amazing creamy texture. The perfect combination of tanginess, sweetness, and creamy deliciousness.
Looking for other dessert recipes? Try our Key Lime Pie Poke Cake made with homemade Lime Curd, cake mix, and topped with lime frosting. A different recipe you may like is this Instant Pot Key Lime Cheesecake made with lime zest and cream cheese in a graham cracker crust.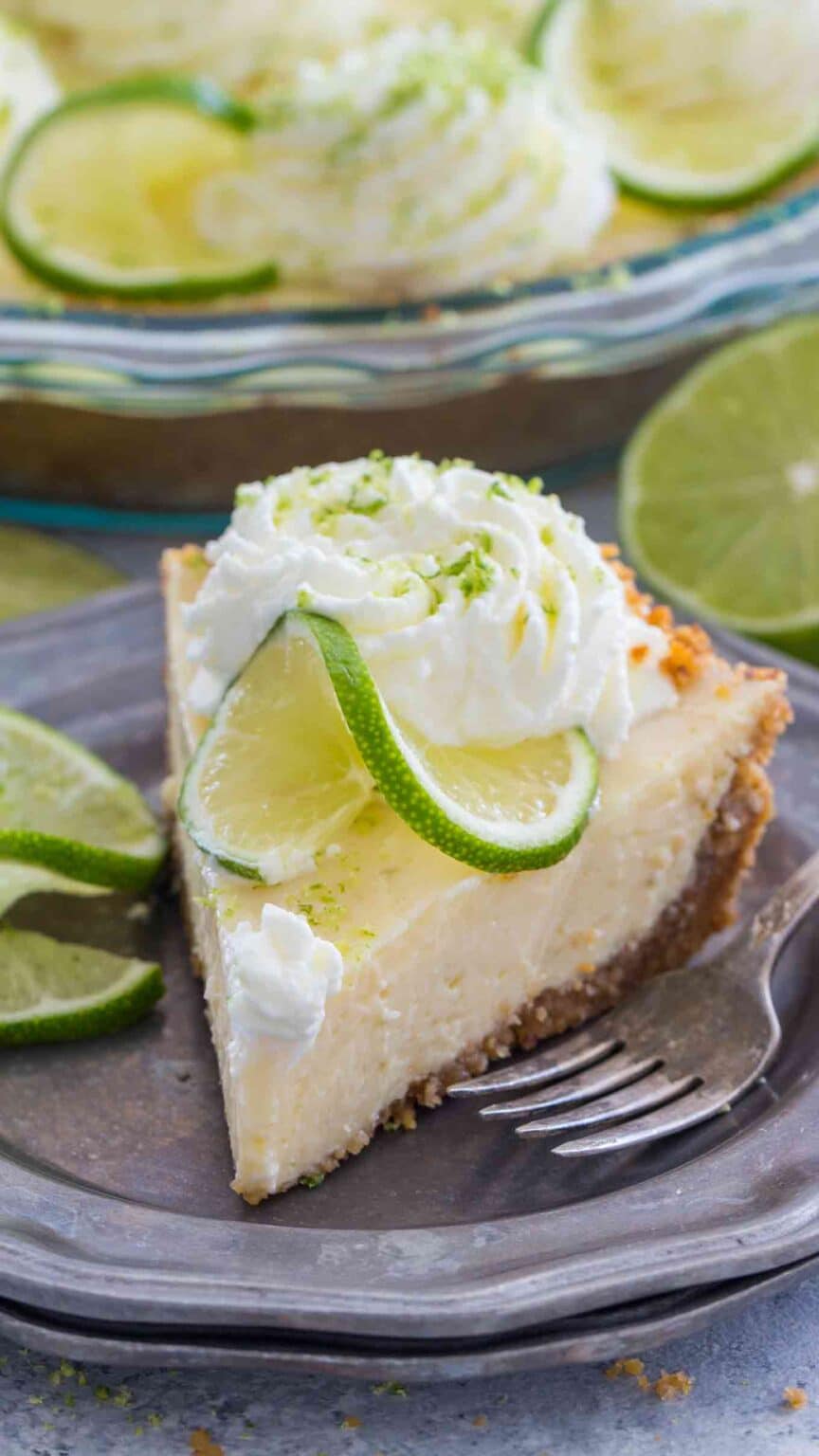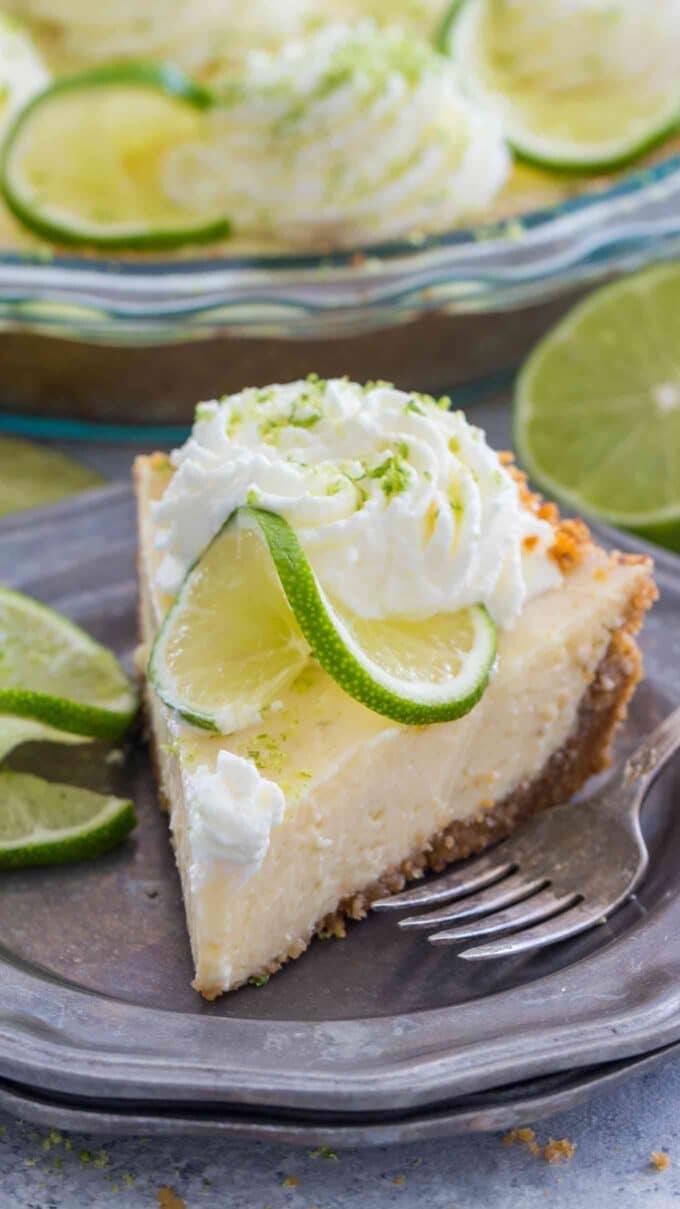 This is my tried and true Best Key Lime Pie recipe that everyone goes crazy for. The custard filling is so creamy and so full of flavor, your taste buds will explode from happiness. To make the filling extra creamy and tasty I like to combine the condensed milk with sour cream and egg yolks, which will give the filling the silkiest texture.
A good amount of key lime juice and zest are also mixed in, adding the beautiful citrusy flavor that this dessert is famous for. A creamy and smooth combo of sweet and tart! You can make your own crust or you can use a pre-made one to save time.
When it comes to the crust, I like mixing in some ground nuts. The slightly nutty flavor is a nice surprise and works well with the bolder and fresh citrus flavor.
The tastes of fresh lime juice, lime zest, a homemade graham cracker crust, and light and fluffy whipped cream make this the best key lime pie recipe you will ever make. Make sure you print this recipe because you will be making it again.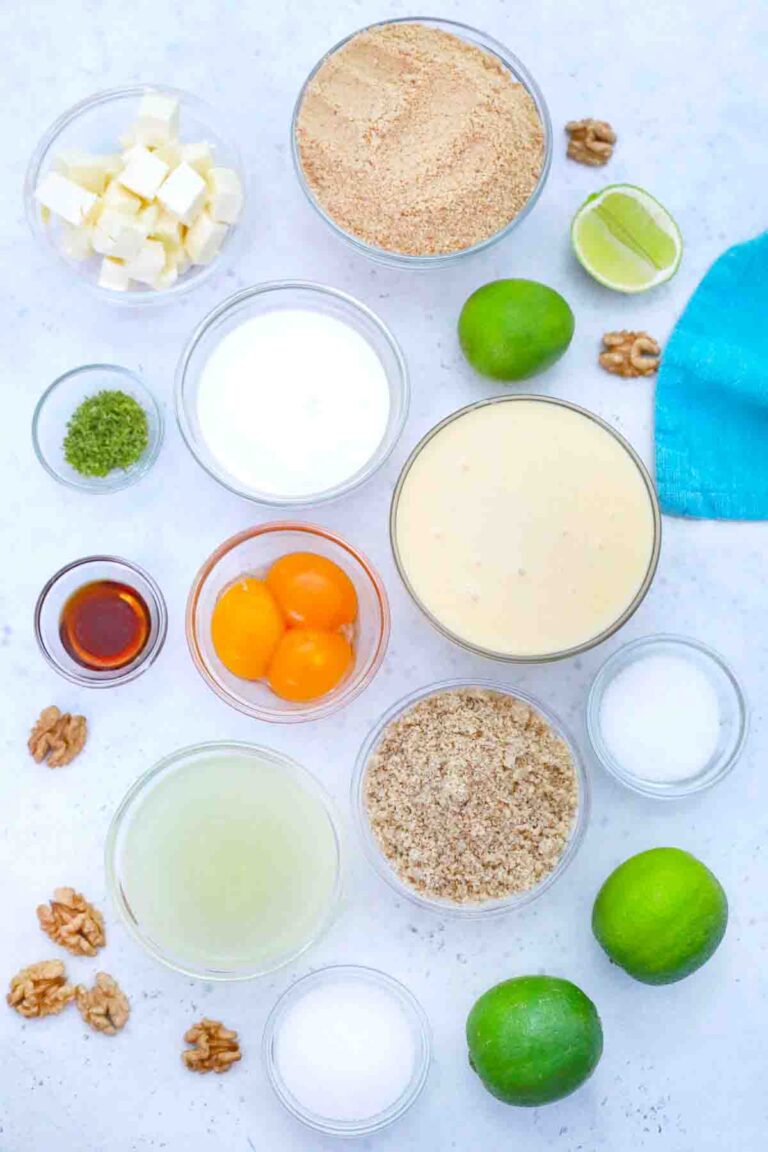 Ingredients needed:
The ingredients list may seem long but most of these are probably already in your kitchen. With so few ingredients to buy, you will barely spend any money on this easy recipe. For the complete instructions, scroll down to our printable recipe card at the bottom of the page.
For the crust:
Graham cracker crumbs
Ground walnuts
White granulated sugar
Melted butter
Filling ingredients:
Zest of 1 large key lime or lime
Key lime juice or the juice from about eight limes
Large egg yolks
Sour cream
Sweetened condensed milk
Whipped cream:
Full-fat heavy whipping cream: Make sure it is cold.
White granulated sugar
Vanilla extract
Garnish:
Whipped cream
Key lime zest
Key lime slices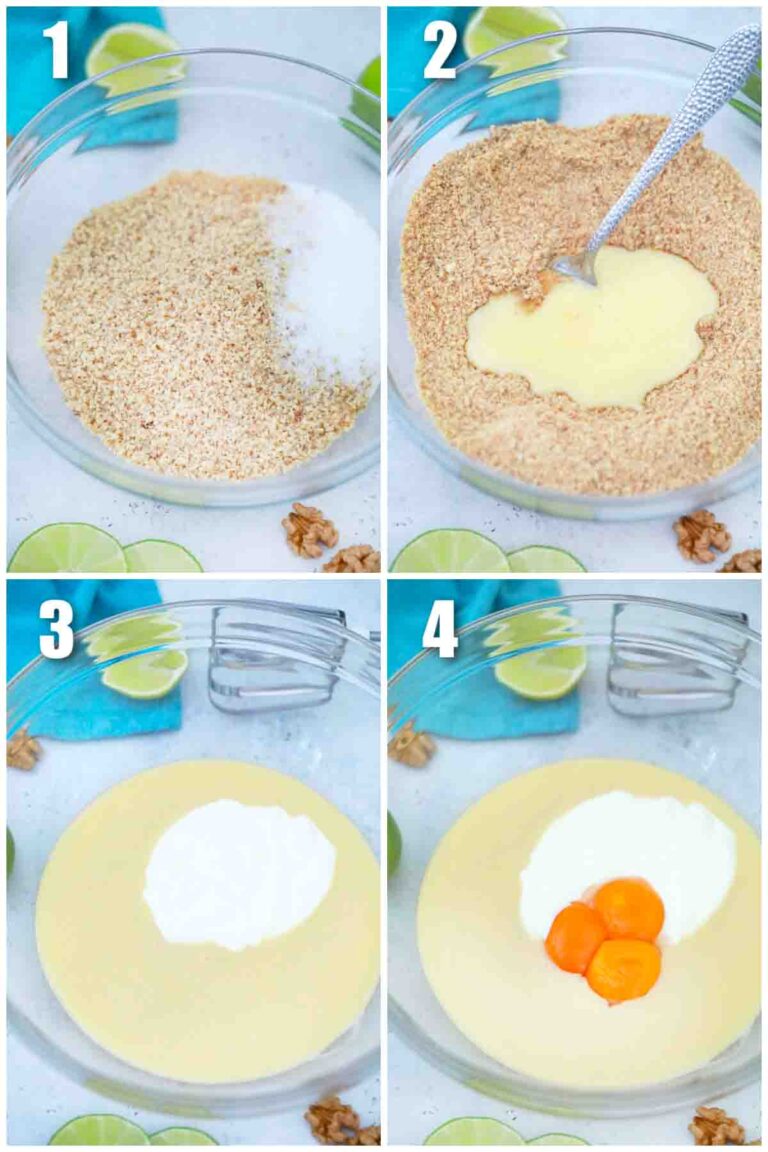 How to make Key lime pie from scratch?
Make the crust: First, mix graham cracker crumbs, walnuts, sugar, and butter in a medium mixing bowl until crumbs are moist. Press the crumb mixture into a nine-inch pie pan with your fingers or a measuring cup, making sure it goes up the sides of the pan. Chill for 20 to 30 minutes.
Preheat oven: Next, set the oven temperature to 350 degrees F.
Make key lime pie filling: Meanwhile, combine yolks, sour cream, and sweetened condensed milk in a medium mixing bowl. Using your mixer with the whisk attachment on medium speed, whisk until it is fully combined. Add the key lime juice and key lime zest and whisk until mixed. Pour the key lime pie filling into the prepared graham cracker crust.
Bake: After, bake the pie for 15-17 minutes in the preheated oven. You do not want the pie to brown, but the crust should be lightly browned.
Cool pie: Immediately, remove key lime pie from the oven and let the crust cool on a cooling rack to cool completely for at least 30 minutes. Then, put the cooled pie in the refrigerator for three to four hours.
Make homemade whipped cream topping: Beat heavy cream, vanilla, and sugar in a medium bowl with your electric mixer until stiff peaks form. You can apply it with a spatula or use a piping bag for a more beautiful pie.
Garnish and serve: Last, add key lime slices, zest, and whipped topping. Finally, serve your key lime pie chilled with whipped cream and key lime slices. Do not leave pie out of the fridge for more than an hour.
How to make instant pot key lime pie:
Prepare the pan: First, grease a seven-inch spring form pan with non-stick cooking spray.
Make the graham cracker crust: Then, stir the crust ingredients together until the crumbs are moist. Press it into the pan with your fingers or a measuring cup. Put the pie pan in the fridge to cool for at least 30 minutes.
Make the key lime filling: Meanwhile, whip the sweetened condensed milk, sour cream, and egg yolks until it is thick and then add the lime juice and zest. Pour key lime filling into the chilled pie crust and cover the pan with aluminum foil.
Prepare the pot: Next, pour one cup of water into the bottom of the pot and put the pie pan on a trivet with handles, lowering it into the pot carefully.
Cook the key lime pie: Then, cover the pot and seal the lid. Set it to high pressure and cook for 15 minutes. Let it vent naturally for 10 minutes before opening the valve to allow the rest of the steam to escape.
Cool the pie: Remove the pan and take off the foil. Let the pie cool on a wire rack for about one hour before chilling in the fridge for three to four hours.
Serve: Then, top with whipped cream, key lime slices, and lime zest before serving.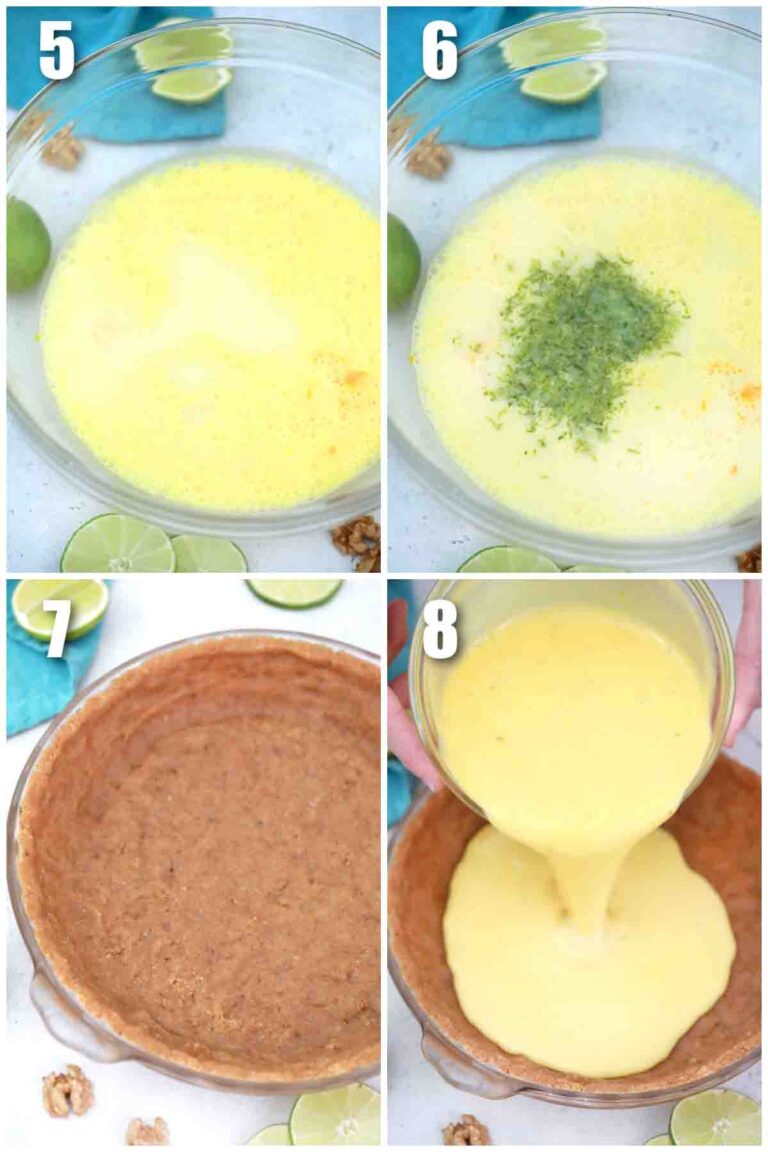 Recipe variations:
Any nuts: Feel free to use other kinds of nuts such as macadamia, almonds, or pecans.
No nuts: If you are allergic or just don't like nuts, just add an extra 1/2 cup of graham cracker crumbs.
Other cookies: Instead of a graham cracker crust, you can try other cookies like vanilla wafers, Oreos, or shortbread cookies.
Light sour cream: You can use light sour cream if you want but it may not have as much of a creamy texture.
Bottled lime juice: You can use bottled key lime juice if you cannot find fresh key limes or regular limes at your grocery store. Although most grocery stores sell them, they can be hard to find in some areas.
Regular juice: If you cannot find key lime juice, regular lime juice will work if you mix it with lemon juice.
Store-bought crusts: Use a prepared pie shell or frozen crust to save time if you don't want to make your own graham cracker crust.
How to serve:
Serve this light and creamy key lime pie on a hot day or any day of the year. This recipe is perfect for making key lime pie on holidays, birthdays, or other special occasions too. Here are some cool serving ideas:
Top your pie with homemade meringue topping by mixing those leftover egg whites with powdered sugar and vanilla.
Key lime pies also go great with ice cream.
Another way to decorate the top of this delicious pie dish is with fresh berries like raspberries, strawberries, or blackberries.
Serve your key lime pie with coconut mojitos for a real tropical feel.
Try serving frozen key lime pie at your next backyard BBQ.
Keeping in line with the citrus theme, this dessert goes great with our scrumptious lemon chicken piccata.
Sprinkle confectioners' sugar on top before serving for a sweeter flavor.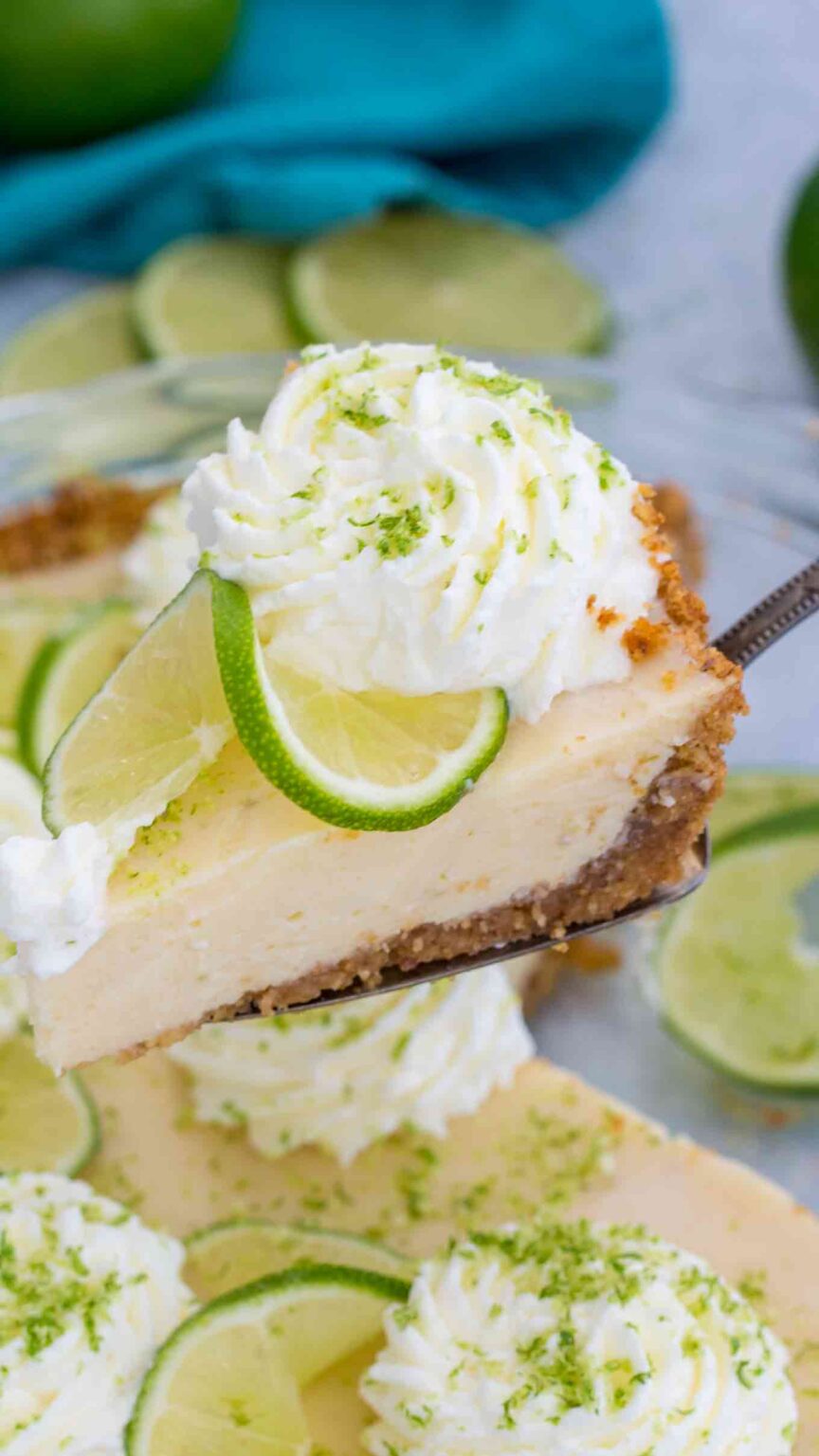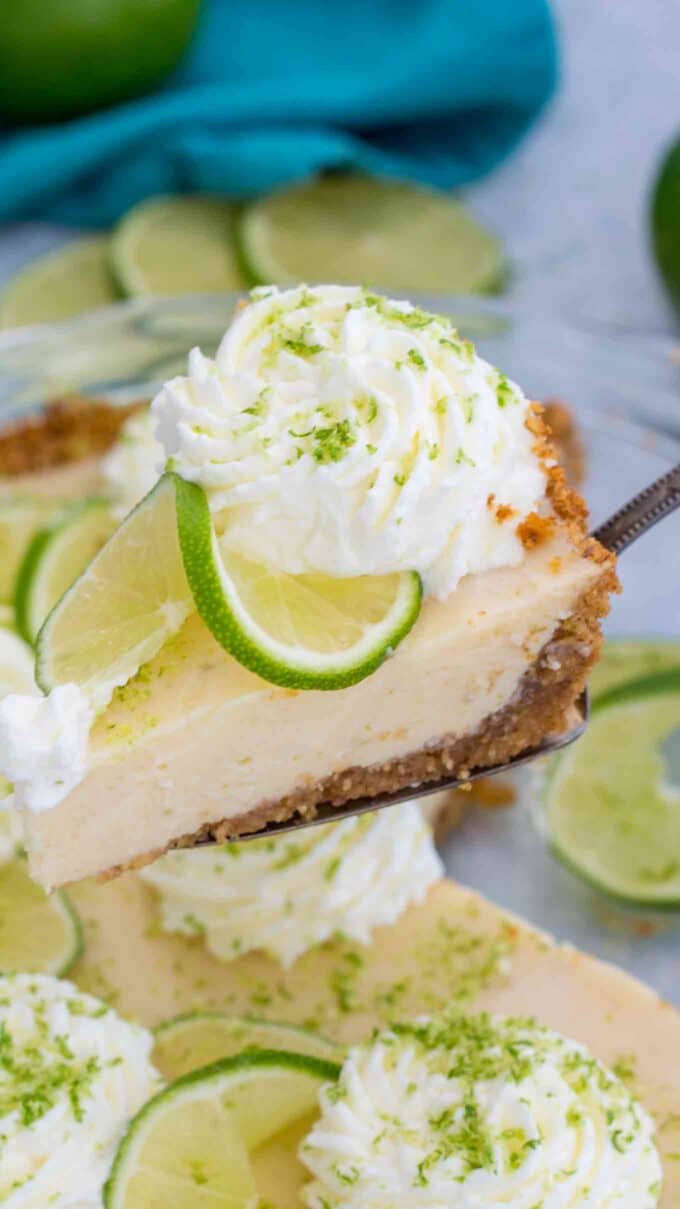 Frequently asked questions
What is the difference between key limes and regular Persian limes?
Also known as West Indes or Mexican limes, key limes are smaller and are light yellow instead of green. The skin is thinner, and they have more seeds. The flavor is different too, which is sort of a cross between a lime and a lemon.
Can I use regular lime juice?
Yes, if you cannot find key limes or key lime juice at your grocery stores, you can make your own key lime juice from regular limes and lemons. For the best key lime pie flavor, mix 1/4 cup of lemon juice with 1/2 cup of lime juice.
Why are they called key limes?
The original recipe was started in the Florida Keys using special limes grown in the area. The very first key lime pie recipe was in a 1933 newspaper article in Miami. It was called an icebox lime pie back then, but it was changed to key lime pie in 1940.
Why is key lime pie yellow instead of green?
Because key limes are actually yellow and not green. Real key limes are light yellow when they are ripe. However, if you really want your key lime pie filling to be green, just add some food coloring. Either way, it will still be delicious.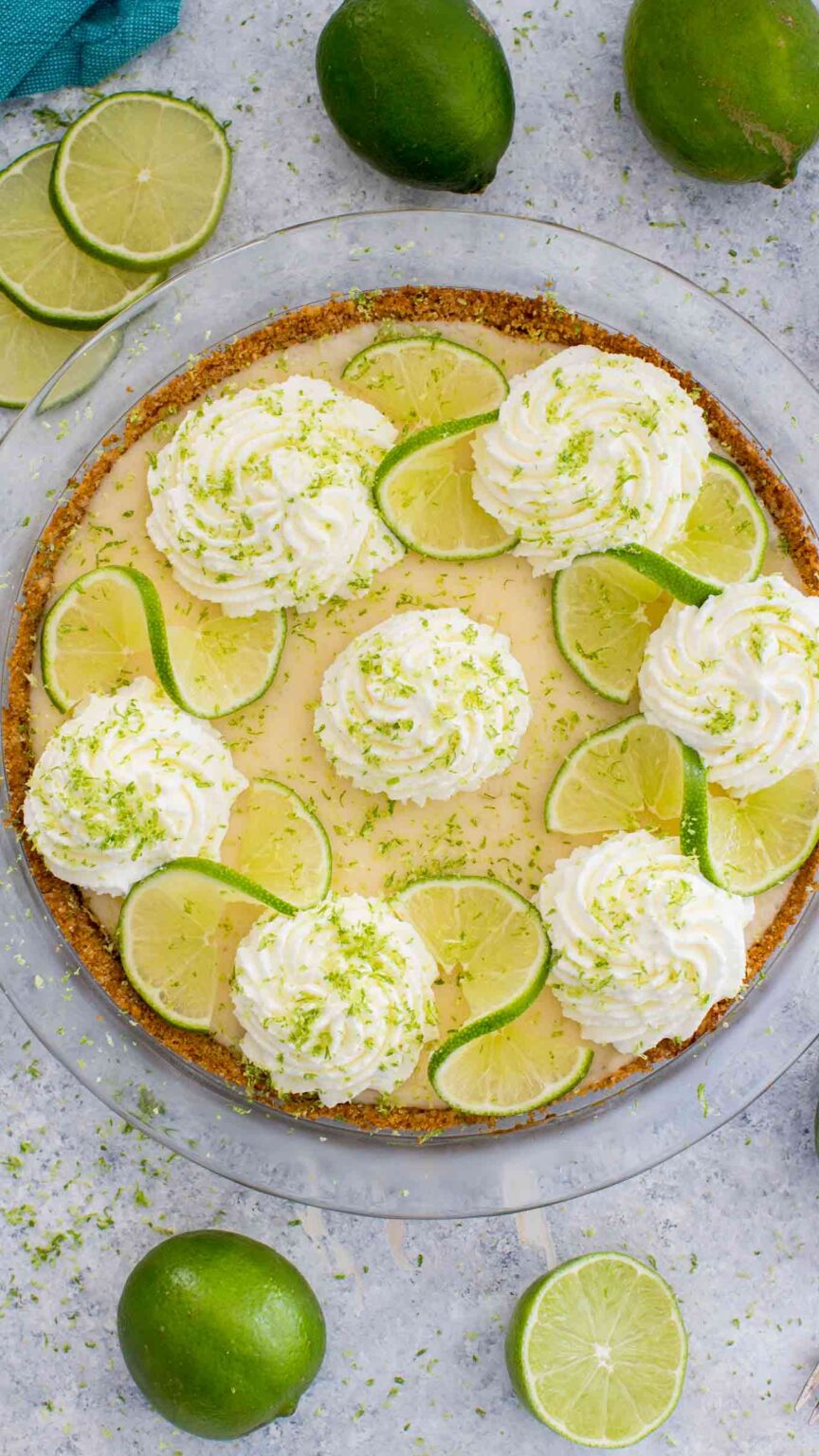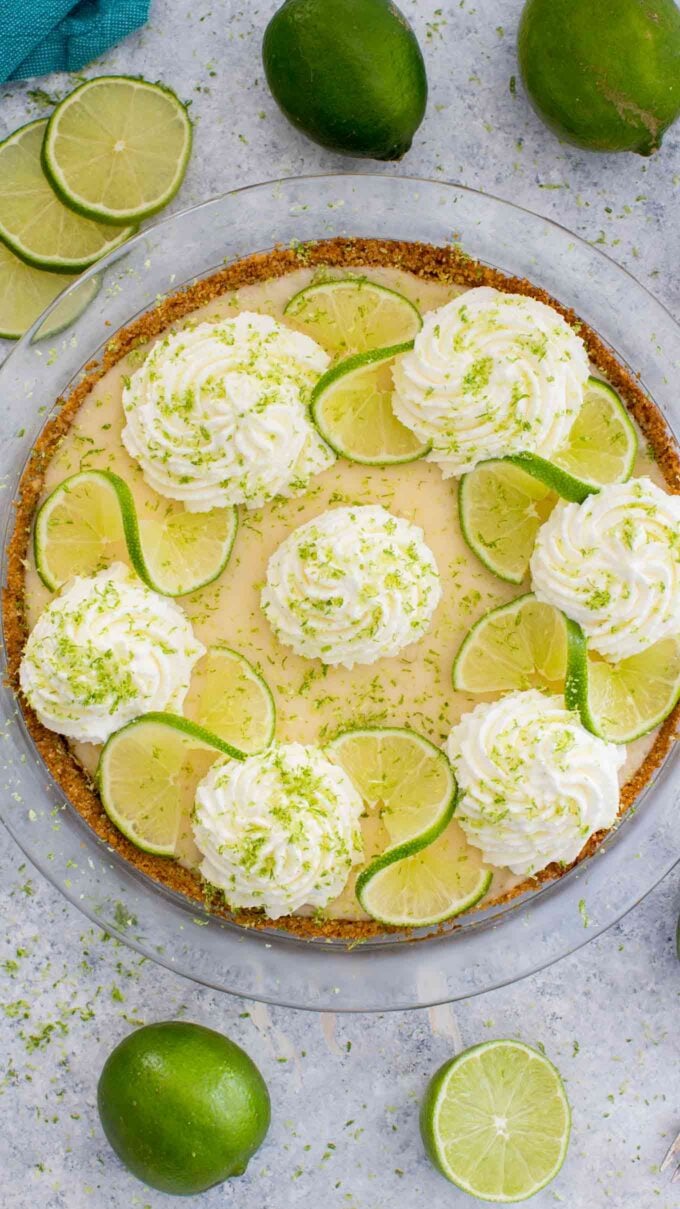 How to store leftovers:
Store: Storing leftovers is easy. Just cover the pie pan with aluminum foil and place it in the refrigerator where it will stay good for up to five days.
Freeze: If you know you are going to have a lot of leftovers, do not top the whole pie with whipped cream. Just top them by the slice when serving. Then, you can wrap it in plastic wrap and put it in a freezer bag. It will stay fresh for up to two months in the freezer.

Thaw: Take your key lime pie out of the freezer and let it thaw in the fridge overnight before serving.
More pie recipes:
Recipe tips:
Save time and energy by using store-bought whipped cream topping and a premade graham cracker crust.

To make it easier, put graham crackers in a blender for a few bursts. Or just put them in a baggie and beat them with a mallet.

For best results and texture, we recommended you chill the pie in the refrigerator for at least four hours before serving. But it is even better if you let it chill overnight.
In some areas, you may find graham crackers are actually referred to as digestive biscuits.
Make sure you use cans of sweetened condensed milk and not evaporated milk. Sweetened condensed milk is sweetened for that delicious, caramelized sweetness. Evaporated milk is not.
If all you can find are small key limes, get a few extra because you may need them for the juice.
Each serving of key lime pie has 885 units of vitamin A and 62 milligrams of calcium. However, it also has 16 grams of carbs, 28 grams of fat, and 14 grams of saturated fat.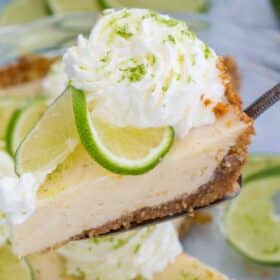 Easy Homemade Key Lime Pie
Homemade Key Lime Pie recipe is made from scratch with lots of lime zest and fresh lime juice for a fresh citrusy flavor with the most amazing creamy texture.
Save
Share
Print
Pin
Rate
Ingredients
For the Crust:
1

cup

graham cracker crumbs

1/2

cup

ground walnuts

( (pecans, almonds or macadamia nuts work as well, if you are allergic, just use extra 1/2 cup graham cracker crumbs))

3

tablespoons

white granulated sugar

5

tablespoons

unsalted butter

(melted)
For the Filling:
2

cans

sweetened condensed milk

(14-ounces per can)

1/2

cup

sour cream

3

large egg yolks

Zest of 1 large key lime or lime

1/2

cup

key lime juice or lime juice

(from about 8 limes)
Whipped Cream:
1 1/2

cups

heavy whipping cream

(full fat and cold)

2

tablespoons

white granulated sugar

1

teaspoon

vanilla extract
Garnish:
Whipped cream

(Key) Lime zest

(Key) Lime slices
Instructions
Make the Crust:
In a medium bowl, using a fork, stir together the crust ingredients until fully combined and the graham cracker crumbs are moist.

Press the mixture into a 9-inch pie dish. Press and pat down the bottom and sides using your hands or a measuring cup.

Chill for 20-30 minutes. I prefer to put it in the freezer for 20 minutes.
Make the Filling:
Preheat the oven to 350 degrees F.

Combine condensed milk, sour cream, and egg yolks in a medium bowl. Whisk together on medium speed until fully combined.

Add in (key) lime juice, and (key) lime zest. Whisk until fully combined.

Pour the mixture into the prepared crust.
Bake:
Bake for 15-17 minutes in the preheated oven. Do NOT brown the pie, only the crust should start turning a nice golden-brown color.
Store:
Remove from the oven and cool on a cooling rack. When cool, transfer it to the fridge. Chill the pie thoroughly in the fridge for 3-4 hours before serving.

Serve cold and do not keep at room temperature for more than one hour.
Whipped Cream:
In a large bowl, beat heavy cream, sugar, and vanilla extract until stiff peaks form.

Add the whipped cream to a piping bag fitted with a star tip and pipe it on top of the pie or just use a spatula to spread it onto the pie.
Garnish:
Garnish with (key) lime slices, (key) lime zest, and whipped cream if desired.
Nutrition
Serving:
0
g
|
Calories:
324
kcal
|
Carbohydrates:
16
g
|
Protein:
3
g
|
Fat:
28
g
|
Saturated Fat:
14
g
|
Cholesterol:
148
mg
|
Sodium:
82
mg
|
Potassium:
112
mg
|
Fiber:
0
g
|
Sugar:
8
g
|
Vitamin A:
885
IU
|
Vitamin C:
5.8
mg
|
Calcium:
62
mg
|
Iron:
0.7
mg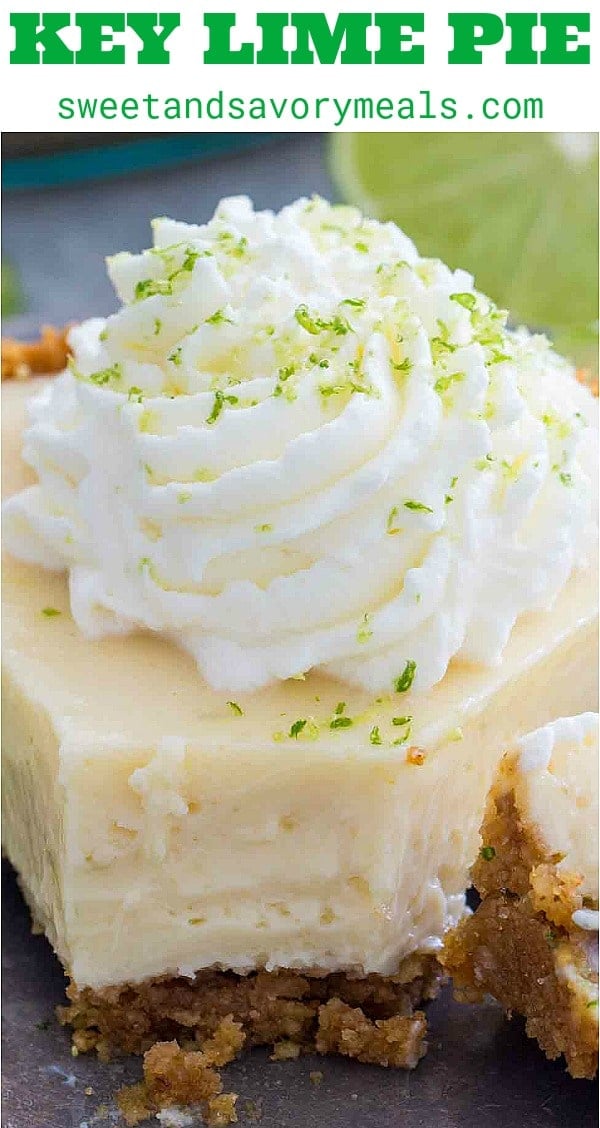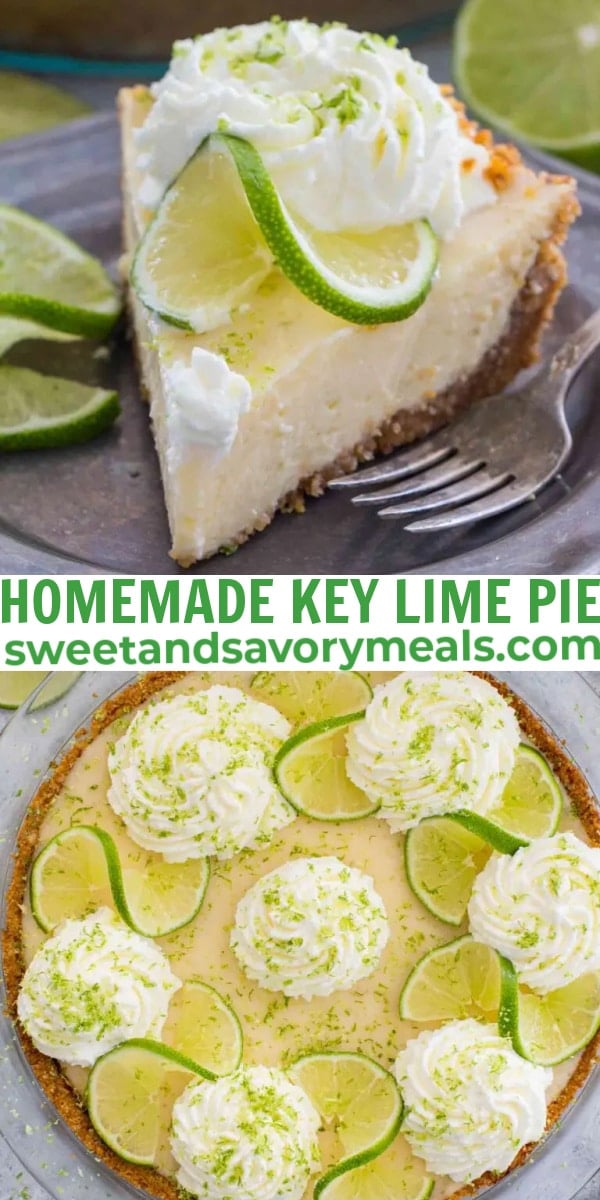 More recipes you might love