Homemade Key Lime Pie Recipe [VIDEO]
Homemade Key Lime Pie recipe from scratch with lots of lime zest and fresh lime juice for a fresh citrusy flavor with the most amazing creamy texture.
This cake is a perfect summer dessert, its fresh, flavorful and citrusy. Like Strawberry Poke Cake, No Bake Lemon Cheesecake and Strawberry Lava Cakes, this delicious homemade dessert would be a great addition to this summer flavor mix!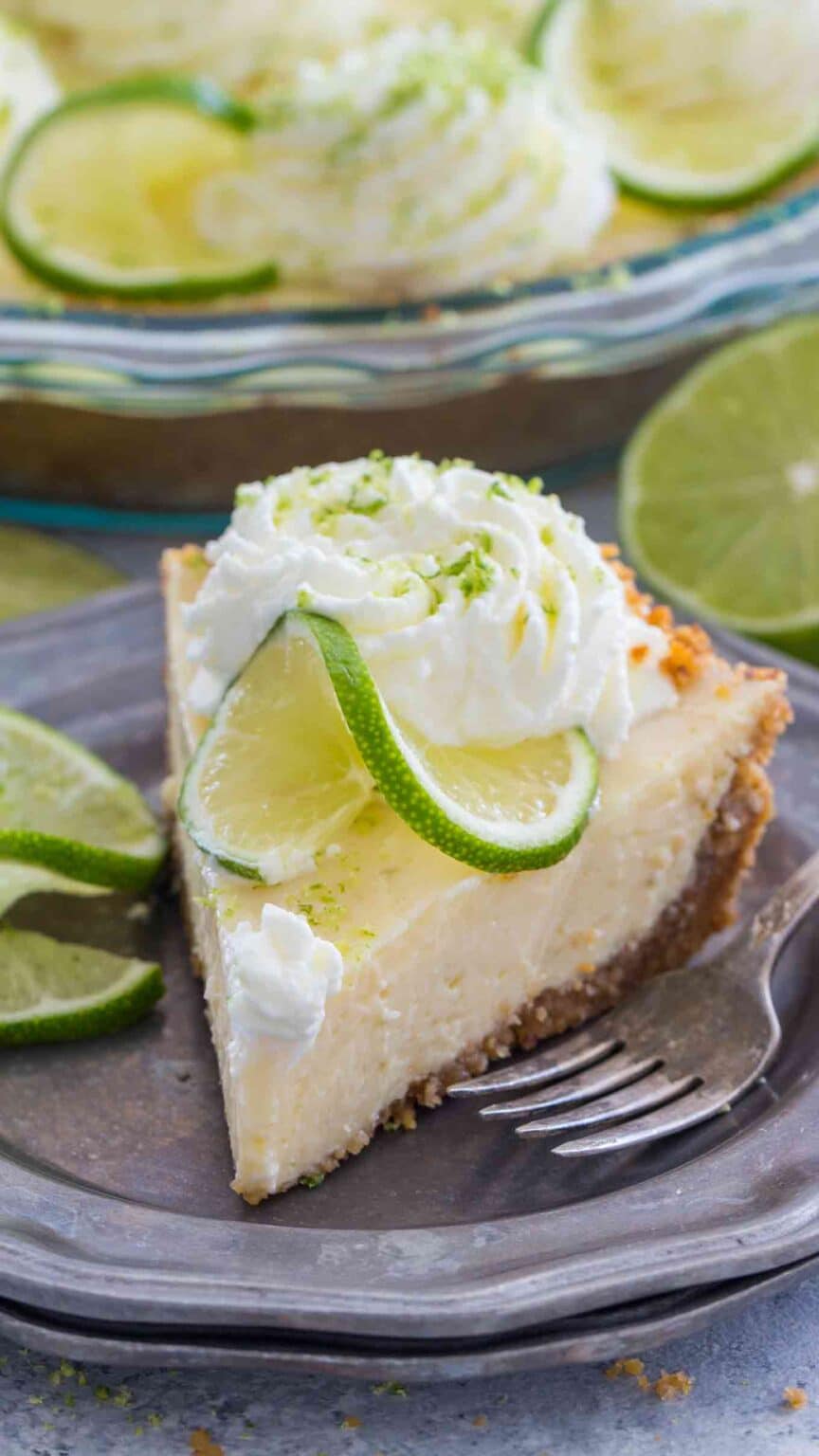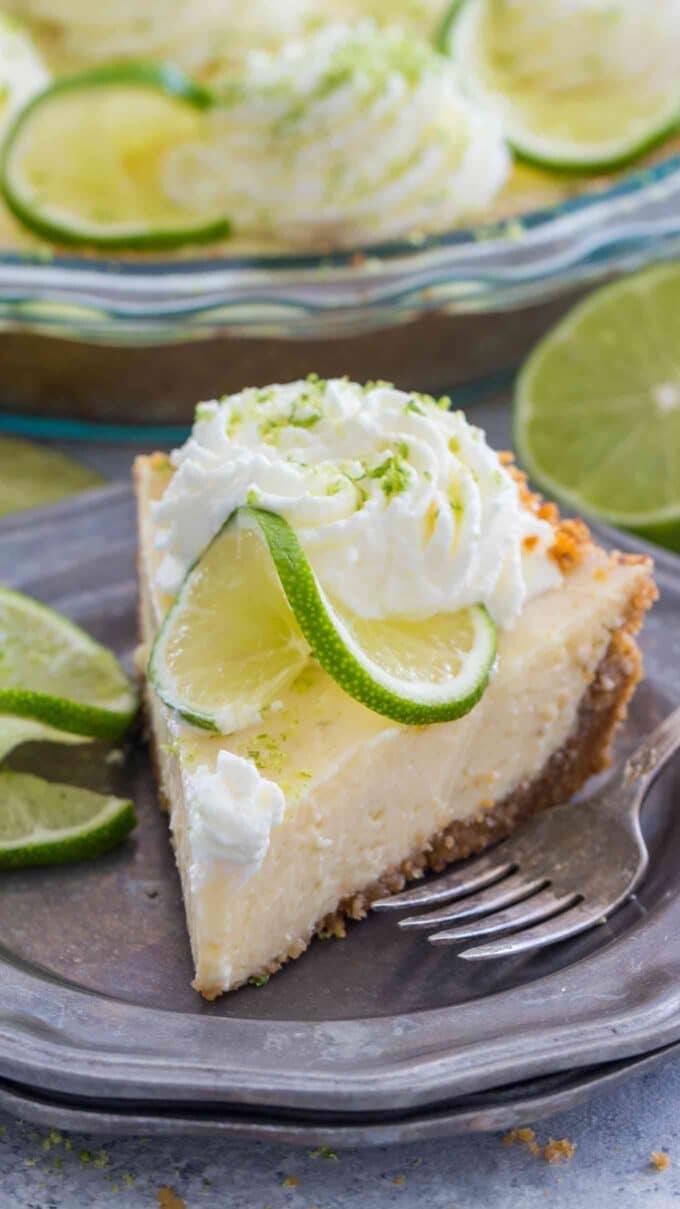 The Best Key Lime Pie
This is my tried and true Best Key Lime Pie recipe that everyone goes crazy for. The custard filling is so creamy and so full of flavor, your taste buds will explode from happiness. To make the filling extra creamy and tasty I like to combine the condensed milk with sour cream and egg yolks, which will give the filling the silkiest texture.
A good amount of key lime juice and zest are also mixed it, adding the beautiful citrusy flavor that this dessert is famous for. A creamy and smooth combo of sweet and tart! You can make your own crust or you can use a pre-made one to save time.
When it comes to the crust, I like mixing in some ground nuts. The slightly nutty flavor is a nice surprise and works well with the bolder and fresh citrus flavor.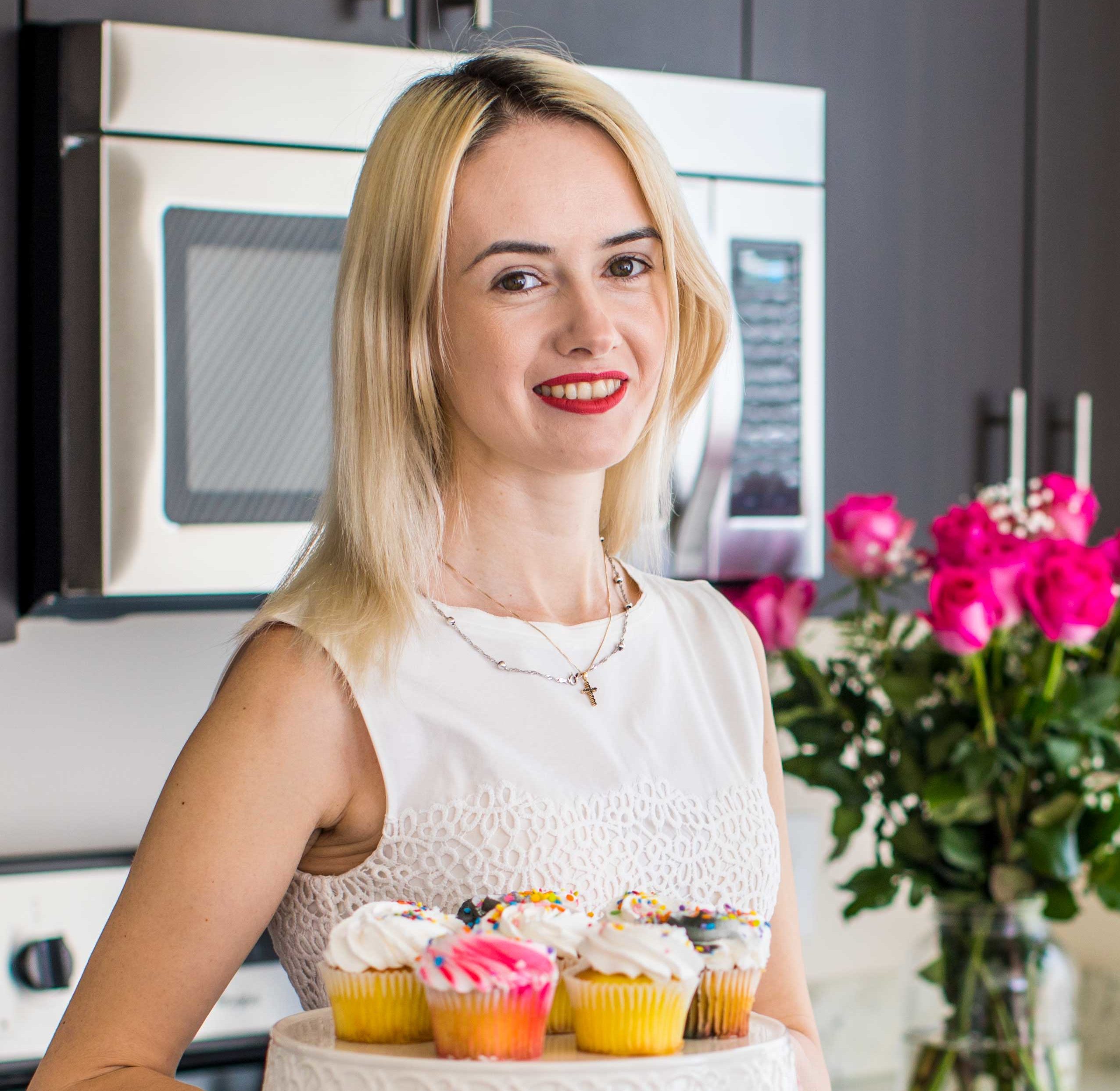 Follow us on Pinterest for more delicious recipes!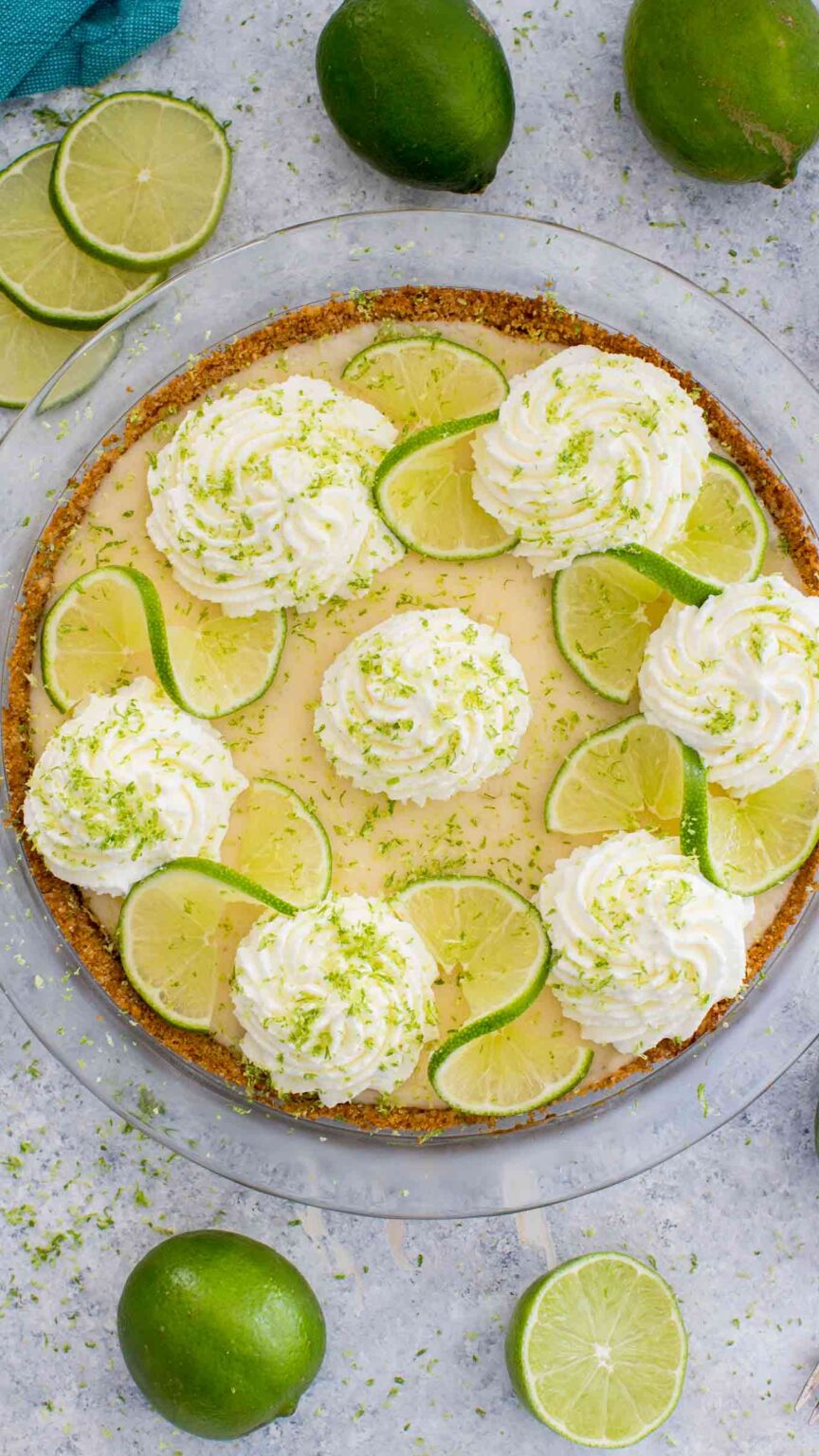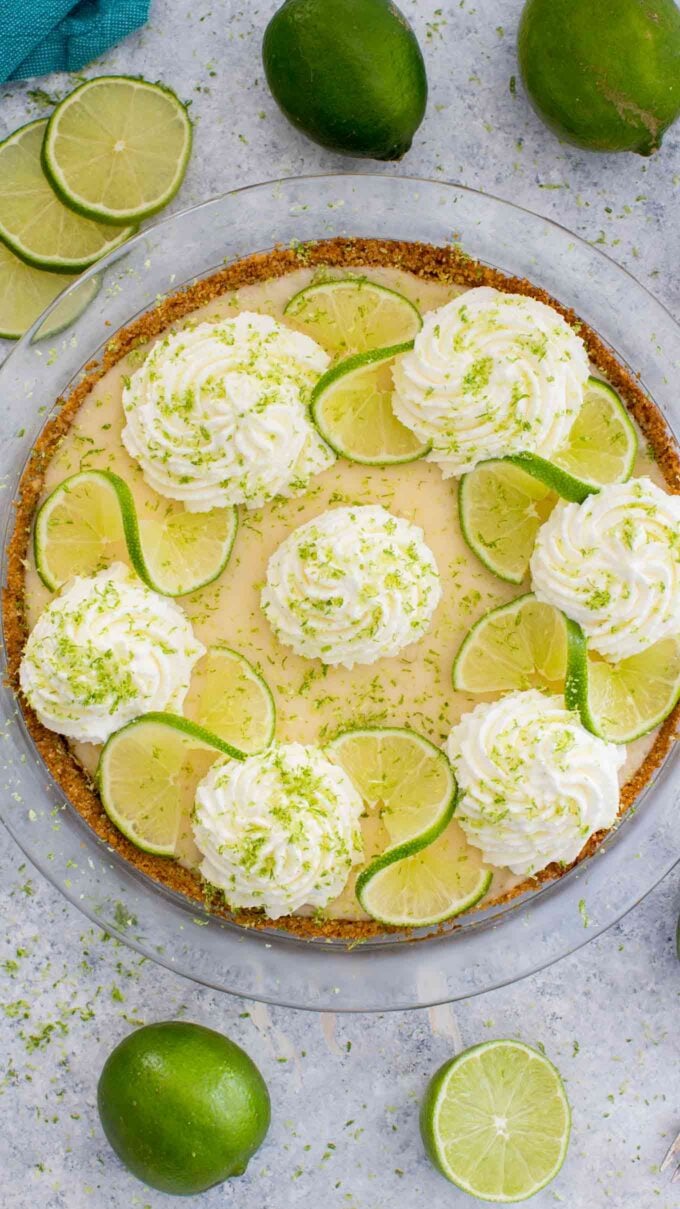 What do you need to make Key Lime Pie from scratch:
Fresh key lime zest and juice, or you can use regular limes in this recipe, it will taste delicious.
Sweetened condensed milk
Egg yolks
Sour cream
You can make your own graham cracker crust or use a pre-made one. If you decide to make your own, here is what you will need:
Graham crackers crumbs
Melted butter
Sugar
Walnut – optional, but I prefer to add some for extra flavor.
How do you make Key Lime Pie from scratch?
This is a pretty simple dessert that in my opinion, anyone can make. You can take a few shortcuts, like using a pre-made/store-bought graham cracker pie crust and using store-bought Key Lime Juice or Lime Juice. The steps for this recipe are very simple:
You start by mixing the crust ingredients, press it into the pie dish, and refrigerate it. Also, the refrigeration step is important, so please don't skip it.
After that, you whisk together the filling ingredients and add the mixture to the prepared crust.
Bake, cool, chill and serve. You are done!
What is the difference between Key Lime and regular Persian Lime?
Key limes are smaller and contain more seeds than Persian limes. Persian limes have a thick, vividly green skin, while key lime skin is thin and yellowish. The Key Limes are harder to find, not all the grocery stores carry them, but regular limes are just as good in this recipe.
Can you substitute Key Lime Juice with Lime Juice?
Yes, you can. You can only use Lime Juice, the pie will taste great or you can mix of 1/4 cup fresh lemon juice and 1/2 cup fresh lime juice.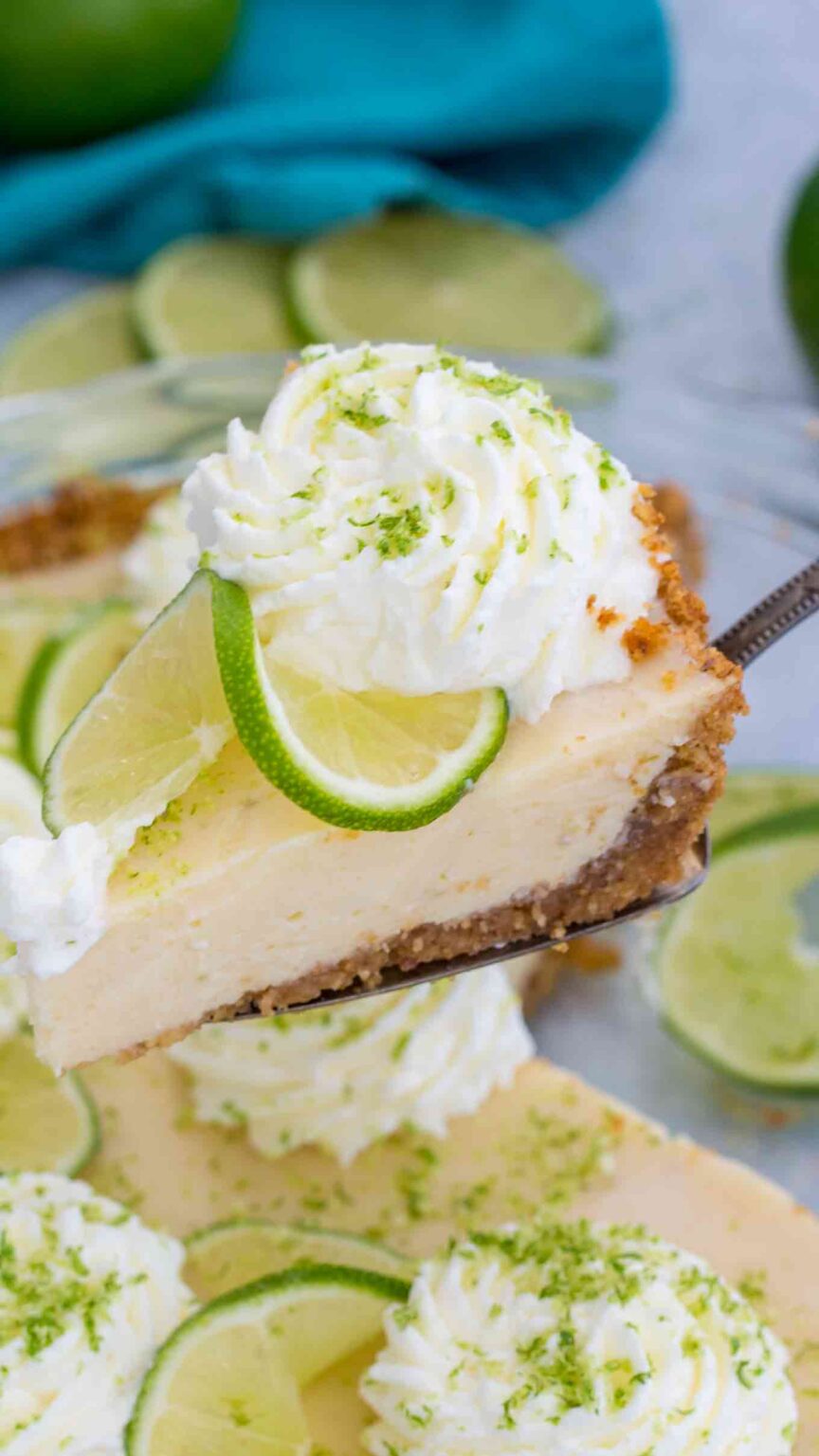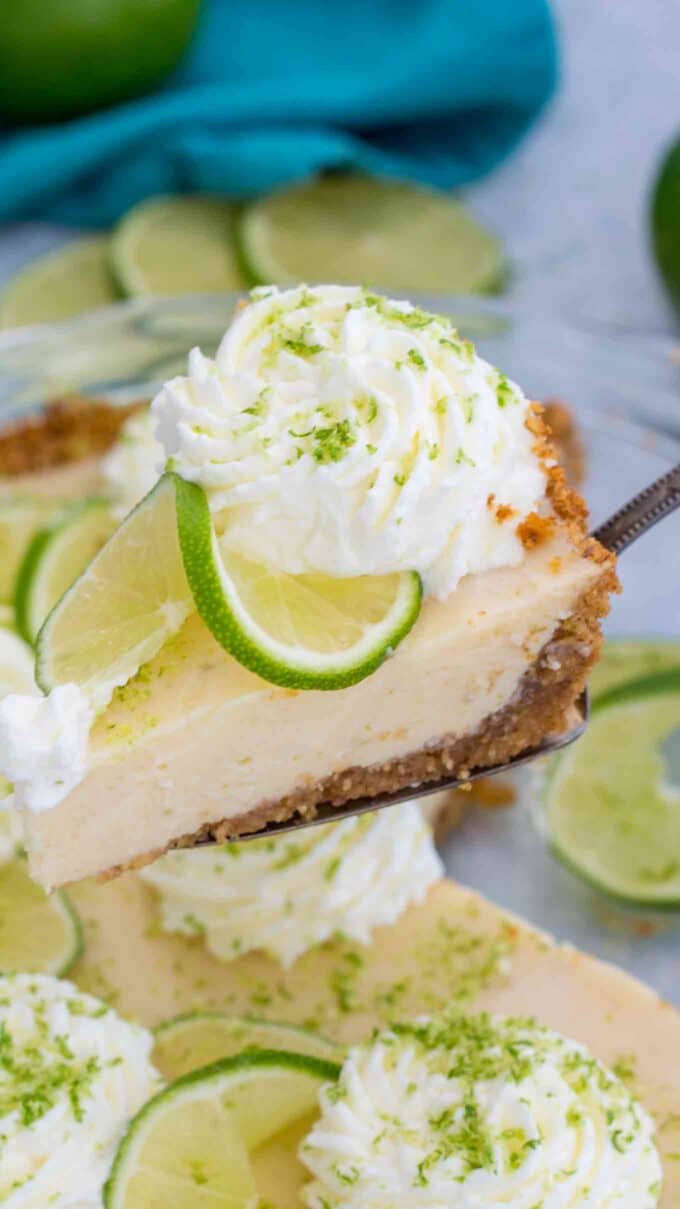 How do you store Key Lime Pie?
Freshly baked pie can be kept in the fridge for about 3 to 4 days, cover it loosely with aluminum foil or plastic wrap.
How long can Key Lime Pie be left at room temperature safely?
Bacteria grow rapidly at temperatures between 40 °F and 140 °F. Therefore it is best to discarded if left out for more than 2 hours at room temperature.
Can you freeze this Pie?
Yes. To freeze, do not top the pie with whipped cream, and make sure the pie is not warm. Wrap it tightly with aluminum foil or plastic freezer wrap, or place in a heavy-duty freezer bag. Properly stored, it will maintain the best quality for about 1 to 2 months but will remain safe beyond that time.
Recipe Tips and Tricks:
Also, you can use either fresh or bottled key lime juice in this recipe.
For best result and texture, it is recommended to chill the pie in the refrigerator for at least 6 hours prior to serving. However, it is even better to make it the night before and allow it to chill overnight.
Watch Recipe Video:
Save Recipe
Easy Homemade Key Lime Pie
Homemade Key Lime Pie recipe from scratch with lots of lime zest and fresh lime juice for a fresh citrusy flavor with the most amazing creamy texture.
Author: Catalina Castravet
Serves: 10 slices
Prep time:

15

minutes
Cook time:

15

minutes
Total time:

1

hr
Ingredients
For the Crust:
For the Filling:
Whipped Cream:
Garnish:
Instructions
Make the Crust:
Make the Filling:
Bake:
Store:
Whipped Cream:
Garnish:
Nutrition information
0 Calories: 324 Carbohydrates: 16 Protein: 3 Fat: 28 Saturated Fat: 14 Cholesterol: 148 Sodium: 82 Potassium: 112 Fiber: 0 Sugar: 8 Vitamin A: 885 Vitamin C: 5.8 Calcium: 62 Iron: 0.7
Save Recipe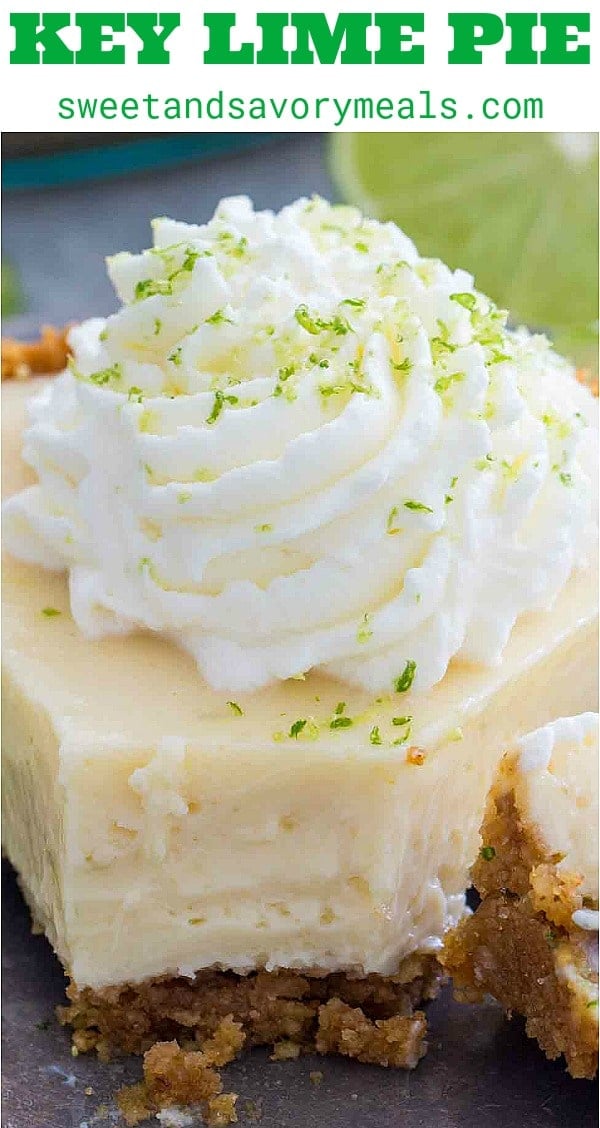 More recipes you might love