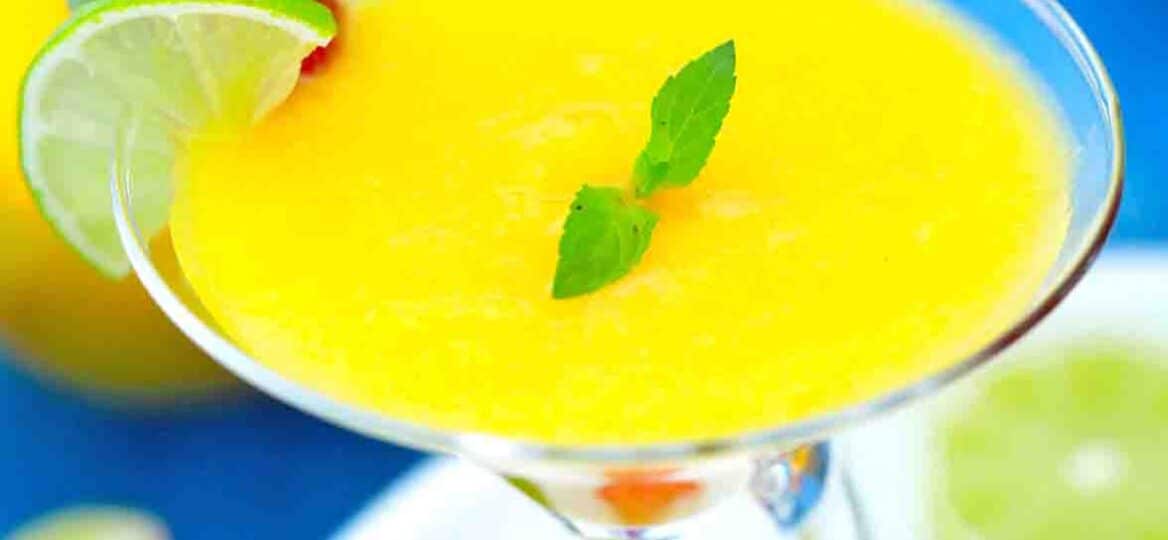 Pineapple Mango Daiquiri Recipe
Pineapple Mango Daiquiri is the perfect frozen drink loaded with refreshing tropical flavors to enjoy by the pool this summer. The fresh fruit makes it taste amazing and the rum makes you feel amazing. This is one of the best cocktail recipes I have tried so make sure you print the recipe card to save for later.
If you are looking for some other kind of summer cocktails, try our Boozy Watermelon Lemonade with lime juice, pineapple juice, and mint, or these tropical Coconut Mojitos made from coconut cream, rum, and lime juice. This Pineapple Lemonade is perfect for everyone and can be made with or without booze.
The daiquiri was invented in 1898 by a mining engineer named Jenning Cox. It was named for the small village he lived in at the southern tip of Cuba. It was originally made with Palms white rum, lime juice, and simple syrup.
Over the years, the cocktail has been changed many times adding and omitting certain ingredients. But this frozen pineapple mango daiquiri is one of the best in my opinion.
You can serve these cocktails at your next BBQ, Fourth of July party, or any kind of get-together. Or just make a pitcher for yourself. It will last a couple of days in the fridge if you cannot finish it right away.
Why not make a pitcher of this frozen pineapple mango daiquiri drink and enjoy it with your honey after the kids go to bed? Or pour a glass while you cook dinner or bake this delicious pineapple bread.
Other recipes you may enjoy with this drink include our pineapple teriyaki chicken, this light and fluffy mango mousse cake, or our sweet chili lime chicken.
Ingredients needed:
For this frozen pineapple mango daiquiri recipe, you will need to gather the ingredients below. However, for exact measurements and directions, scroll down to our printable recipe card.
Pineapple juice
Fresh lime juice
Ripe pineapple: Cubed.
Large ripe mango: Fresh or frozen mango.
Simple syrup: Adjust to your preference.
White rum: I used Bacardi but you can use your favorite.
Ice cubes: With more for serving.
Garnish: Frozen strawberries, fresh pineapple, lime wedges, and mint.
Simple syrup:
White sugar
Boiling water
How to make pineapple mango daiquiri with a blender?
Combine ingredients: First, blend all the ingredients in the blender or food processor, adding the ice last.
Mix the drink: Next, pulse the blender until it is smooth and there are no chunks.
Taste the pineapple mango daiquiri: Then, taste and adjust the flavor and sweetness with sugar and lime.
Fill the glasses: Last, pour into glasses. This will fill about four glasses.
Garnish and drink: Finally, serve right away with whatever garnish you choose.
How to make pineapple mango daiquiri without a blender?
Chop the fruit: First, cut fruit into small chunks to make them easier to mash.
Mash the fruit: Then, mash the mangos and pineapples in a bowl using a potato masher or some other heavy kitchen tool. You can even use a rolling pin if you put the fruit in a freezer bag first.
Whisk: Then, whisk thoroughly until it is combined well before adding the other ingredients except for ice.
Chill: After, pour mix into a large jar with a lid. Add crushed ice, shake, and garnish before serving.
Recipe variations:
Sweet cocktails: For that sweet and mild cocktail, use Bacardi Superior or Captain Morgan.
Dark: If you want a darker and stronger flavor, use dark rum of any brand.
Less sweetness: You can alter the simple or even omit it completely for a less sugary cocktail.
Other booze: Feel free to use other alcohol such as brandy, bourbon, whisky, tequila, or vodka.
Other fruit: Not a fan of mango? Use another fruit like papaya, nectarine, or peach.
Frozen juices: Using frozen juices will also add more texture to your cocktail. However, since it is concentrated, you will want to use less than the recipe calls for.
Add kiwi: Try our kiwi margarita by adding tequila, orange liquor, and kiwi.
How to serve:
Pour this amazing boozy beverage into a tall glass and enjoy it any time. There is no better way to spend a day at the pool or sitting out by the fire after dark. Try one of these awesome serving ideas or share one of your own.
A glass of frozen pineapple mango daiquiri is the perfect cocktail when you eat barbecued food of any kind.
This pineapple mango daiquiri goes great with our creamy lemon pound cake with lemon juice and sour cream.
If you want more flavor, add a shot of lemon or lime zest before serving.
Try this frozen pineapple mango daiquiri with this amazing grilled pineapple chicken or our air fryer bacon-wrapped pineapple.
Toss a pinch of toasted coconut on top for a truly tropical frozen pineapple mango daiquiri cocktail. Add more fresh fruit to your daiquiris like cherries, orange wedges, and blueberries.
Turn this into a boozy smoothie by adding coconut cream, Greek yogurt, or heavy cream.
Frequently asked questions
Can I use frozen fruit?
No need to search your farmers' market or grocery store for fresh pineapple and mango when they are not in season. Frozen mango and pineapple chunks will work too.
In fact, using frozen is a great way to mix these cocktails to keep your drink cold on a hot summer day out with friends. Frozen juice will also add a nice chill to the mix.
Can these be served without alcohol?
These can absolutely be served without alcohol. Just leave out the rum. This is great for those who are designated drivers, those who do not drink, and for the kids. It still has a great flavor without the booze or you can add some caramel syrup or extract to replace the caramel flavor rum adds to the drink.
How do I put the salt on the rim of the glass?
The best way to coat the rim of each glass is to fill a saucer or small plate with salt. Then, run a lime wedge around it and then dip each glass in while twisting it a little bit to get it evenly coated. Be careful not to knock it all off when pouring the drinks.
What is the best liquor to use for these daiquiris?
Even though most daiquiris are made with rum, you can use any kind of liquor you like. They are often made with triple sec or tequila at the clubs but other recipes include whisky, bourbon, brandy, or vodka. In fact, you can even use your favorite wine for a combination of flavors.
How to store leftovers:
Store: If you have leftover frozen pineapple mango daiquiri, store it in the fridge and use it within three days.
Freeze: However, if you cannot drink it all or if you want to make a big batch for an upcoming party, pour the frozen pineapple mango daiquiri into freezer bags and you can freeze it for up to two months.
Thaw: You do not have to thaw your cocktails first, especially if you are serving them outdoors.
More refreshing drinks:
Recipe tips:
Using fresh fruit and juice is great but using frozen is just as good and you will not have to use as much ice.
You could also use canned fruit since it is usually softer and easier to combine. Or get crushed pineapple in the can for an even easier way to blend it all.
Use colorful straws for a more festive cocktail.
Cut calories and carbs by using sugar-free juice and simple syrup made with Splenda or your favorite sweetener.
Use toothpicks resting on top of the class to keep your fruit slices from sinking.
Pineapple Mango Daiquiri
Ingredients
1

large ripe mango

1 1/4 cups of flesh

1

cup

ripe pineapple

cubed

4

oz

white rum

or coconut rum

2

tablespoons

sugar syrup

1/4

cup

fresh lime juice

1/4

cup

pineapple juice

1

cup

ice cubes

plus more to serve
Sugar syrup:
1/4

cup

white sugar

1/4

cup

boiling water
Garnish:
Fresh strawberries

Fresh pineapple wedges

Lime slices

Mint
Instructions
Method using a blender:
Add all the ingredients to a high-speed blender in the order listed and blend until smooth.

Taste and adjust for sweetness, add more sugar syrup if needed.

Refrigerate 4 martini glasses.

Pour into 4 martini glasses over ice and garnish as desired. Serve cold.
Method using a food processor:
Puree mango and pineapple in a food processor.

Add the puree to a jar and add Bacardi, sugar syrup, pineapple juice, and 1/2 cup water. Stir and refrigerate until chilled. Refrigerate 4 martini glasses.

Add a few ice cubes to the glasses. Stir the cocktail and pour into glasses. Serve.
Deliciousness to your inbox
Enjoy weekly hand picked recipes and recommendations