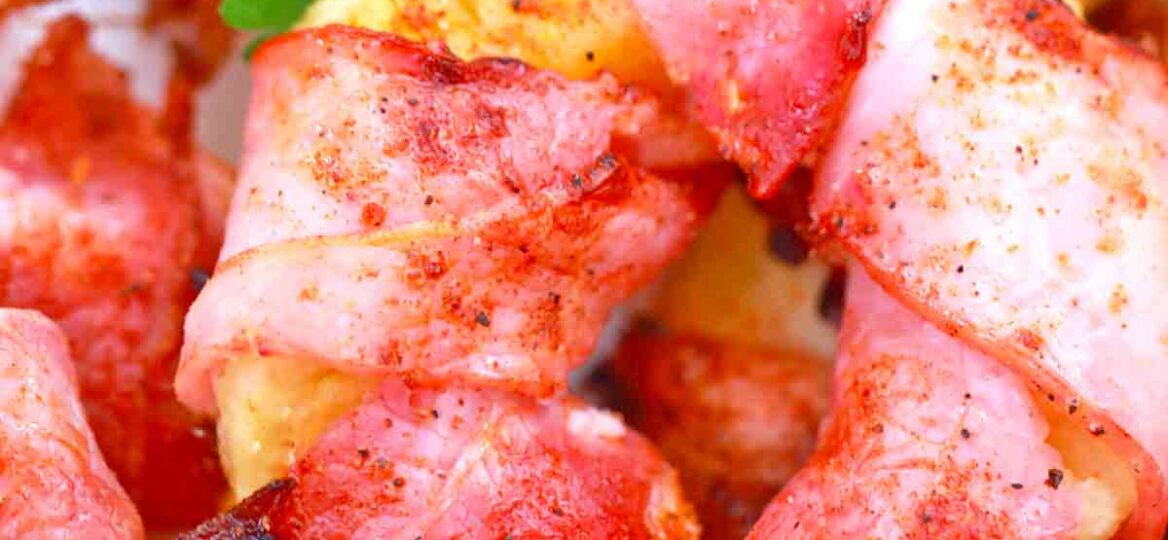 Air Fryer Bacon Wrapped Pineapple
Air Fryer Bacon Wrapped Pineapple is perfectly seasoned, unbelievably delicious and so easy, and fast to make. This is one of the best snack recipes since little smokies. Also, you probably already have what you need in the kitchen since all you have to have for this is bacon, pineapples, and seasoning.
If you love air fryer recipes, you can make our AF Corn on the Cob with parmesan cheese and cilantro or these AF Baked Sweet Potatoes made with cinnamon and sugar. Or try this easy way to make bacon with our Crispy Air Fryer Bacon recipe.
This is one of those easy recipes to teach the kids with such easy instructions anyone can do it.
This is one of our favorite easy appetizer recipes but whatever your meal plans, you can add these as a side dish, dessert, or whatever you want to call them.
Ingredients needed:
You only need a few things to make this salty bacon snack. For the full recipe and measurements, scroll down to our printable recipe card.
Pineapple rings: Canned pineapple is fine but fresh pineapple is great too.
Bacon strips: Sliced thin.
Cajun seasoning: Store-bought or make your own.
Brown sugar: Dark or light.
How to make air fryer bacon wrapped pineapple recipe?
Drain: First, drain the pineapple rings and pat them dry with a paper towel. Set aside.

Preheat: Set the fryer to 385 degrees F.

Wrap: Meanwhile, wrap each pineapple ring with bacon slices, winding each bacon slice through the hole in the center and around the outsides.

Seasoning: Next, mix brown sugar and seasoning in a small bowl.

Coat: Then, coat each wrapped pineapple with the brown sugar mix before placing them in the air fryer basket. Make sure they are in a single layer and not touching for best results.

Cook: Last, fry at 385 degrees F for 15 minutes. You will probably have to roast in batches unless you have an extra-large basket.

Serve: Finally, remove and transfer each pineapple piece onto a plate to serve.
Recipe variations:
Pineapple bites: Instead of rings, use pineapple chunks to make pineapple bites. Just wrap the bacon around each piece of pineapple and hold them together with wooden toothpicks. These little bacon bites are the perfect pineapple appetizer.
Soy sauce: Sprinkle each of the pieces with soy sauce right before cooking for a delicious rich taste.

No spice: If you want something less spicy, replace the Cajun spice with allspice or cinnamon.
Extra crispy: For extra crispy bacon, precook it for a couple minutes before wrapping your pineapples.

Or afterward: Alternatively, put the finished pieces on a lined baking sheet into your oven on broil for two minutes to crisp them up.

Popular recipes: Add water chestnuts to each pineapple before wrapping it with bacon.
How to serve:
Serve these great appetizers on game day, a holiday party, or a delicious treat anytime. Here are some other awesome serving suggestions:
Frequently asked questions
How do I make Cajun seasoning?
Mix together two teaspoons of thyme, oregano, garlic powder, cayenne pepper, salt, and basil.
Then add one tablespoon of onion powder, one teaspoon of black pepper, and four tablespoons of smoked paprika.
Can I use aluminum foil in the air fryer?
Actually, using aluminum foil in the basket to keep fish or other delicate foods from falling through the holes is a great idea.
However, make sure you are not blocking too many of the holes or the air will not circulate properly.
What are the nutrition values of this recipe?
These delicious bacon wrapped pineapples are not as unhealthy as you think because you are air frying.
Using thin cut bacon and sugar-free pineapples, you can make these even healthier, and they taste just as amazing.
Each serving is 224 calories but has 9% of your daily values of protein and vitamin C.
How to store leftovers:
Store: Once the snacks have cooled to room temperature, you can store them in an airtight container in the fridge for three to five days.
Freeze: A great way to save these even longer is to put them in a freezer bag and freeze them for up to 90 days.

Thaw: Thaw in the fridge overnight before serving.

Reheat: Heat in the air fryer for two minutes at 350 degrees F.
More bacon-wrapped recipes:
Cooking tips:
Make sure the pineapple slices are not touching in the basket.
You could also use thick cut bacon but cook it for one or two more minutes until you have crispy bacon.

Cooking time may vary depending on the size of your fryer.
This air fryer pineapple recipe is safer to use without all that bacon grease popping when cooking on the stove.
Hold each slice of bacon in place with a toothpick if it will not stay on.

If you do not have any pineapple chunks, just use a sharp knife to cut the rings into pieces.
Air Fryer Bacon Wrapped Pineapple
Ingredients
2

14 oz

cans sliced pineapple rings

22

slices

bacon

thin-cut

2

tablespoons

Cajun seasoning

1

tablespoon

brown sugar
Instructions
In a small bowl combine sugar and seasoning.

Preheat air fryer to 385 degrees F.

Drain the pineapples very well and pat dry with paper towels, set aside.

Wrap each pineapple ring with bacon, winding it around and through the hole in the center.

Generously sprinkle with the Cajun seasoning and brown sugar mix.

Arrange in one layer in the air fryer so they do not touch and air fry for 15 mins or until crispy. Turn to the other side halfway.

Cook in batches if needed.

When done, transfer to a serving plate.
Deliciousness to your inbox
Enjoy weekly hand picked recipes and recommendations