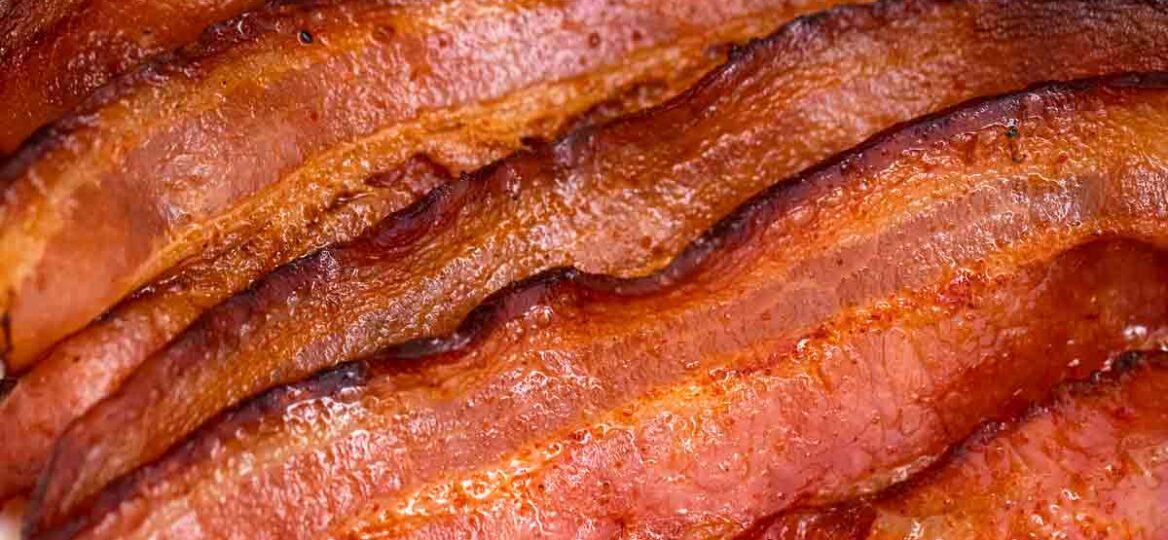 Crispy Air Fryer Bacon Recipe [Video]
Crispy Air Fryer Bacon is fast, easy, and super tasty with much less grease and cooked in under 10 minutes! Don't forget the paprika-brown sugar rub for a smoky-sweet twist!
I love Air Fryer recipes because they are quick, easy, and way healthier than deep frying. If you are looking for more delicious recipes then try Crispy Potatoes, Parmesan-Crusted Pork Chops, and Buttermilk-Ranch Fried Chicken!
The air fryer method of cooking is so much easier and healthier than the stove top, or even oven-baked. Very little oil is used, and also it is less messy.
This Crispy Air Fryer Bacon is now up there with my favorite way to prepare bacon, which is in the oven. It takes minutes to cook everything, and you don't have to worry about the grease splatters. You can cook straight from frozen as well which is a huge time saver if you forgot to thaw it overnight.
Also, cooking it this way is much healthier because a lot of the fat drains away into the basket below. Finally, you end up with uniformly crisp bacon strips that are every bit as delicious as the pan-fried and baked versions.
This is simply the best bacon recipe, and my whole family loves it! I also make it extra special with a paprika-brown sugar rub that really takes the smoky flavor to a whole new level!
Recipe Ingredients:
Bacon – To make one batch, I use 8 strips for this recipe but double-check how many your model can fit.
Paprika – it adds a beautiful, appetizing red color to the meat.
Brown sugar – caramelizes the meat and makes it savory sweet! However, this ingredient is totally optional.
How to cook bacon in the Air Fryer?
Preheat the air fryer. First, turn it to 360F, then place a little bit of water at the bottom.
Mix the rub. Next, combine the sugar (optional) and paprika, then rub it gently all over the meat. Ensure to rub on both sides for uniform texture and flavor.
Air fry. Arrange the strips in a single layer. Put the cover on the fryer, and cook for around 8 to 11 mins. Remove the cooked strips using a pair of tongs, and transfer them to a plate lined with paper towels. Then, clean the bottom, and repeat the steps with the second batch if you're making more.
Heat and serve. Once you're done with all the slices, return all of them to the AF. Heat for a minute, then serve and enjoy.
Is it safe to cook bacon in an air fryer?
Yes. But do check your particular model to see if it has any restrictions for greasy foods. You may also try cooking just a few strips at a time or use fewer fatty cuts if you're worried about the oil.
Also, while you will be safe from grease splatters, make sure to be careful when it comes to draining the rendered hot oil in the basket.
How long to cook bacon in the air fryer?
The cook time will vary on how thick the slices are, and how do you want your bacon. In addition, the style and brand of the appliance will play a role. However, the general cooking times are:
Regular cut bacon – For a softer texture, air fryer it at 360 degrees F for 7 minutes. Similarly, if you want crispy bacon, cook it for 8 to 9 minutes.
Thick cut-bacon – For a softer texture, cook at 360 degrees F for 9 to 10 minutes. Also, cook the strips for 10-12 minutes for extra crispy.
Thinner bacon – Reduce the cooking time to 5-7 minutes.
Can I use turkey bacon instead?
Absolutely! This is a great and also a healthier alternative. Just cook the turkey strips the same way you would cook the regular bacon.
Do I need to add oil?
No, because the bacon has plenty of greases that will be released while cooking. Therefore, you do not need to spray the basket tray with any oil.
Can you cook frozen bacon in it?
Sure. An air fryer is actually an excellent option if you're cooking from frozen. Therefore, there is no need to thaw the meat!
You basically follow the original steps, but try to arrange the strips in a single layer so that everything cooks evenly. As for the paprika-sugar rub, I recommend sprinkling the mix once the meat is halfway through cooking so that the rub sticks better. You'll have to add a minute or two to the cooking time as well.
How to prevent the air fryer from smoking?
If it starts smoking, that's most likely because of the grease splattering the heating element. Don't panic! There are very simple ways to fix this:
Use water: Pour a small amount of water into the basket to cool down the hot oil on contact.
Use parchment paper: Buy special parchment paper designed for air fryers (they have holes for efficient circulation of the hot air).
Bread method: Alternatively, add a slice of bread to the lower pan to absorb the excess grease.
What to serve with it?
Use it for anything you enjoy bacon with! Have it for breakfast with a side of scrambled eggs.
Or, crumble it for topping on soups and on salads. Stuff it inside a breakfast burrito, for sandwiches and wraps, or in this amazing Ranch cheese ball.
It's also an awesome protein-loaded snack on its own!
Storage Tips:
This recipe is perfect for making ahead! To store leftover bacon, simply seal the cooled strips in a bag or wrap them in aluminum foil. Then, keep them in the fridge and consume them within 5 days.
To freeze, use paper towels to wrap the portions first. It will stay good for 3 months or even longer.
More easy air fryer recipes:
Cooking Notes:
Add water to the bottom of the basket, or a piece of bread to prevent the fryer from smoking.
It is important to clean up the bottom after every batch to remove burnt bits.
Always cook the strips in a single layer so that all of them crisp up evenly.
Remember the cooking time will vary depending on how thick the pieces are. If the bacon is not crisp as you would like, let it keep cooking for a few extra minutes. Also, less time is needed for thinner strips.
Also, if you are trying the appliance for the first time, then the best way is to test cooking in small batches. There are many different brands there, so test it first with only a few strips of bacon. Once satisfied with the results and timing, continue with the whole batch.
Crispy Air Fryer Bacon
Ingredients
12

slices

bacon

1

teaspoon

paprika

1

teaspoon

brown sugar

optional
Instructions
Preheat air fryer to 360 degrees F.

Mix the sugar (if using) with the paprika and gently rub it onto the bacon slices.

Place a small amount of water on the bottom of the air fryer and arrange the bacon slices in the air fryer in a single layer. It depends on the size of your air fryer, if needed but them in half or cooks in batches.

Cook 8-10 minutes or until crisp.

Remove the bacon and place it on a paper towel-lined plate.

Clean the bottom of the air fryer with a paper towel, and repeat with the remaining slices.

Keep in mind that thinner bacon slices may cook quicker and thicker ones may need a few minutes extra.

If needed, reheat the bacon slices for 1 minute in the air fryer and serve.