Air Fryer Fried Chicken [Video]
Air Fryer Fried Chicken is super crispy on the outside and juicy on the inside, with no deep-frying needed! Just crunchy, golden brown goodness loaded with flavor from the spices and buttermilk-ranch marinade!
What's a fried chicken dinner without delicious side dishes? I have tons of sides on the site, but if you'd like to go classic, you can't go wrong with Southern Corn Bread, One Pot Mac and Cheese, and Crack Mashed Potatoes!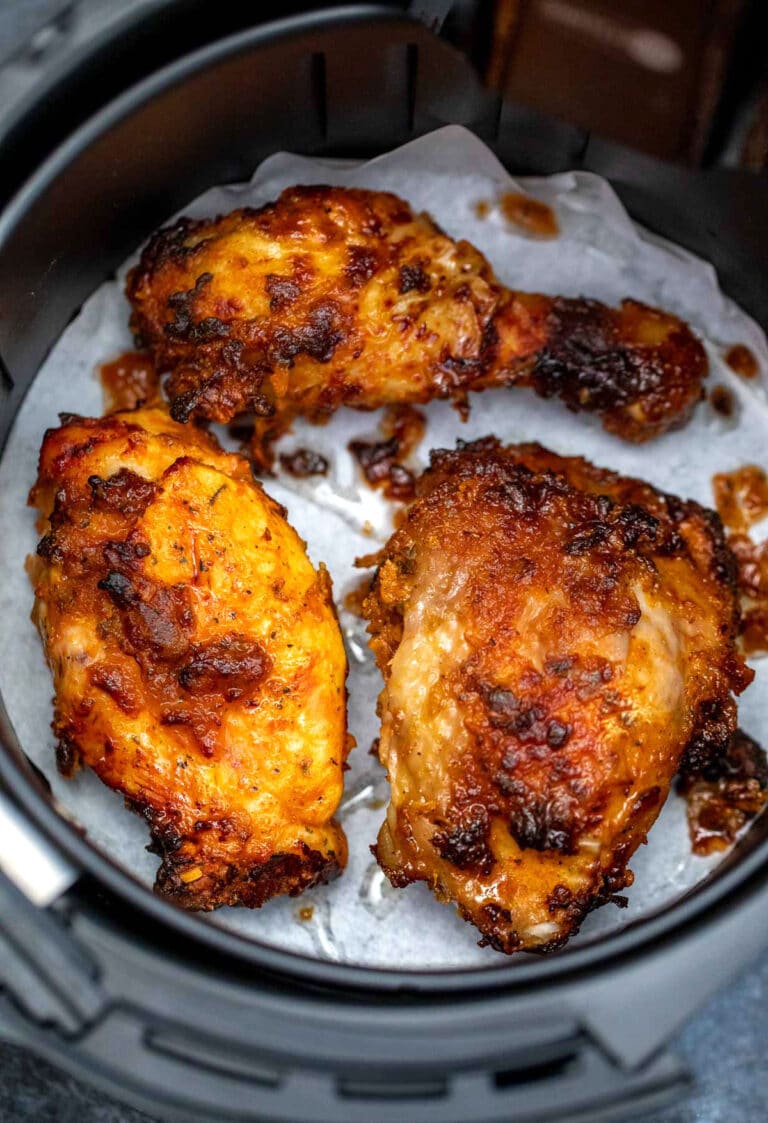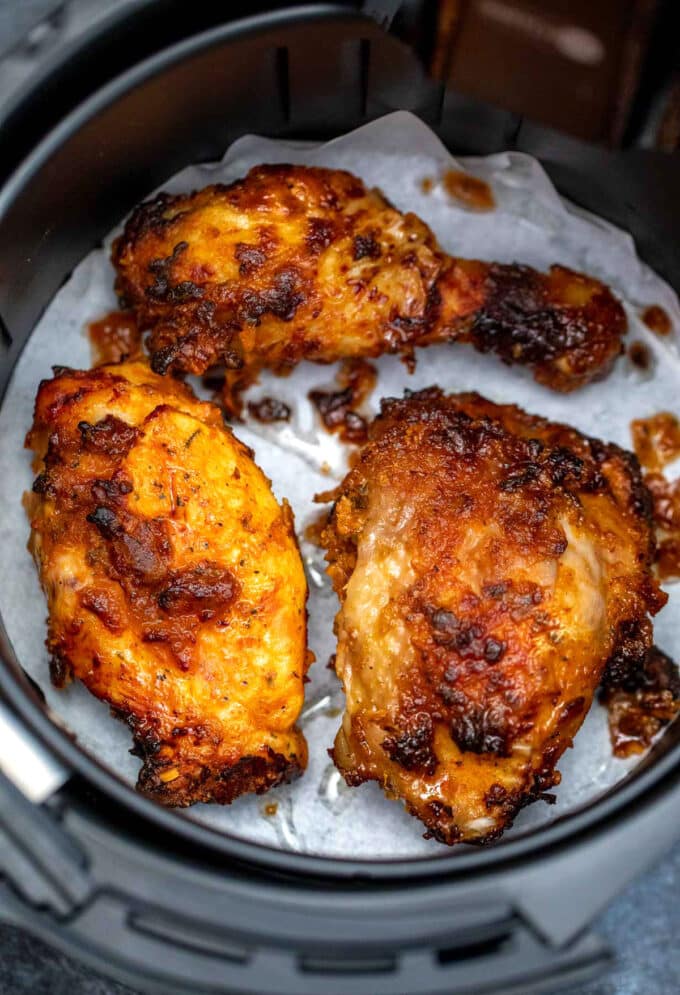 Air Fryer Fried Chicken Recipe
Air Fryer Chicken is the ultimate comfort food: who can resist the crunchy skin and tender, flavorful meat of fried chicken? Not me, and neither can my family and guests whenever I serve it! However, I used to avoid making it often because of all the fat and unhealthy calories.
The air fryer changed all that. It's almost unbelievable how crispy and juicy it turned out. It also takes much less time than traditional deep frying.
Mouthwatering fried chicken without the guilt and grease? Yes, please!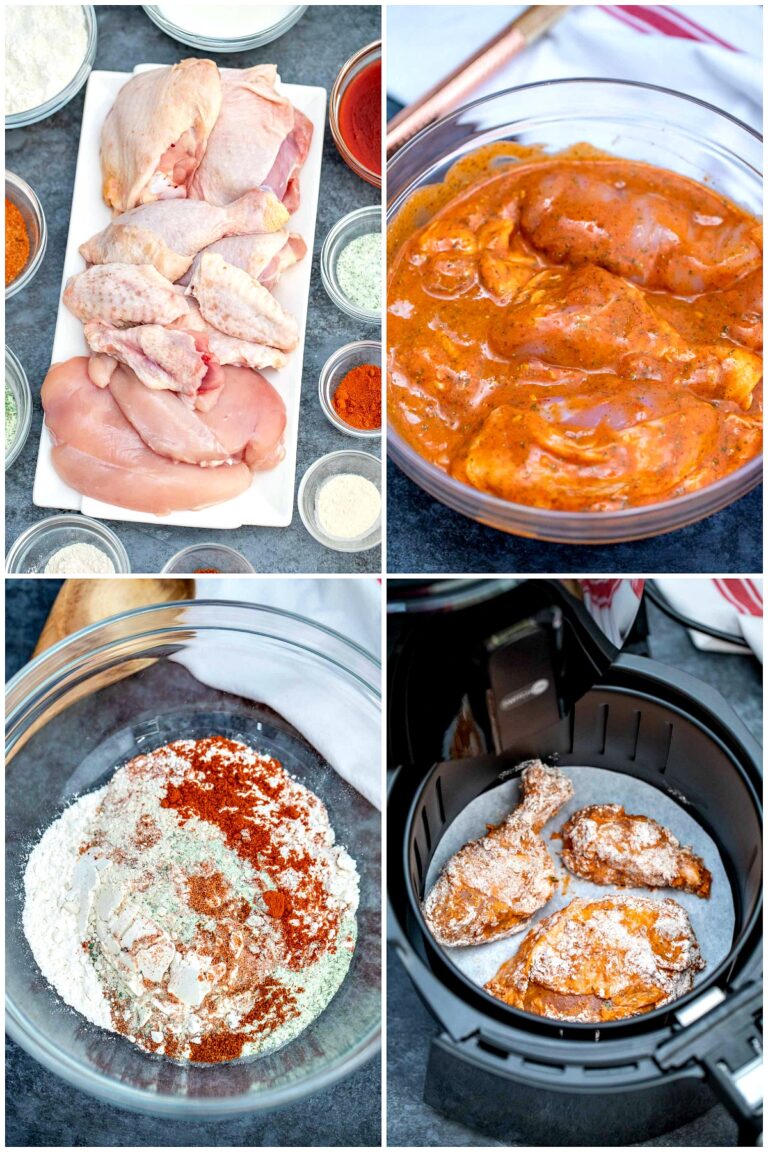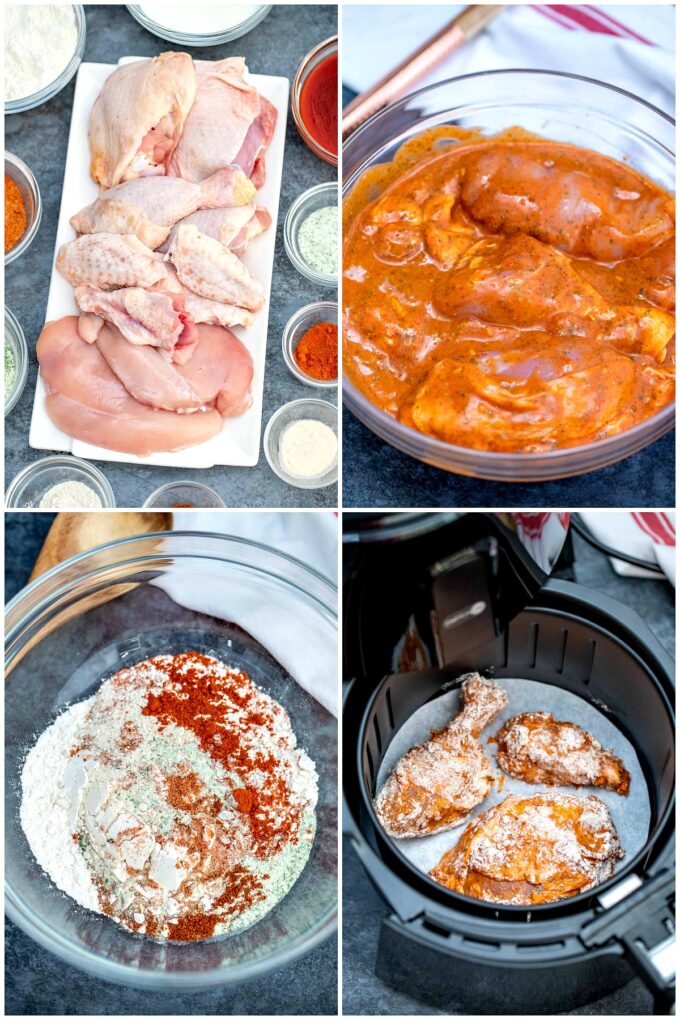 Can you cook frozen chicken in the air fryer?
Yes. Hot air swirls around the food rapidly, which means it reaches all the surfaces to create that super-crispy crust. That process cooks frozen food more efficiently than deep-frying or baking. You can also cook all kinds of frozen food, such as nuggets, hamburgers, pork chops, French fries, and more!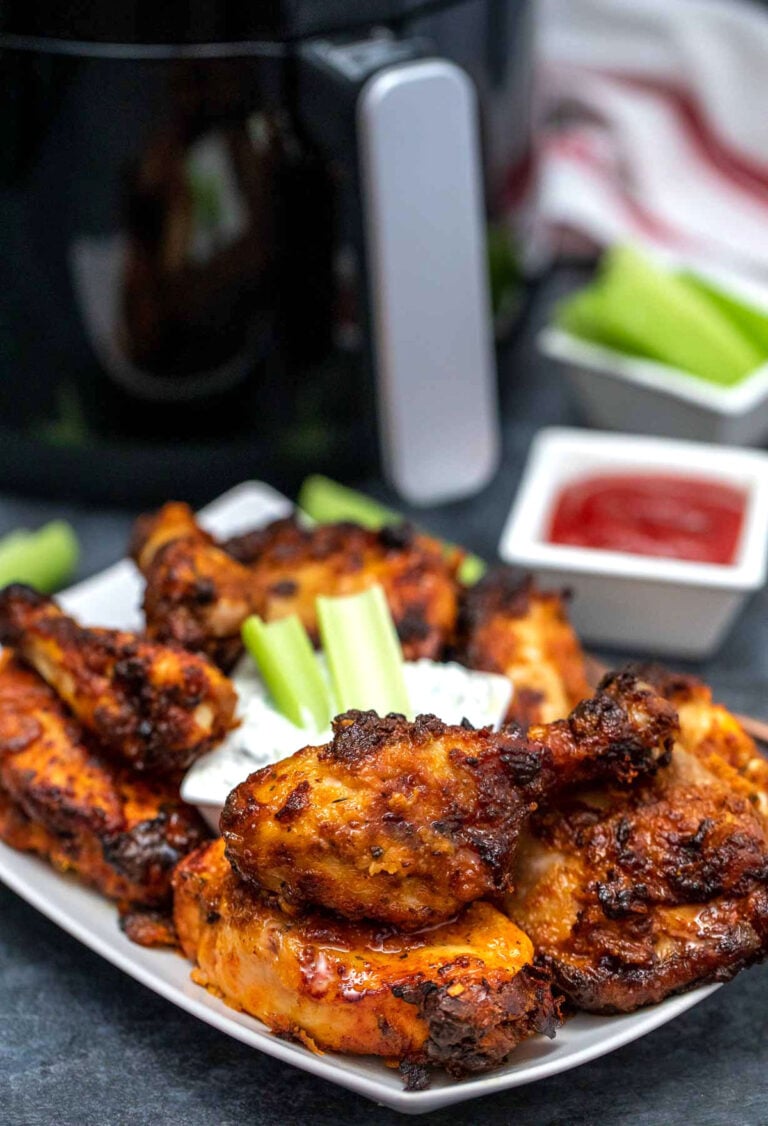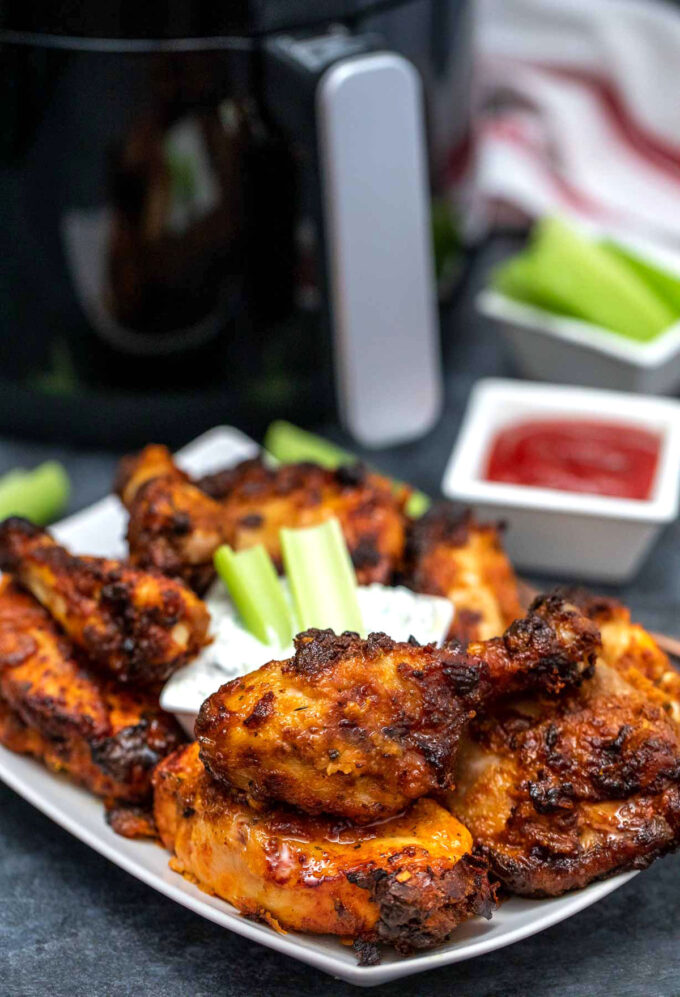 Can you stack the pieces in the air fryer?
I do not recommend stacking the pieces. You need that hot air to come into contact with every inch of the surface to produce a beautiful, crispy crust. Space the pieces out in a single layer and make sure they're not touching.
How to season chicken for the air fryer?
For my recipe, I begin infusing flavor by marinating the meat in buttermilk, ranch, and hot sauce. The longer the marinating time, the better. Once I'm ready to air fry, I coat each piece with a seasoning mix using flour, spices, and some Ranch seasoning for a tangy kick.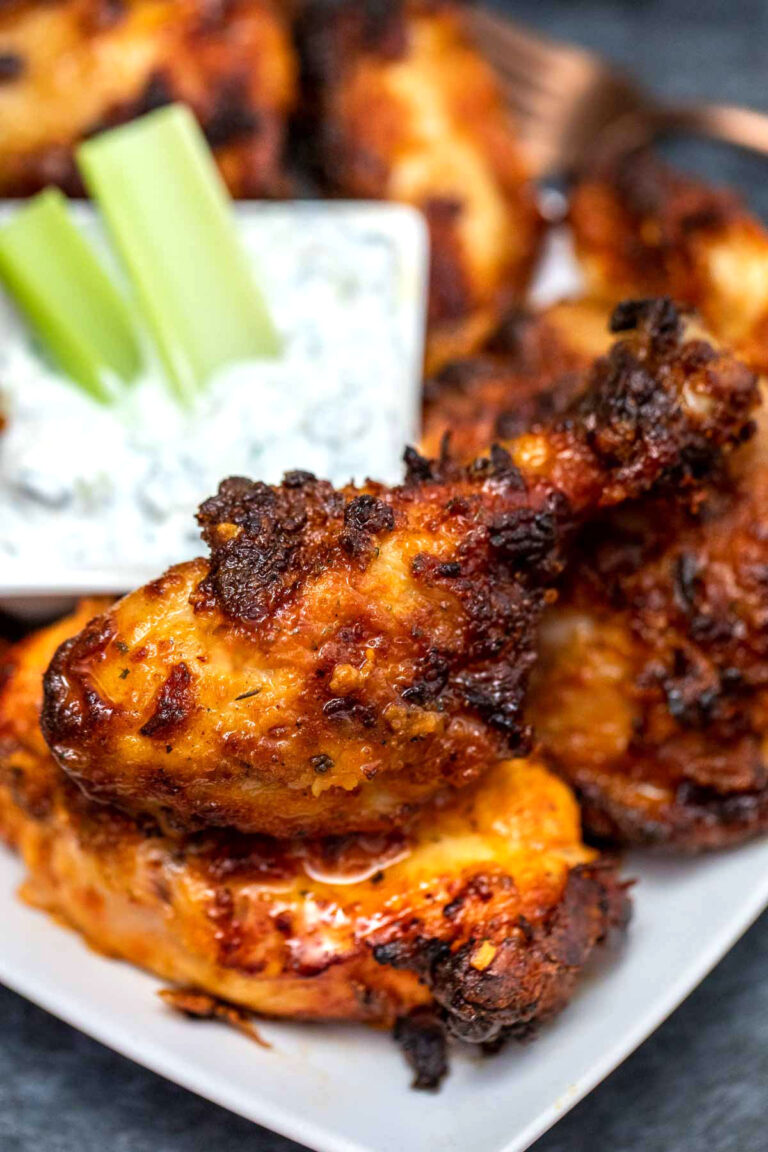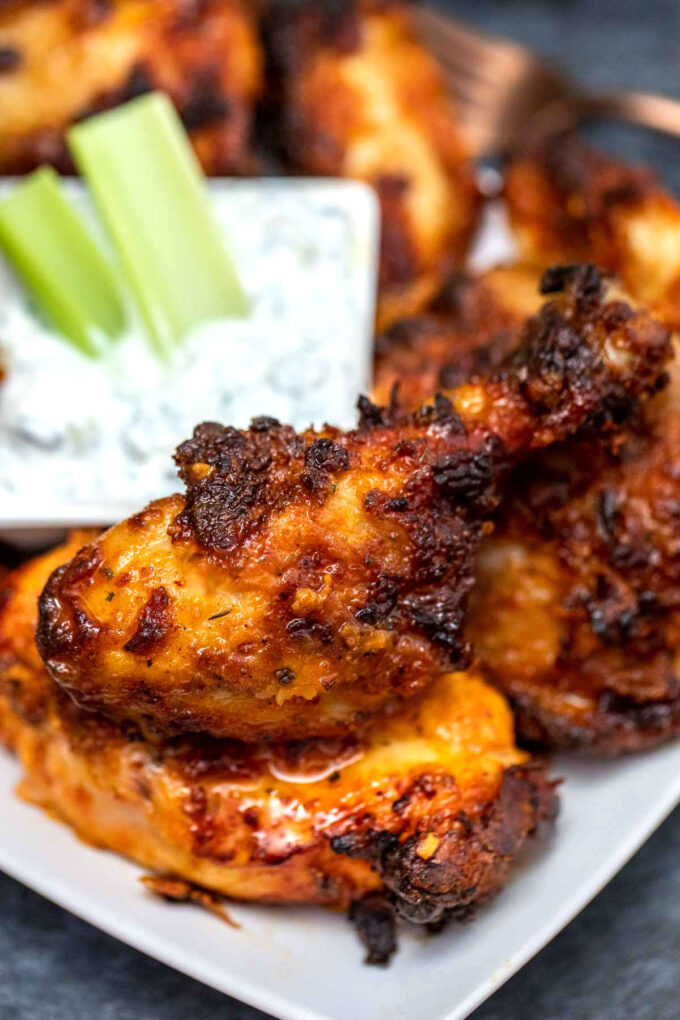 How to make air fryer fried chicken?
Marinate. Marinate for up to 24 hours in the refrigerator.
Coat. Whisk the seasonings together, and dredge the chicken on all sides.

Prepare. Line the air fryer basket with parchment. Ready your seasoned pieces.
Air fry. Place the meat in a single layer inside the air fryer and flip at the specified time. Spray any spots of flour with cooking spray. Continue cooking.
Check for doneness. Check if the meat is done using a quick-read thermometer.
Serve. Serve immediately with your preferred sides.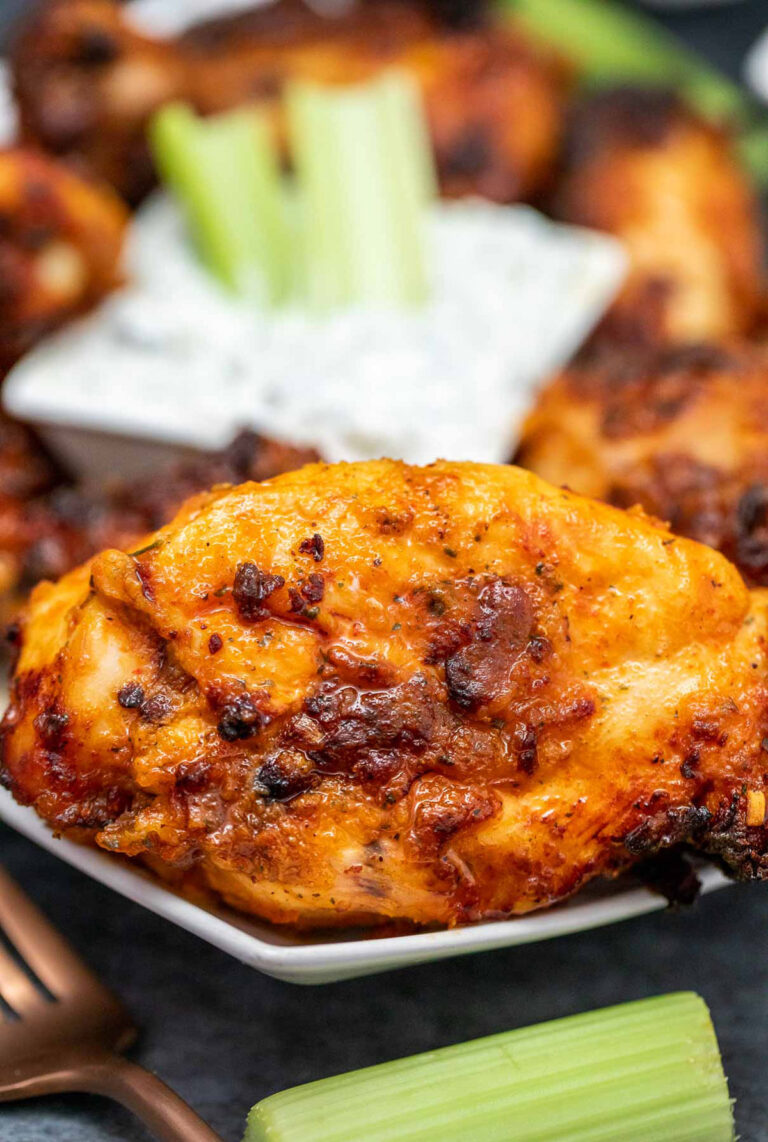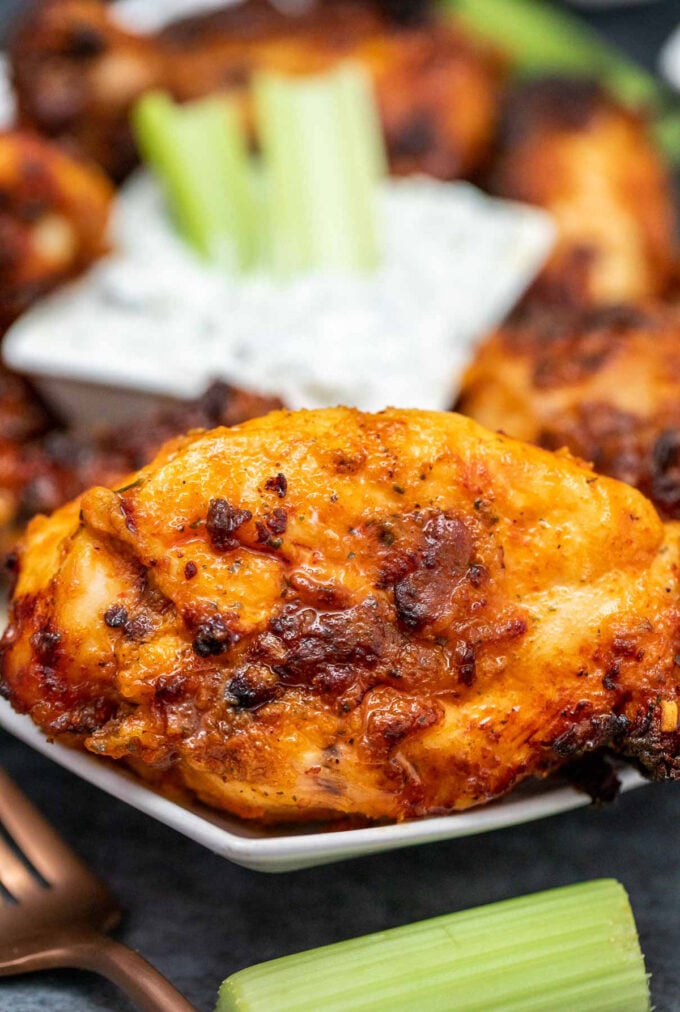 What to serve with fried chicken?
If you like it simple, serve it with some buttered dinner rolls and a side salad. I love serving it with waffles, which is always a hit for both kids and adults!
If you're cooking for a lot of people, you can prepare sides that are easy to make in large amounts, such as mashed potatoes and coleslaw. Collard greens, potato salads, and biscuits are quite popular too!
More Chicken Recipes:
How to store leftovers?
Store the leftovers in shallow, airtight containers. You can also wrap them in plastic wrap or aluminum foil. If properly stored, leftovers can safely last up to four days in the fridge. To reheat, cook them in the air fryer for around 10 minutes.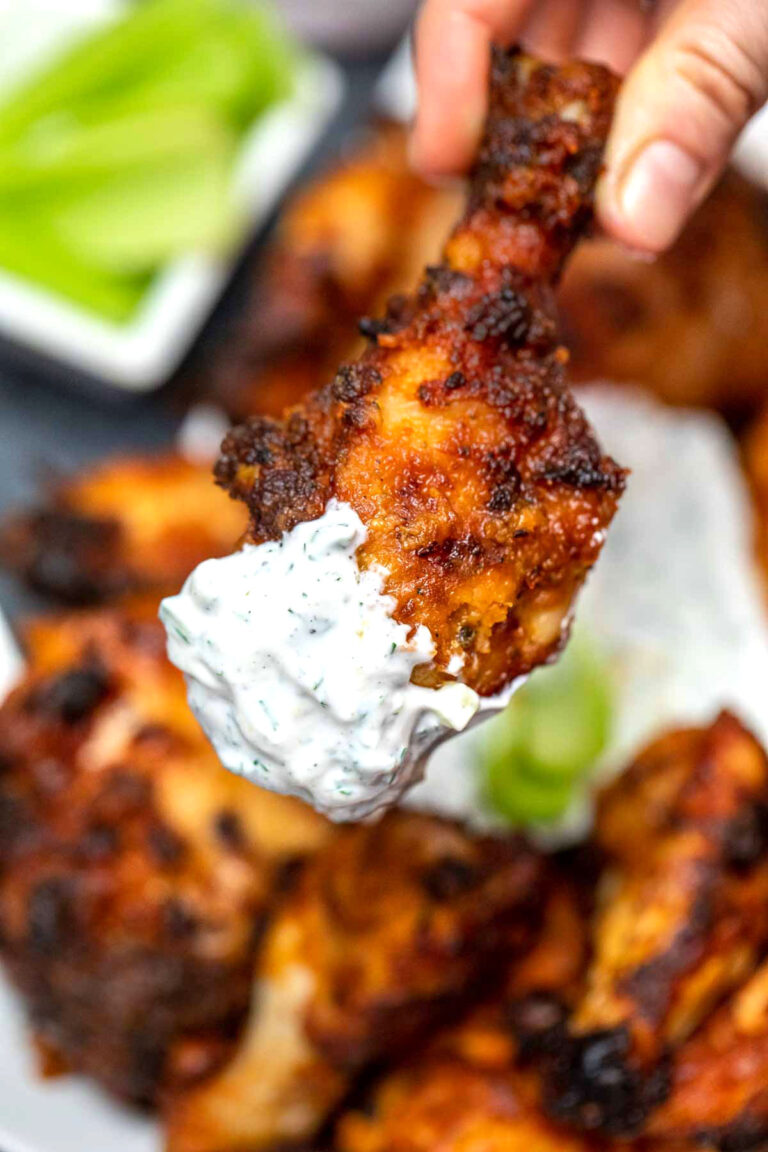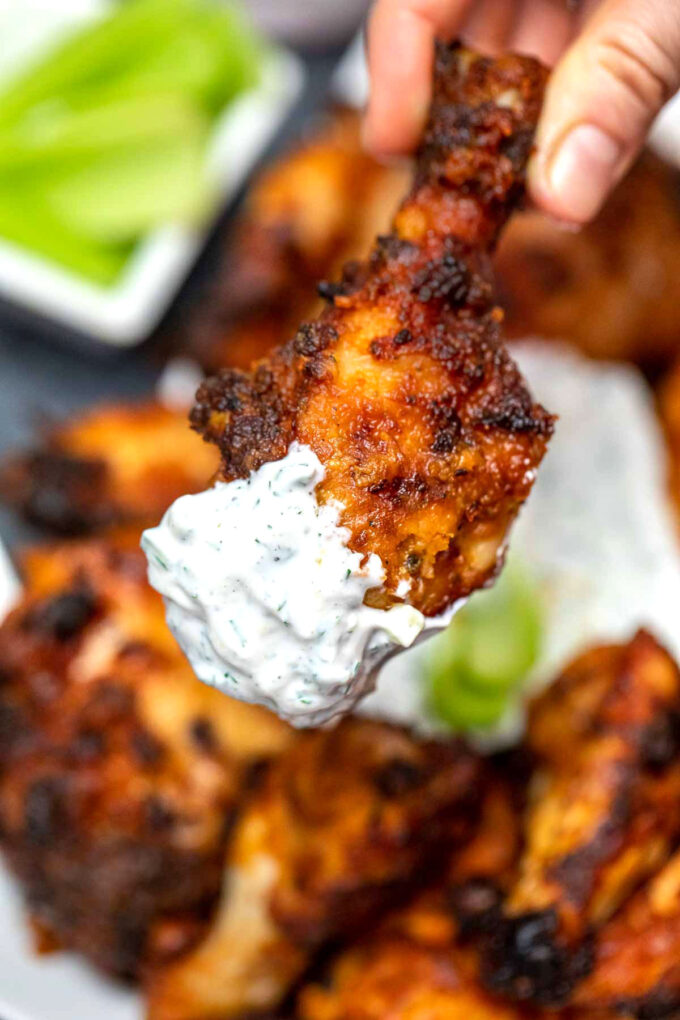 Recipe Tips:
Use chicken with the skin on so that the breading sticks better.
Always leave enough space between each piece. Do not overlap.
Lightly spray the surface with canola or vegetable oil to avoid spots that taste like dry flour.
Prevent the parchment liner from getting caught in the fan by placing the pieces on top of it before starting the machine.
Expect some of the breading to fall off, which naturally happens due to the circulating air. Using liners can lessen this.
Cooking time can vary depending on the brand of your machine, so make sure to double-check.
The internal temperature of the meat should reach at least 165 degrees Fahrenheit.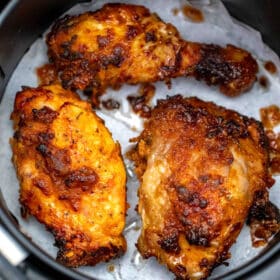 Air Fryer Fried Chicken
Air Fryer Fried Chicken is super crispy on the outside and juicy on the inside, with no deep-frying needed! Just crunchy, golden brown goodness loaded with flavor!
Save
Share
Print
Pin
Rate
Ingredients
Marinade:
1/2

whole chicken

(cut into separate pieces: breast, thigh, wing, and leg)

1/2

cup

hot sauce

1/2

cup

buttermilk

1/2

cup

Ranch dressing
Seasoning:
1

cup

all-purpose flour

1/2

teaspoon

salt

1

teaspoon

garlic powder

1

teaspoon

onion powder

1

teaspoon

smoked paprika

1

tablespoon

Ranch seasoning

1/2

teaspoon

ground cayenne pepper
Others:
Oil for spraying the air fryer
Instructions
Marinate:
Mix marinade ingredients and place chicken pieces in it. Cover and place in the refrigerator for at least 2 hours or better up to 24 hours.
Seasoning:
In a large shallow bowl, whisk together all the Seasoning ingredients. Set aside.
Prep the Chicken:
Place a parchment liner in the Air Fryer basket.

Remove a piece of chicken from the marinade and toss it into the Seasoning mixture, coating all sides of the chicken, shake off.

Arrange the chicken pieces in the basket in a single layer, for BEST results do NOT overlap and do not place too close to each other.
Air Fry:
Close the Air Fryer basket and set the temperature to 390 degrees Fahrenheit and timer to 25 minutes.

After 13 minutes, open the air fryer and spray with oil spray any "seasoning spots" left too dry on the chicken. Flip the chicken and spray the other side with oil spray as well.

Close the Air Fryer and cook for 12 more minutes. Please keep in mind, that cooking time may vary depending on the Air Fryer brand, that's why it is important to check the internal temperature of the chicken.

Once the timer is up, open it and check the chicken temperature with a kitchen thermometer. The internal temperature should be 165 degrees at the thickest part of the chicken.

Some breading will fall off, which is normal, however, much less breading falls off when using the parchment liners.
Nutrition
Calories:
493
kcal
|
Carbohydrates:
29
g
|
Protein:
22
g
|
Fat:
32
g
|
Saturated Fat:
7
g
|
Cholesterol:
85
mg
|
Sodium:
1794
mg
|
Potassium:
378
mg
|
Fiber:
3
g
|
Sugar:
3
g
|
Vitamin A:
643
IU
|
Vitamin C:
25
mg
|
Calcium:
93
mg
|
Iron:
3
mg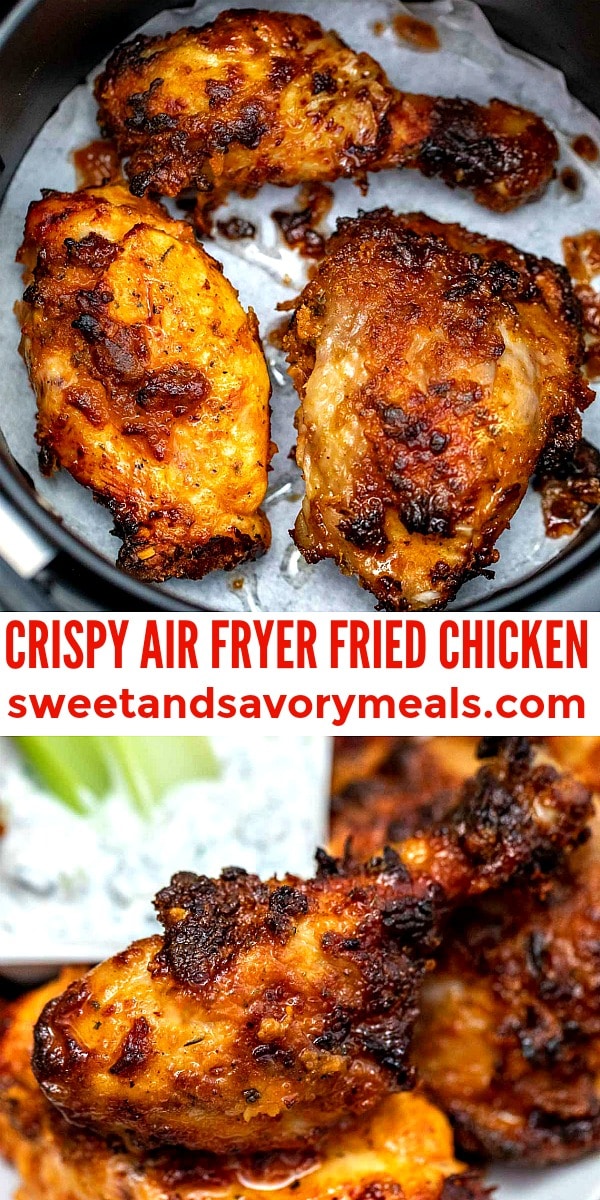 More recipes you might love