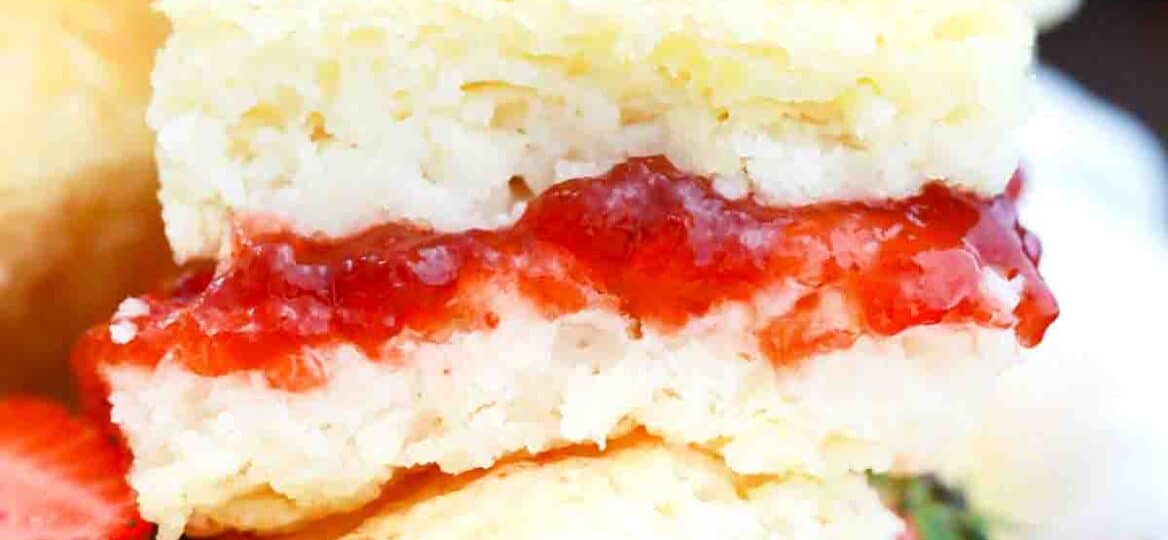 Butter Swim Biscuits Recipe [Video]
Butter Swim Biscuits are the butteriest biscuits you have ever had, they melt in your mouth and are great with main dishes or jam. In fact, the name is perfect because these delicious biscuits are literally swimming in butter. You cannot get store-bought buttermilk biscuits anywhere near the amount of buttery goodness that these have.
For other rolls, try these 30-minute Dinner Rolls made fluffy with active dry yeast and warm milk or our Amish Potato Dinner Rolls cooked from mashed potatoes and instant yeast.
The idea of biscuits actually came from hardtack, which was made from water and flour. These biscuits were used on long voyages because they did not go bad as meat and other foods did. It was also used in the military starting back in the 1600s in Britain and the US.
However, biscuits in Britain were not really biscuits. What we call cookies are what the British call biscuits and were made with more sugar.
You only need a handful of butter swim biscuits ingredients to make these buttermilk biscuits with a fluffy inside and a crispy crust. If you love biscuits, you are going to really love these because they are better than any other biscuit recipe you have ever tried. We promise!
Looking for more recipes to try? These fluffy cinnamon rolls with cream cheese icing are better than anything you can get at the store. For something a little different, try our cinnamon fried pineapple from brown sugar and maraschino cherries and served with ice cream.
Follow us on Pinterest for more delicious recipes!
Ingredients needed:
For this easy butter swim biscuits recipe, you will need the ingredients listed below. Then, when you are ready to begin, scroll down to the bottom of the page for the complete instructions and exact measurements on our recipe card.
Buttermilk
All-purpose flour
Salted butter
Granulated sugar
Kosher salt
Baking powder: Not baking soda.
How to make butter swim biscuits from scratch?
Preheat oven: To start, put 1/2 cup of the butter in a 9×9-inch baking dish and set the oven to 450 degrees F. Let the pan sit in the oven as it heats to melt the butter and heat up the pan. See the recipe notes below for more information.

Mix dry ingredients: While you wait for the oven to heat up, add flour, sugar, baking powder, and salt in a medium bowl and whisk thoroughly.
Add buttermilk: Then, add the buttermilk as you stir it together with a wooden spoon until it forms a sticky batter.
Spread the biscuit dough: After the oven is heated, remove the baking pan and spread the moist dough on top of the melted butter. Spread unbaked dough evenly using a wooden spoon or a spatula. Cover the top of the biscuit batter with the rest of the melted butter to help the top bake up golden brown.

Cut and bake biscuits: Lastly, using a knife, cut the raw dough into nine biscuits before baking. Place the pan back in the oven and bake biscuits for 18 to 20 minutes until they are golden brown.
Serve: Finally, these buttery biscuits are best served warm with a side of even more butter.
How to make stovetop butter swim biscuits from scratch?
Preheat the pan: To begin, place butter in a cast iron skillet and let it heat up on the stovetop at high heat.

Whisk the dry ingredients: Meanwhile, mix flour, baking powder, sugar, and salt together in a medium bowl before adding the buttermilk. Stir until it is a sticky dough.
Add and slice the dough: Once the pan is hot, evenly spread the raw dough into the pan and add the rest of the melted butter. Slice it into nine pieces with a knife or bench scraper before letting it cook over medium-high heat.

Cook biscuits: Finally, let the biscuits cook for five minutes before flipping. Then let them cook for another two minutes or until they are golden brown.

Serve warm: Once finished, remove the biscuits and serve warm with a bit of butter on the side.
Recipe variations:
Regular milk: If you do not like buttermilk, you can use regular milk instead.

Self-rising flour: For even easier biscuits, use self-rising flour to help make the biscuits rise.

Different flour: Feel free to use another kind of flour such as whole grain or wheat flour.

No gluten: Or make gluten-free biscuits with almond or coconut flour.

Other sugar: For a richer flavor with a bit less sweetness, use brown sugar instead of granulated sugar.
Add fruit: To make these biscuits sweet, add a cup of chopped fruit like strawberries, cherries, or apples.

Chocolate: Also, chocolate lovers would enjoy a cup of chocolate chips in the batter.

Add herbs: Feel free to add your favorite herbs and spices like garlic, onion, basil, thyme, or rosemary.
How to serve:
Whether you serve these butter swim biscuits for breakfast, lunch, dinner, or a snack, they are too good to just have one. Make sure you have enough butter to serve on the side. Also, you can try one of these great serving ideas or share your own in the comments section at the bottom of the page.
Sprinkle some parmesan, romano, or another kind of cheese on top for cheesy biscuits.

These go great with strawberry or raspberry jam. Try our delicious sweet plum jam with no pectin or tangy strawberry jam recipe.

Use leftovers to make a buttermilk biscuit dough for pizza or some other recipe.

You could also top these biscuits with honey or apple butter.

Use these butter swim biscuits to make mini breakfast sandwiches. Simply add a sausage patty, fried egg, and cheese with a dollop of your favorite sauce.
Use these tasty rolls to make biscuits and gravy.

Add these delicious biscuits as a side dish to any dish.
Use a small circular glass to make small holes in the middle of the biscuits and coat them with powdered sugar and cinnamon to make doughnuts.
Frequently asked questions
Can I use shortening instead of butter?
For these butter swim biscuits, it is best to use butter because it is the main ingredient and gives the dough the best buttery flavor. Shortening is good for some things, but not in this recipe. In addition, shortening is so sticky, you cannot get that light and fluffy inside you get from the steam in the dough. You only get that with butter.
Why are my biscuits dry?
It is possible that you used too much flour. Do not scoop up the flour with the measuring cup. When measuring flour, it is best to sift it first and then use a spoon to lightly fill the measuring cup. Then, use the back of a knife to level it before using it. You may also have cooked your biscuit dough too long. Be sure your oven is at the right temperature by using an oven thermometer.
Why are there no eggs in these biscuits?
Most biscuit dough recipes do not call for eggs. Although some buttermilk instructions do call for one large egg. The reason for the added ingredient varies, depending on the recipe. One recipe states that it makes the biscuits taste richer, while others say it helps the biscuit dough rise. Another chef claims that it tenderizes the dough and adds a browner color. We just did not feel this was a necessary ingredient.
What are the nutrition facts in this recipe?
These buttery biscuits have 258 calories each with 31 grams of carbs and 12 grams of fat with 8 grams of saturated fat, 3 grams of monounsaturated fat, and 1 gram of polyunsaturated fat. You also get 34 milligrams of cholesterol, 834 milligrams of sodium, and 4 grams of sugar.
On the other hand, one serving will give you 2 milligrams of iron, 175 milligrams of calcium, and 401 units of vitamin A as well as 2 grams of fiber, 114 milligrams of potassium, and 5 grams of protein. Keep in mind, these amounts are just approximate and depend on the ingredients you add or omit from the recipe.
How to store leftovers:
Store: Once the leftover butter swim biscuits are cooled to room temperature, wrap them in plastic wrap and then in aluminum foil before placing them in an airtight container. This will keep all the buttery goodness in the biscuits where it belongs. They will stay fresh in the fridge for up to five days or on the counter for three.

Freeze: You can also freeze your leftovers for up to four months.

Thaw: For best results, thaw biscuits overnight in the refrigerator before reheating.

Reheat: To reheat, place biscuits in the microwave wrapped in a paper towel for 60 to 90 seconds. Or heat in an oven set at 400 degrees F for five minutes.
More bread recipes:
Baking tips:
If you do not have buttermilk, add one tablespoon of vinegar or lemon juice to one cup of milk.

Make sure you observe the butter as it melts in the preheating oven. You do not want it to burn.

Alternatively, you can melt the butter separately in a cast iron skillet and pour it into the baking dish without preheating it.

Or melt the butter in a microwave-safe bowl for 30 to 45 seconds.

If you use unsalted butter, add 1/2 teaspoon of salt to your recipe.

You could also use an 8×8-inch baking dish for thicker biscuits. Just change the baking time to 20 to 23 minutes.

Not all ovens cook the same so keep an eye on your biscuits, so they do not burn.

Put your baking dish on a cookie sheet to catch any butter that runs over.
Cutting the dough into smaller pieces will not change the cooking time so make them whatever size you like.
Butter Swim Biscuits
Ingredients
1/2

cup

salted butter

cold and cut into cubes

2

tablespoons

butter

melted

2 1/2

cups

all-purpose flour

4

teaspoons

baking powder

3

teaspoons

granulated sugar

1

teaspoon

kosher salt

2

cups

buttermilk
Instructions
Add the cubed butter to the bottom of a 9×9 pan.

Turn on the oven to 450 degrees F and place the pan inside. Let the butter melt and the pan warm up while the oven preheats. Remove it immediately after the butter has melted.

In the meantime, add the flour, baking powder, sugar, and salt to a large bowl, and whisk to combine.

Next, pour in the buttermilk and stir together with a wooden spoon until a thoroughly combined and sticky dough is formed.

Remove the pan with the fully melted butter from the oven and spread the dough on top of the melted butter, using a wooden spoon or spatula. Distribute evenly in the pan, from side to side.

Pour the additional 2 tablespoons of melted butter on top, this will make the biscuits golden on top.

Using a sharp knife cut the dough in the pan into 9 biscuits before baking.

Place the pan back in the oven and bake for 18 – 20 minutes or until golden brown.

Remove from the oven and cool on a wire rack for 10 minutes.

After that, run a sharp knife through the incision lines and serve the biscuits.

Serve warm or cold as a side dish or with jam.