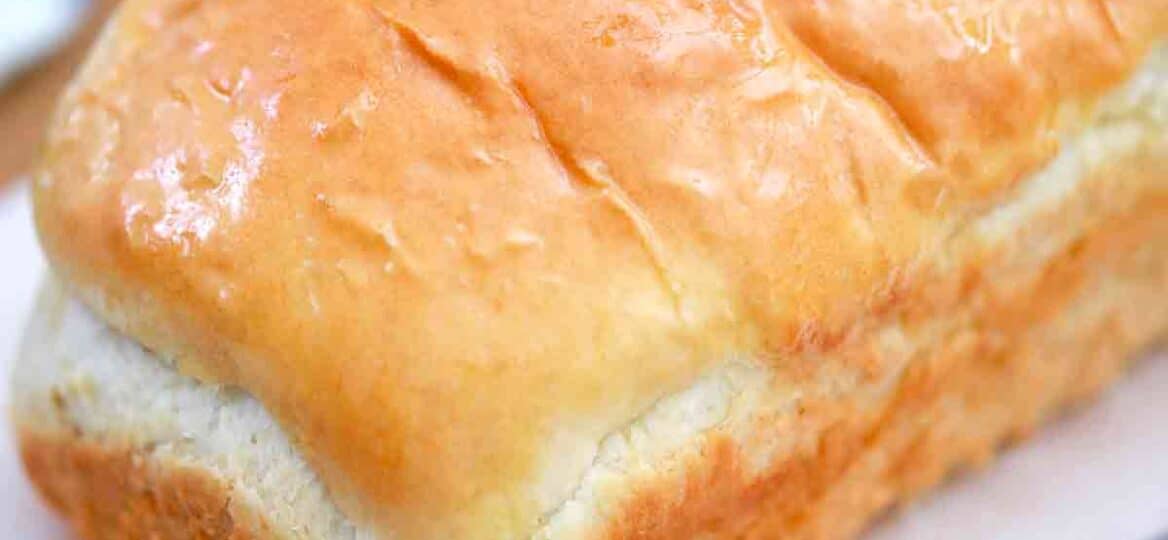 Amish White Bread is a soft and fluffy loaf of deliciousness, and you can make it with just a few ingredients you probably already have in your kitchen. All you need is flour, sugar, yeast, and oil with a bit of melted butter for the buttery golden brown top.
Another fast and easy recipe to try is this Irish Soda Bread made with raisins and eggs. For a sweeter loaf, our Instant Pot Banana Bread is amazing with brown sugar and cinnamon. If you are a chocolate lover, try this Chocolate Banana Bread instead.
Our Amish white bread recipe is perfect for those who do not make bread often because it is so easy it is practically foolproof.
This is the best bread recipe to use for first-timers or to make with the kids. However you make it, the end result is a light white loaf with a hint of sweetness.
Follow us on Pinterest for more delicious recipes!
Ingredients needed:
These are the ingredients you need for this homemade bread recipe. For the step-by-step instructions, scroll to our recipe card at the bottom of the page.
Flour: All-purpose flour.
Sugar: Granulated white sugar.

Yeast: One pack of instant yeast.
Water: One cup of warm water at 110 degrees F.
Salt: Any salt will do.
Oil: Canola or vegetable oil for best results.

Melted butter: Unsalted.
How to make Amish white bread recipe?
Prepare the yeast: First, using a small bowl, stir the yeast, sugar, and water. Let it sit for 10 minutes or until bubbles form.
Mix: Next, in the bowl of a stand mixer with a dough hook, add the flour with the salt and oil before adding the yeast mixture. Stir with the mixer on medium until it pulls away from the sides of the bowl.

First rise: Immediately, roll the bread dough into a ball and move it to a large bowl that has been oiled. Cover it loosely with saran wrap and put it in a warm, dark place where there are no drafts. Let the dough rise for 60 to 90 minutes until it has doubled in size. Rise time may vary depending on the temperature and humidity in your house.
Second rise: Then, punch dough to deflate and roll the ball of dough into a log shape that will fit into 9×5 inch loaf pans. In a large mixing bowl, cover with plastic wrap again and let it rise in a dark warm place until it doubles in size. This typically takes 50 to 60 minutes.

Preheat: Meanwhile, turn your oven to 350 degrees F about 20 minutes before the second rise is done.

Bake: Next, bake for 25 to 30 minutes, until the top is golden brown.
Butter: After, brush the top of the bread with melted butter and let it sit in the pan for 10 minutes.
Cool: Lastly, remove the loaf of bread and put it on a cooling rack until it cools to room temperature.

Serve: Finally, slice and serve.
Recipe variations:
Bread flour: You could also use bread flour for this recipe.
Bread machine: This can also be made in a bread machine.
Less sugar: Feel free to use a smaller amount of sugar or a sugar substitute.
Different sugar: Use brown sugar instead of white for a richer flavor.
Cinnamon: Mix one tablespoon of cinnamon and ½ cup of raisins into the dough for a cinnamon raisin loaf.
Whole wheat: Alternatively, use whole wheat flour for a healthier loaf.
Damp cloth: If your house is unusually dry, use a damp towel or cloth instead of plastic wrap.
How to serve:
Serve this tasty bread with a dollop of your favorite jam or preserves. Or try one of these ideas:
Frequently asked questions
What is the difference between active dry yeast and instant yeast?
Active yeast needs to be rehydrated. You have to dissolve and hydrate it in warm water before using it.
Instant yeast does not need to be rehydrated and can be mixed directly into any of your delicious homemade bread recipes.
Also, you can skip the first rise time and shape the loaf after kneading.
Why do they call it Amish bread?
Although it is not completely clear who made the first Amish bread recipe, it is thought that it was started as a gift for those in the community who were sick or poor.
Bakers in the Amish community would use this great recipe to make extra loaves to give to the needy.
Can I use milk instead of water?
Yes, you can try making Amish white bread using milk. This is sometimes called milk bread. In fact, milk makes it softer and gives it a richer flavor.
However, it will brown easier and faster because it caramelizes as it bakes. The higher the fat content in the milk, the faster it will brown.
How to store leftovers:
Store: This loaf can be stored uncut at room temperature in an airtight container for four to five days. If it is sliced, store it in a paper bag.
Freeze: To freeze, wait until it is cooled to room temperature and slice before storing it in a freezer-safe container. It will stay fresh for up to six months.
Thaw: Remember to thaw overnight in your fridge before serving for best results and serve at room temperature.
More bread recipes:
Recipe tips:
Add a pinch of ground ginger to the yeast to get it going faster.

Make sure the water is 110 degrees F when you add it to the yeast.

If you do not have a stand mixer, you should learn how to knead. Learning to knead by hand is essential to making good bread.

If this is your first time making bread, practice with some dough beforehand. That way, the second time you do it, you will know how long to do it for the best results.

For those who are under 5 feet 5 inches tall, knead your bread at the table. The floured surface should be low enough to allow your arms to hang down with just a slight bend.

Make sure you place dough in a greased bowl so it will not stick.
The texture of the dough should feel like your earlobe when you pinch it when it is done. Also, it will stretch a little bit instead of breaking when you pull it.
Amish White Bread
Ingredients
1

cup

warm water

110-120 degrees F

1/3

cups

granulated sugar

1

packet instant yeast

or 2 ¼ teaspoons

3

cups

all-purpose flour

1

teaspoons

salt

2

tablespoons

vegetable oil

2

tablespoons

unsalted butter

melted
Instructions
In a small bowl, stir together the warm water, sugar, and yeast. Let sit for 10 minutes, until foamy.

In the bowl of a stand mixer fitted with the dough hook attachment, add the flour, salt, and oil.

Slowly, add in the yeast mixture. On medium speed knead until the dough no longer sticks to the sides of the bowl, about 10 minutes.

Roll into a tight ball and transfer to a lightly greased bowl. Cover loosely with plastic wrap or a clean kitchen towel, and let rise in a dark, warm, place for 60 to 90 minutes, until doubled in size.

Place on a lightly floured surface, deflate and shape into a log to fit in a 9x5 loaf pan.

Cover loosely with plastic wrap or a clean kitchen towel and let rise in a dark, warm place for 50 to 60 minutes, until doubled in size.

Preheat the oven to 350 degrees F about 20 minutes before the second rise is done.

Bake for 25 to 30 minutes, or until golden brown.

Brush the crust with melted butter and let cool for 10 minutes in the pan, after that remove and transfer to a cooling rack to cool completely.