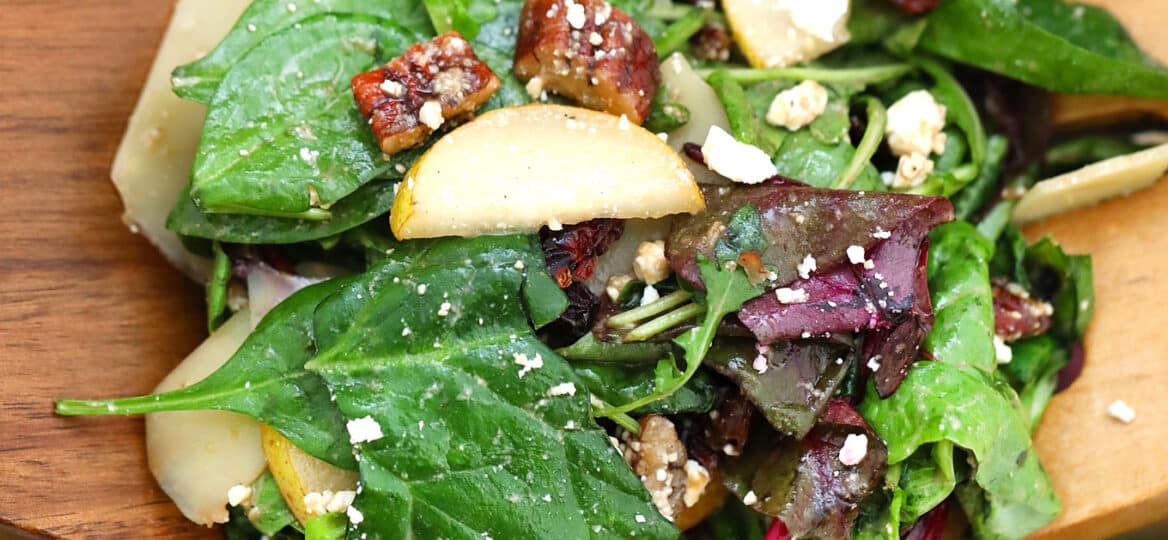 Pear Salad Recipe
Pear Salad is the best salad for autumn and winter! Make the best out of this fruit by preparing this light and refreshing side dish for your savory meals!
Enjoy this dish while the fruit is still in season! If you like more side dish ideas, then, head on to my other recipes perfect for this time of the year like the Brown Sugar Roasted Carrots, Crockpot Stuffing, and Creamed Spinach!
Pear Salad Recipe
Pear Salad is made with a mixture of greens layered with fruit slices, topped with various nuts and cheeses, and drizzled with balsamic vinaigrette. It is a play of flavors and textures in one refreshing dish!
The fruit is healthy, versatile, and abundant. And it is the best part of this recipe as it adds crispiness and a mixture of sweetness and tartness.
Around this time of the year, a lot of parties and gatherings are also happening. So, this dish makes for a quick lunch or side dish that you can make along with the savory entrees that you are preparing.
December is the National Pear Month. We so love this fruit that we even celebrate it every December! And yes, it is in season during this time of the year.
This recipe is the perfect choice for salads during autumn and winter. Staples such as the candied pecans and dried cranberries are even included in this dish. Make it part of your menu this holiday season!
What pears are best for this salad?
Bartlett or Anjou are good choices as well as Bosc. But any ripe but firm pear can be good for salads. They just vary in terms of juiciness and sweetness.
What you can do is to mix different varieties so that you can get all their desirable traits in one dish.
How to slice a pear for Pear Salad?
The shape is not at all complicated and the texture is similar to that of the apple. Simply cut in the middle lengthwise to expose the core. Remove that core and start slicing away lengthwise.
How to make Pear Salad:
Prepare the dressing: In a food processor, add all the dressing ingredients. Process the mixture until well-mixed for about 20 seconds. Then, store this acidic dressing in the fridge for later.
Prepare the greens: Assemble the greens and fruits in a large bowl. Top with the nuts, dried cranberries, and garnish with the cheeses.
Add dressing: Drizzle the salad right before serving and toss. If the dressing is put too early, the greens will wilt.
What else can you add to Pear Salad:
Salads, in general, are highly versatile and you can work with anything that you have on hand. Here are some nice suggestions:
chopped walnuts
dried cherries
crumbled bacon
red onion
Can I make it in advance?
You can prepare the ingredients in advance, then, simply assemble and toss right before you serve it. The dressing, in particular, can be refrigerated for a day or two. Make that in advance as well as the candied pecans if you will be making them yourself.
Recipe Tips:
For high-quality balsamic vinegar, use the one from Modena or Reggio Emilia.
Use my recipe to make homemade candied pecans that you can use for this salad.
If you have a lot more pears than you need for this recipe, turn them into a dessert! You can make a crumble out of it!
There are many kinds of cheeses that can be used in this recipe. Gorgonzola, blue, or goat cheese work fine.
Roast the pears first for added texture and flavor. Toss wedges in melted butter and brown sugar. Then, roast in the oven for a few minutes just until tender.