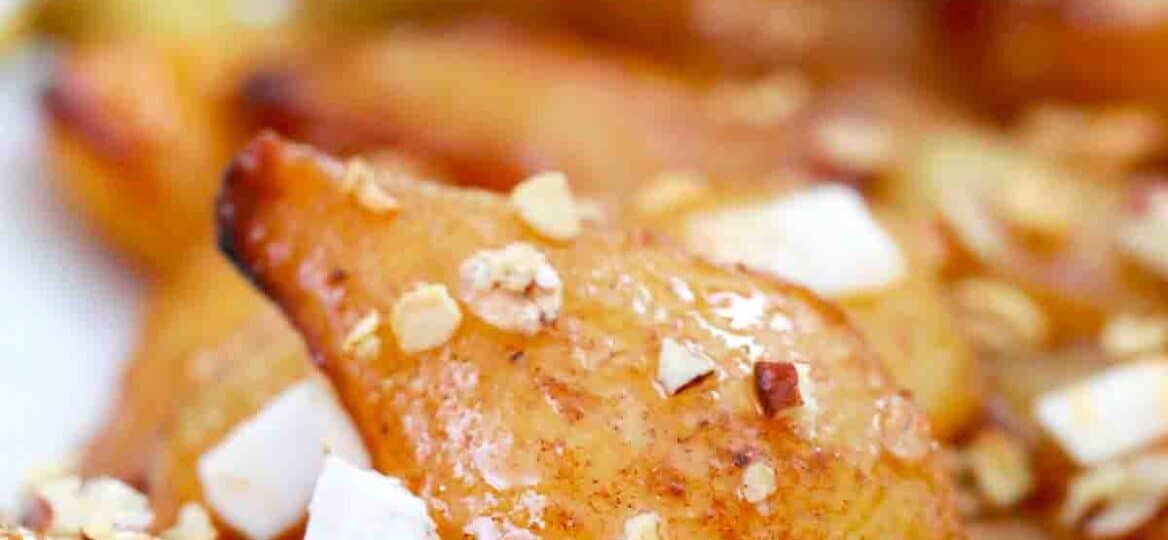 Caramelized Air Fryer Pears
Air Fryer Pears are soft and sweet, made with maple syrup and seasoned with fresh ground cinnamon and nutmeg. Whether you top them with granola, chopped nuts, coconut flakes, or all three, these vegan and gluten-free air-fried pears with no refined sugar are an excellent healthy dessert the whole family will love.
Are you looking for more air fryer recipes? These Air Fryer Apple Chips are deliciously seasoned with brown sugar and cinnamon and our Air Fryer Stuffed Chicken is filled with cream cheese and mozzarella. For a different kind of snack cuisine, try this simple recipe for Air Fryer Roasted Almonds with sesame oil and smoked paprika.
This recipe is perfect for those who love baked fruit because this air fryer pear recipe makes air fryer baked pears without even having to turn on the oven. In fact, you will probably see this recipe elsewhere as air fryer baked pears.
Because we love pears in the summer, but we don't love how much the oven heats up the house. And when you see how few ingredients you need, you will love making this for your loved ones all summer long.
If you and your family enjoyed this air fryer pears recipe, you should try our caramel-dipped bosc pears made with heavy cream and ground pistachios, or this pear salad recipe with honey, dijon mustard, goat cheese, and candied pecans.
This recipe can be used for oven-baked pears or instant pot pears as well. We shared our oven instructions for air fryer baked pears and instant pot pears recipes below.
Ingredients needed:
The next time your sweet tooth comes calling, feed it this baked pear dessert with whipped cream or vanilla ice cream. These are the simple ingredients for this air fryer baked pears recipe. For exact measurements and step-by-step instructions, scroll down to our printable recipe card.
Bartlett pears
Maple syrup
Ground cinnamon
Nutmeg
Optional toppings:
Granola
Coconut flakes
Chopped pecans or walnuts
How to make air fryer pears recipe?
Prepare pears: Wash, peel, and cut your fresh pears into quarters. Remove the core and scrape out any seeds.
Mix pears and sauce: Then, place pears in a small mixing bowl and add the nutmeg, cinnamon, and maple syrup. Mix gently until the pears are completely coated.
Place in the air fryer: Next, using a wooden spoon, place pears in the air fryer basket in an even layer.
Air fry pears: Immediately, air fry pears for eight to 12 minutes at 380 degrees F or until they are caramelized and golden.
Serve air-fried pears: Finally, remove air-fried pears from the basket and place them on a small baking dish. Top with granola, coconut, and chopped walnuts or pecans.
How to make instant pot pears:
Clean the pears: First, peel and wash the pears before removing the core. Cut into halves (quarters will get too mushy). Scrape out any leftover seeds.
Mix together: After, mix the pear halves with syrup, cinnamon, and nutmeg in a small bowl until they are coated evenly.

Prepare pan: Then, grease a seven-inch cake pan with oil. Place the pears in the pan in a single layer.
Prepare the pot: Next, pour one cup of water into the bottom of the pot and place the pan on top of the trivet.
Cook pears: Finally, lock the lid and set it to high pressure. Cook for eight minutes and let the pressure release naturally.
Top and serve: Lastly, remove pears and sprinkle on chopped nuts, coconut, and granola before serving.
Oven-baked pears:
Preheat: To begin, preheat the oven to 350 degrees F and grease a baking pan with nonstick cooking spray.
Clean and peel pears: Meanwhile, clean and peel your pears before seeding them and chopping them into quarters.
Coat pears: Immediately, combine the syrup with cinnamon and nutmeg in a mixing bowl. Toss pears gently until they are completely covered with the sauce.

Bake pears: After, place the pears on the prepared baking pan and bake uncovered for 15 minutes.
Serve baked pears: Lastly, remove baked pears and top with shaved coconut, nuts, and granola before serving.
Recipe variations:
Add brown sugar: Pears go great with brown sugar so why not add it to this air fryer pears recipe?

Melted butter: Add a few tablespoons of melted butter to the sauce for an even richer taste.
Greek yogurt: Alternatively, make your sauce creamier with 1/4 cup of vanilla Greek yogurt.

Other baked fruit: Try this recipe with other fruits like apples or peaches instead.

Coconut oil: For a healthy alternative, replace the syrup with coconut oil.
How to serve:
When you make baked pears in the air fryer, you can have them on the table and ready to eat in minutes. And these can be served as part of a nutritious breakfast, a decadent pear dessert, served cold or hot, with or without toppings. You may also like one of these great ideas:
These air fryer-baked pears taste exquisite with a dollop of our homemade whipped cream and sprinkled with brown sugar.
Serve these as a dessert with our instant pot apple cider pork chops seasoned with ground cinnamon, brown sugar, and nutmeg.
You can also top them with a scoop of vanilla ice cream for an even sweeter dessert cuisine.

In fact, caramel sauce would also taste great on these air fryer pears. Try our sweet and sticky caramel sauce recipe.

This baked pear dessert also goes great with our instant pot chicken pot pie pasta recipe.
Sprinkle sliced almonds on top right before serving baked pears instead of the pecans.
Make an elegant dessert. Use a melon baller to make little balls instead of quarters. Then, decorate them in whatever shape you like before topping them with your favorite toppings.
Frequently asked questions
What is the difference between Bartlett pears and bosc pears?
These pears have been growing in the United States since 1799. They were named after Enoch Bartlett who first found these delicious fruits growing in his backyard. They are soft, juicy, and sweet. Perfect for eating raw.
Bosc pears are firmer and have brown skin, unlike other pears that are yellow or green when they are ripe. Some of them are a bit spicy and sweet and they all have crispy flesh, perfect for baking and cooking pies and other desserts.
How do you choose the best pears?
You will want to find pears that have a firm but not too hard texture. Press your finger against the top right by the stem. If it gives just a little, it is ripe enough for cooking or eating. For this recipe, you do not want them to be too soft or they will be mushy.
Can I serve these pears cold?
Even though they taste delicious warm, this simple dessert is also quite yummy when served cold. Serving as a dessert method, serving these air fryer pears cold with a scoop of ice cream is amazing. In fact, the whole family will love this pear recipe served chilled on a hot day in the backyard or any day of the year.
Is this recipe healthy?
Yes, this is one of those healthy recipes you can enjoy anytime. Just like all fruits and vegetables, pears are very healthy. Each serving has 20% of your daily value of fiber. In fact, it has a higher amount of fiber than any other fruit.
In this dessert recipe, there are only 150 calories per serving and has 38 grams of carbs, no fat, and 24 grams of sugar.
How to store leftovers:
Store: You probably will not have leftovers. But if you do, put them in an airtight container in the refrigerator. They will stay fresh for two or three days.

Freeze: We do not recommend freezing leftover pears.

Reheat: You can reheat these in the air fryer for three or four minutes. Alternatively, microwave for one minute on high. Cooking time depends on how many pieces you are reheating.
More air fryer healthy recipes:
Air fried pears cooking tips:
Cover the air fryer basket with parchment paper for less mess. You can buy special parchment paper sheets made for air fryers.

Try to cut your pear slices into equal-sized pieces for even cooking when you air fry them, bake, or cook them in the instant pot.
To perfectly slice your pears cut them lengthwise with a sharp paring knife, and then cut each piece in half.
Use ripe pears that are not too ripe for the sweetest and juiciest air fryer pears.
Be gentle with your pears. They are tender and can be easily broken and bruised.
You can leave the skin on your pears if you like. This will make them stay together better.
Air fryer cuisine is fast, easy, and makes any food taste excellent. Use your air fryer to make all kinds of recipes.
Air Fryer Pears
Ingredients
4

Bartlett pears

ripe

2

tablespoons

maple syrup

or honey

1

teaspoon

cinnamon

1/4

teaspoon

nutmeg
Toppings:
dried raspberries

granola

toasted coconut flakes

chopped nuts

whipped cream
Instructions
Wash and peel the pears, if you want you can leave the skin on.

Next, cut the pears into quarters, and remove the core and the seeds.

Place the quarters in a medium mixing bowl. Add the maple syrup, cinnamon, and nutmeg and gently toss until the pears are evenly coated.

Arrange the pieces in a single layer in the air fry basket, without touching each other. If needed cook in batches.

Air fry at 380 degrees F for 8-12 minutes or until golden and caramelized.

Gently remove the pears from the basket and arrange them on a serving plate.

Serve garnished with your favorite toppings.
Deliciousness to your inbox
Enjoy weekly hand picked recipes and recommendations