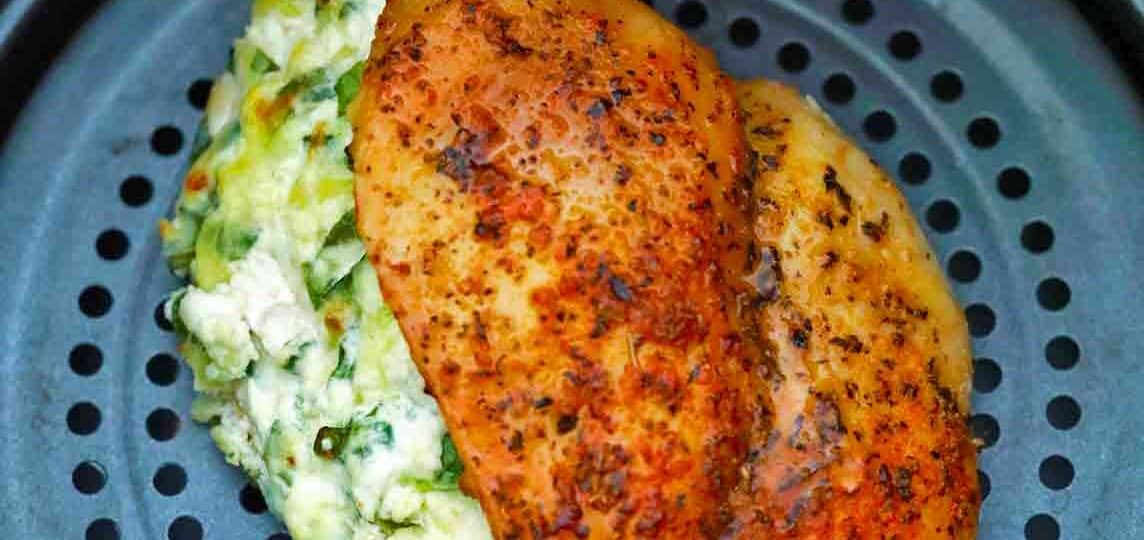 Cheesy Air Fryer Stuffed Chicken
Air fryer Stuffed Chicken Breast is loaded with a creamy filling and flavored with a delicious seasoning blend so you enjoy a burst of flavor in every tender bite. Crispy on the outside and succulent inside, this air-fryer stuffed chicken breast is delectable.
Another delicious meal similar to this one, Air-Fryer Chicken and Broccoli is gluten-free and made with chicken thighs seasoned with hoisin sauce and honey. For something a little lighter, our Air-Fryer Falafel with pita bread and cucumber is delightful for any time of day.
For the best air fryer stuffed chicken breasts you have ever had, you need to try this great recipe. Made with tender chicken breasts coated in Italian seasoning, stuffed with a rich filling, and air-fried to a perfect golden brown outside, this quick dinner is perfect for the whole family.
These air fryer stuffed chicken breasts are low in saturated fat and high in protein as well as flavor so you can eat them every night if you want to. The creamy filling is made with a blend of savory cheeses, spinach, and spices.
Looking for more air-fryer chicken recipes? We have quite a few on our website like air-fryer chicken and veggies and this air-fryer chicken and potatoes.
For something spicy, this Air-Fryer Jalapeno Poppers recipe would be a great snack for game day.
Ingredients needed:
These are the basic ingredients for this air fryer stuffed chicken recipe. Scroll down to the recipe card for step-by-step directions and proper measurement.
Chicken breasts: Boneless skinless chicken breasts work the best.
Olive oil: We used extra virgin olive oil.
Herbs and spices: Onion powder, garlic powder, salt, dried basil, and paprika.
Cream cheese: Softened and room temperature.
Grated parmesan: Freshly grated is best.
Grated mozzarella cheese: Again, freshly grated for best results.
Fresh spinach: Chopped.
Garlic: Minced.
Red pepper flakes: To taste.
How to make air fryer stuffed chicken recipe?
Prepare: First, put the chicken breasts on your cutting board and cut a pocket into the side of each one before coating both sides with olive oil.
Seasoning: Then, mix the onion powder, basil, garlic powder, paprika, and half a teaspoon of the salt in a small bowl before sprinkling it evenly over both sides of each chicken breast.
Make the filling: Next, mix the remaining salt, red pepper, garlic, spinach, parmesan, mozzarella, and cream cheese in a small bowl.
Stuff the chicken: After, stuff the cream cheese mixture into the pocket of each of the chicken breasts.
Preheat: Meanwhile, preheat your air fryer to 375 degrees F for five minutes.
Cook: Then, put the chicken breasts into the air fryer in a single layer. You may have to cook in batches depending on the size of your air fryer.
Air fry: Lastly, air fry your stuffed chicken breast for 15 to 20 minutes. Your instant-read thermometer should read an internal temperature of 165 degrees F when they are done.
Serve: Finally, let the air-fryer stuffed chicken rest for five minutes before serving.
How to make stuffed chicken in the oven:
Preheat: First, preheat your oven to 375 degrees F and grease a baking dish or sheet pan with non-stick cooking spray or olive oil.
Make the pockets: Meanwhile, use a knife to cut pockets into your chicken breasts large enough to hold the filling and coat them in olive oil.
Season: Then, combine the onion powder, basil, garlic powder, paprika, and 1/2 teaspoon salt. Coat both sides of each of the chicken breasts.
Make the creamy filling: Next, mix up the rest of the salt, pepper, garlic, spinach, and all three of the cheeses in a bowl before stuffing it into each of the chicken breasts.
Cook stuffed chicken breast: Lastly, put the stuffed chicken breasts in the prepared baking dish and bake it at 375 degrees F for 20 to 30 minutes. A meat thermometer in the thickest part of the chicken should read 165 degrees internal temperature.
Rest and serve: Finally, serve these scrumptious stuffed chicken breasts after letting them rest for five minutes.
Recipe variations:
Feta cheese: Make your air fryer stuffed chicken breasts extra cheesy by adding two tablespoons of feta cheese to the filling ingredients.
More veggies: Feel free to add your favorite vegetables like diced bell peppers and green onions.
Meatier: Similarly, add some cooked bacon to the creamy mixture for an extra meaty taste. You could even wrap it around the chicken breasts. Just leave some of the bacon raw so it wraps easier.
Other chicken: You can also use a different part of the chicken instead of stuffed chicken breasts. Boneless, skinless chicken thighs work great too.
Hot stuff: Add chopped jalapeno pepper to your filling if you want some spiciness.

Other meat: You can also add other meat like sausage or ground beef to your filling ingredients.

Tomatoes: Chopped tomatoes and squash would also be delicious ingredients to add to the filling.

Creamier: Add extra cream cheese for a creamier filling.
How to serve:
This air fryer stuffed chicken breast recipe may be just the one you are looking for if you are searching for a new air-fryer chicken recipe. You can make these delicious stuffed chicken breasts in less than 30 minutes of cooking time. Here are some other serving suggestions:
Serve with a delicious salad like our pear salad.
Another great way to serve this stuffed chicken breast is with a side of mashed potatoes and gravy.
Top with tangy homemade marinara sauce and extra parmesan for an Italian-style meal.

You can even stuff these with tuna or some other kind of fish you like.

Try these tasty baked parmesan zucchini fries on the side.

Top with mushrooms and garlic butter for extra flavor.
Frequently asked questions
What is the best temperature to cook chicken at?
If you are roasting your stuffed chicken breasts in the oven, it is best to start them at a high temperature and then turn it down to cook the inside.
For example, you can start your chicken at 425 degrees F for 15 minutes and then turn it down to 350 degrees F for another 10 minutes or so, depending on the size of your serving.
Is air fryer stuffed chicken breast healthy?
Skinless chicken breasts are the healthiest part of the chicken and are also one of the most nutritious meats you can eat. According to the nutrition information, your stuffed chicken is low carb, low in saturated fat, and each serving has 52 grams of protein.
Air fryer stuffed chicken breasts are also a good source of vitamin A, potassium, and calcium. You can reduce calories and unsaturated fat by using low-fat cream cheese and mozzarella cheese.
Can I cook anything in the air fryer?
Air fryers have become very popular, leading to an increasing variety of different styles, models, and cooking abilities. Some of the older air fryers are small and just do good air frying simple foods while others let you bake or dehydrate.
Basically, anything that fits in your air fryer can be air-fried. However, grilled cheese or something with very wet batter will not turn out as great as it would in a fryer. These air-fryer stuffed chicken breasts are just one example of what your air fryer cooks.
Is stuffed chicken breast keto-friendly?
Yes, being low carb, you can eat this stuffed chicken breast even if you are on a keto diet. In each serving, you only get four grams of carbohydrates. It is also high in protein as well as other vitamins and minerals mentioned above.
How to store leftovers:
Store: If you have any leftover air fryer stuffed chicken, it will stay fresh in the refrigerator in an airtight container for three days.
Freeze: You can also freeze your air fryer stuffed chicken for up to three months.
Thaw: Although you can cook your stuffed chicken breasts while they are still frozen, it is best to take them out of the freezer and put them in the fridge overnight before reheating.
Reheat: Put your leftovers in a dish and reheat them in the microwave for one minute.
More easy chicken dinners:
Air fried chicken cooking tips:
Hold your stuffed chicken breasts together by pushing a few toothpicks through the cut side.
Be sure to put your stuffed chicken breast pieces in a single layer so they cook evenly.
If you don't have any toothpicks, use dry spaghetti to hold your stuffed chicken breast together. It works just the same and you can break it into whatever size you need.
For less mess, mix the herbs and spices in a zipper bag and toss them in the trash when you are done. That is one less dish to clean.
You can grease your air fryer basket to keep the chicken from sticking. But read your owner's manual to make sure it is okay to do so first.
If your air fryer basket is too small and you have to cook in batches, put the cooked stuffed chicken breasts in an oven set at 200 degrees F to stay warm.
Let all of your ingredients come to room temperature before cooking, including the chicken breasts.
For those who have trouble cutting those pockets big enough, just slice the skinless chicken breasts in half horizontally or butterfly them and put the stuffing in between. Then you can wrap them with bacon or hold them together with toothpicks.
Air-fryer Stuffed Chicken
Ingredients
4

chicken breasts

boneless and skinless

2

tablespoons

olive oil

1

teaspoon

paprika

1/2

teaspoon

dried basil

1

teaspoon

salt

divided

1/2

teaspoon

garlic powder

1/2

teaspoon

onion powder
Filling:
4

ounces

cream cheese

softened

1/4

cup

grated Parmesan

1/3

cup

grated mozzarella cheese

1 1/2

cups

fresh spinach

chopped

2

teaspoons

garlic

minced

1/4

teaspoon

red pepper flakes

or to taste
Instructions
Pat dry the meat and place it on a cutting board.

Next, using a sharp knife cut a pocket into the side of each chicken breast.

Use the oil to brush both sides of the chicken.

In a small bowl combine paprika, 1/2 teaspoon salt, garlic powder, basil, and onion powder.

Sprinkle the mixture equally over both sides of the chicken and use your hands to rub it in.

After that, in a medium bowl combine cream cheese, mozzarella, Parmesan, spinach, garlic, red pepper flakes, and remaining salt. Stir well to combine.

Stuff the mixture into each chicken breast.

Next, transfer the chicken breasts into a greased air fryer basket in a single layer. If needed cook in batches.

Air fry at 375 degrees for 15-20 minutes or until browned and crispy. A thermometer inserted into the center into the thickest part of the meat should read 165 degrees.

Keep cooked chicken, covered in foil, and cook the next batch.
Deliciousness to your inbox
Enjoy weekly hand picked recipes and recommendations