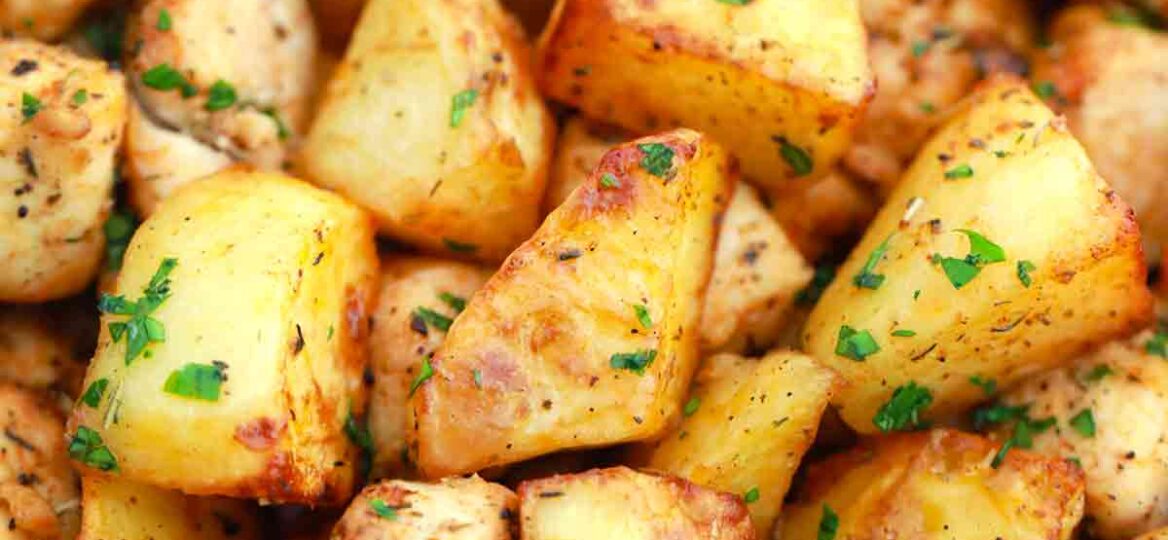 Air Fryer Chicken and Potatoes [Video]
Air Fryer Chicken and Potatoes is a delicious meal made with tender juicy chicken breasts and well seasoned cubed potatoes, perfect for a quick and easy dinner. The cooked potatoes are fluffy inside with a crispy outside due to the high heat of the air fryer and the delicate coating of olive oil.
If you enjoyed this chicken breast recipe, try our Air Fryer Chicken and Veggies with zucchini, red bell peppers, and balsamic vinegar. Another way to cook this chicken breast meal is in the instant pot with this Chicken and Potatoes recipe using dry ranch seasoning.
Air fryer chicken and potatoes
This delicious air fryer chicken breast and potatoes mixed with your favorite seasonings makes a nice chicken dinner for any night of the week. Using your air fryer gives your chicken breasts a crispy outside with tender juicy meat inside.
The delicious potatoes are cooked to perfection in the air fryer basket with a drizzle of olive oil. This is an easy dinner you can cook without worrying about too much prep time.
I like to air fry our meals at least once a week because it is fast and easy, and it does not heat up the house too much during the summer.
In fact, I will air fry just about anything that will fit in my air fryer basket from eggs to steaks. Chicken breasts turn out wonderfully in the air fryer because the hot air gives them a nice crispy coating.
If you are looking for more recipes and other easy meals, check out our air fryer recipes. Chicken and potatoes with seasoned salt and black pepper are an easy way to make dinner on busy days.
The meal is well seasoned with garlic powder, smoked paprika, sliced green onions, and perfectly served topped with some greens or some melted cheese.
In fact, any kind of chicken and potatoes recipes can be paired with any other vegetables or other side dishes for a full cooked meal. If you are having different meat, just make these Crispy Air Fryer Potatoes with parmesan and smoked paprika instead.
Follow us on Pinterest for more delicious recipes!
Ingredients needed:
These are the simple ingredients for this air fryer chicken and potatoes recipe. Scroll down to our recipe card for complete instructions and exact measurements.
Chicken breasts: Chopped into 1-inch pieces.
Potatoes: Diced or cut into 1-inch pieces.
Olive oil: Divided.
Garlic cloves: Crushed and divided.
Seasoning:
Smoked paprika: Divided.
Kosher salt: Divided.
Freshly ground black pepper
Fresh oregano
Onion powder
Fresh thyme
Dried rosemary
How to make air fryer chicken and potatoes recipe?
Preheat: To start your air fryer and potatoes, preheat the air fryer to 375 degrees F.
Toss: Meanwhile, using a large mixing bowl, toss the potatoes with two cloves of garlic and half of the oil and seasoning.
Air fry: Next, place the potatoes in the air fryer basket, close air fryer, and cook for 10 minutes. Make sure you flip them halfway through.
Toss: Using the same bowl, toss the diced chicken breast with the remaining oil and seasoning.
Add chicken: After 10 minutes, move the potatoes over and add the chicken breast pieces to the air fryer basket. Cook for 10 more minutes, flipping them after five minutes.
Check: Once the cook mode is over, check the internal temperature of the chicken breast chunks. They should be 165 degrees F. If not, return it to the air fryer basket and cook for a few more minutes and check again.
Serve: Finally, serve air fryer chicken breast and potatoes with lemon and chopped parsley.
How to make chicken and potatoes in the oven:
First, preheat the oven to 400 degrees F. After that, line a rimmed baking sheet with parchment paper.
Next, mix all the seasoning ingredients per my recipes, and combine them in a bowl with the chicken and potatoes.
Transfer the mixture to the prepared pan and roast for 25-30 minutes.
Make sure to stir the mixture from time to time.
Serve when cooked through and crispy.
Recipe variations:
Another oil: Feel free to use other oils such as avocado oil or whichever you like cooking with.
Different spice mixture: You could also use a premade seasoning mix like Greek seasoning, Italian seasoning, or dry ranch dressing.
Other chicken: Chicken thighs will also work great for this recipe.
Baby potatoes: Save potatoes prep time by using baby potatoes instead of cutting large potatoes into potato cubes.
Own spices: Make your own seasoned salt for cooking anything by adding your favorite spices together.
Garlic powder: If you don't have garlic cloves, you can use garlic powder for cooking this recipe.
Add veggies: For a whole meal, add veggies like bell peppers, corn, green beans, or whatever you like.
How to serve:
This easy dinner recipe is ready in less than half an hour and can be served alone as a whole meal or you could add your favorite side dishes. These chicken and potatoes are perfect for cooking any meal and can be mixed with other ingredients to have it several times in different ways. Try one of these serving ideas:
You could also sprinkle cheese on top. Any flavor you like is fine.
Serve on top of a bed of rice with chicken gravy on top.
Add chopped bacon, cheese, and sour cream for air fryer loaded chicken.
You can use leftovers for any chicken and potatoes recipe such as honey lemon chicken or chicken salad recipe.
Cooked chicken can be used in any recipes that call for chicken whether it is breasts or thighs.
Frequently asked questions
Is it healthier to air fry chicken and potatoes?
Yes, the nutrition, calories, and vitamin content are all improved by using an air fryer rather than frying in oil.
Depending on the recipe, you can save as much as 50% fat and calories by cutting out the saturated fat from cooking in oil.
This chicken dinner is a great recipe because you can get almost half of your daily recommended value of vitamin C from the potatoes.
The chicken breasts are also full of protein and other vitamins and are very low in fat.
Should I put oil on my air fryer basket?
Not usually. In fact, some air fryers warn against using nonstick sprays because some of them can damage the nonstick coating. If you are worried about your potatoes or chicken sticking to the basket, just make sure you use enough oil on them.
Although many of the recipes call for spraying the basket, it is better to spray the potatoes or whatever else you are cooking.
Can I use my air fryer for raw chicken?
Yes, you can use your air fryer for cooking raw or frozen chicken breasts. For frozen, preheat the air fryer to 360 degrees F and cook for 18 to 20 minutes, flipping it once halfway through. Cook time may vary depending on the size of the chicken and your air fryer.
Once you cook chicken, you can use it for all sorts of recipes. For example, this chicken noodle soup would be a great appetizer or you can make grilled chicken skewers with the potatoes and other veggies.
Use different recipes and a variety of seasonings to stretch one meal into several.
What is not good to cook in the air fryer?
Although you can cook pretty much everything in your air fryer as long as you change the cook time, there are some recipes that do not do as well.
For example, foods with a wet batter like cornmeal batter or anything high in saturated fat.
Cheese is another thing that does not do well in the air fryer. It is okay if you just want to sprinkle cheese on top of your chicken and potatoes to melt but if you are trying to make grilled cheese in the air fryer, it will not turn out well.
How to store leftovers:
Store: You can store your leftover air fryer chicken and potatoes in an airtight container or gallon size zip baggie. Refrigerate for up to three days.
Freeze: It is also safe to freeze your air fryer chicken and potatoes for up to three months.
Thaw: Remember to put your frozen leftovers in the fridge to thaw overnight before serving.
Reheat: To reheat, put the chicken and potatoes in a microwave-safe dish and heat in the microwave for one minute. You could also reheat it in the air fryer for 90 seconds.
More easy chicken recipes:
Cooking tips:
Check the internal temperature of the air fryer chicken with an instant-read thermometer. It should be 165 degrees F when it is done.
Make sure you preheat your air fryer for the best results.
If you cut your potatoes into large chunks, you may have to add a few minutes to your cooking time.
The cook time may vary depending on the size and brand of your air fryer.
Dice chicken if you want it to cook faster and more evenly in your air fryer basket.
If you have a small air fryer basket, you may have to cook in batches or cook chicken and potatoes separately.
For delicious air fryer loaded chicken and potatoes, add the sour cream after everything is done.
Using freshly ground black pepper brings out the flavors of everything.
Air Fryer Chicken and Potatoes
Ingredients
2

medium potatoes

cut into 1-inch pieces

2

chicken breasts

cut into 1-inch pieces

2

tablespoons

olive oil

divided

4

cloves

garlic minced

divided
Seasoning:
2

teaspoons

smoked paprika divided

1/2

teaspoon

red chili flakes divided – optional

1

teaspoon

fresh oregano

or 1/2 teaspoon dried

1

teaspoon

onion powder

1/4

teaspoon

drie thyme

1/4

teaspoon

dried rosemary

1

teaspoon

salt divided

1/4

teaspoon

ground black pepper
Instructions
Preheat the Air Fryer to 375°F (190°C).

In a small bowl mix all the seasoning ingredients

In a large bowl, toss the potatoes with 2 cloves of garlic, and half of the seasoning and oil.

Arrange the potatoes in the Air Fryer basket, and air fry for 10 minutes flipping halfway through.

Meanwhile, add the chicken to the same bowl, and toss it with the rest of the garlic, oil, and seasoning.

Using a spatula move the potatoes to one side of the basket and add the chicken to the other side. Cook for 10 more minutes flipping halfway through, or until crisp and browned.

The internal temperature of the chicken should reach 165°F (75°C).

Serve with lemon and chopped parsley.