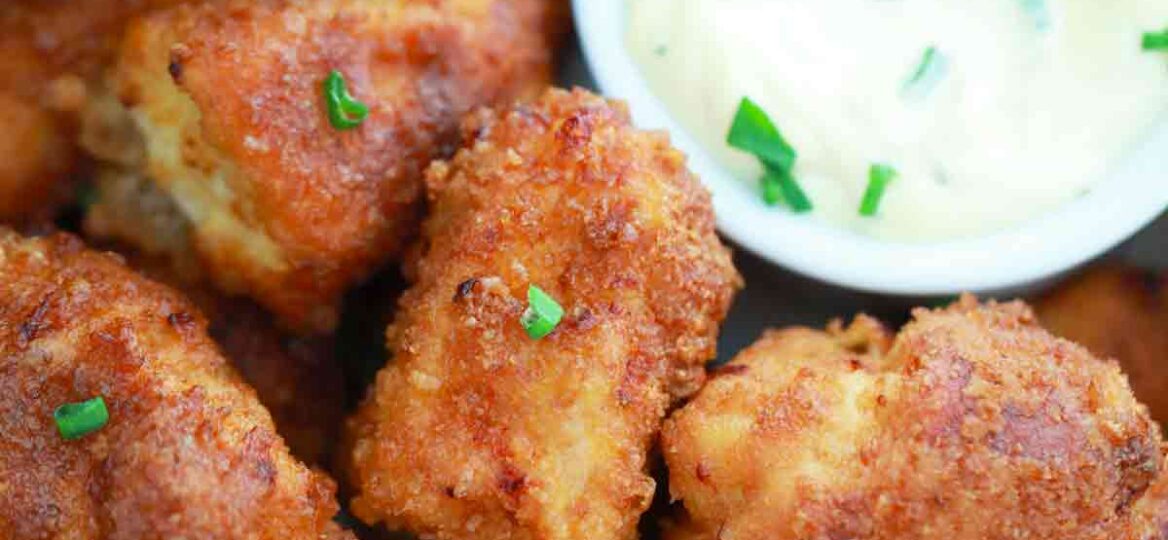 Air Fryer Buffalo Chicken
Air Fryer Buffalo Chicken is coated in a crispy and crunchy breading before being coated in sweet and spicy buffalo sauce for a spectacular snack or meal. They are perfect for the big game or tailgating or just for a nice lunch or dinner dish. In just minutes, you can have these tasty tidbits on the table.
If you are looking for something vegetarian or vegan, try our AF Buffalo Cauliflower Wings using cauliflower florets instead of chicken. Another fantastic vegan snack is our AF Falafel made with pita bread, hummus, and cucumber.
Whether you are making these for a healthy lunch, party appetizer, or the big game during football season, this is a delicious dish for anyone who likes a little heat in their food.
Make them boneless buffalo wings style or seasoned wings with a dry rub for a unique version.
If you are not into the spicy sauce, this AF Chicken and Veggies with zucchini and bell peppers are perfect.
Ingredients needed:
You may not have to go to the grocery store for this easy recipe because all you will need are these simple ingredients. Scroll down to get the measurements and instructions from our recipe card.
Boneless, skinless chicken breast: Cut into 1.5-inch pieces.
All-purpose flour: Or the flour of your choice.
Cornstarch: For crisping.
Large eggs: Beaten.
Panko breading: Or breadcrumbs of your choice.
Buffalo sauce: Make your own homemade buffalo sauce.

Spices: Smoked paprika, garlic powder, and salt.

Cooking spray: Olive oil spray is a great choice.
How to make air fryer buffalo chicken recipe?
Preheat: The first thing you need to do is spray your air fryer basket with cooking spray and preheat to 400 degrees F.
Prepare: Meanwhile, using a small bowl for each, make the three different coating mixes. In the first one, mix spices, cornstarch, and flour. Use the next bowl for the beaten eggs. In the last bowl, pour the panko breading.

Dredge: Then, dredge each piece of chicken through the bowls, one at a time starting with the flour mixture and ending with the panko.

Fill: Immediately, place wings in a single layer in the basket. You will probably have to cook in batches.
Air fry: Cook for eight minutes, flipping after four. The cooking time will vary depending on the size of your air fryer. The internal temperature should read 165 degrees F when it is done.
Spicy sauce: Last, move the cooked wings to a large bowl. Pat them with a paper towel to remove excess moisture. Then, pour wing sauce on top and toss them to coat well.

Serve: Finally, serve air fryer buffalo chicken wings with a side of blue cheese dressing or ranch dip and top with chopped green onions.
Recipe variations:
Basted: Baste the wings in a small saucepan with spicy hot sauce to let them soak up more juice.

Tenders: You could also use chicken strips in this recipe to make air fryer buffalo chicken tenders.
Thighs: Similarly, try this recipe to make air fryer buffalo chicken thighs.
Almond flour: For a healthier alternative, use almond flour or another gluten-free choice.
Flavor: Add a teaspoon of Worcestershire sauce to some Frank's Red Hot sauce for a different flavor.
Hot hot wings: Add some cayenne pepper or red pepper flakes for extra spicy wings.
How to serve:
Serve this easy dinner with your favorite dipping sauces. Or try one of these ideas:
Add some celery sticks and carrot sticks to the serving dish for some crunchy sides.
These go great with a medium bowl of these creamy mashed potatoes.
Sprinkle these with parmesan cheese for a uniquely different taste.

Serve with a side of homemade yum yum sauce or honey mustard for dipping.

Enjoy with a glass of ice-cold beer or wine to cool your palate.
These also make a great side dish for any meal like this Big Mac salad.
Frequently asked questions
Can you put raw chicken in the air fryer?
Yes, cooking raw chicken in the fryer is perfectly fine and an easy way to fry it with very little oil.
Just season and fry for 10 minutes at 380 degrees F on one side and six minutes on the other.
Make sure the internal temperature is 165 degrees F before serving.
How long will it take to use the frozen chicken recipe?
Different brands and sizes of fryers can have different cook times and air fryer temperatures.
But in general, you can expect to cook them for at least 10 minutes on one side and five minutes on the other with the temperature set on 400 degrees F. Check the internal temperature before removing.
What is the nutritional information for this recipe?
Using the fryer instead of deep-frying means these wings are much healthier than the traditional buffalo wings.
Each serving has just 480 calories and only 7 grams of carbohydrates.
But they are packed with protein, giving you 41% of your daily value of protein as well as vitamin A, niacin, and calcium.
How to store leftovers:
Store: Let the leftovers come to room temperature before storing them in an airtight container in the fridge where they will stay good for several days.

Freeze: Pack them in a freezer bag and these air fryer chicken wings will stay fresh for up to three months in the freezer.

Thaw: Remember to thaw overnight in the fridge before serving.

Reheat: Using a shallow bowl reheat in the microwave for one to three minutes, depending on how many pieces you are reheating.
More Buffalo recipes:
Cooking tips:
Pat the chicken wings dry before dredging them.
For crispy chicken wings, put the wings back in the fryer or in your broiler for a few minutes after coating with spicy buffalo sauce.
You could also place finished wings on a baking sheet in the oven on low heat to keep them warm while you cook.

You could use frozen wings, but you will not be able to bread them first.
If you want less prep time, use frozen breaded wings to skip the whole breading process. Just cook the wings and douse them in buffalo sauce.
Air Fryer Buffalo Chicken
Ingredients
1 1/2

pounds

boneless

skinless chicken breasts, cut into 1½-inch pieces

1/2

cup

all-purpose flour

2

tablespoons

cornstarch

1

teaspoon

smoked paprika

1

teaspoon

garlic powder

1

teaspoon

salt

2

large eggs

beaten

2

cups

panko bread crumbs

1

cup

buffalo sauce
Instructions
Preheat the air fryer to 400 degrees F and spray the basket with nonstick spray.

Set out three separate bowls. In the first bowl, combine flour, cornstarch, paprika, garlic powder, and salt. Whisk to combine.

In the second bowl, the beaten eggs.

In the third bowl, add the panko bread crumbs.

Dredge each chicken piece first in the flour mixture, then the beaten eggs, and finally, toss in the panko.

Place chicken in a single layer in the basket of the air fryer, the pieces should not touch. Cook in batches if needed.

Air fry for 8-10 minutes, flipping the chicken halfway through. Chicken is fully cooked when the internal temperature reaches 165°F and its crispy.

Transfer the chicken to a large bowl and add the buffalo sauce. Gently toss to coat.

OPTIONAL: Air fryer for an additional 3-4 minutes if you want the chicken crispier.

Serve with your favorite dipping sauce.
Deliciousness to your inbox
Enjoy weekly hand picked recipes and recommendations