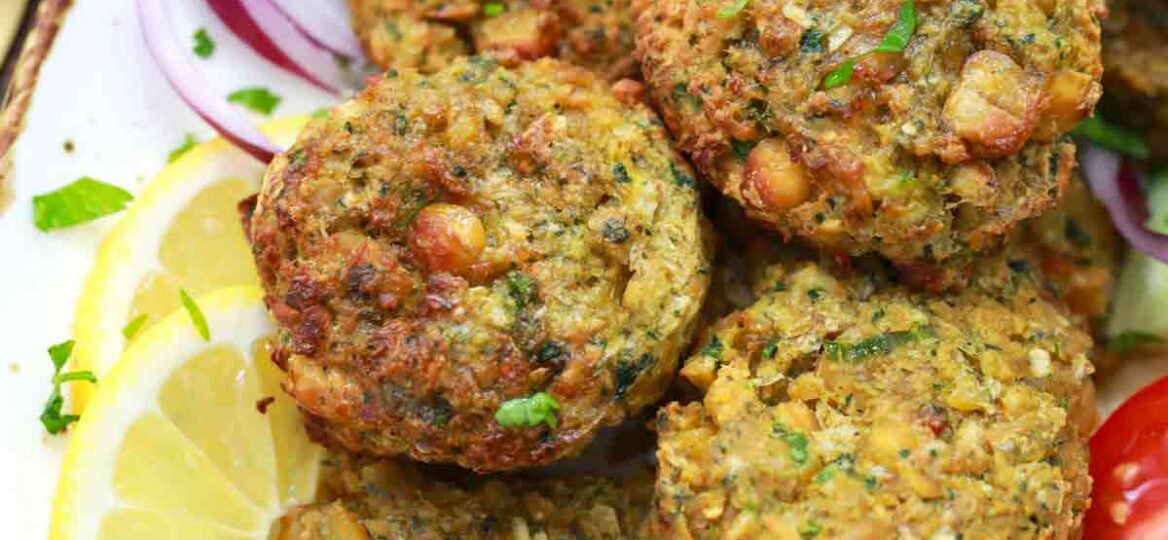 Air Fryer Falafel is packed with garlic, scallions, onions, plus herbs and spices then air-fried until it's tender inside and perfectly golden and crunchy outside. This vegan and dairy-free dish is perfect for salads, stuffed into pitas and burgers, or eaten as a healthy and savory snack!
Vegan food doesn't have to be boring. Just like our falafels, these Vegan Lemon Cheesecake, Vegan French Toast, and Vegan Creamy Pasta will get you excited about vegan dishes!
Air Fryer Falafel Recipe
Air Fryer Falafel is a classic Mediterranean and Middle Easter featuring chickpeas and lots of delicious spices. It's traditionally deep-fried, but we're air-frying ours for a healthier, less greasy version.
Our falafels turn out beautifully crisp while staying creamy and tender inside. You can taste the perfect combination of garlic, herbs, onions, scallions, plus paprika in this savory dish!
Finally, there are so many ways to enjoy this tasty vegan dish. For example, we love them in vegan burgers and eaten street food-style inside pitas with fresh veggies. You can also have them in salads and over rice for a meatless meal!
What is falafel?
It's a street food staple with roots in the Middle East that's now popular around the world. This tasty dish is made with chickpeas aka garbanzos, mixed with various spices then turned into balls or thick patties. Traditional preparation involves deep-frying them.
Falafels are usually stuffed into a pita with veggies like tomatoes and lettuce, then drizzled with tzatziki before being eaten as a meal or snack.
Ingredients needed:
Chickpeas: Rinse, then don't forget to drain as well as you can.

Aromatics and herbs: Our savory flavor base are fresh garlic and yellow onion, plus scallions, Italian herbs (make it at home!), and parsley.

Spices: Prepare some smoked paprika, red pepper flakes a kick, plus kosher salt.
Binder: To keep the mix together, we're adding flour plus a bit of baking powder to keep the consistency light.
What are the steps for making Air Fryer Falafel
Blend in the processor. First, blend the onions and garlic finely, followed by the other aromatics. Add the garbanzos and press PULSE about twice or thrice. A few chunks are fine. Finally, stir in the flour, paprika, baking powder, and dried herbs.
Chill. In a bowl, chill in the fridge for at least 2-3 hrs.

Shape. Divide into about 12 ball-shaped pieces.

Cook. After spraying with oil, air-fry at 350F for 14 mins. until golden and the crust becomes crunchy. Don't forget to flip halfway.
Serve. Enjoy hot!
Variations and substitutions:
Fried: Deep-fry the balls in 350F oil until crunchy.
Baked: Bake at 350F for 15 to 25 minutes until golden and crispy.
Spicy: Mix in some sriracha, our famous Buffalo sauce, double the hot sauce, and add smokiness with poblano peppers. Jalapenos and serrano peppers are great, too!
Nuts: Add chopped pistachios, walnuts, cashews, or almonds for delightful crunch!
Other beans: You can also use lentils and fava beans in place of garbanzos, or use a mixture of the three.
Green: For a healthier, veggie-packed version, process the mixture with greens like kale, spinach, and broccoli. You can also finely-chop beets, mushrooms, carrots, sweet potatoes, pumpkin, and other vegetables for more nutritious falafels!
Other mix-ins: Feel free to get creative with mix-ins! Some of our favorites include cheese, bacon, and bits of ham.
Frequently Asked Questions
Is it healthy to eat homemade Air Fryer Falafel?
Incredibly so, because chickpeas are loaded with plant-based fiber, protein, and micronutrients. As a result, it can help you feel fuller for longer, which curbs overeating. It's also been found to improve blood sugar and reduce the risk of chronic disease.
Unfortunately, the deep-fried version is loaded with calories and fats. The air fryer turns them into a low-fat, healthy snack that you won't feel guilty enjoying!
Are falafels considered a type of vegan food or vegetarian?
This recipe is 100% vegan because all it has are chickpeas, spices, and herbs, plus flour for the binder (no eggs).
What to serve with homemade air-fried falafel?
The most popular way is to stuff it inside pita pockets with fresh vegetables (often cucumbers, lettuce, onions, and tomatoes) plus some sort of spicy sauce and yogurt-based dressing like tzatziki.
However, it's extremely versatile! For instance, you can enjoy it as a topping for salads, like our veggie-packed detox salad and pomegranate salad.
Shape them into thick patties and turn them into vegan burgers! We love subbing the lamb patties in this recipe with refreshing tabbouleh. They also go really well with coconut rice, in tacos with salsa and guacamole, or stuffed into burritos.
More air fryer recipes to try:
How to make ahead and store it?
There are two ways you can prep it in advance:
Store before air-frying: Make the mixture, divide into balls, and flash freeze for a couple of hours. Then, place into Ziplocs and store frozen up to 3 months. To cook, defrost then air-fry at 350F for about 20 minutes until golden and crispy.
Store after air-frying: Cool the air-fried falafels first, then flash freeze for a couple of hours. Then, place into Ziplocs and store frozen up to 3 months. Defrost, and reheat by air-frying at 400F until hot and crispy.