Persimmon Avocado Pomegranate Salad – Vegan
This post may contain affiliate links. Please read my disclosure policy.
A seasonal Persimmon Avocado Pomegranate Salad with orange zest and a savory garlicky, loaded with basil, lemon, olive oil and parsley green dressing. Vegan, Gluten-Free and festive, this salad will make eating your greens lots of fun.
Here we are celebrating Savory Wednesday again! What do you guys eat between all the cookie baking? I balance it with some slices of cake, he he, just kidding, sort of… I am actually trying to be good and get in as many green leafs as possible, and with this delicious Persimmon Avocado Pomegranate Salad its super easy.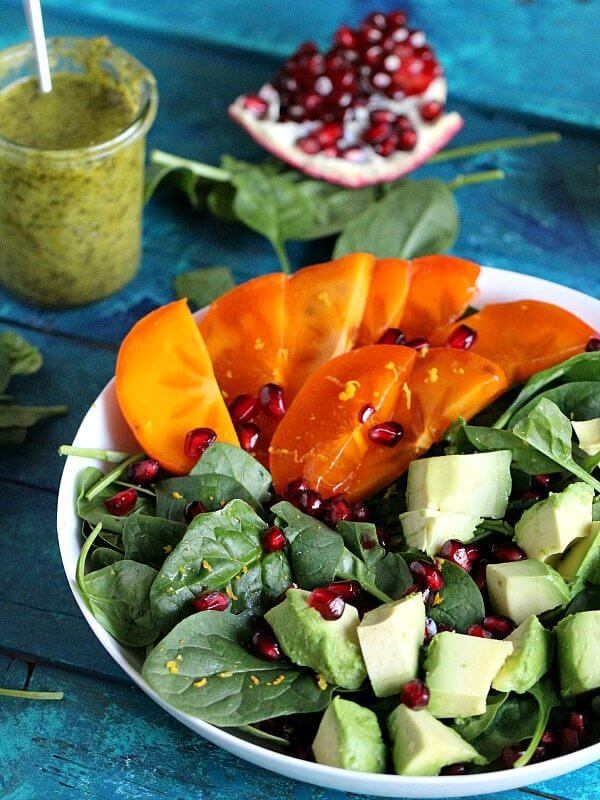 I have professed my love for persimmons on this blog many times, but so far I used them only in desserts. In this delicious jam and in this Pound Cake Cheesecake. Both fabulous recipes, but I like the taste of the fruit by itself. A ripe persimmon is juicy, sweet and very flavorful, so I decided to make a powerhouse Persimmon Avocado Pomegranate Salad that turned out fabulous and nutritious!
You see, you can't go wrong, sweet persimmon is combined with crunchy and tart pomegranate arils, creamy and buttery avocado, crisp spinach leaves and citrusy orange zest. This Persimmon Avocado Pomegranate Salad is pure bliss, it has everything I love and the contrast of flavors and textures is irresistable.

MY LATEST VIDEOS

The textures and the flavors are balanced and delicious, using seasonal ingredients this salad is fun and tasty. You can make a big batch for your holiday table, the different colors make it festive and you will see how much your guests will love it.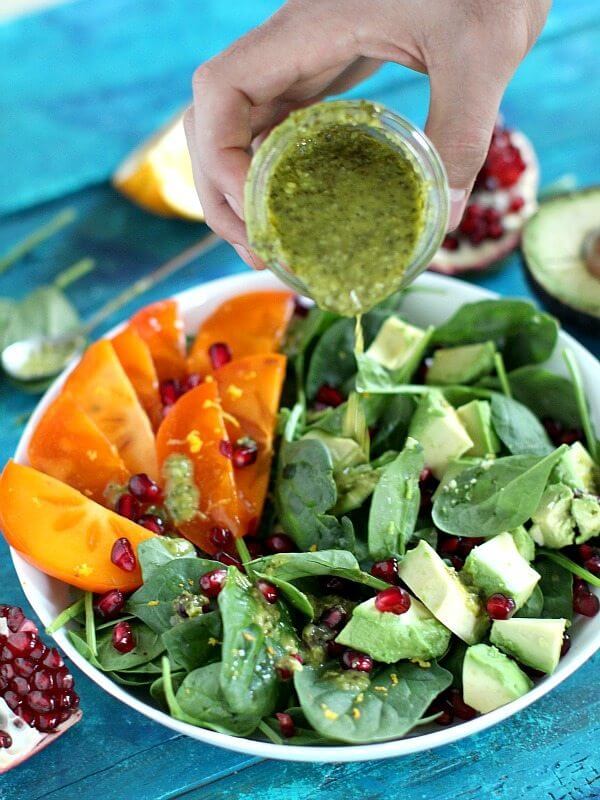 Now, the dressing, lets talk about the dressing, cause I literally eat it by spoon. Its one of my best vegan dressings! I like the combination of savory and sweet, so for the already sweet Persimmon Avocado Pomegranate Salad I went for a more savory dressing.
The dressing is creamy, garlicky, with a lemon and basil aroma. Its packed with olive oil, garlic, fresh parsley, lemon juice and fresh basil. Its truly delicious and it can be used on many other dishes, like pasta and different marinades. Meat eaters can pour it galore on chicken or steak. If you prefer sweet dressings, I would recommend a raspberry vinaigrette for this salad, or you can go for a simple olive oil, salt and pepper to let the other ingredients shine.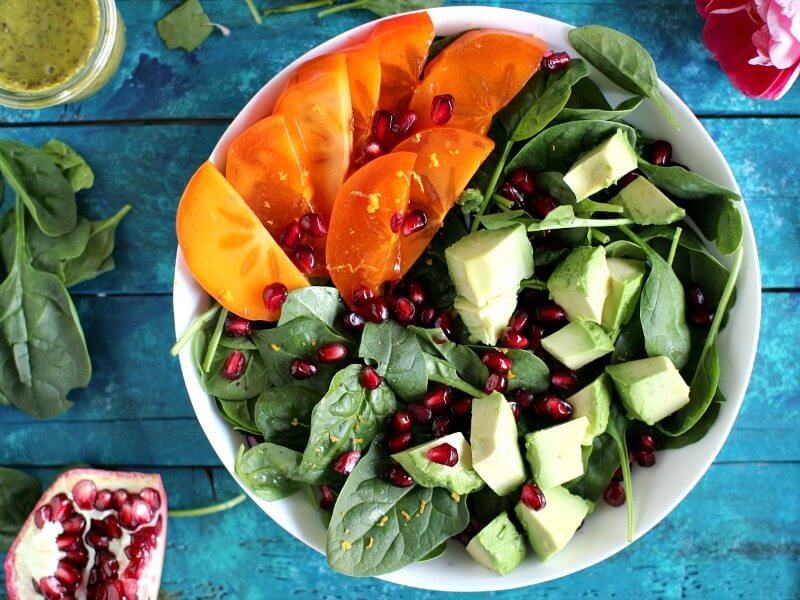 You can bet that with this Persimmon Avocado Pomegranate Salad you will enjoy eating your greens!

Persimmon Avocado Pomegranate Salad - Vegan, Gluten Free
A seasonal Persimmon Avocado Pomegranate Salad with orange zest and a savory garlicky, loaded with basil and parsley green dressing.
Author:
Katalina Kastravet
Ingredients
Vegan Green Dressing:
½ bunch flat leaf parsley, tops only
½ bunch basil, tops only
1 jalapeno, seedless and chopped
½ cup extra virgin olive oil
6 garlic cloves, minced
1 large lemon, juiced
½ teaspoon kosher salt + more to taste
Salad:
6 cups spinach
2 ripe Hachiya persimmons, halved and thinly sliced
2 large avocados, cut into wedges
½ cup fresh pomegranate arils
1 tablespoon orange zest
Instructions
Vegan Green Dressing:
Add all the ingredients into the bowl of a small food processor and process until smooth or until you achieve the desired texture. Transfer to a bowl and season to taste with salt, if needed add more lemon juice.
Store the dressing into airtight small mason jars, or dressing bottles. The dressing will stay good for 2 weeks in the fridge.
Salad:
In a large mixing bowl, toss spinach with dressing until well coated. Distribute between two individual salad bowls, or into a single large salad bowl.
Arrange persimmon and avocado slices on the spinach, then scatter with pomegranate arils and orange zest.
Serve immediately.
Notes
If using Hachiya persimmons (the ones that are acorn shaped) make sure they are very ripe and soft. You can use Fuyu persimmons, those wont have a tannic taste even if they are firm.
There is no need to peel the persimmons, but make sure you wash them well.
Peas and Peonies, LLC. owns the copyright on all images and text and does not allow for its original recipes and pictures to be reproduced anywhere other than at this site unless authorization is given. If you enjoyed the recipe and would like to publish it on your own site, please re-write it in your own words, and link back to my site and recipe page. Copying and/or pasting full recipes to social media or personal blogs is strictly prohibited. Sharing this recipe is very much appreciated and encouraged. Read my disclosure and privacy policy. This post may contain affiliate links.