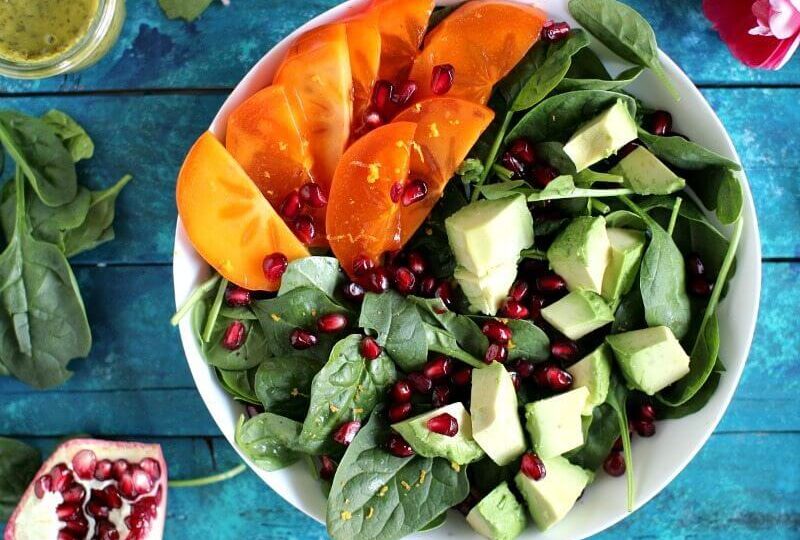 Pomegranate Salad is seasonal with persimmon avocado, orange zest and a savory garlicky, and parsley green dressing. Also, the salad is vegan, gluten-free and festive.
I love making quick, easy and delicious salads like BLT Potato Salad and Garlic Kale Salad.
Pomegranate Salad
This Pomegranate Salad is super easy to make, and loaded with vitamins and healthy nutrients. I have professed my love for persimmons on this blog many times, but so far I used them only in desserts. In this delicious Jam and in this Pound Cake Cheesecake. Both fabulous recipes, but I like the taste of the fruit by itself. A ripe persimmon is juicy, sweet and very flavorful. So I decided to make a powerhouse Pomegranate Salad with Persimmon and Avocado, that turned out fabulous and healthy.
Sweet persimmon is combined with crunchy and tart pomegranate arils. Then, creamy and buttery avocado, crisp spinach leaves and citrusy orange zest is added. This Pomegranate Salad is pure bliss, it has everything I love and the contrast of flavors and textures is irresistible.
Why you will love this Pomegranate Salad
First, the textures and the flavors are balanced and delicious.
Also, using seasonal ingredients this salad is fun and tasty.
You can make a big batch for your holiday table and everyone will enjoy it.
In addition, the different colors make it festive and you will see how much your guests will love it.
Now, the dressing, lets talk about the dressing, cause I literally eat it by spoon. Its one of my best vegan dressings! I like the combination of savory and sweet, so for the already sweet Persimmon Avocado Pomegranate Salad I went for a more savory dressing.
The dressing is creamy, garlicky, with a lemon and basil aroma. Its packed with olive oil, garlic, fresh parsley, lemon juice and fresh basil. Its truly delicious and it can be used on many other dishes, like pasta and different marinades. Meat eaters can pour it galore on chicken or steak. If you prefer sweet dressings, I would recommend a raspberry vinaigrette for this salad, or you can go for a simple olive oil, salt and pepper to let the other ingredients shine.
Deliciousness to your inbox
Enjoy weekly hand picked recipes and recommendations