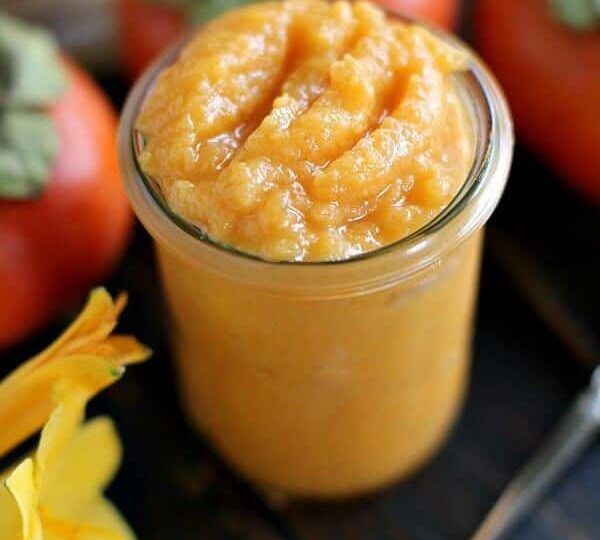 Easy Persimmon Jam Recipe [Video]
Persimmon Jam is very easy to make, it can be used in cheesecakes or just spread it on toast. This recipe will be ready in 35 minutes with only 4 ingredients.
You can spread it on pretty much anything and enjoy it with a cup of tea or coffee. I like spreading the jam on homemade brioche bread or strawberry banana bread.
Easy Persimmon Jam Recipe
Persimmon Jam is very easy to make and it's delicious this time of the year. The jam takes only minutes to make with just a few ingredients. I love to have some on buttery toast in the morning or to add it to desserts, like in these Persimmon Cheesecake Bars.
The jam would also make great hostess gifts! Put it on pancakes, oatmeal, or pair it with cheese, there are so many combos you can enjoy this seasonal jam with! Also, you can easily store it and enjoy it for days and weeks to come! This is probably the best way to use leftover persimmons.
What is a persimmon?
Persimmons are red-brown or orange fruits, they grow on trees and looks similar to a tomato. They come in two varieties: stringent and non-astringent, the latter being pleasingly sweet. The Giant Fuyu (also known as Jumbo or Hana Fuyu) is harder to find, but it's on the sweeter, non-astringent side.
The Hachiya – is shaped like an acorn and about the size of a medium tomato, it has shiny, bright orange skin. It is usually widely available in grocery stores and is extremely astringent until it is so soft that the flesh can be eaten like a pudding.
What kind of persimmons should I use to make persimmon jam?
The key to sweet and delicious Persimmon Jam is to get ripe persimmons, otherwise, you will get that unpleasantly astringent flavor and fuzzy texture. Don't worry if you can't find ripe persimmons at your local store, you can just buy them, and place them on your counter in a brown paper bag, they will be done in a few days.
Also, you can use the Giant Fuyu that is sweeter or use very ripe Hachiya. Make sure you taste the fruit that you intend to use, to ensure that it is not astringent.
Can you eat the skin of a persimmon?
Yes, you can! It totally comes down to your own preference. Make sure you wash them before eating, also pay attention that you may find a seed or two. Like with other fruits, the skin contains a lot of vitamins and healthy nutrients which are good for your body.
However, I would recommend washing and buying organic type whenever possible.
Pin This Easy Persimmon Jam Recipe to your Favorite Board
How to make Persimmon Jam?
This is a super simple and easy recipe to make. Also, I have attached a short video tutorial above for easy step by step guidelines. The general steps are as follows:
Clean the persimmons: It is best to use ripe fruits in this recipe. First, rinse and peel them, and cut into smaller pieces.
Puree: Using a food processor, puree the fruits.
Cook: Transfer the puree into a saucepan, and cook over medium-high heat. Add the sugar to it, and boil for 15 about minutes, while stirring occasionally.
Make the cornstarch: In a separate bowl, prepare the cornstarch by mixing it with water until it is properly dissolved. Then, and it to the mixture and add some freshly squeezed lemon juice. Continue to boil on low for another 15 minutes. Once the texture thickness, the jam is ready.
Let it cool: Lastly, let the jam cool and serve!
Persimmon storage and freezing guidelines:
Persimmons are high in pectin and historically have been used to make jelly and as a thickening agent. The fruit can also be added to baked goods.
To ripen your Hachiya persimmon quicker, store leaf side down on the kitchen counter. It may take a few days and should not be rushed. Hachiyas should not be refrigerated usually.
Fuyu persimmons, need to maintain a crisp consistency and are better stored in the refrigerator.
To fasten the ripening of a persimmon, place it in a sealed container with an apple or banana, that will soften a Hachiya in about three to four days.
Another, more unusual way to fast the ripening process is to freeze the unripe persimmons. Once you thaw them, the persimmon is ready to eat, it will have the soft texture you are looking for, but taste-wise it will not compare to a fresh, ripen persimmon.
You can also freeze persimmon puree, just add it to freezer bags, about 2 cups per bag and lay them flat in the freezer. The puree can be stored frozen for up to 3 months. Thaw before serving.
You can also freeze persimmon jam, make sure it has completely cooled before freezing. Add it to freezer bags, about 2 cups per bag and lay them flat in the freezer. The jam can be stored frozen for up to 3 months. Thaw before serving.
Deliciousness to your inbox
Enjoy weekly hand picked recipes and recommendations