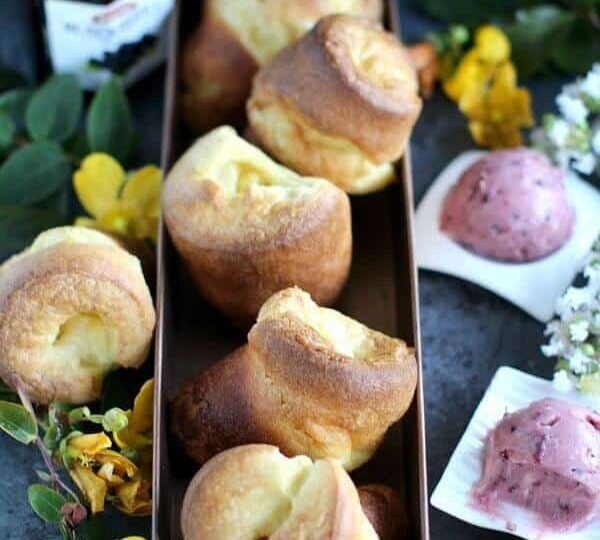 Jordan Pond Popovers Recipe
Jordan Pond Popovers Recipe is the easiest and fool proof recipe. The popovers are served with blackberry jam butter and a sweet homemade 10 minutes caramel sauce.
Jordan Pond Popovers Recipe
Last year we visited Acadia National Park in Maine, and the Jordan Pond House was by far the highlight of our trip. First, the house is located in the heart of the park and it offers magnificent views of the pond and the mountains. After a two hour hike around the pond, we decided to have lunch at the Jordan Pond Restaurant. We ordered their famous popovers that are served with butter and Maine blueberry. We where blown away at how good they where. Then, my husband kept asking me to recreate them at home. After a few trial and errors, I am ready to share with you my Jordan Pond popovers recipe. I truly think these taste as good as the originals.
And by the way, this will be the easiest Jordan Pond popovers recipe you will come around. Also, you will find this Jordan Pond popovers recipe a breeze to make. All you have to do is add the ingredients to a high speed blender. Then, combine everything, let them rest for one hour and bake!
Jordan Pond Popovers Recipe
Honestly, they are the perfect popovers, they turned out crispy and chewy on the outside, with a flaky, soft middle, they must be served warm so all that delicious blackberry butter melts a little when smothered on the popovers. They got huge in the oven, but keep in mind if you will keep them too long at room temperature after baking, their shape will change and the popovers will get smaller, equally delicious, just not as puffy and large. That's why I always advise serving them right from the oven. Since this Jordan Pond popovers recipe is so easy, you can totally plan in advance and cook right before you know you want to eat these beauties.
The blackberry butter and caramel sauce are obviously optional toppings, but why would you skip them? You can also go for the traditional butter and blueberry sauce topping. That's what I like about popovers, the serving options are limitless, just choose what you like more.
These popovers would be such a treat at any brunch party or just a fun and delicious breakfast you can make your family on a weekend. I hope you give them a try and like them as much as we did!
Jordan Pond Popovers Recipe
Ingredients
Popovers:
1½

cups

whole milk

1¾

cups

all-purpose flour

½

teaspoon

baking powder

½

teaspoon

salt

3

eggs

room temperature

non-stick baking spray
Blackberry Jam Butter:
1½

sticks

butter

room temperature

⅓

cup

blackberry jam
Caramel Sauce:
1

cup

granulated sugar

6

tablespoons

unsalted butter

at room temperature and cut up into pieces

½

cup

heavy cream

1

teaspoon

salt
Instructions
Popovers:
Microwave the milk for 2 minutes just until it's lukewarm.

Add the ingredients: milk, flour, baking powder, salt and eggs to a blender and blend until smooth. Make sure to stop, scrape the blender sides and blend until all combined and smooth. Let the batter rest for about an hour at room temperature.

Preheat oven to 450 F degrees. Spray popover pan generously with baking spray. Fill each popover cup almost to the top with batter.

Place the popover pan on a baking sheet and transfer to oven.

Bake at 450 F degrees for 15 minutes. Reduce the oven temperature to 375 F degrees and bake for another 17-20 minutes, or until popovers are golden brown.

Remove from oven and serve warm.
Blackberry Jam Butter:
While the popovers are baking work on the blackberry butter. In the bowl of an electric mixer on medium speed whip the butter for one minute, add the blackberry jam and whisk until combined, making sure to stop the mixer and scrape the bowl walls with a rubber spatula. Using an ice cream scoop, scoop the butter onto a plate and set aside.
Caramel Sauce:
Now work on the Caramel Sauce: In a medium sauce pan over medium heat melt sugar while stirring constantly until a brownish liquid forms.

When sugar has completely melted, add the butter and stir until well combined.

Carefully while still stirring add the heavy cream, once all the cream has been added let the mixture boil without stirring for one minute.

Remove from heat, stir in salt, transfer to a mason jar (or any other container) and let it cool.
Deliciousness to your inbox
Enjoy weekly hand picked recipes and recommendations