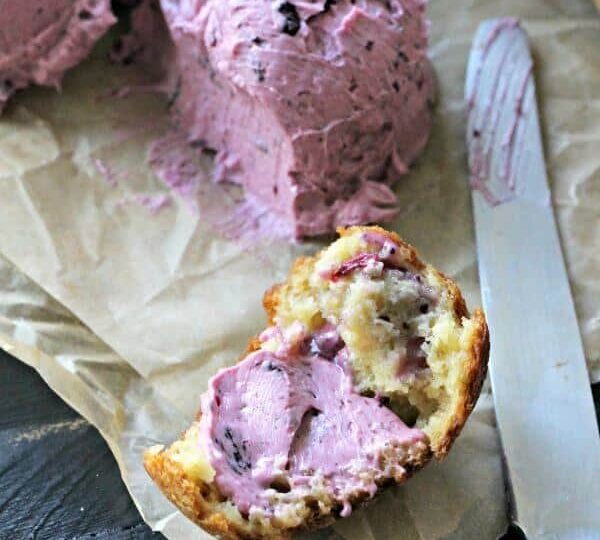 Breakfast Butter Rolls with Whipped Blueberry Butter
Breakfast Butter Rolls are crunchy on the outside and soft on the inside, and served with homemade blueberry whipped butter.
I love making quick and easy desserts, like my popular No Bake Cake Truffles and Peanut Butter Nutella Danish.
Breakfast Butter Rolls
These Breakfast Butter Rolls were baked in pop over a pan to add some length to their size. Because, when you slice them in half there is enough surface to cover with the most delicious homemade whipped butter. The rolls are great, but they serve as a bed for all that delicious butter. I mean don't expect melt in your mouth chocolate cake when you taste these. They are specifically made to balance the rich and sweet flavor of the blueberry butter.
The rolls are very crunchy on the outside, and the inside is soft, airy, with sticky crumbles. The Breakfast Butter Rolls are so good hot from the oven. Also, when they are warm the whipped blueberry butter melts a bit, which you can imagine is just fabulous.
Why you'll love these Breakfast Butter Rolls
First of all, they are puffy and delicious, making them a show stopper dessert.
Also, they are incredibly fresh and aromatic.
Tender and buttery, the rolls melt in your mouth.
Perfect to serve with whipped blueberry butter.
In addition, they can be made 1 or 2 days in advance so you don't have to worry about a last-minute dessert.
How should I store Breakfast Butter Rolls
The rolls can be stored wrapped in plastic wrap at room temperature for 4 days.
Can I freeze Breakfast Butter Rolls
Absolutely. These rolls also freeze well. First, cool the rolls completely and fully wrap it in plastic wrap tightly. Then, wrap it in aluminum foil. Freeze for up to 1 month. Defrost before slicing.