Breakfast Butter Rolls with Whipped Blueberry Butter
This post may contain affiliate links. Please read my disclosure policy.
Warm, crunchy on the outside and soft on the inside breakfast butter rolls are served with homemade blueberry whipped butter on the side.
I think I don't have enough breakfast recipes on my blog, and you know why? Because I am that person who totally eats dessert for breakfast and as you may've noticed I have plenty of dessert recipes here. All jokes aside, I actually consume real food, most days for breakfast I have fresh fruit and a smoothie and a few bites of any dessert I have on hand. During summer I prefer light breakfast foods, but lately I have been craving a butter toast like crazy, so I decided to make my own breakfast butter rolls to enjoy with my morning cup of black tea.
I baked these cuties in a pop over pan to add some length to their size, so when you slice them in half there is enough surface to cover with the most delicious homemade whipped butter.
Have you ever made your own flavored whipped butter? If no you are missing out, and if you made only savory versions of it with herbs and nuts and cheese, again you are missing out, because the sweet version is the bomb. I got into flavored butter a few years ago on one of our trips to Mexico, there was a restaurant in our resort that served flavored whipped butter and warm rolls as an appetizer, they had cold beet butter, and another one that I really enjoyed and loved: a sweet carrot cardamom, wow that one was amazing, I didn't even need the roll, I was pregnant at that time and I swear I could've just eaten that stuff by the spoon. Deliver a pound to my room please and I am good!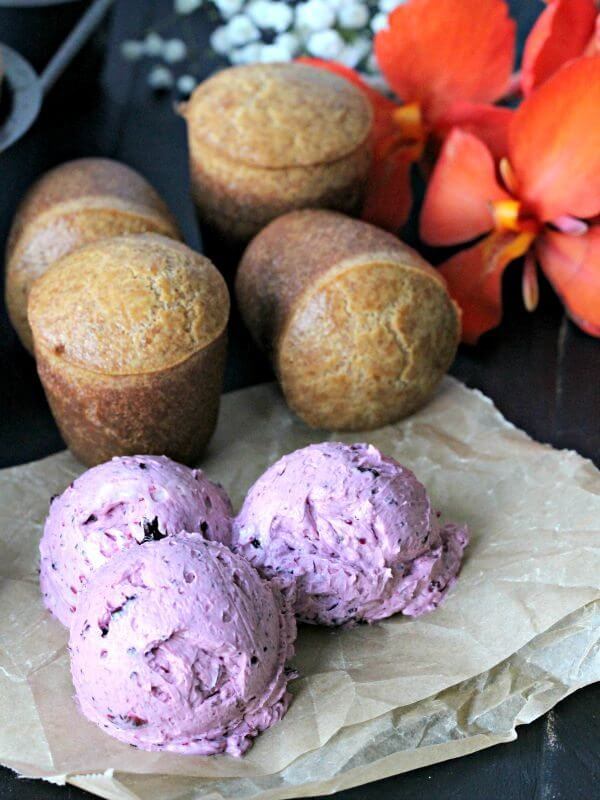 Flavored sweet whipped butter is like frosting, or maybe thats exactly what it is called? haha no, I refuse to call it frosting, frosting has lots of sugar and some milk, while this delicious blueberry whipped butter is made with just a homemade blueberry sauce. With so many summer berries available now, I highly recommend that you make some whipped butter, just imagine the bright pink color of a raspberry butter, blackberries are nice too. I can assure you that it will brighten any afternoon tea party and it will put you in a  good mood, also lets not forget how deliciously fresh and sweet it will taste!
I have made quiet a few butter to go with my rolls, and one day I came from work and started looking in the fridge for the magic bowl that was holding my beloved butter, and when I opened it there were only a few morsels left, apparently my mother in law enjoyed it a lot and since she stays home and takes care of our toddler boy, she was drinking some coffee with rolls and LOTS of blueberry whipped butter a few times a day. I found it so funny, she said that going forward that the only way she wants to eat butter!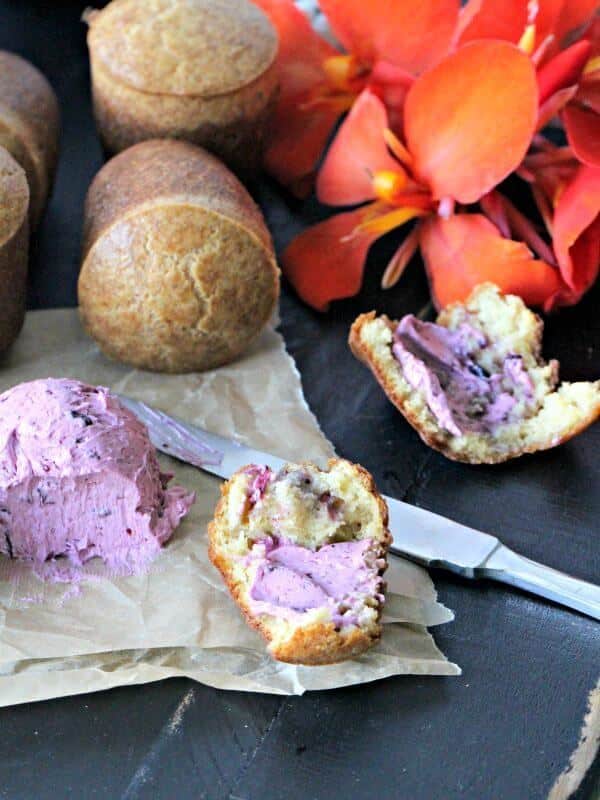 So the rolls, they are nothing special, oh God, thats a really bad selling point, no? haha Well, wait the rolls are great , but they serve as a bed for all that delicious butter, I mean don't expect melt in your mouth chocolate cake when you taste these, these rolls are specifically made to balance the rich and sweet flavor of the blueberry butter, they have a very crunchy outside, which I like a lot since it means no need to toast. Their inside is soft, airy, with sticky crumbles that make perfect lille caves for all that blueberry goodness to hide into.
The Breakfast Butter Rolls are so good hot from the oven, but obviously we are not crazy enough to bake this on a midweek morning so I can assure you that they taste really good microwaved, they are best served warm, so 30 seconds in the microwave its what they need. Also, when they are warm the whipped blueberry butter melts a bit, which you can imagine is just fabulous!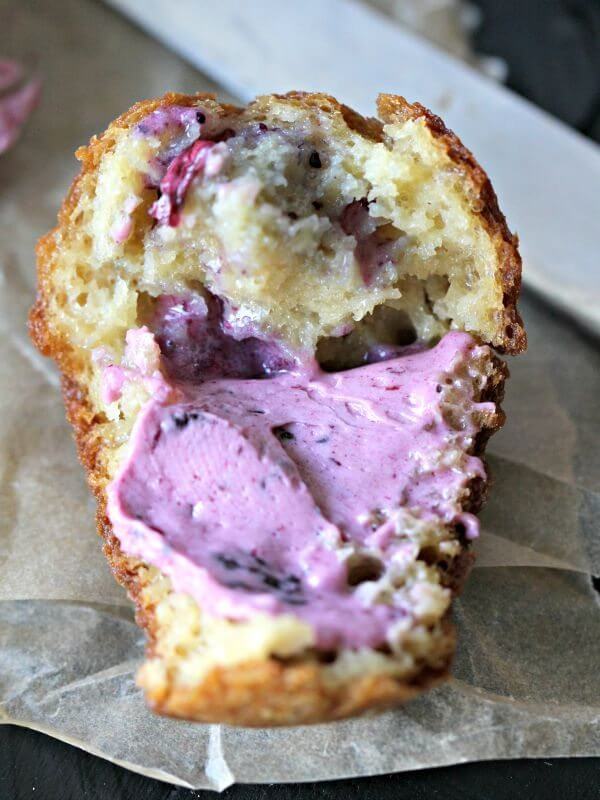 Here we go, Breakfast Butter Rolls that are so good looking and delicious! Breakfast of the champions 🙂 now have a good Wednesday!
If you like this recipe I would love your support by liking my Facebook page, or following me on Pinterest, Instagram & Twitter, for delicious eats, behind the scenes photos and crumbs of my day to day life! Your support means a lot, and remember that by supporting this blog you actually contribute to a good cause, since part of the profit will always be donated to cancer patients who can't afford treatment in Moldova – more about it here. If you can take the time to subscribe by email, I will forever love you, never spam you and send great recipes and lifestyle posts to your inbox. It will take you only one second, please input your email in the "Subscribe for updates" box on your right side and hit GO 🙂 many thanks to all of you!

Breakfast Butter Rolls with Whipped Blueberry Butter
Warm, crunchy on the outside and soft on the inside breakfast butter rolls are served with homemade blueberry whipped butter on the side.
Author:
Katalina Kastravet
Ingredients
4 large eggs
1 cup whole milk
1 cup heavy cream
2 cups all-purpose flour, sifted
1⁄2 teaspoon salt
1⁄4 teaspoon baking soda
Baking spray
Blueberry Butter:
1½ sticks butter, room temperature
⅓ or ½ cup blueberry sauce, preserves or jam
click here for my Blueberry Sauce Recipe
Instructions
Preheat oven to 425.
In a large bowl of an electric mixer fitted with the whisk attachment, beat the eggs at high speed for 3 minutes, or until the mixture turns lemon yellow.
Slow the speed to low, and very slowly add in 1 cup of milk.
Into another bowl, mix the sifted flour, measure 2 cups and then add salt and baking soda.
With the mixer still running on its slowest speed, add the dry ingredients to the eggs and milk mixture. Make sure to scrape the bowl with a rubber spatula from time to time.
When all the flour was combined with the egg and milk mixture, with the mixer on medium speed, slowly add the heavy cream and blend for one minute.
Turn the mixer to its highest speed and beat for 5 minutes.
Spray a popover pan with baking spray and pour the mixture into the popover cups, ¼ inch from the top.
Bake at 425 degrees for 15 minutes. Without opening the oven, turn heat to 350 degrees and bake for 15 more minutes.
Blueberry Butter:
In the meantime, in the bowl of an electric mixer on medium speed whip the butter for one minute, add the blueberry sauce and whisk until combined, making sure to stop the mixer and scrape the bowl walls with a rubber spatula.
If you prefer your butter a little sweeter add more blueberry sauce or ¼ cups of powdered sugar.
If the blueberry sauce you are using is on the liquid side (mine had a thicker consistency) add first ⅓ of a cup, whip and see if the rest is needed. If you are making the butter using preserves, they usually have a thicker consistency, also add ⅓ or a cup and see if extra is needed.
Using an ice cream scoop, spoon the batter into a serving plate and enjoy.
Serve rolls warm, if needed microwave for 30 seconds.
Peas and Peonies, LLC. owns the copyright on all images and text and does not allow for its original recipes and pictures to be reproduced anywhere other than at this site unless authorization is given. If you enjoyed the recipe and would like to publish it on your own site, please re-write it in your own words, and link back to my site and recipe page. Copying and/or pasting full recipes to social media or personal blogs is strictly prohibited. Sharing this recipe is very much appreciated and encouraged. Read my disclosure and privacy policy. This post may contain affiliate links.