Blueberry Fudge Recipe [Video]
Blueberry Fudge is very easy to make with only 3 ingredients and just a few minutes of prep work. The fudge is sweet, creamy and full of flavor. Using freeze-dried blueberries is the secret to this perfect fudge recipe.
Fudge recipes are super easy to make and only require a few ingredients. They are great to make with kids as there is no mess and you can add many mix-ins to customize the fudge to your own liking. To make this fudge pretty pink, just use freeze-dried raspberries or strawberries.
You should also try our incredibly easy to make and tasty Nutella Fudge, Pink White Fudge, and the very decadent Mint Chocolate Chip Fudge.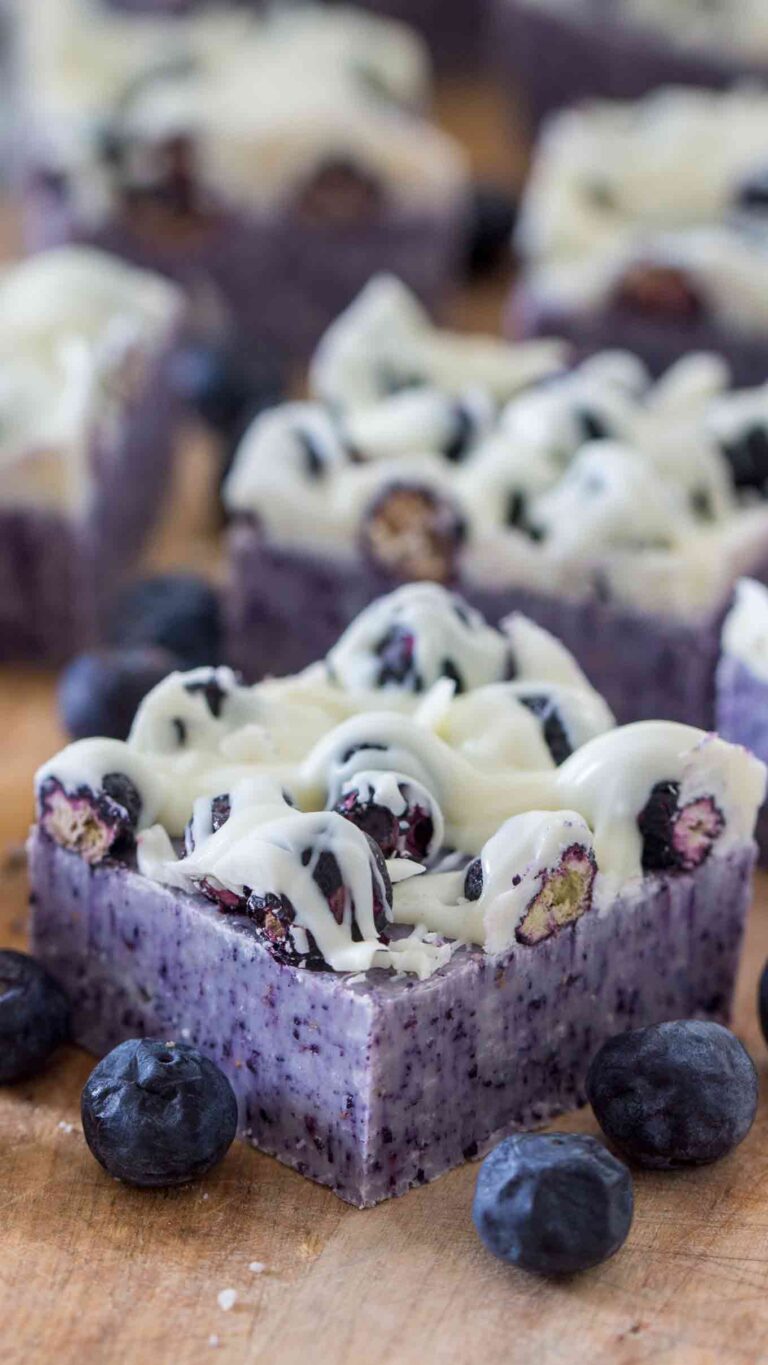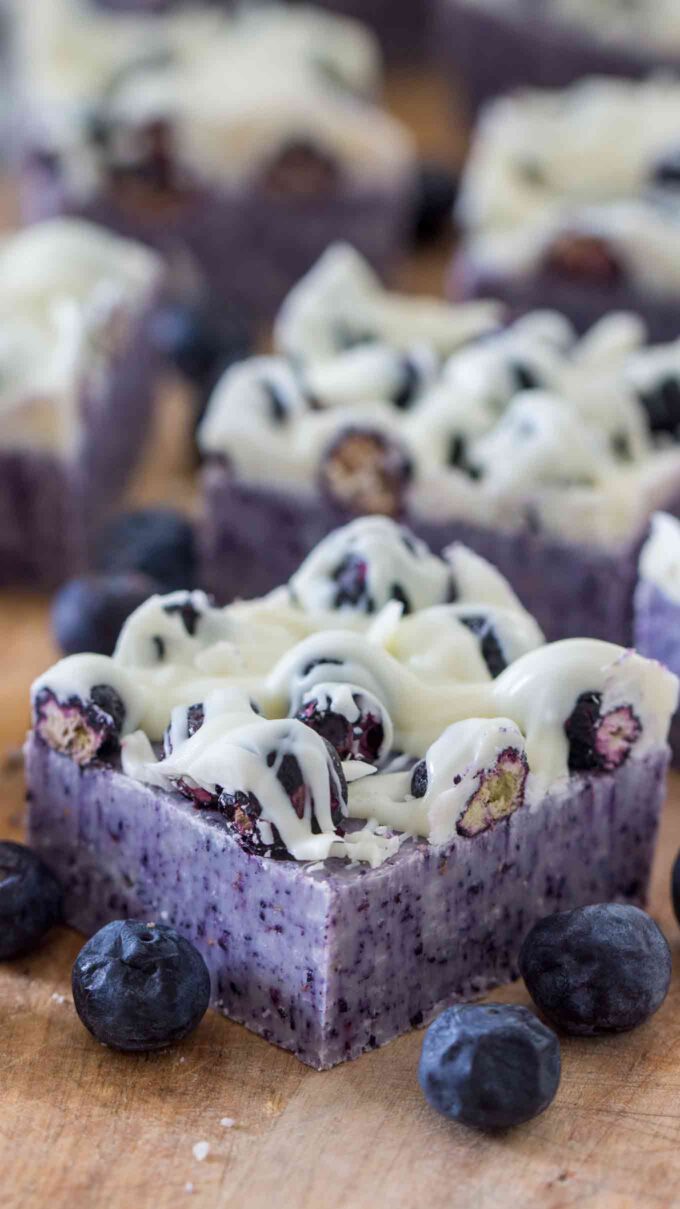 Easy Blueberry Fudge
Blueberry Fudge is such a quick and easy no-bake dessert that you can fix some anytime a sweet craving strikes. We love making this recipe as it is so versatile and we enjoy adding dried fruits and sometimes chocolate chips for extra flavor and texture. Similarly, we also like making this recipe with other freeze-dried berries.
Fudge recipes are super easy to make and require minimal ingredients. Also, for this recipe, you don't even need your stove, the microwave does the job for you!
What do you need to make Blueberry Fudge?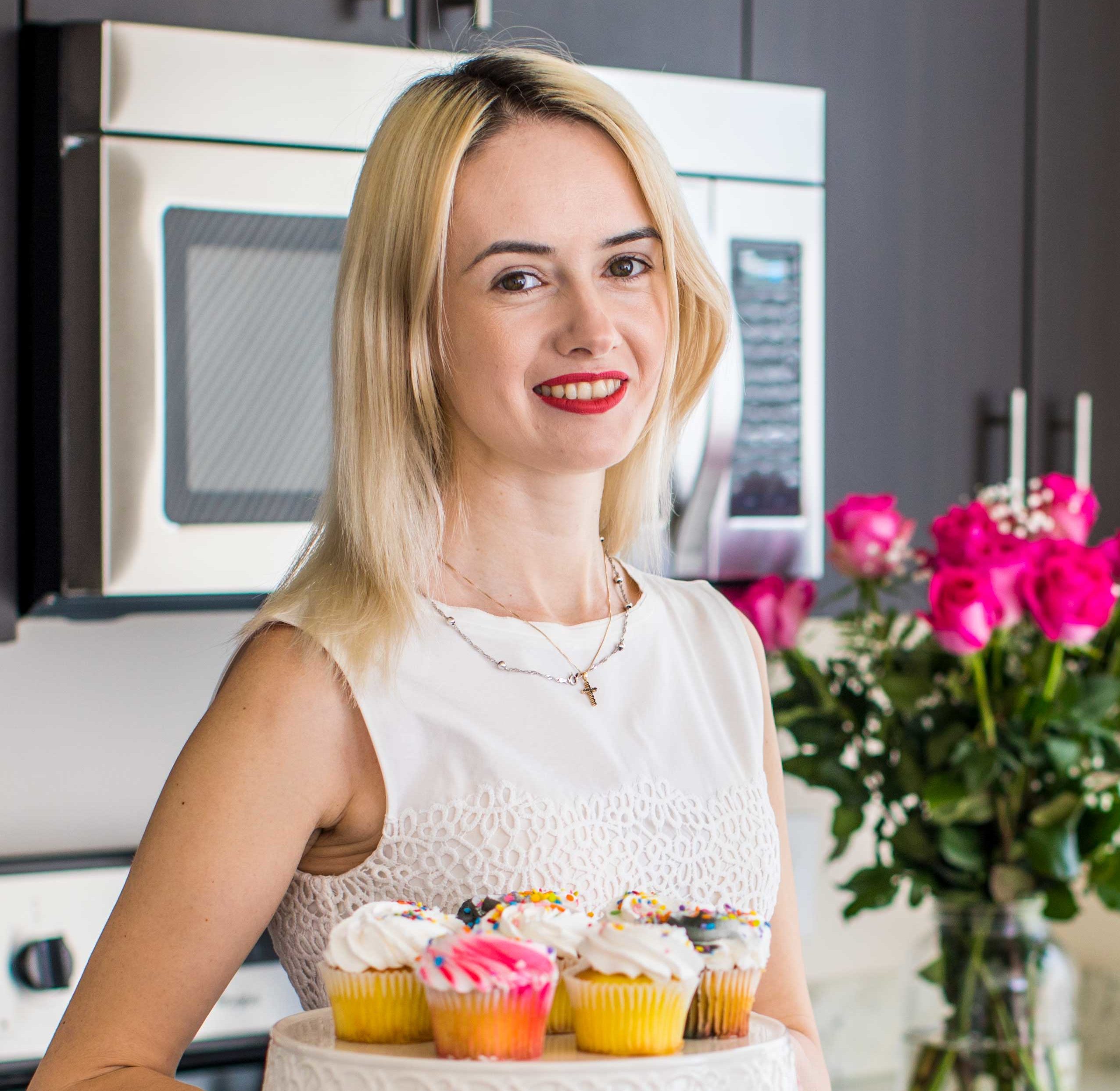 Follow us on Pinterest for more delicious recipes!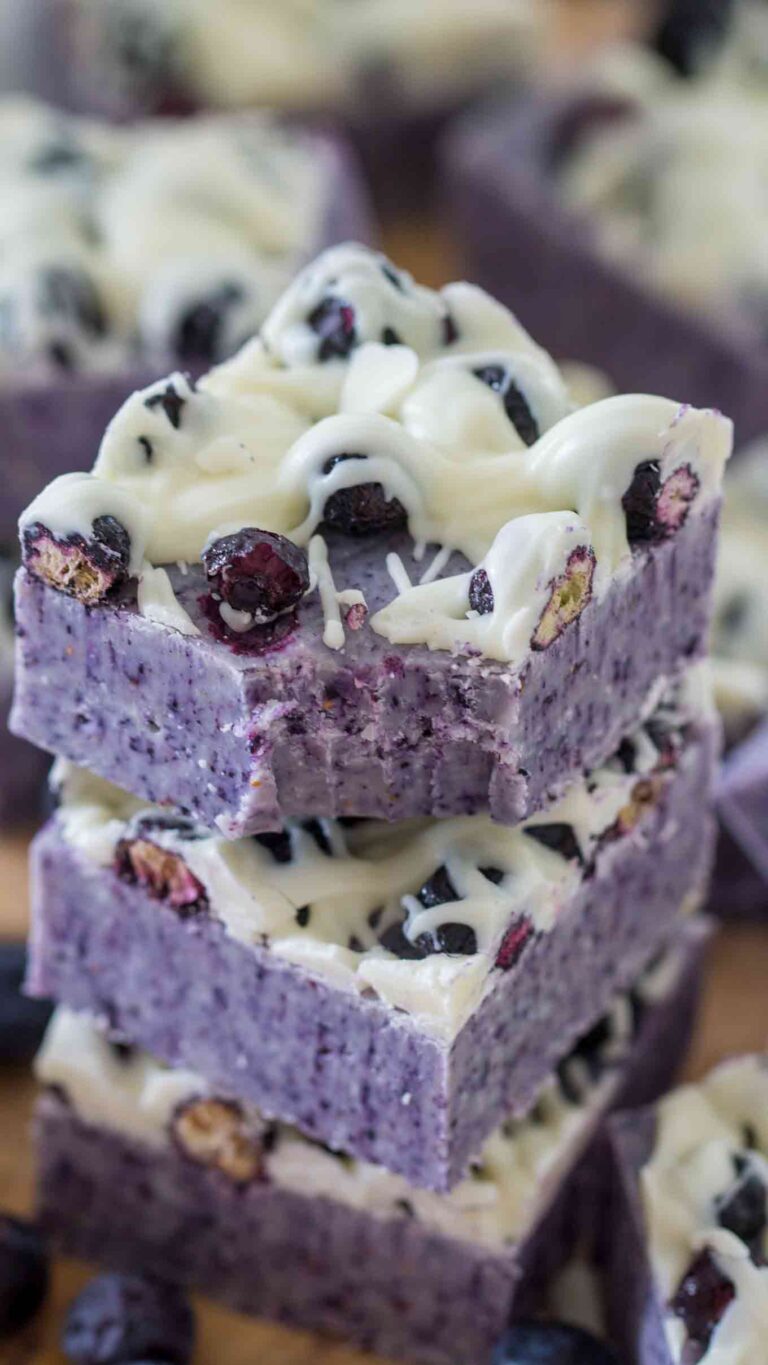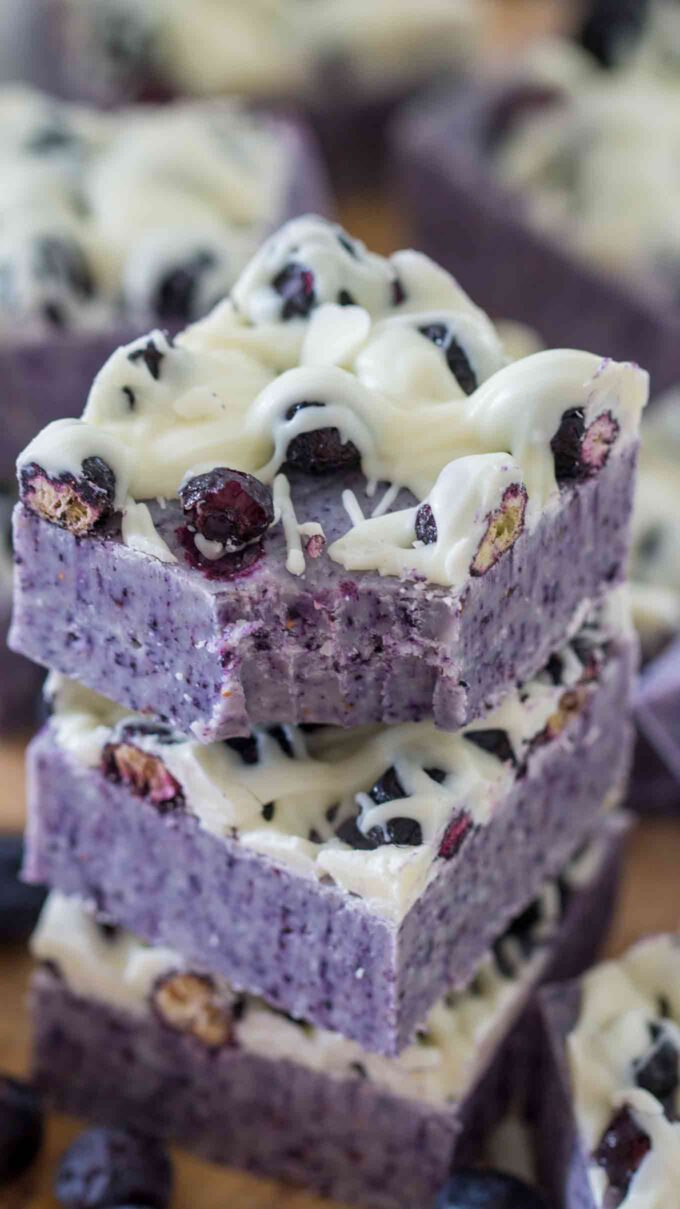 Tips to make the Blueberry Fudge:
Feel free to watch the recipe video tutorial attached. You will see how easy and simple this recipe is!
Use quality white chocolate, that is the main ingredient so you want it to be the best in order to get the best taste and texture
Also, white chocolate is very pretentious, make sure you don't rush through melting it. Therefore, melt it in 20 seconds intervals in the microwave, followed by lots of stirring to make sure you do not overheat it. If you overheat the white chocolate, it will clump and separate and it will become unusable, unfortunately.
Equally important, this recipe is not intended to be made with fresh blueberries or frozen blueberries. So you specifically need freeze-dried blueberries.
Do you need to refrigerate fudge?
Fudge will keep at room temperature just fine. It does not need to be refrigerated. If you decide to store it at room temperature or in the refrigerator, make sure you place it in an airtight container so it doesn't dry out.
How long can you keep homemade fudge?
When properly stored, the fudge can stay good in the refrigerator or at room temperature for 1-2 weeks.
Can you freeze Blueberry Fudge?
You, you can easily freeze this Blueberry Fudge recipe. Just wrap it tightly in plastic wrap and after that in aluminum foil or place it in freezer-safe bags. Freeze for up to 3 months. Thaw in the fridge before serving.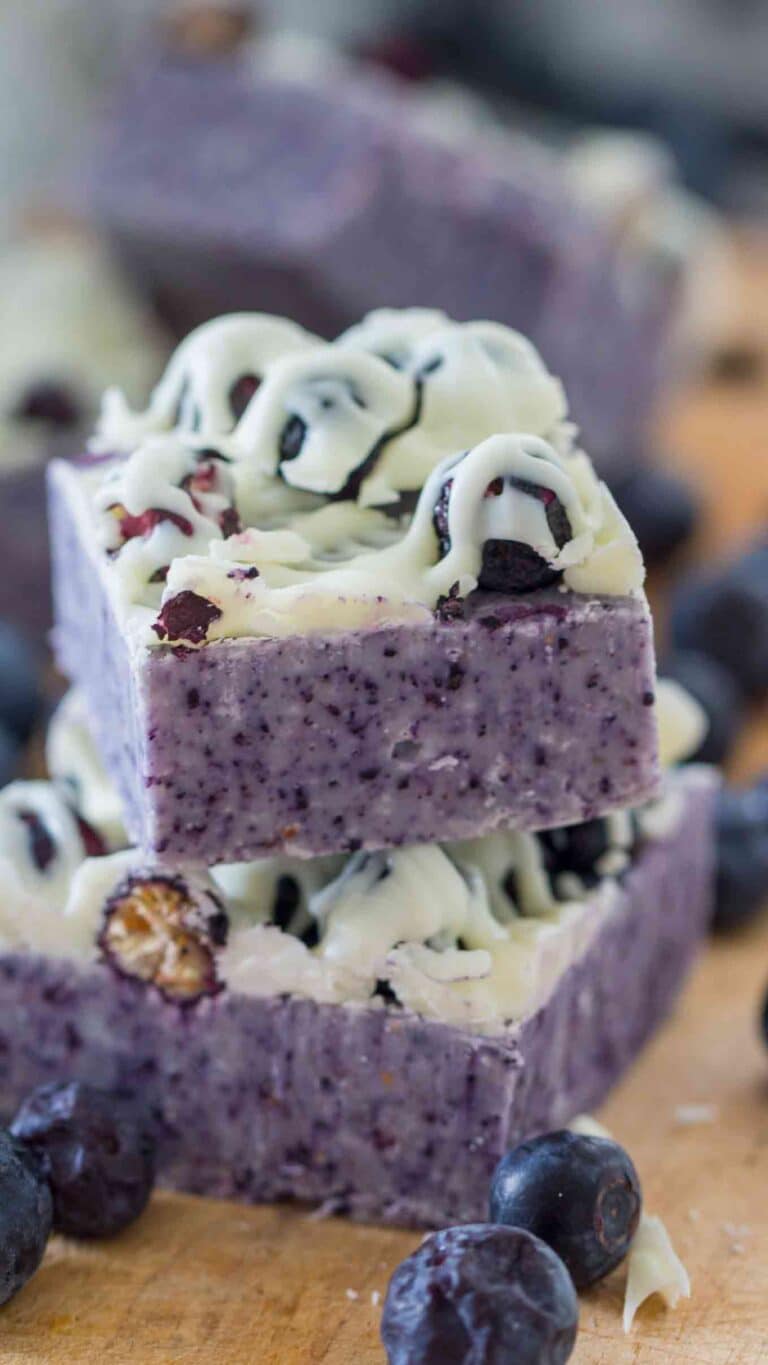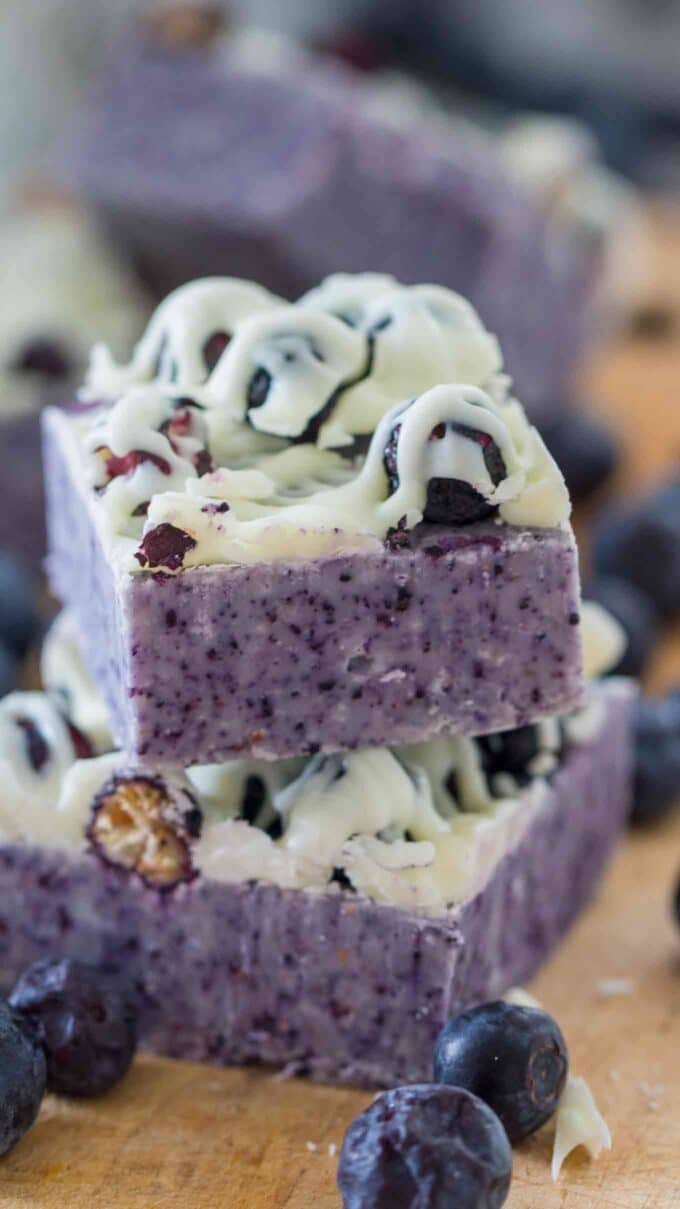 Are you a fan of easy fudge? Check these recipes:
Save Recipe
Blueberry Fudge
Author: Catalina Castravet
Serves: 12 servings
Prep time:

10

minutes
Cook time:

0

minutes
Total time:

10

mins
Ingredients
Optional Garnish:
Nutrition information
Calories: 234 Carbohydrates: 68 Protein: 6 Fat: 11 Saturated Fat: 4 Cholesterol: 9 Sodium: 459 Potassium: 323 Fiber: 3 Sugar: 39 Vitamin A: 75 Vitamin C: 0.7 Calcium: 98 Iron: 2.8
Save Recipe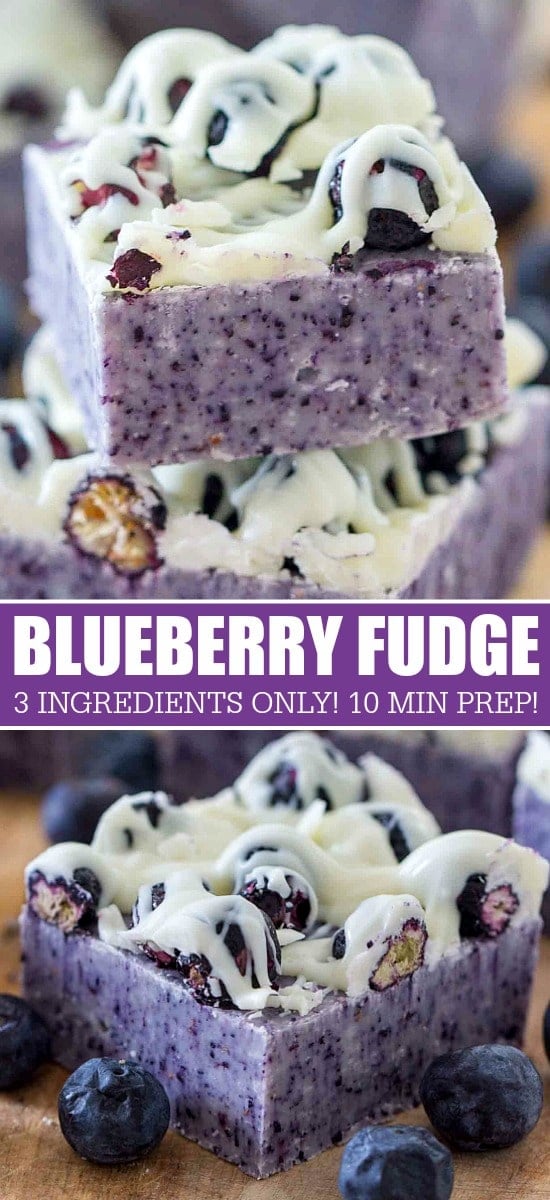 More recipes you might love