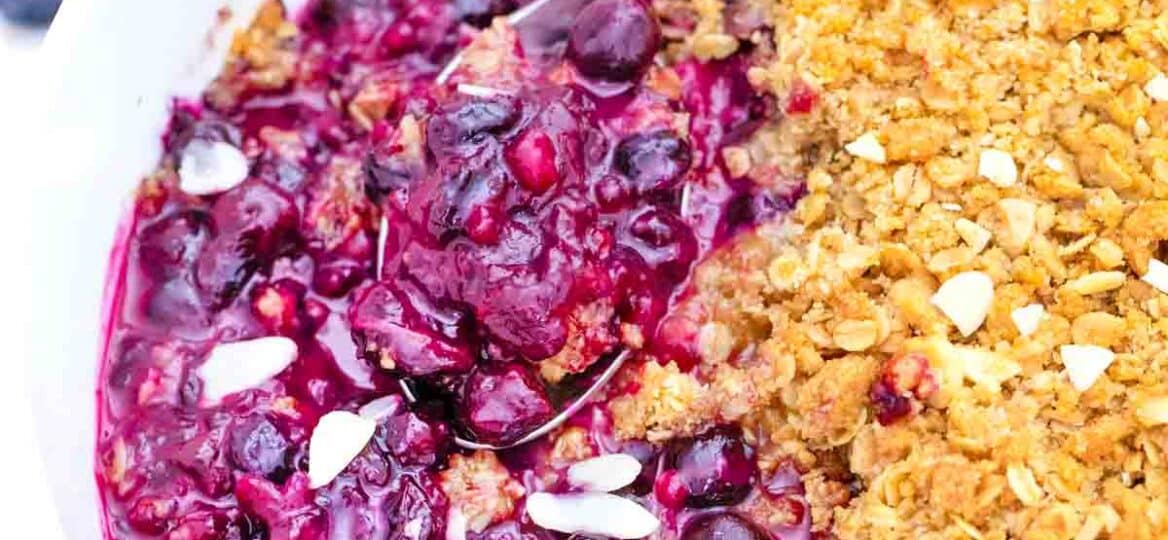 Blueberry Crisp Recipe [Video]
Blueberry Crisp is made with delicious tart and sweet juicy blueberries, under a crispy and buttery topping with brown sugar and almonds. You can use fresh or frozen blueberries to make the sweet blueberry filling but either way, it is absolutely delicious. You can even make this a vegan blueberry crisp by making a few simple changes to the crisp ingredients. It tastes like blueberry pie without the pie crust!
This blueberry crisp is just one of a variety of fruit crisps that are popular all over the world but is thought to be a British creation. However, they called it a fruit crumble. It was first published in 1924 in a British cookbook and became even more popular during WWII when pie ingredients were hard to find. But it also came out in an American cookbook the same year. It was called Everybody's Cook Book written by Isabel Ely Lord.
With just a handful of basic ingredients, you can have this delicious dessert on your table in minutes! Our easy blueberry crisp tastes so perfect with vanilla ice cream, it is often served that way in restaurants as well as at home. If you have some blueberries, oats, lemon, and classic baking ingredients like butter, flour, and sugar, you can make this recipe right now!
Ingredients needed:
To make this easy blueberry crisp recipe, just gather the ingredients listed here. Then, when you are ready to begin, find our recipe card at the bottom of the page for the exact measurements and instructions.
Fresh blueberries
Juice of one lemon
Lemon zest
White granulated sugar
Vanilla extract
All-purpose flour
Cornstarch
Crisp topping ingredients:
Butter
Brown sugar
White granulated sugar
Quick oats
All-purpose flour
Chopped almonds: Optional.
Nutmeg
Ground cinnamon
Kosher salt
How to make blueberry crisp from scratch?
Preheat oven: First, preheat your oven to 375 degrees F.
Make the blueberry mixture: While you wait for the oven to heat, add the blueberries to a large bowl with flour, vanilla, lemon juice and zest, sugar, and cornstarch. Toss to combine and pour it into a lightly oiled baking dish.
Combine the topping ingredients: Now, put all the topping ingredients into a medium mixing bowl and stir with a fork until it is crumbly. Then, sprinkle it on top of the blueberry mixture in the pan.
Bake: Next, bake blueberry crisp for 35 to 40 minutes or until it is bubbly and golden brown.
Serve blueberry crisp: Finally, let it cool slightly before serving warm.
Recipe variations:
Different fruit crisp: Instead of (or in addition to) blueberries, you can use other fruits like apples, cherries, or blackberries.
Fresh or frozen blueberries: You can use fresh blueberries if you have them, but frozen berries will work if that is all you have.
Syrup: You can use maple syrup or honey instead of sugar in the crumble topping if you like.
Vanilla sugar: A teaspoon of vanilla sugar will give your crunchy topping even more flavor.
Coconut sugar: If you do not have any brown sugar, you can use coconut sugar or plain white granulated sugar.
Gluten-free: For those with gluten allergies, use certified gluten-free oats and flour.
Vegan: You can also make this dessert vegan by using vegan butter.
Different flour: Feel free to try making this with other flour like oat or whole wheat flour.
How to serve:
Blueberry desserts are the perfect summer dish because that is when blueberries are at their peak. Our blueberry recipe is easy, fast, and scrumptious. Try one of these terrific serving ideas or share some of your own in the comments section at the bottom of this page.
Add a dollop of whipped cream on top to make this even more delicious. We have a rich and easy homemade whipped cream recipe you can try.
This homemade blueberry crisp pairs well with a scoop of vanilla ice cream.
Make this crisp easy blueberry dessert even more delicious by adding a scoop of blueberry sauce on top. Try this recipe for a blueberry sauce that is perfectly sweet, tart, and easy.
This makes a great breakfast coffee cake too. The kids will love having something sweet to start their day and so will you.
Another way to top our amazing blueberry crisp is with some caramel sauce. We have a keto caramel sauce recipe that is out of this world!
Use leftovers as an ice cream or cake topping or sprinkle it over some yogurt for a special treat.
Frequently asked questions
Why is my blueberry crisp watery?
It is probably because your blueberries were extra juicy. While juicy blueberries are good for most recipes, in this one, it could make everything seem watery. If you notice that they are especially moist, use an extra teaspoon of cornstarch so it thickens as the crisp bakes.
What is the difference between a crisp, crumble, and a cobbler?
Although they all contain fruit with sugar and thickeners, there are small differences in each that make them unique. Cornstarch is often added to the filling for a fruit crisp to thicken it as it bakes. Blueberry crumble is similar to a crisp mixture but uses flour and/or nuts instead of oats. Cobbler has a more solid topping similar to dough.
Can I use melted butter for this recipe?
Our recipe calls for softened butter, but you can use melted butter or cold butter. Although the classic blueberry crisp recipe calls for chopping cold butter into the crumb topping, I find it to be unnecessary in this dish. Melted or softened butter is so much easier to use, and it does not really change the texture or the flavor of your blueberry crisp.
Can I use old-fashioned oats for this recipe?
Rolled oats, old-fashioned oats, and quick oats are all fairly similar but change your crisp mixture in subtle ways. Some say the difference between a good fruit crisp and a great fruit crisp is in the oats. I think quick oats make the best crisp topping, but you can use what you have. The difference is not that big of a deal although the topping will be slightly chewier than if you used quick oats.
What are the nutrition facts in this recipe?
Our delicious blueberry crisp has 435 calories, 69 grams of carbs, 17 grams fat, and 2 grams of saturated fat as well as 244 mg cholesterol, 140 mg sodium, and 45 grams of sugar. But you will also get 2 mg iron, 11 mg vitamin C, 65 mg calcium, 590 units of vitamin A, 5 grams fiber, 236 mg potassium, and 5 grams of protein.
More recipes with blueberries:
How to store leftovers:
Store: Your blueberry crisp can be refrigerated for up to four days in an airtight container.
Freeze: After letting the dessert cool in the fridge for a few hours, wrap it in plastic wrap and you can put it in a freezer-safe container and freeze it for up to 90 days.
Thaw: To get the best flavor and texture, let your frozen blueberry crisp thaw in the fridge overnight.
Reheat: You can eat this cold or heat it in the microwave for 30 to 45 seconds.
Baking tips:
Let your ingredients warm to room temperature for the best results.
If it is not a blueberry season where you are, fresh berries can be substituted with frozen blueberries if that is all you can find.
Looking for more blueberry recipes? There are a lot more blueberry desserts and other free recipes. We also have other crisp recipes you can try.
Using fresh juice is best in this recipe. It gives your blueberry crisp a nice zingy flavor that brings out the sweetness of the berries.
If you use salted butter instead of unsalted butter, omit the salt from the recipe.
You can use any size pan including a pie pan for this dessert. Just remember that the baking time will differ depending on the size.
If you would rather have a lighter topping, just cut the topping ingredients in half before adding it to the blueberry layer. But cut the cooking time by about 8 to 10 minutes.
Although it tastes delicious cold, this blueberry crisp is best when served warm.
Blueberry Crisp
Ingredients
6

cups

blueberries

fresh or frozen

1/3

cup

white sugar

1/4

cup

all-purpose flour

2

tablespoons

cornstarch

Juice of 1 lemon

Zest of 1 lemon

1

teaspoon

vanilla extract
Topping:
1/2

cup

butter

softened

1/2

cup

brown sugar

1/2

cup

white sugar

1

cup

quick oats

1/2

cup

all-purpose flour

1/2

cup

almonds

chopped (optional)

1/4

teaspoon

cinnamon

¼

teaspoon

nutmeg

Pinch

of salt
Instructions
Preheat the oven to 375°F.

Add blueberries to a large bowl, and add sugar, lemon juice, lemon zest, vanilla, flour, and cornstarch. Toss to combine and transfer mixture to a lightly greased 2qt baking dish.

To another medium bowl, add all the Topping ingredients and combine with a fork until crumbled. Sprinkle the mixture over the blueberries.

Bake for 35-40 minutes or until the top is golden brown and the fruit is bubbly.

Cool slightly and serve warm with ice cream.
Deliciousness to your inbox
Enjoy weekly hand picked recipes and recommendations